Want to use OOTP in your class or after-school club, or know a teacher who would like to use it? We're happy to provide free copies of OOTP for use in K-12 and higher education settings. Please get in touch via the OOTP Developments contact page.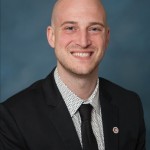 As the sabermetrics phenomenon continues to spread through baseball, a new generation of analytics-focused fans are preparing themselves for careers in Major League Baseball and Minor League Baseball. Zach Binkley, an assistant professor at Lewis University in Illinois, is helping support that trend with his course Data and Analytics in Sport, which uses not only books like Michael Lewis' Moneyball but also Out of the Park Baseball, so students can experience first-hand the challenges faced by team GMs.
"I was envisioning the ability to use a simulation to build projections and plans and strategize," Binkley explains. He used OOTP in the class during the spring 2015 semester and says that half of his 16 students had an interest in baseball, with four or five of them buying the game and using it in class.
Binkley continues: "My students looked at it to see what the simulation could do. The ability to pull data out and build a game plan, have a bullpen, for instance, and have a top-down organization model based on simulated data was something I was looking for so students could put themselves in the shoes of professionals. OOTP helps them see how data can be used to build a strategy, like build a specific type of bullpen. What data would you use and how would you use it?"
He adds: "I also wanted them to be able to predict five years out what their favorite sports team could look like. Everyone wanted to go with the Chicago Cubs and win a championship as early as possible."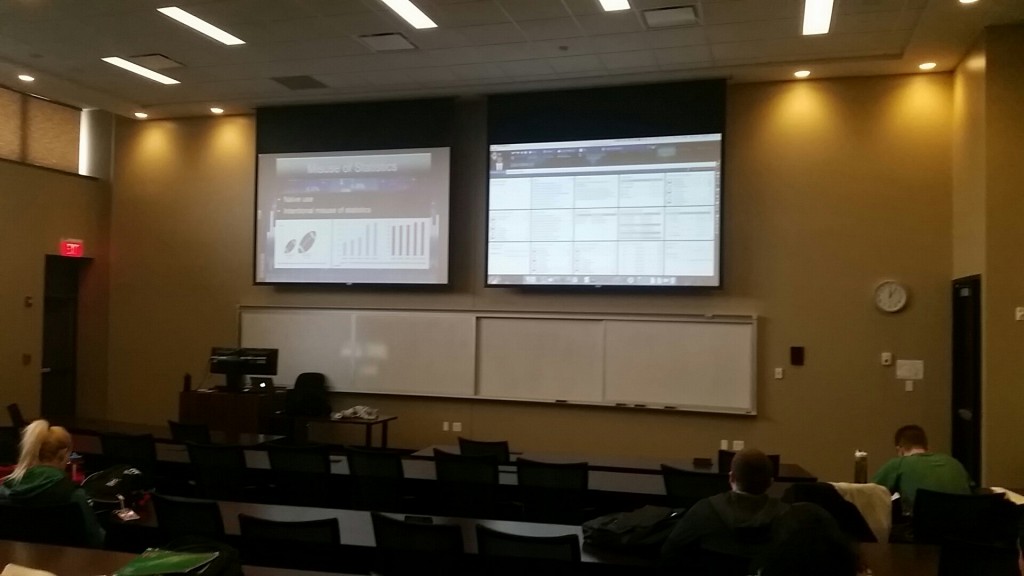 How to End 100+ Years of Frustration With OOTP
Tyler Jankowski and Jeff Weiss were among the students vying to end the Chicago Cubs' "curse" and bring them the championship that has eluded the team for over 100 years. They took over the team as part of a project for the class and, through several key trades executed during the first couple seasons, won 105 games in 2016 and secured a World Series victory. They ended up being the fastest to do so in the class.
"I helped form the class with Zach, and when he proposed using OOTP as an option for the simulation project, I was excited to get started," Jankowski says. "I was really impressed with what the game provided. The salary restraints were cool and having every league and every affiliate in there was great."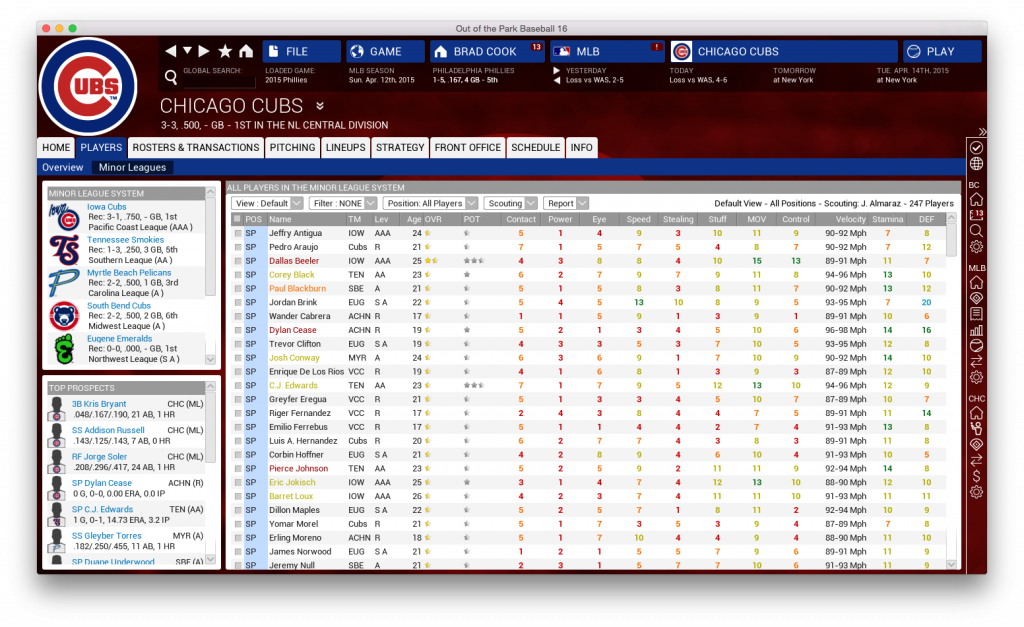 Not everyone ran a Cubs sim, though. Binkley notes: "We had another student who did an infograph on ballpark factors, like elevation and ballpark dimensions. I showed him how to change everything so he could put a team in, say, Anchorage, and see how they would play out in a season. He was blown away by that."
Another group of students wrote a paper comparing the FIP and ERA statistics for pitchers, concluding: "An ERA can be a sneaky thing, and having the additional FIP results we believe will help better predict how successful a season a pitcher can have."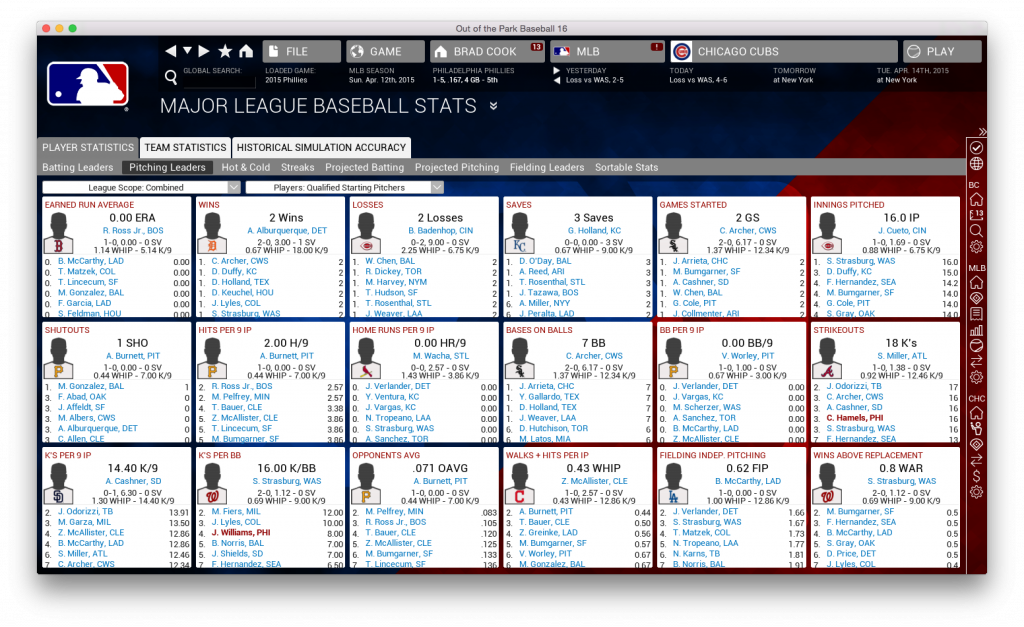 Getting Students More Savvy About Using Data in Any Job
Data and Analytics in Sport is a new class at Lewis, but Binkley will continue to teach it once a year. He notes that the school recently started offering a data science minor, along with business analytics classes. "We want to get students more savvy about using data in their jobs," he says.
He adds: "We work with a lot of pro sports teams in this area, including minor league baseball teams, so many of our students get entry level jobs in marketing, promotion, and events management. The idea is that stats-related jobs will take off, so there will be more entry-level positions like data miners and lower level analysis positions.
"We want to bring data into our students' mindsets and show how it will impact their jobs and make them better. I had one student interview at a couple places, and he brought his analytics with him. The fact that he has that interest helps him."
He notes that even students who aspire to be scouts can use OOTP as an analytical tool: "I showed students in the class how they could edit players in OOTP, and I told them, 'If you guys are scouts, you would have something similar to this, where you have 15 different metrics you scout a player on and you assign them point values. So you can run simulations based on that, but the numbers need to be as accurate as possible.'"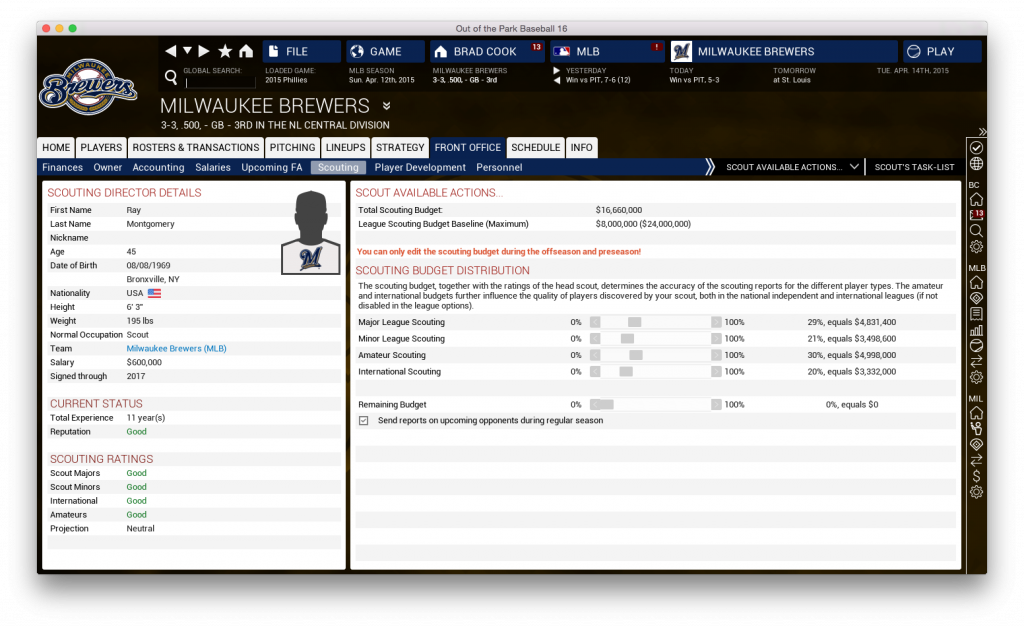 Continuing to Use OOTP
Binkley recalls that he discovered OOTP during the summer of 2014 and immediately felt comfortable with it, since he had past experience with baseball management games. He and his students also discovered how immersive the game can be: "One of my students said he downloaded the game on Friday and played it for two days straight. Same thing happened to me: I started it on a Sunday and next thing I knew, it was 11:00 at night."
He adds: "The students enjoyed using the game. It was the first time they had used a game in class, which they thought was cool. I used the game in class too during lectures, so they could see how to use it to track data."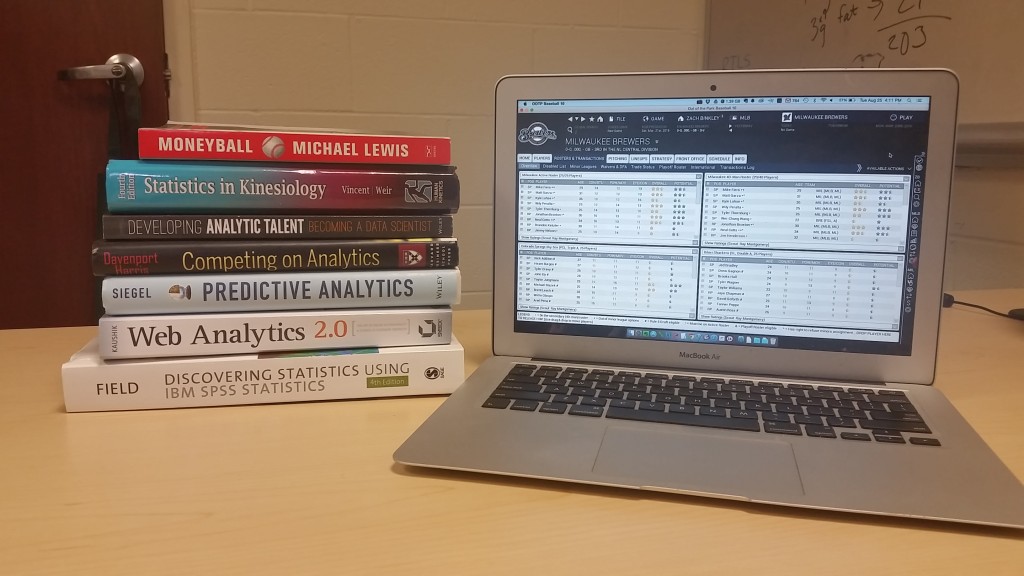 He concludes: "We'll use OOTP again. We offer the class every spring, and I already have some students interested in it. I'm going to tell them to buy the game now and play around with it, so they're ready to hit the ground running when they take the class."