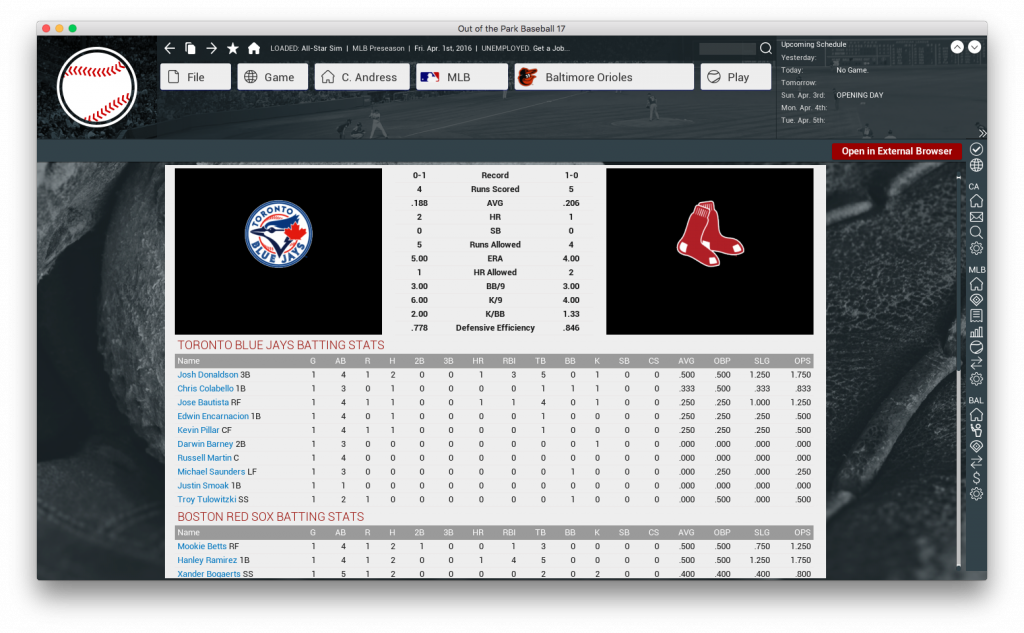 When we simmed the 2016 Major League Baseball season to give a glimpse into what this year might hold, we had the Cleveland Indians down the Washington Nationals in a seven-game World Series that saw Corey Kluber win a 1-0 Game 7 against Stephen Strasburg.
Could that still happen? Sure, anything is possible, but we thought we'd revisit that sim at the halfway mark of the season to see how it compares to real life. Then we had a fun idea: What if we pretend the season ended right now and sim the playoffs to see what might happen? Stay tuned for the results.
2016: Sim vs. Reality
In the real world, as of July 1, the Baltimore Orioles, Cleveland Indians, and Texas Rangers led their respective American League divisions while the Washington Nationals, Chicago Cubs, and San Francisco topped their National League divisions. Boston and Houston were in the lead for the AL Wild Card spots while Los Angeles and New York held those positions in the NL.
On July 1 in our sim, Boston, Cleveland, and Houston led the AL divisions and Detroit was in sole position of the first Wild Card spot but the New York Yankees, Kansas City Royals, and Los Angeles Angels were tied for the second one. In the NL, Miami, Chicago, and Los Angeles led the divisions and San Francisco and New York were in the Wild Card slots.
In our humble opinion, OOTP 17 did a nice job of simulating the season so far. It's impossible to be perfect with these kinds of things (just ask Nate Silver of FiveThirtyEight.com), but we'll stand behind those results.
What if the Season Ended Right Now?
So what if we pretend the real world season ends at the All-Star Break and sim out the playoffs? Looking at the standings on July 6, the date we're writing this blog post, there was one change from July 1: Houston slipped out of the second Wild Card position, replaced by Toronto. Otherwise, the playoff teams were the same as they were on July 1.
We set up the playoff teams the best we could, accounting for various roster moves and major injuries, but we left guys with minor injuries on their clubs on the assumption that they'll be back by the time early October rolls around. We also reset fatigue and morale for all players. We used OOTP 17's Sim Module to simulate these games and set Game Importance on Elimination for the Wild Card Play-In games and on Playoff for the rest of the series.
AL Wild Card Play-In Game
We headed off to Canada, where the 48-39 Toronto Blue Jays hosted the 46-38 Boston Red Sox. Despite home runs from Josh Donaldson and Jose Bautista, Boston prevailed, 5-4. Starters David Price and Marcus Stroman both failed to get out of the fifth inning, but the teams' bullpens tossed shutouts and Craig Kimbrel nailed down the save.
NL Wild Card Play-In Game
Then it was time for a trip to the west coast of the United States, where the 48-39 Los Angeles Dodgers hosted the 46-38 New York Mets and destroyed the visiting club, 10-0. Clayton Kershaw twirled 8.2 innings of two-hit ball with 12 strikeouts while Matt Harvey allowed six runs on eight hits in two innings.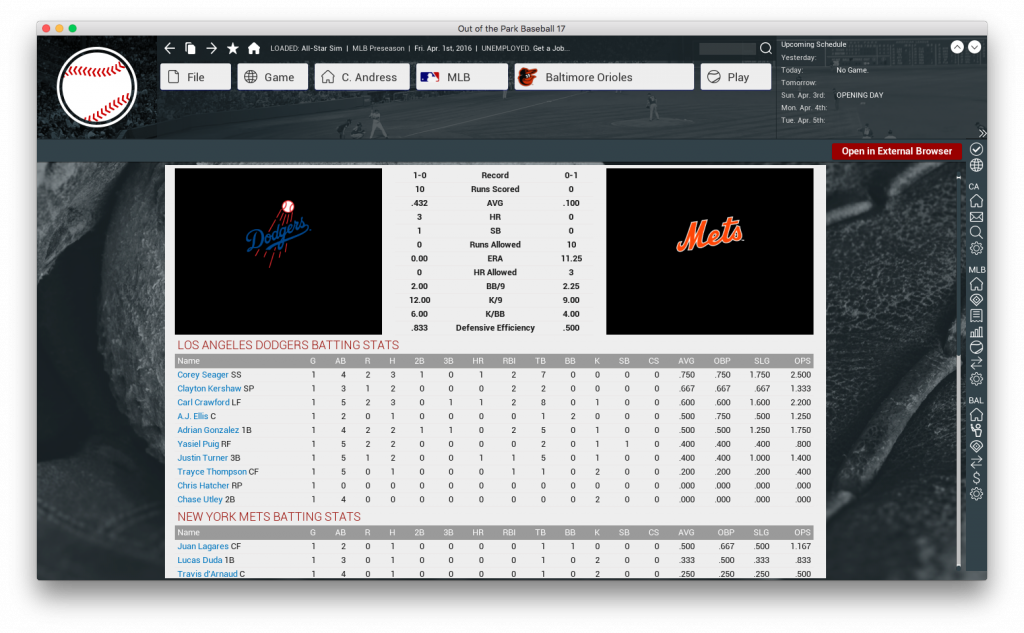 AL Division Series: Texas vs. Boston
Boston moved on to face the 53-33 Texas Rangers, owners of the best record in the AL. It was a high-scoring four-game series, with Boston outscoring Texas, 26-19, on the strength of eight home runs. Neither team registered a save and David Price twice out-pitched Cole Hamels during the series.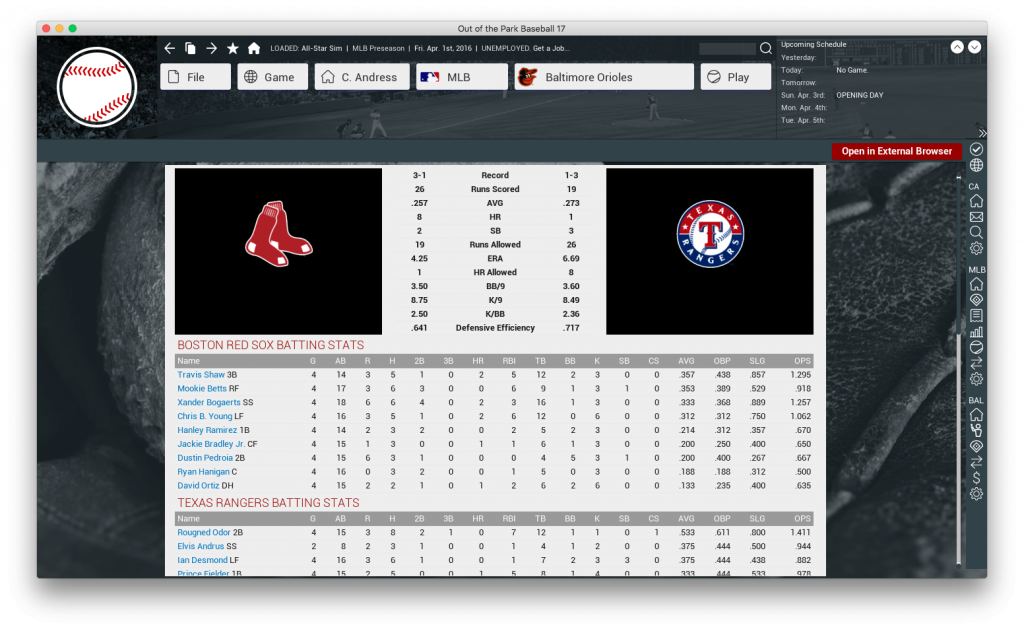 AL Division Series: Baltimore vs. Cleveland
Baltimore (49-35) swept the 51-33 Cleveland Indians, whose closer Cody Allen was saddled with two of the losses. Allen allowed five runs on five hits in two innings, good for a 22.50 ERA and a 3.50 WHIP. Baltimore outscored Cleveland, 20-8, and posted a 2.57 ERA, with 0.64 BB/9 and 8.36 K/9 compared to Cleveland's 6.84, 4.44, and 7.52 stats, respectively.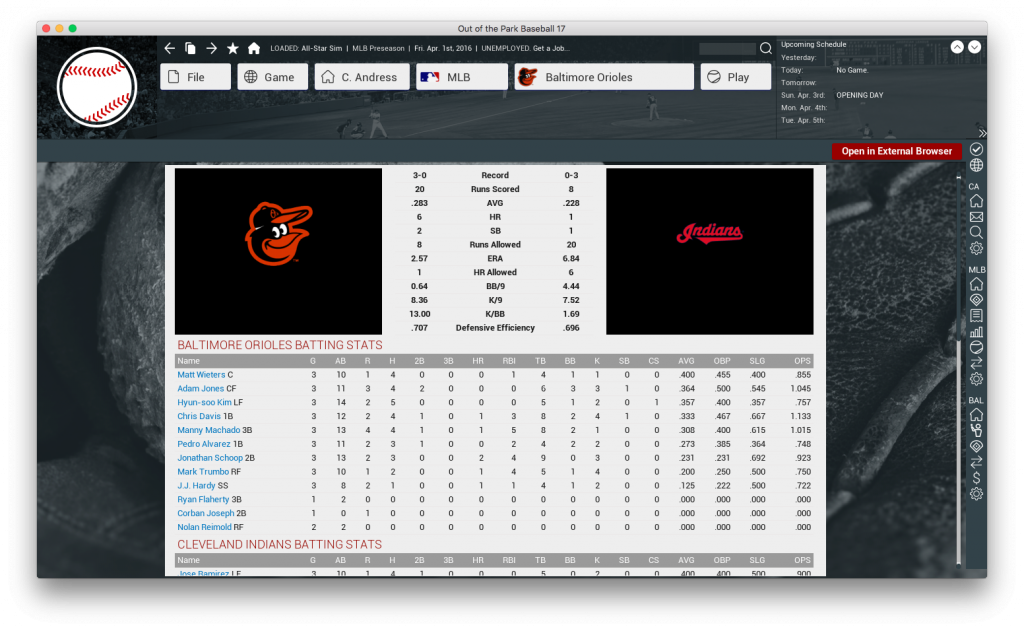 NL Division Series: San Francisco vs. Los Angeles
Chicago owned the top record in the NL for a while this season, but as of July 6, San Francisco had edged them out at 53-33, giving them the right to play the Wild Card winner. It was a tight four-game series won by San Francisco, who won three straight after a Game 1 loss. Johnny Cueto outdueled Clayton Kershaw for a 2-1 Game 4 victory. Sergio Romo saved two games.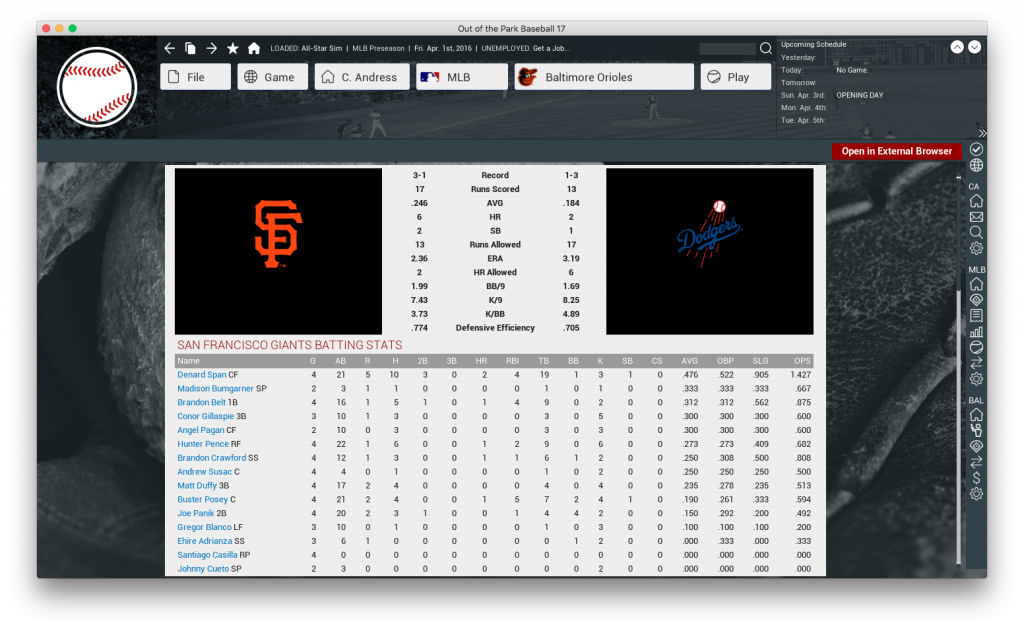 NL Division Series: Washington vs. Chicago
The 52-32 Chicago Cubs had home field advantage against the 51-35 Washington Nationals for the other NL Division Series. They won in four games, outscoring Washington, 19-10, and posting a 1.88 team ERA compared to Washington's 4.07 team ERA.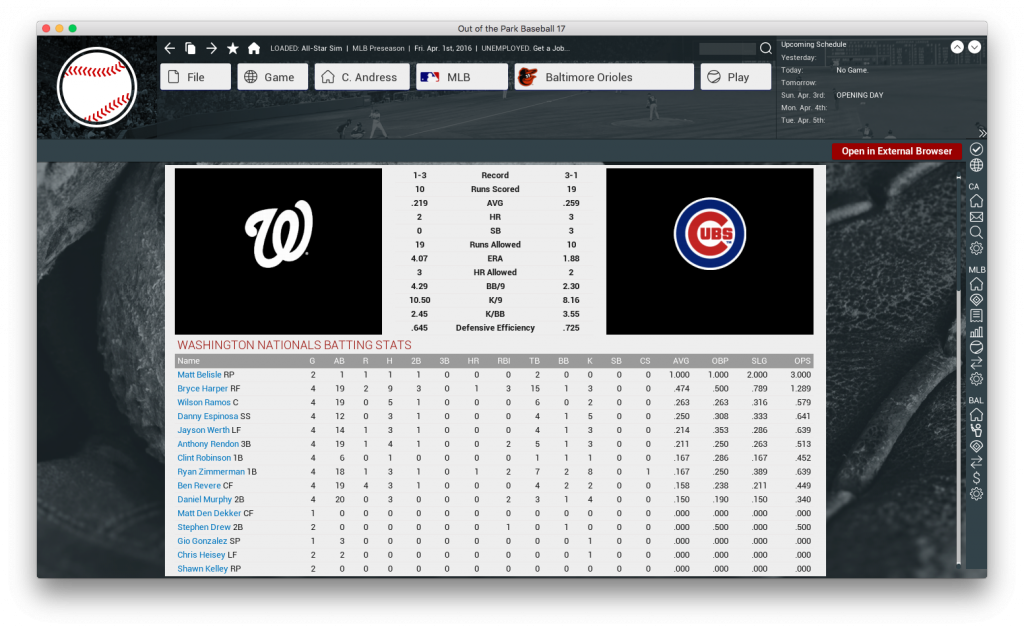 AL Championship Series: Boston vs. Baltimore
With the top two teams in the AL knocked out, Baltimore had home field advantage for the ALCS against Boston. It was a tight seven-game series, with both teams scoring 20 runs each, and Baltimore rallied from a 3-1 deficit to prevail. David Price was 1-1 with a 2.38 ERA in 22.2 innings in three starts, but he lost a 1-0 Game 7. Craig Kimbrel was dominant in his three appearances, allowing no runs and no hits in four innings, but he only had one save while Zach Britton saved all four of Baltimore's wins.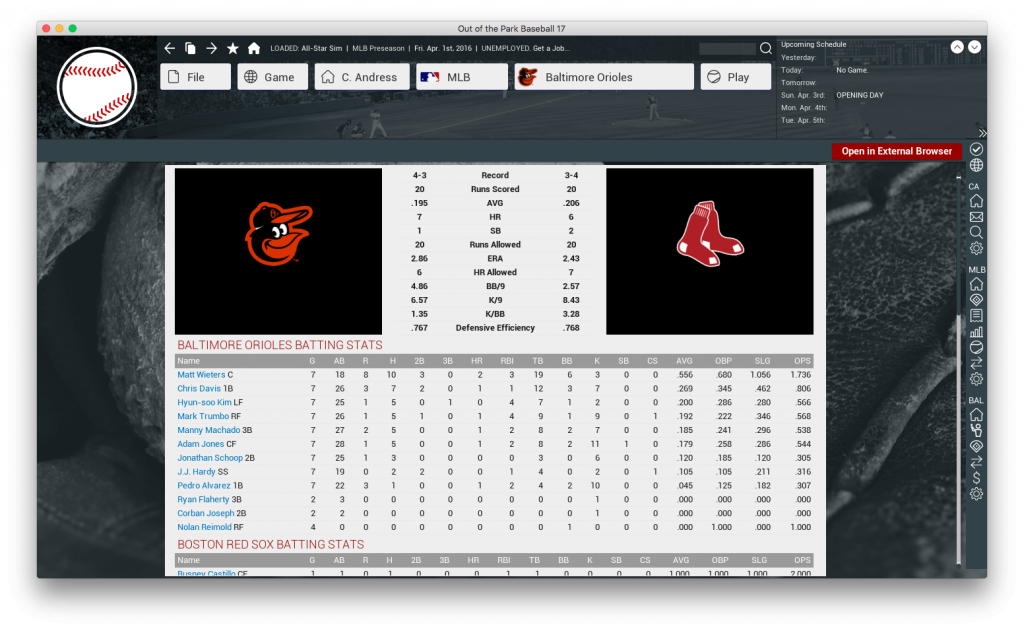 NL Championship Series: Chicago vs. San Francisco
The teams with the two best records in the NL faced off in the NLCS, and San Francisco had the home field advantage. Chicago jumped out to a 3-0 series lead but San Francisco staved off elimination with two wins before Chicago prevailed, 4-3, in Game 6, with Sergio Romo taking the loss and Pedro Strop earning the win. It was an evenly matched series, with Chicago outscoring San Francisco, 28-27, but losing the team ERA battle, 4.50 to 4.36.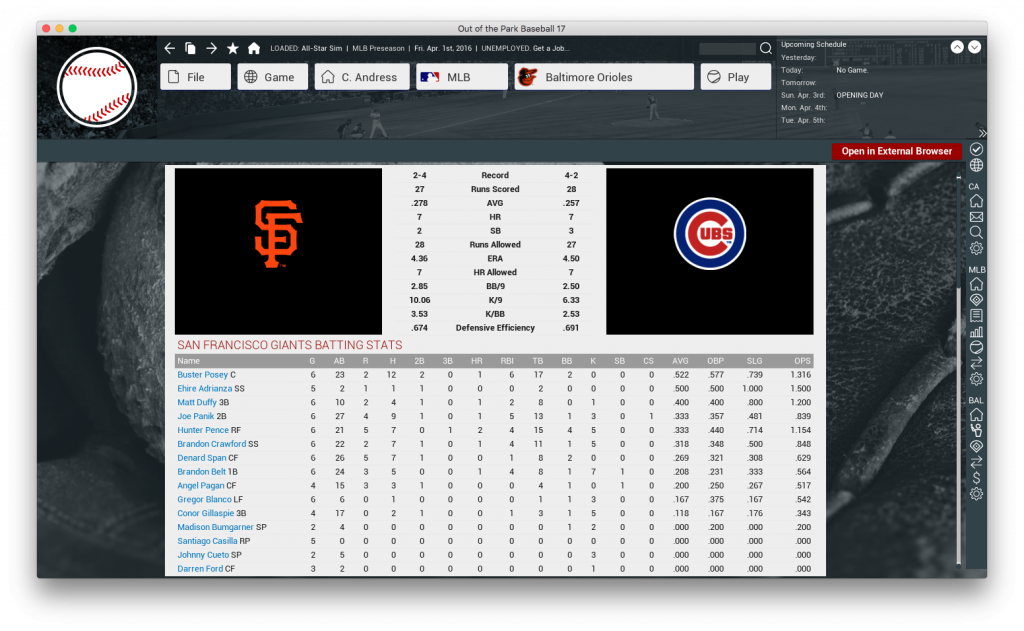 World Series: Baltimore vs. Chicago
Chicago won the first two games, but Baltimore once more donned their rally caps, this time reeling off four straight victories to sew up their first World Series win since 1983. They outscored Chicago, 28-23, with Jonathan Schoop cracking three home runs and knocking in seven runs in the six games. Jake Arrieta struck out 16 in 14.2 innings for Chicago, but he allowed 12 hits, two of them home runs, and posted a 3.68 ERA in his two starts.