While David Carducci, owner of new OOTP blog The Yakker, indulges in historical "What if?" scenarios, our own T.J. Lauerman and Kris Jardine are forging their own paths through the 2018 season and beyond at the helms of the Los Angeles Angels and Milwaukee Brewers, respectively.
They're streaming their seasons on our Twitch channel on Mondays at 8:30 and 9:30 PM Eastern time, so check it out to follow all the action. All of the broadcasts are archived on our YouTube channel.
We talked to Lauerman and Jardine to find out how their sims have been going so far. Among other things, it turns out that Bryce Harper will unsurprisingly have multiple suitors during the next offseason.
Managing the Angels
Lauerman says: "After a few years of having the main Twitch stream be an NL team franchise, I wanted to do something with the AL. Getting to have the best player in baseball in Mike Trout, and the most fascinating player coming into the season, Shohei Ohtani, I figured the Angels were the perfect team to use."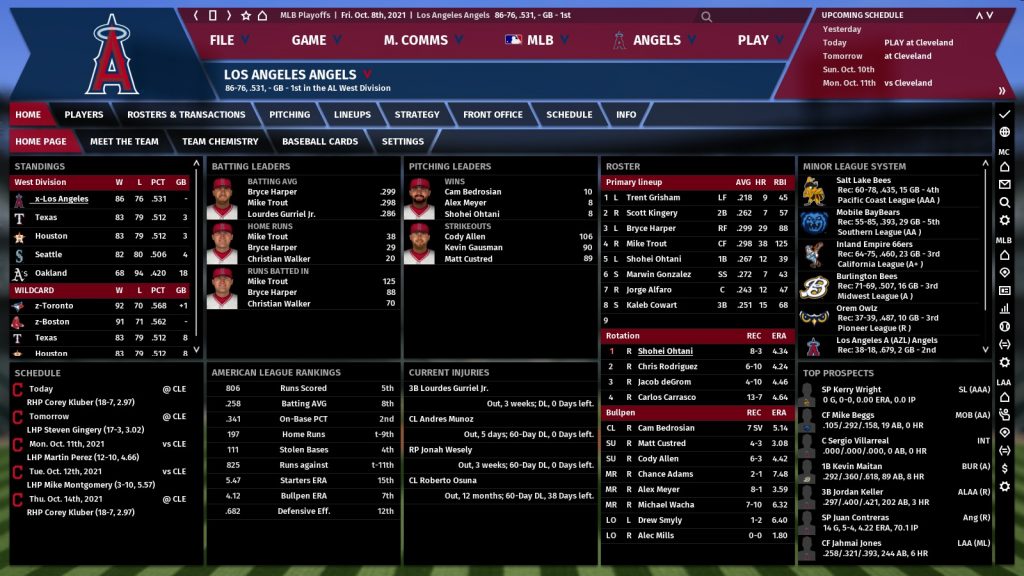 He continues: "2018 was really rough for our Angels. We started off strong, but the injury bug came up to bite us and caused a lot of havoc in our pitching rotation. We finished dead least in the AL West with a 69-93 record. A really interesting thing happened at the end of the 2018 season: the DH was eliminated from the AL. This actually worked out to our benefit, because once the news broke, the next day, Albert Pujols decided to retire and freed up a ton of money. We were able to then reinvest that in the offseason and made a huge splash by adding Bryce Harper to our outfield."
Unfortunately, Los Angeles kept running into a powerhouse in the AL West: "The Astros continued to dominate the West, and baseball, repeating as World Series Champions in 2018," Lauerman says. "They returned to the World Series again in 2019, only to be beaten by the Chicago Cubs. As for our Angels, we finished 5th in the division in '18 (69-93), '19 (67-95), and '20 (78-84).
"In 2021, though, we stayed healthy and won the AL West! be sure to tune in and find out how that goes on Twitch.tv/OOTPDevelopments, or how it went, on Youtube.com/OOTPDevelopments."

Asked for other interesting happenings around MLB, Lauerman replied: "Aaron Judge has continued clobbering baseballs, leading to AL MVP Awards in 2018 and 2020. Corey Kluber took home back-to-back AL Cy Young Awards in '18 and '19. In the NL, Noah Syndergaard won back-to-back Cy Young Awards in '19 and '20, and is looking to be on pace for a 3-peat."
As for Los Angeles, Lauerman runs down some of the deals he made: "We also made some moves to free up some money, such as sending Ian Kinsler and to the Yankees in a deal that got us a young, upcoming starting pitcher in Chance Adams. We also moved Luis Valbuena for Jorge Alfaro. Later we would make moves to pick up Scott Kingrey and Lourdes Gurriel Jr. One of our better steals has been the acquisition of Christian Walker via the Rule 5 Draft. We picked him up after the '18 season, and in two full seasons with the club he's hit around a .250 BA, with 20+ 2Bs, and 20+ HRs in each season."
Looking at the long-term view, Lauerman says: "Right now, we've got roughly $80m tied up between Mike Trout and Bryce Harper, and they are both still relatively young, so part of me wants to see how much I could get in return for one of them to possibly rebuild our pitching staff. We did pick up Jacob deGrom and Carlos Carrasco during the season to make our 2021 playoff push, but they are both entering their mid-30s, and after this season they each have three years plus a vesting option on their current contracts, though, thankfully in the trades for them, I was able to get their old teams to eat a lot of the contracts. So looking for the next generation of our rotation is something that needs to get taken care of sooner than later."
Making moves with the Brewers
In the National League, Jardine says he chose the Brewers because they "were a good challenge for me. They have a few good pieces in place and I wanted to see if I could build them up and make them a champion."
Like Lauerman, he had his shares of trials and tribulations during his first few seasons running the team. "The Dodgers won the World Series, 4-1 over the Red Sox," he says. "We went 71-91 and actually played it very safe when it came to transactions and call-ups, opting to keep the core in place and keep our young players in the minors to develop for later years."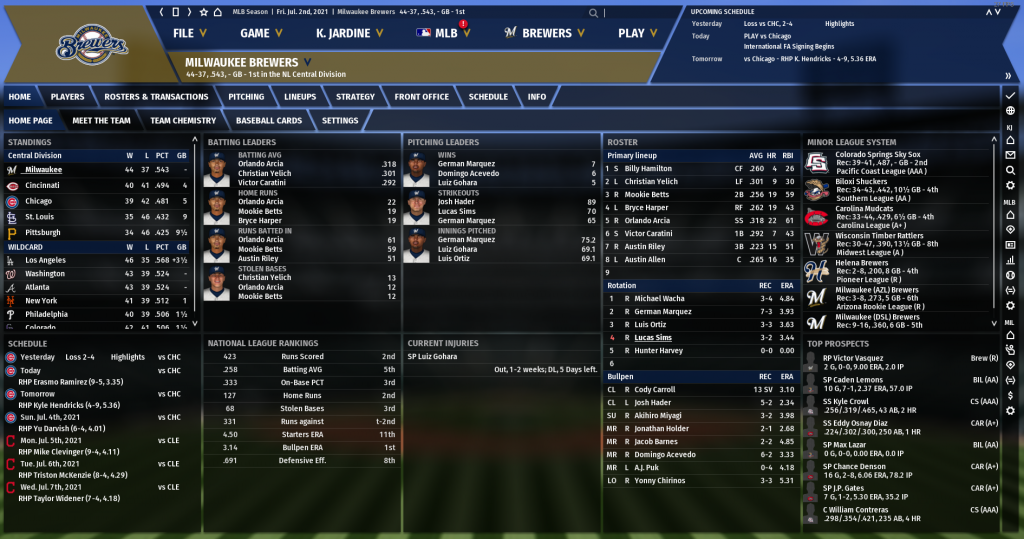 He continues: "2019 and 2020 were both promising seasons which saw the BrewCrew sitting in a playoff spot on September 1st.  However, both seasons were derailed by injuries in the home stretch and we missed the playoffs both times, and by only 1 game in 2020."
Jardine also had his own Harper moment: "We made a big splash and signed Bryce Harper to a 5 year, $100 million deal. He was coming off a bad 2018 season and his price took a hit as a result.  Seemed foolish not to make a play for him and it worked out! Outside of that, most of the moves made were for depth pieces."
As for other happenings around Major League Baseball, Jardine relates: "Just this past off-season, between 2020 and 2021, the league expanded to a 26-man roster! Also, the Braves won the World Series in 2019 with that young core and the acquisition of Manny Machado."
Looking ahead, he says: "The team is looking good and with some nice additions in place, we are looking to reach higher in '21. I feel like we have a solid minor league system at the moment. We only have one player signed for 2022 and beyond, so making smart arbitration and free agency decisions is critical. I think we are well positioned to be a top team in the NL Central for the next 3-4 years if things go our way."