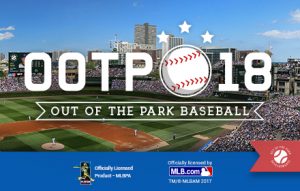 The ability to call the shots on and off the field for any Major League Baseball team is a huge part of the appeal of Out of the Park Baseball 18, so T.J. Lauerman, OOTP's Baseball Community Manager, leapt at the chance to run a team on the game's weekly Twitch stream.
He recalls: "Last year on the weekly Twitch streams, I had set out to turn the Atlanta Braves into World Series champions by 2020 and failed miserably. This year, I wanted to see if I would have better luck. I left it up to the fans and put a poll on our Twitter account with the options of the Chicago White Sox, Minnesota Twins, Cincinnati Reds, or San Diego Padres."
Lauerman continues: "Each team has some interesting players and things that could be done to try to get them back into contention. It was a tight race, but the Padres won by taking 30% of the vote."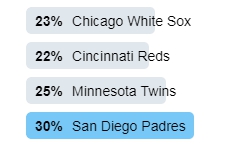 Addressing Wil Myers
Right off the bat, Lauerman says, "the number one thing that I felt needed to be addressed with the Padres was Wil Myers. He's got a very interestingly structured contract. The first 3 years are club friendly at under $5m a year, but from 2020-2022 he's over $20m a year, and with this Padres franchise, that's just not a player that we were going to be able to keep.
"So after a lot of back-and-forth about how long I should keep him, I ended up trading him to the White Sox toward the end of July 2017 for some high potential pitching prospects." Asked how real life Padres fans reacted to the move, Lauerman replies: "Initially a lot of them weren't super happy with trading Wil Myers, but when I explain the structure of his contract, they quickly understood that it was for the best."
He continues: "Myers had to be moved because of money, but that really let us focus on young pitching and getting players that put the ball in play and can get on base. One of my personal pet peeves is that now baseball fans are content with guys hitting .240 and striking out a ton, but I wasn't going to have that on this team."

As an aside, Lauerman notes: "I think of it more as an 'us' because, while I'm the one with the mouse and keyboard, I'm taking a lot of feedback in the Twitch chat."
Positioning the team for the future
"Obviously the Myers deal was big, and kind of set the franchise on its course," Lauerman explains. "The Padres are a fairly small budget team, and it seemed obvious that be the best way to use it effectively was to build up our pitching through young guys that we could acquire through trades, as well as building up the pitching prospects we already had.
"We're not going to be able to spend $20m on a big power-hitting slugger, so we felt getting great contact and speed guys was the best course of action. We might not hit a bunch of three-run homers, but we should be able to drive in a bunch of runs with two-run doubles."
Like many GMs rebuilding their teams with an eye on future results, Lauerman was prepared for the 2017 Padres to post a poor record, but he admits that the team's 58-104 finish "was a real kick to the stomach. While it did hurt to finish with the worst record in baseball, I think it was actually a good thing. It allowed a lot of the younger guys get playing time at the big league level. Without that, I don't think they would have been able to add 22 wins in 2018."
An 80-82 record in 2018 may not seem like a major highlight, but Lauerman says it was the biggest highlight of the series so far. He says: "Frankly, it's one of my personal OOTP highlights from all the years I've played. I really wasn't expecting this team to be anywhere near .500 for at least another year or two. The other big highlight for me was seeing that our team finished the season batting .266, good enough to be the fourth best in the NL, as well as having a one of our players win the NL Batting Title with the highest average in all of baseball."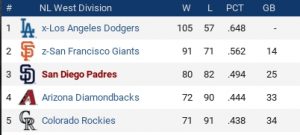 The 2018 team was also helped by some free agent signings during the previous winter. "It wasn't something that was planned, but over the off-season we just ended up signing three ex-Orioles: Trey Mancini, Chris Tillman, and Jonathan Schoop."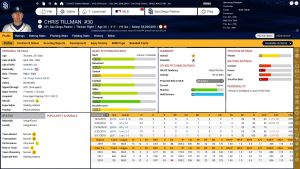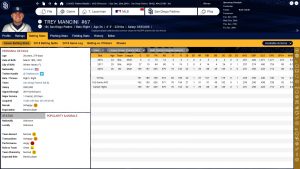 Making tough decisions
A GM in Lauerman's position also has to walk a fine line between keeping veteran players happy and giving key minor league prospects their cups of coffee in the big leagues. He says: "The other major decisions that have been tough is just about the timing of calling guys up, and letting them play. We've made some veteran players unhappy because we've given some of the kids a chance to play, and some of them have really shown up."
As the team prepares for the 2019 campaign, Lauerman says fans of the simulated Padres have reasons for optimism. "Both pitchers acquired in the Myers deal are knocking on the door to the big club. The infield seems pretty set for the long haul, and the outfield is coming around. Due to budget restrictions we weren't able to do much on the free agent market, so we're kind of in a holding pattern right now.
"The last piece of the puzzle is getting some of our crop of young starters from AA and AAA up to the show. Hopefully we can play well enough early in the season that by the time some of them are ready to come up, we'll be in striking distance of a .500 record (which is my personal goal for '19), or a Wild Card berth."
Beyond 2019
Asked about his post-2019 plans, Lauerman says: "With the amount of young talent that this team has, I'd like to continue for another handful of years, assuming I don't get fired, followed by simulating 20 years just to see where these guys all end up."

He adds: "For the team to go from winning 58 games to 80 games, a lot of things had to go right, and a lot of players had to progress positively, and that's what's seemed to have happened. It really been a lot of fun for me, and the fans, to watch this team grow up and start reaching their potential."
One particular Padres fan, Zach (@ZachDietrich1 on Twitter), as been joining Lauerman for the streams, and he remarks: "It's been enjoyable to watch what the Padres could be with the right person making the important decisions."