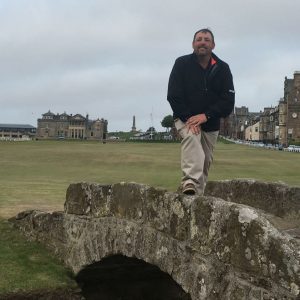 "Exploring the Out of the Park Baseball multiverse," it says on the homepage of The Yakker, the new blog from sportswriter David Carducci, who has covered multiple World Series and spent six years as a beat writer focused on the Cleveland Browns, among many other media roles.
True to its tagline, The Yakker indulges in the "What if?" scenarios that make OOTP's historical option so much fun. There's "Save our Expos," a series in which Carducci takes over Montreal in 1995 and tries to keep the team competitive so they don't leave town. And then there's "Beyond the Sixth Game 1976," where the Boston Red Sox attempt to avoid the real life letdown they had after that classic 1975 World Series.
Supplemental material
As Carducci explains, The Yakker is a home for not only the OOTP historical sims he runs but also games created by others. "My hope is to provide something that can be a nice supplement to what exists already," he says. "I want it to be a place to talk about baseball, its history, and all of the great 'What if?' questions. During my career working in college athletics, I taught myself graphic design so I'd like to use this blog to add a visual element."
He continues: "If you look at some of the early posts, I've had a great deal of fun taking old photos and tinkering with them to get an even better look at what, let's say, the Babe would have looked like playing for the Indians. In my own 1976 Red Sox replay, rather than going through with the controversial deal that would have brought Rollie Fingers to Boston, I made a deal with Kansas City for a young Dan Quisenberry. So, in the blog post, I have a picture of Quisenberry as he might have looked pitching in the Red Sox farm system. I'll be doing that for all of the different games my friends and colleagues are playing."

Two of those friends are Pirates fans both named John, as Carducci explains: "They both liked the idea of taking over as the GM in Pittsburgh after Barry Bonds left town and seeing if they could make better decisions to avoid 20 consecutive losing seasons. They decided to take on the challenge separately, making a little side bet based on who gets to a winning season first.
"What makes the challenge interesting to me is the approaches both are likely to take. One John is a engineer at NASA, so he's likely to take on a very analytical style. The other John is a manager at a business in Cleveland and a real 'people person.' I know he'll have a very different approach. He has already identified the lack of investment in player development, specifically in the Dominican. To clear some salary from the budget, he has already dealt the popular Andy Van Slyke and is reinvesting that money. NASA John recently returned from a conference in Texas, so I'm looking forward to seeing what he has going."

Fascinated by the depth of OOTP
Carducci discovered OOTP last year. He recalls: "It helped my family get through a difficult time as we dealt with an illness. Playing the game, talking about different trade options, tinkering with alternate histories like the classic 'What if the Indians never traded Rocky Colavito?' and exploring other alternate baseball universes gave us valuable breaks from dealing with the fears and uncertainties of crisis."
He adds: "Once the crisis passed, I wanted to share the game with friends and colleagues who love baseball and its history. I was a sportswriter for 20 years and have friends who are still in the business. During the last five years, I worked in college athletics with people who I knew would love the game. I've also played Strat-O-Matic Baseball for most of my life, and was certain that some of the friends I made playing in several leagues would be fascinated by the depth of OOTP. So, I introduced all of these people to the game. Now they are in love with it. We all had ideas for different challenges in creating alternate Major League realities, so we've been working together to get these games started and put them all in one place where we would be able to discuss and share our ideas."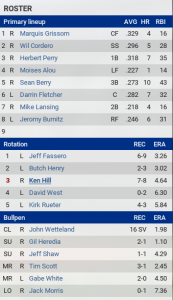 Carducci comes from a family full of baseball fans, so he has relied on various allegiances when playing OOTP. "I'm a Clevelander, so I love playing various Indians teams and trying to see if I can end their tale of woe. I've never been able to do it," he laments. "I've played with the Albert Belle-Kenny Lofton-Manny Ramirez teams of the 90s and always come up short. I've tried to reverse the Sports Illustrated curse of the mid-80s with Brett Butler, Joe Carter, and Cory Snyder. No luck. But I do have a few wild games, including a no-hitter thrown by Greg Swindell in 1988."
He adds: "I have two no-hitters to my credit. The first was thrown by Steve Blass while playing with the Pirates in 1968. I tend to cheer for the teams where I have family history. My father is from Pittsburgh, so I love the Bucs. My mom is from Boston, so I also love the Red Sox. Both might seem incongruent with my love of Cleveland teams, but I can defend my fandom. I grew up going to Pirates games with my dad's family. Al Oliver was my favorite player growing up in part because he attended Kent State University, which is where my father went to school. Ironically, I eventually worked at Kent State. My grandpa on my mother's side had season tickets at Fenway Park.
"I remember being called out of a morning study hall at Hudson High School in Ohio because he had an extra ticket for games 3 and 4 of the 1986 World Series. Instead of spending the day in school, my dad took me to the airport, put me on a plane to Logan, where my grandpa was waiting to meet me and whisk me off to Fenway. Of course, the Sox were rocked 7-1 that night. Game 4 wasn't a whole lot better – a 6-2 Mets win. You can bet that 1986 season will be something I try to tackle in the future."
Turning childhood dreams into reality
One of Carducci's earliest favorite baseball memories happened when he was seven years old: "My dad surprised me with a beautifully stitched Carl Yastrzemski home No. 8 jersey. He gave it to me when we arrived at the park. I had been wearing it for at most 15 minutes when, as we were walking to my grandpa's seats down the third base line, I was struck by a bird dropping on my left shoulder. The Red Sox were about to play the A's, and ironically, no matter how hard we tried to clean the shirt, the green stain remained. The Athletics rocked the Red Sox on the field and we never got the stain out."
He continues: "The greatest experience in my life, though, was covering the 1995 World Series as a sportswriter. The Red Sox and Pirates are really my parents' teams, and since I love my parents, I grew up loving those teams. But I'm a Clevelander. Seeing the Indians in the World Series and being able to write about it was a dream come true. I was right out of college and had the chance to meet and talk with my hero, Peter Gammons, on the field before Game 1 in Atlanta.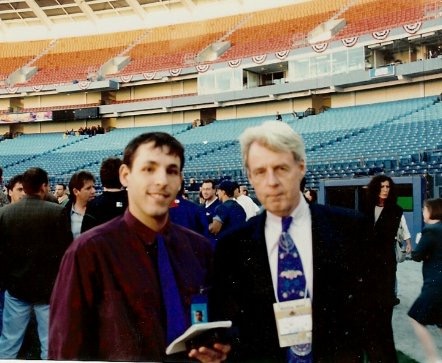 "I'll never forget leaning up against the batting cage prior to Game 1 and watching Fred McGriff crush balls into the right field stands. As I was standing there, I heard a voice next to me say 'There's nothing like Game 1 of a World Series, is there?' I looked over and it was Greg Maddux. Here I am, just starting my career as a sportswriter, and the greatest pitcher of my generation is starting a conversation with me. Pretty cool."
Carducci has had other memorable experiences as a sportswriter too. "On my very first day as a professional reporter, I had the great fortune of interviewing Jack Nicklaus," he recalls. "Twenty years later, I covered the 2005 British Open in St. Andrews where Jack Nicklaus played his final true competitive round. I followed him inside the ropes that entire Friday, followed him as he walked up 18 to a standing ovation, and my feet were on the green as I sat in the right rough watching him drain a birdie putt on his final hole. Probably nothing beats that. I have the front page of the sports section with my story framed along with my badge and a photo of Nicklaus waving goodbye on the bridge. I look at it every day."
He continues: "I had the chance to meet and interview three Presidents of the United States during my 20-year career as a reporter. Five of those years were spent as a beat writer with the Cleveland Browns. Late in a game at Green Bay, I was stuck in the elevator going from the press box to the field at the then-newly renovated Lambeau. It was me, Pat McManamon (then a reporter for the Akron Beacon Journal and now with ESPN), and … Bill Russell.
"Why was the legendary Boston Celtics center at a Browns-Packers game? It turns out he and the Celtics of his era were all Packers fans while the Packers of that time cheered for the Celtics. It was a 'respect thing' between the two dominant teams in their respective sports. Russell is still a Packers fan and apparently goes to a few games every year. We were stuck in the elevator for quite a while, and while we missed some of the post-game interviews, listening to Russell tell stories to our captive audience was worth it.
"My last thrill during my career in sports came in 2017 when I had the chance to sit courtside and call an NCAA Men's Basketball Tournament game on the radio. During my five years at Kent State, I provided color commentary for men's basketball. In 2017, the Golden Flashes won the MAC Tournament and advanced to play UCLA and Lonzo Ball in the Sacramento regional. The Flashes gave the Bruins a battle. For me, it was another dream come true. As a kid, I went back and forth between dreaming of being a sportswriter or a broadcaster. I ended up having the chance to do both."