Each annual version of Out of the Park Baseball and MLB Manager brings with it a roster update that's accurate as of Opening Day, and in the case of OOTP, that includes all Major League Baseball teams and all the MiLB clubs, along with independent minors in the US, major and minor league teams in Japan, Korea, and Taiwan, and more.
It's a herculean undertaking, one that requires a "24/7, 365 days a year process," explains Howard Woolfolk, who oversees the team that handles all that work. Lukas Berger serves as his right-hand man, and the two of them graciously agreed to answer some questions and give readers a behind-the-scenes look at one of the most low-key, but crucially important, aspects of the games.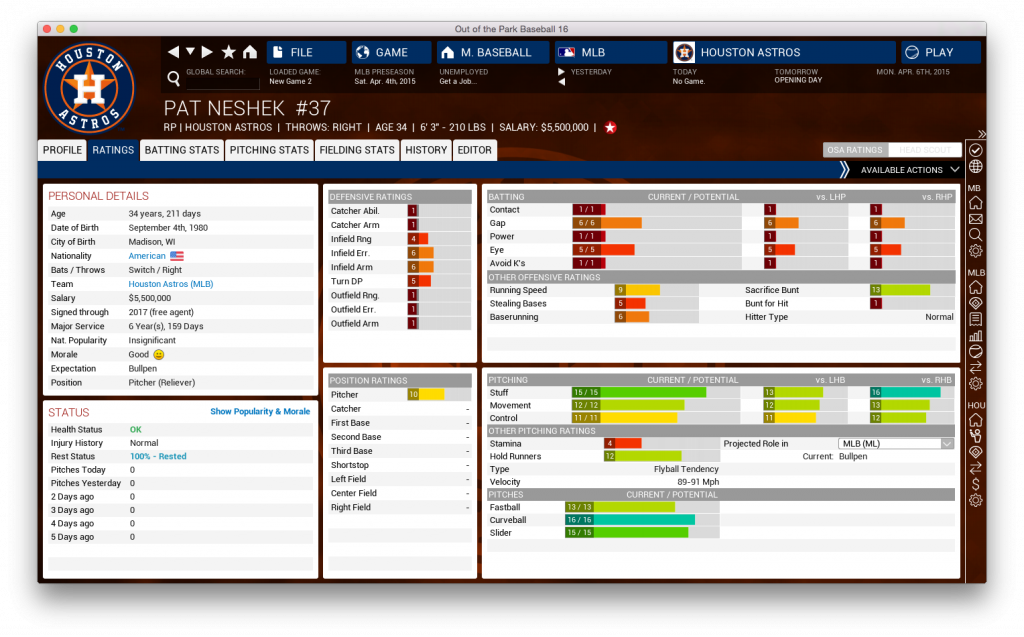 Q: How long have you been with OOTP Developments? What led to your involvement on the roster team?
Howard: I have been playing since version 2 or 3, I believe. I have always  been into roster making, even back in my days of playing the original Earl Weaver Baseball. I remember traveling to 7-Eleven on Opening Day to get USA Today every year, since it was the only place to find 25-man rosters. Then I'd get home and start updating. Then I graduated to PTP Baseball.
When I got OOTP I absolutely loved that I could create even more players, so I was making rosters just for myself and a few friends on the forums. After OOTP 7 came out and they expanded to rookie ball, I was in love. A year or two later I was telling [former PR and marketing manager] Steve [Battisti] how I had an up-to-the-minute roster set, and he and Andreas asked to see it. I sent the file and the rest is history.
Lukas: I've been on the Beta/roster team since early 2013, and officially with OOTP since December 2014.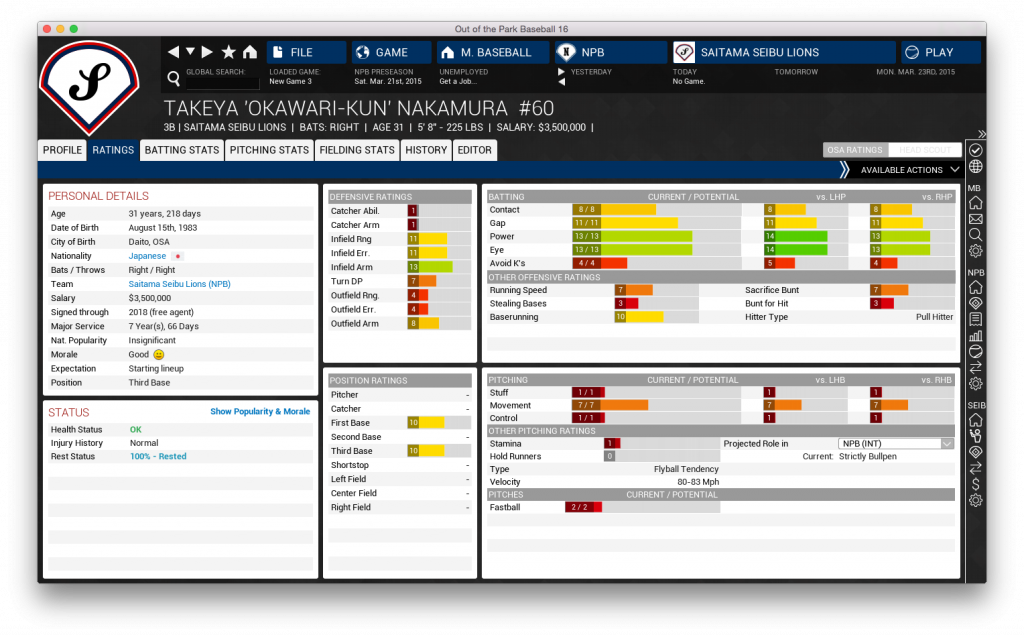 Q: How long have you been playing OOTP? How and why did you first get into it?
Howard: I got into it around version 2 or 3. I just did a search one day, found it, bought it, and been devoted ever since.
Lukas: A long time, though not as long as some. I think I first played it back in 2006 or so. Pretty sure my first version was OOTP 6.5. I don't remember how I found the game, but I've always been interested in sports sims and once I played OOTP, even at that early date the quality was readily apparent compared to many other games, both baseball and other sports, plus OOTP was just so much fun.
Q: How did the roster team get started?
Howard: We mainly used Lahman for stats and such. All the roster stuff early on was handled by most all Beta team members. I remember we were really unorganized one year, having something like one person do these three teams, one person do these two teams, etc. Nothing was getting done. OOTP is so deep that the guys were also testing other things and that stuff was taking up a lot their free time.
I remember getting my stuff done really quickly and I kept noticing other teams weren't finished, so I just started finishing them up myself. It was a good thing, because it gave others time to focus on the things they desired most about OOTP — mine's been the rosters.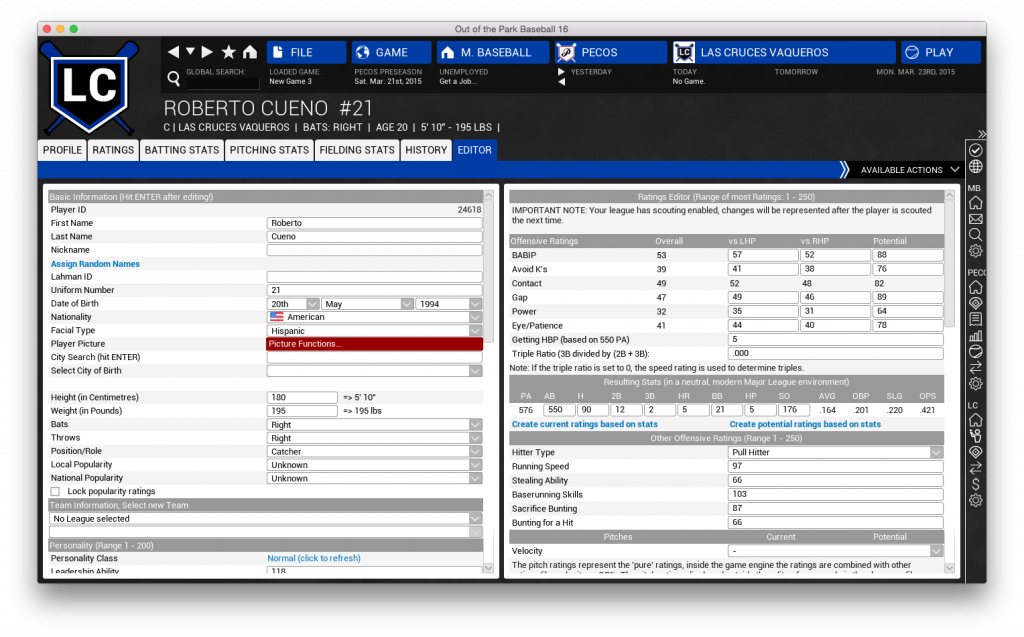 Q: How has the roster team changed over the years? How many people were on the team in the beginning, and how many do you have now?
Howard: So many. I think when people volunteer for the team and get on it, they do not realize the amount of work it really takes. I mean, it went from MLB and three levels of minors to MLB, all levels of minors, plus indie minors, international leagues, etc. That's a ton.
I realized a few years back that I needed more help. I had and still have a great team of guys, but I needed another ME. And I happened to be looking for something in the forums and came across a guy doing college rosters. I PM'd him and he said he'd help. I was skeptical for a while, but honestly, without Lukas I would have pulled out all my hair. He handles all things International and thank God he does.
And we have certain guys who have particular things they know they always do. Robin (ms2002) handles all things top 100 and top 30 team prospects for every team. Domenic (outrider64) is my go-to guy for the grunt work. Ian (Injury Log) is sort of a jack-of-all-trades, he helps wherever he's needed. Scott (Doc_Brown) makes us laugh and teases my Dodgers :). Seriously, he's a big help to Lukas. Rod (Bigrod) he handles all stats and schedules, and he's the only guy who gets on my case when I don't do the proper reference IDs for players :).
There are plenty others on the team that really help us out as well. Sorry I cannot mention all of you.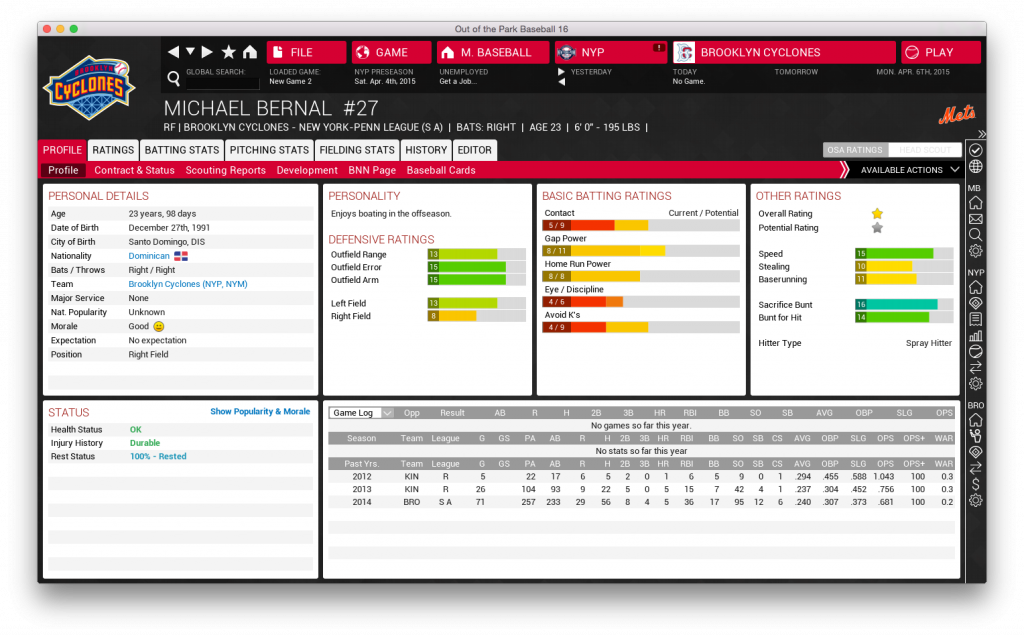 Q: Walk me through what the roster team does for each version of the game, from the beginning to the end.
Howard: Hmmm. Honestly, it's a 24/7, 365 days a year process. I am constantly in the database doing work. As a matter of fact right before this, I was creating July 2nd international prospects for the Pittsburgh Pirates. Basically, look at it like it's the last day of the season. Five days after the World Series, teams do a massive amount of minor league releases and players file for both major and minor league free agency. About 1,000 or more players a year total. We have to remove them all from their teams, then we monitor all signings, releases, trades, arbitration cases, Rule 5 draft, and staff hirings/firing
The painstaking task is then taking all the previous drafts' players and putting them on the teams and then seeing you created a ton of guys who didn't get drafted and having to figure out where the high school players went to college, if any, and see which of the guys stayed in school, etc., and keep the rosters updated. Previous season stats are loaded.
And while the signings aren't going down, we are doing maintenance on things. Lukas and his guys are scouring the Earth for international info. As I mentioned, I'm creating players for this past year's July 2nd international free agency period as well as guys for next year's. And I also keep track of the rosters and make sure no guys have retired from the minor leagues or been released. I also try and help Lukas on the upcoming drafts when I can. Then once Beta gets kicked into gear, we have to load projections, update anything off, deal with all the spring training stuff and prospect stuff, test, test, and test, and then do Opening Day 25-man rosters for the majors and minors and then voila 🙂
Q: What tool do you use to maintain the database?
Lukas: It's an online editor, pretty cool tool in fact.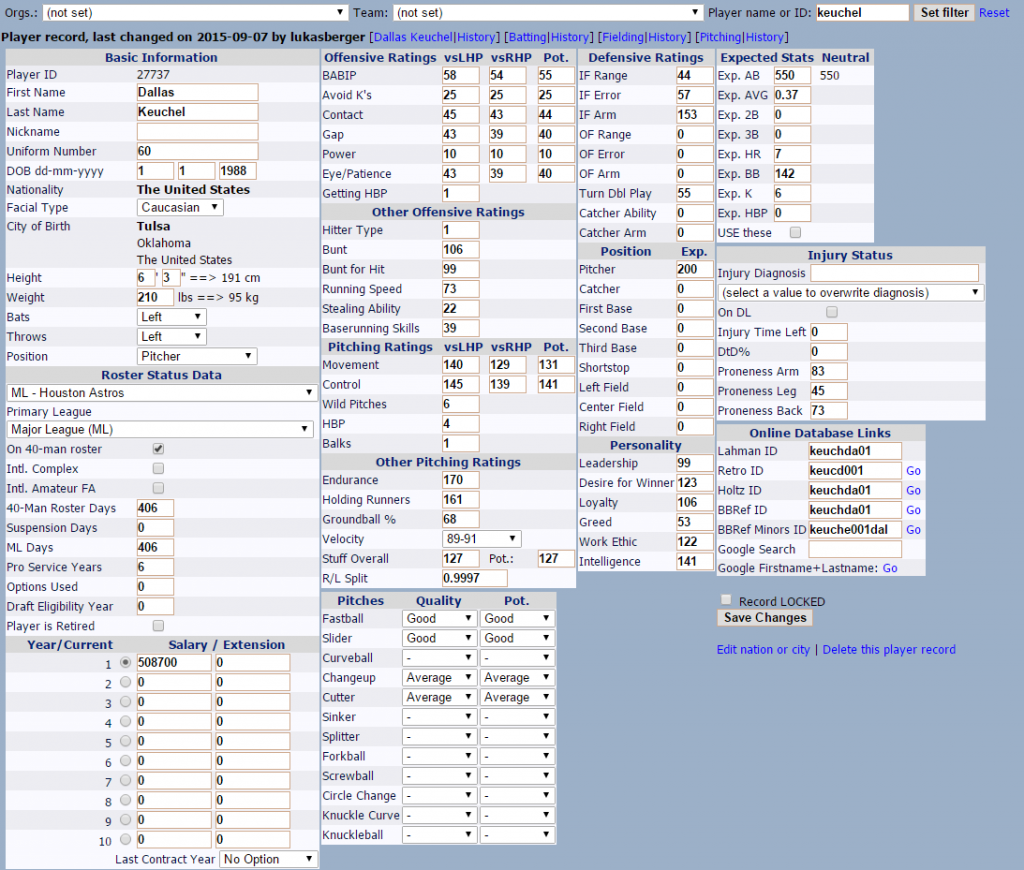 Q: After the game ships, what does the roster team do during the baseball season?
Howard: We are mainly only fixing the real issues pointed out by our community, which I love because there's so much we can miss with our limited set of eyes. I love that we get like 800 posts and 37,000 views. That means that what we're doing is very important to a lot of people.
We're also working heavily on that year's draft since more and more scouting reports and top 10/100/500 lists are coming out, as well as always updating the July 2nd international free agents as we find the players. Then around July, Markus frees up the database for us to make all the trades, releases, signings, and basically begin getting ready for next year's version. So basically we're always working on them.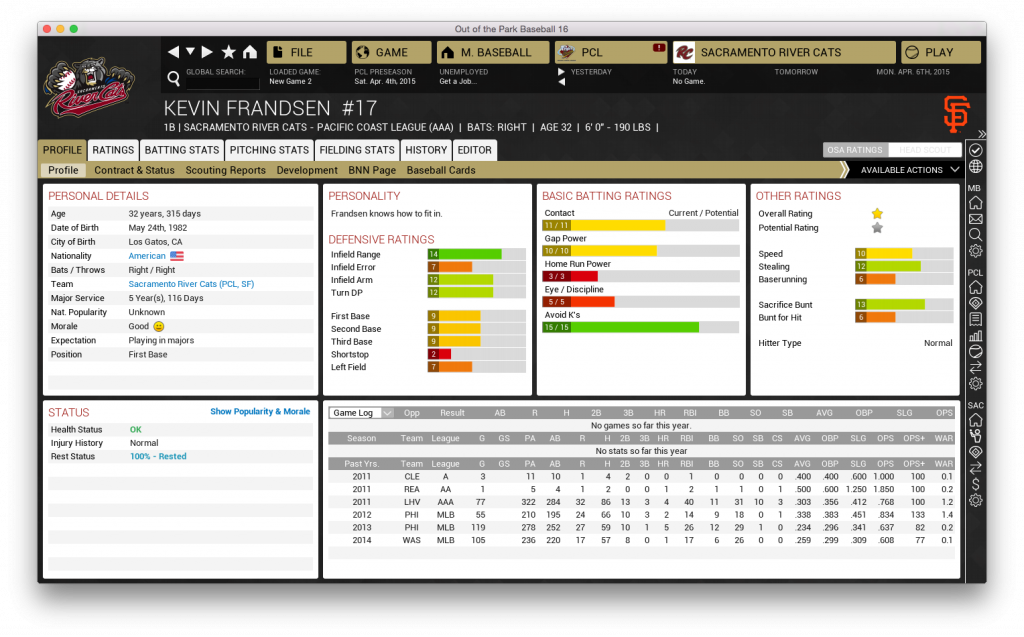 Q: Why does OOTP sometimes release roster updates toward the end of the season, such as the early September update issued this year?
Howard: That's usually me. I consult with Markus, Andreas, and Lukas on what we've got and they're always excited about it. This past year I have had significant health issues so I didn't think we could get it done. I figured why not release something for this year? I was glad I did as I see we had over 100 posts and 13,000 views to that link alone.
What I want to do this year is try and release mini updates between patches. They won't have any changes in personnel on teams, but it'll be those fixes people find, like someone's contract being off or some of the other minor things the community finds or we find ourselves.
I personally would hate to wait for two weeks for a patch to update the rosters and begin my season. We will try and do this, hopefully it's successful. Plus, health permitting I hope we can roll out another update one day after the trade deadline and another possible Sept. 1st one after ALL trades are finalized. Don't know if we can do both but we'll see.
Q: How many total hours of work do you think the roster team puts in each year?
Howard: Honestly, it's incomprehensible. I would have no clue. WAYYYYYYYYYYYY too many 🙂
Lukas: Too many! It's almost embarrassing to think about, actually. I would estimate that I've probably spent something like 2,000-2,500 hours working on rosters and stats since joining the team. That's just a guess, though, I really don't keep track. Dunno about everyone else, Howard almost certainly spends more than I do, so I'd guess the other guys on the team may spend 500 hours or so between them.
Some of my 2,000 hours was extra projects, i.e., I had to personally create all of the international leagues and indie leagues from scratch. Few to none of the players were in the database, none of the teams, none of the stats, etc., so it took a massive amount of work to get all of that created in game first, then Markus and Andreas had to do a lot of work merging that into the database.