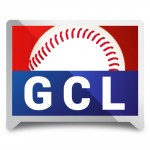 The GCL's 62-game regular season has come to a close, and we'd like to congratulate the ABL Bandits, who finished in first place with a 42-20 record. They'll face the 14-48 RIBC Birdmen in the first round of the tournament.
The full standings are below, but first let's take a look at the first-round tournament match-ups. Each round features a best-of-nine series. The winners move on to round two and the losers get a "Thanks for playing" consolation email. The GM of the last team standing will score a gift card, along with free copies of OOTP 16 for him and every member of his league.
(Yes, you can still pre-order OOTP 16 for PC/Mac or Linux and get it three days before its release in March, along with a free Steam key.)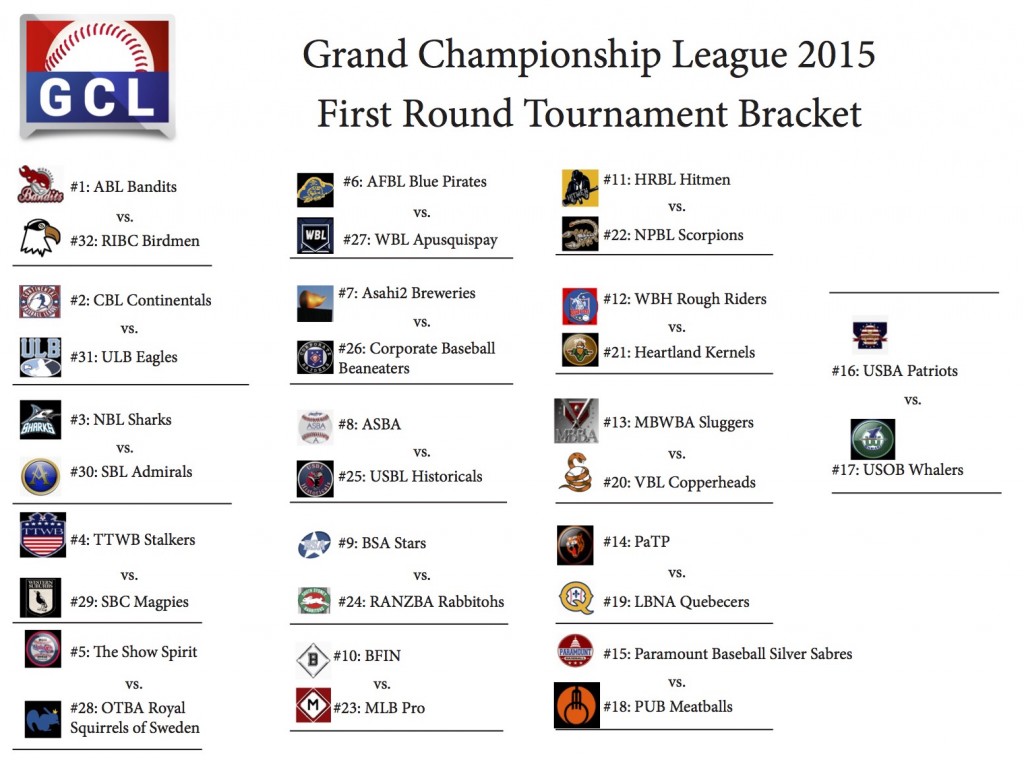 Here's how the teams finished the regular season. The Bandits ended with a comfortable five-game lead over the CBL Continentals and NBL Sharks while the Birdmen were 28 games out of first place and 12 games behind the three clubs ahead of them in the standings.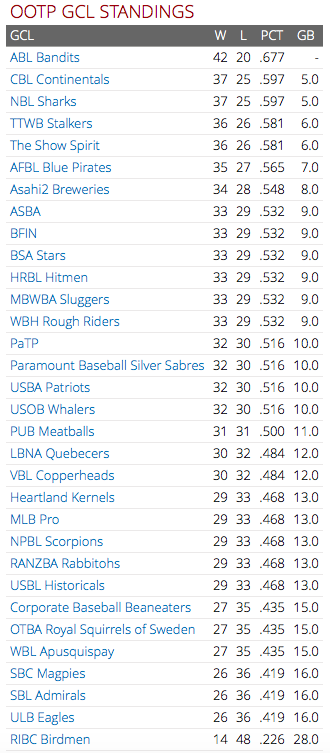 Round 1 Match-Ups
So, how will Round 1 of the tournament go? GCL commissioner Mike Branda has offered his thoughts on each match-up, and some of the GMs have chimed in too.
ABL v. RIBC
Mike Branda said: "RIBC is, simply put, the worst team on paper and on the field here. Somebody had to be, right? If RIBC wins two games here, I'd be shocked — Which means if they win the series, I'd consider it a sign of hell freezing over."
His pick: ABL, 5-1
While RIBC GM Paul Miller issued a terse "No comment" about his team's chances for a major upset, ABL GM Christian Latulippe was in a talkative mood and had this to say: "Well, when you start a new season with 31 opponents and some of the top GMs of the OOTP community, you are anxious to see how you will match up. The ABL Bandits did quite well, finishing first with a record of 42-20 and a 5-game lead over the CBL Continentals. When we look at numbers, ABL Bandits were very good at home, with a 23-8 record, and 19-12 on the road. The Bandits were also clutch: They were 12-3 in one-run games and 5-1 in extra innings. Key stats of the ABL Bandits: Offensively, we finished second in batting average and runs scored, and first in strikeouts. Pitching-wise, we were average across the board, except our staff gave up the fewest amount of walks.
Asked how he set up his team, Latulippe replied: "I spent a lot of time preparing the selection of my team; it is an exercise that I usually do well (I won the first 2 seasons in the last 2 leagues that I started). I think it was important to assess the strength of the pool, how the majority of the GMs will pick their teams. A few things were obvious: There were some talented and cheap left-handed bats and talented and cheap right -anded pitchers.
"So for me it was important to pick maximum talent, and a few left-handed pitchers to try to beat up high left-handed bat line-ups. Lefty Rodrigo Ramirez had a great season. I was also looking at all the possible details: ability to mix line-up versus LHP or RHP, and a good mix of LHP and RHP, potential back-up players who could fight for position.Since it was a short season and long playoff, I did look on their desire to win and the leadership of some key players.
"Finally, I spent a lot of time looking at Park Factors that could fit my team well. I picked Wrigley Field, not a place that they are use to winning it all, so maybe that will catch up with me, but that park will give higher average to my players and help my pitching staff not give up too many run, so with a good defense, that should help. Again, it is a very interesting exercise, and a lot of variable to take into account, I guess for 62 games we seem to have some luck or good vibe.
"Now it is playoff time, we know everything can happen in the playoff. It will be important to not get in a slump and be reactive. We start with the pressure of finishing 1st, but I think our team is ready."
CBL v. ULB
Branda said: "I think ULB might sneak up and surprise CBL here but I suspect CBL will slip away with a close series win. ULB has won 3 out of their last 5, including a win over the #1 seed, ABL."
His pick: CBL wins, 5-4
CBL GM Bryan Scott said: "My greatest concern heading into round one is something I actually began to address, in part, at the beginning of the last week of the regular season: correctly positioning my rotation for optimal performance. For every team participating, the shorter the series lasts the more the advantage heading into the next round. Days off allow your bullpen to be well rested and allows you to open the next series with your choice of starter, thus making it easier to shorten that series and so on and so forth.
"My team has lived and died on small ball this season, as you mentioned, and I am proud of what they were able to accomplish. I built them with just that in mind and they did not disappoint. I think the running game will be a key in this matchup. Will they start Jose Cortez behind the plate? He is the better hitter but his CS% was only 22.4%. Will our running game force them to start a more defensive option in Mark Thomas, costing them the much better offensive numbers of Cortez?
"My main focus, though, is, as it has been throughout the season, getting deep in counts, seeing a lot of pitches, elevating pitch counts and getting to the bullpen. The Eagles bullpen was ranked 21st in ERA vs. the 10th ranked ERA of their starters.
"My only real concern is the back end of my rotation. Morris started off the year horribly but finished much more stable. Garcia started off solidly but had a rocky finish. I juggled my rotation for match-ups throughout the season and my guys handled it wonderfully. There is no doubt that they will continue to do so. My starters getting deep into games will also be key as it keeps my bullpen fresh. I carry only 3 position players on my bench and an extra reliever more than most and that will help in this regard as well.
"The Eagles, however, did seem to hit well vs. LHP during the year and we, being an unusual case I think, carry 2 LH starters. We will have to get a win from one of them to keep this series short and carry an advantage into the next round."
NBL v. SBL
Branda said: "The SBL comes in ice cold, and I don't see that changing as they face a very powerful NBL offense here. "
His pick: NBL wins, 5-2
TTWB v. SBC
Branda said: "Both teams limped in, but I'd say TTWB's finish was worse than SBC. For that reason, I'll take my first upset here and grab SBC with the win."
His pick: SBC, 5-4
TTWB GM Mark Sands told us: "Despite a bad last week, the Stalkers featured the ninth-best starting rotation by ERA, with a 3.84 ERA. The Stalkers were top 3 in starting rotation ERA until the last two weeks, when their #4 and 5 starters fell apart –Elliot Hurlson and Greg Evans went 1-5 over 6 starts with a 1.9 WHIP and a 9.96 ERA. Hurlson will be out of the rotation in the playoffs, since SBC is particularly vulnerable against LHP (5-9 on the season, with star Dallas Brown going a pedestrian .236/.311/.436 vs LHP).
"As for changes, Rob Clark has really struggled this season (.209/.312/.348). Mark McKnight has had significant success getting on base (OBP of .352) in limited plate appearances and will spell Clark in LF against RHP. Clark will remain in the lineup against SBC lefties Powell and Rodriguez. McKnight has great range, but doesn't have much experience in left field. But with a superior overall defense, we believe that the improvement in team OBP will be worth the sacrifice. Closer Jesus Morales (3.81 ERA, 16 saves, 13.8 K/9) is on the wobbly chair and could get a quick hook in favor of Michael Williams, Luis Antonio Hernandez, or Jose Villegas if he struggles."
Asked for comments as well, SBC GM James Mathis replied: "We actually split with TTWB, and would have won the aggregate match if we were using European football rules, winning the home 'leg' 4-1 and losing the road 'leg' only 1-0. Since runs are going to be hard to come by, particularly in the vast expanses of TTWB's home park, we are going to start a defense-first lineup, and start in Games 1 and 2 the two pitchers that combined to hold TTWB to one run in each of our meetings: Ivan Manuel and Abel Little.
"Lefty wormkiller Jose Rodriguez will get the start in Game 3 at home. Circumstances of the series will dictate whether we start Aleksander Fidjeland, who struggled all season, second-year lefty Fred Powell, or our Game 1 starter on short rest in Game 4. We had one of the best home records in the league at 18-13, so if we can steal one on the road, I like our chances. We were 5-6 on the road in pitchers' parks with a +2 run differential, so this is about as good a match-up for us as we can expect as the NCAA equivalent of a #15 seed."
The Show v. OTBA
Branda said: "OOTP PR and Marketing Manager Brad Cook tweeted that he's going with OTBA, but I think he just has a thing for squirrels … especially ones that wear crowns. I think OTBA could be a fun team to watch through this tournament but I also believe The Show is one of the most complete rosters in the GCL. I'm taking The Show here."
His pick: The Show, 5-3
We like the Royal Squirrels of Sweden RT @JessepMMO: The field of 32 is set! It's @ootpbaseball Madness in the GCL! http://t.co/Imzk3uVyPd

— OOTP Baseball (@ootpbaseball) February 20, 2015
Cook replied: "Who doesn't like squirrels?"
OTBA GM Nick Reynolds said of his opponent: "They might have a better pitching staff, but the difference between our #1-#4 guys isn't as big as it first appears. Our bullpen ERA was also inflated by a few back-end relievers who won't pitch much in the playoffs. For our team, our defense was better than theirs, so we have that in our favor. Our offense is also set up take advantages of their staff's weaknesses and I'll make a few tweaks to maximize that.
"I'm predicting a lot of 2-1 and 3-2 games, I'm just hoping we're on the right side of enough of them."
The Show GM Scott Pogue had this to say: "As a team manager, I hate giving up walks. I flat out hate it. However, I built my rotation around two primary things: #1 was a high groundball rate and #2 was control. As it turned out, we walked a lot more guys in the regular season than I wanted…but we converted double-plays at a huge rate. We lead the league with 65 twin-killings, thanks in large part to choosing a super glove man at shortstop and surrounding him with more-than-capable teammates. We were 7th in the league in fewest errors committed (29), and certainly jealous of OTBA and their #1 rank there (19). Overall, our defensive efficiency was second at .705, and that was a key component of our team build.
"So, am I concerned with walks? Absolutely. I have to be. We were average in that regard. However, our mitigation is above-par glovework, and we count on that continuing. With the second-best ERA in the league, I think our plan worked pretty well to get us this far. The other thing to note, is that we were 2nd in drawing walks and 7th in strikeouts. The Squirrels did an amazing job of limiting walks, ending up 2nd in the league, but they didn't strike anyone out (30th), and I think that's going to tilt our way come game time.
"I'll tell you what really concerns me, though. We were only 16-15 at home. 12-13 in one-run games and 5-6 in extras. To be perfectly frank, we screwed up. We built a roster with a plan, but then we picked a stadium based on emotion and not the team we put together. Safeco Field favors our defense + pitching orientation, but then it also favors lefty bats and we have an all righty rotation and pen (Alex McDonaled being the sole exception in the pen). A better selection of ballparks could have given us a strong home field advantage. As it stands, we're 20-11 on the road and we have to continue that to get far in the postseason.
"Now that I look at it, this is an odd series. The Squirrels were 12-19 at home, and 15-16 on the road. Their split being the mirror opposite of ours…could make this one of those odd series where the road team has the advantage all the time.
"The Commish predicted us as 5-3 winners in this best of 9, but I wonder if he noticed that The Royal Squirrels have to hold their 1 & 2 starters for games 3 & 4? One thing we did during the season was stick with a strict 5-man until the final two sims. We weren't sure how our back of the rotation would work out, and when we needed to shuffle a couple of guys we finally did that. In the final two sims we went to a "highest rested" mode, which is basically a 4+ rotation, and we caught fire. We scheduled our appearances in the final week to have Andy Foster (2.50 ERA, 1.09 WHIP) and Fernando Farias (2.14 ERA, 1.10 WHIP) ready to go 1-2. It may take 8 games, but if our offense shows up I think it might only take 6.
"Speaking of which: There are many teams with a James King clone, and ours ended up the worst, I believe. Hitting .202 with a .290 OBP is NOT what you expect out of that guy, and if he wakes up and starts hitting like his clones did for everyone else…we're going to be very hot indeed."
AFBL v. WBL
Branda said: "The WBL finished near the very bottom in offense, and they are going up against a team that has a very good offense – but also a pretty solid pitching staff. That's too much to handle for the WBL."
His pick: AFBL, 5-3
WBL GM Kevin Clawson commented: "As far as managerial approach, I don't see it so much changing as just tuning a bit. When we chose our pitching staff, we chose 3 very solid starting pitchers and 2 that we thought were good enough. With all of the days off for the tournament, we will be going to a 3-man rotation, which puts our best foot forward and, hopefully, adds more firepower to the bullpen.
"Now for the offense. This team was never built around power, but rather was intended to be built around On Base Percentage and Average. Unfortunately, they haven't met our goals. Based on the stats of the regular season, we made a few shifts to put our best hitters at the top of the order. Felix Serrano hit cleanup for us all year but only hit 1 home run. Even without the power, he was one of the best overall hitters on the team, so he will bat leadoff throughout the tournament.
"Warren Bascombe is one of the toughest outs on the team and will be batting second. Our all-around best hitter, Jesus Rivera, will continue to bat third and hopefully be able to drive in a few runs with Serrano and Bascombe getting on base in front of them. The rest of the lineup has shifted some, putting the most power at 4th and 5th and then leaving the bottom of the order pretty much as is. Our plan is essentially the same, have guys get on base and move each other around. If we are to lean on the long ball at all, we will be leaning on Rivera. If Bacombe and Serrano can get on base before Rivera, we have a shot. If they don't, then it will be an uphill climb."
AFBL GM Jonny Warren said: "Yes, I do plan on managing differently and importing my playoff settings so the AI can hopefully do what I want for each game. During the season my goal was to finish in top 5 but also find out what kinda line-up and staff I had. I utilized 7-day lineups and depth charts during the season to keep players fresh and to get my backups at-bats so they were not cold going into the playoffs.
"My team is a pretty good overall team, with pretty good hitting and pretty good pitching. The biggest thing I was looking for was high OBP — that is one of the major ways I build my AFBL team and having #2 OBP combined with #3 batting average is a great accomplishment for this team with how our offense started. I expected a lot of strike-outs with all the good pitchers but with all my offensive stats in the top 50% of the league, I like where we are. If the home runs can come around, we can be a force in the playoffs.
"Pitching was actually better then the stats say: My pen didn't lose a game till the second to last sim; the only issue is we walk to many batters AND give up way too many home runs. Now I think I chose the wrong park for my staff but my offense sure has liked it.
"To began the season, Jones and Soto were both looking for post season SP job and Jones won that by a mile, which means that Soto will be in the pen and able to help out during our playoff run. Being 29th in HRs, 20th in BBs, and 25 in Ks will scare me going up against a good offense, but I believe that with Soto in the pen that we can continue to hold those leads.
"I was hoping to enter on a hot streak but it came one sim too early, so finishing 12-8 isn't that bad. WBL didn't have the best season and they don't have the best offense or pitching overall, but they can surprise you. They have thrown a no-hitter and had one thrown against them. I will have to score early if I want to win as their bullpen is pretty good at holding leads and not surrendering runs. If I can expose their weakness of not getting on base and face the LHP twice, then this series should be an easy victory.
"The commish predicted a 5-3 series win in my favor but I'm going with a 5-2 series win for me. My season record against them was 2-0: I won 3-1 and 5-0."
Asahi2 v. Corporate
Branda said: "Asahi looked great early on and tailed off a bit as the season went on, but their pitching staff is still one of the best and nothing really stands out for Corporate right now."
His pick: Asahi2, 5-3
ASBA v. USBL
Branda said: "Both teams did very well on the mound for the most part. However, USBL's rotation just never seemed to get going, and I don't think you can rely on a strong bullpen to win a best of 9 – especially when your opponent's bullpen is just as good (if not better)."
His pick: ASBA, 5-4
BSA v. RANZBA
Branda said: "Ranzba won 3/5 to end the season while BSA dropped 3/5 – edge to Ranzba there. Overall, Ranzba has given up the 4th fewest runs in the GCL, and also hit the most HR in the GCL while BSA gave up the 7th most HR in the GCL. Give me the Rabbitohs!"
His pick: RANZBA, 5-4
RANZBA GM Stefin Clapham said: "I didn't intend the Rabbitohs to be a softball team…It just worked out that way! I have to do something to score more runs, so I'm opening up my running game a lot more to see if that can jolt the scoring. I have also cut down to a four-man rotation to get the ball to the better pitchers more often!"
BFIN v. MLB Pro
Branda said: "I hate the way MLB Pro ended their season. Four straight losses, bleh. BFIN ended winning 3 out of their last 5. Both teams have a very good offense and both teams' starting staffs did not click in the season. So really, unless I'm betting on a bullpen to impact the series, I have to go with the hot hand here."
His pick: BFIN, 5-2
MLB Pro GM Justin Jabs said: "I'm not particularly worried about losing lopsided games, per se. BFIN has the best offense in the league – there's little argument there – but as you mentioned, the MLB Pro offense is right up there in quality as well. I think what separates the two teams are their bullpens. Over the regular season, MLB Pro's relief corps averaged a whole run scored less per nine innings than our round one counterparts. It's a stingy bullpen, and we're not afraid to use it in the tournament. If things start to get out of hand, we'll bring in the shutdown arms while the offense wears down the opposing starter. Once the series becomes a battle of the bullpens, I'm confident we will have the upper hand."
HRBL v. NPBL
Branda said: "On paper, this is one of the closest match-ups based on rosters. I think a nine-game series is practically inevitable here. I think HRBL has just a bit more talent on the roster overall, and so for no other reason – I'll take them."
His pick: HRBL, 5-4
NPBL GM John Heinz told us: "Overall I'm a bit surprised we were under .500 on the year. I knew the back end of the rotation would be a question mark, but I didn't think our offense would vanish like it did over the last 40 or so games. We started 13-7 and scoring 5.85 rpg, so that means we ended a pretty abysmal 16-26 and 2.98 runs per game – OUCH. I'm a bit optimistic that some of these guys will get hot, but if we stay cool with the bats, not even Schoop and Hathaway will be able to keep us alive.
"I'm very surprised we didn't see more power out of our outfield. Moss, Miles, and Lehman combined for just 12 HR in 763 PA. If you'd asked me heading into the season, even a cautious guess on my end would've been mid-20's combined.
"As far as going into the tournament, I was pretty hands-off during the regular season. I exported just once (intentionally). I didn't want to overreact to 7-game swings and I want to know what I've got during the part that actually matters rather than just maneuver hot spells into regular season wins. It just didn't make sense to me to pull someone struggling like Lehman for a backup, when ultimately we'll need Lehman to hit like he should in order to win it all. We did beat HRBL both times we squared off, so it's not like we're faced with some unconquerable juggernaut. But we have to start scoring. Who knows, maybe we'll get hot at the right time and these bats will awaken and we'll Cinderella our way through!"
WBH v. Heartland
Branda said: "The WBH scores runs early and their starters don't give up a lot of runs either. That's a great formula in this match-up since Heartland is in the bottom half in runs scored and 21st in starter ERA. Give me WBH."
His pick: WBH, 5-2
Heartland GM Garrett Pack told us: "Unfortunately, there are no prospects to pull up to put in place of some of my poor performers. The only changes I can make are to reduce the rotation to 4 players and use put a couple of pitchers in specialist roles. We'll see if the rest of the pitching staff will hold up under the extra workload.
"The one good note is that in the first half of the season, the Kernels had one of the highest BABIP percentages and worst Def Efficiency ratings in the league. Those numbers improved quite a bit in the second half, so hopefully the team will have similar outings to what they did at the end of the season."
Back Mackowski, GM of WBH, said: "My team has been exceptionally streaky this season as we've posted multiple 6-1 sims and multiple 1-6 sims. That said, we're keeping the same general approach. There isn't much you can do to fix cold streaks except give the guys a stern talking-to. Luckily, I usually talk to my fictional baseball players when nobody is around, thus avoiding strange looks.
"My bullpen was the major issue of the season and there's nothing I can do about it now except hope for the best. The lineup strikes out a lot but also hits for a good amount of power. I made a few changes to the batting order for the final regular season sim and that turned back-to-back 1-6 sims into a 5-1 run to end the season. We'll see if the reordered lineup was a fluke or if it's the real deal."
MBWBA v. VBL
Branda said, "It's funny, part of me roots against my own league because I'm running things here. But of course I want them to do well. This will be interesting because it's the 4th best offense against the 10th best pitching staff. To me, trying to be impartial – I don't think MBWBA has enough firepower on offense to take advantage of VBL's flaw, which is their pitching staff."
His pick: VBL, 5-4
VBL GM Dave Lockar told us: "It will come down to both offenses. Our offense has been on fire lately, scoring less than six runs only once in the past nine games. We're finally stringing some big hits together, which has led to high-scoring innings. If we go cold all of a sudden, we'll be in very tough shape as our pitchers aren't necessarily top caliber compared to other teams, which should give MBWBA's offense a chance to thrive. Expect some high-scoring games, I figure, and a series that could go both ways."
PaTP v. LBNA
Branda said: "The Quebecers were a great WWF tag team, but I'm not sure they are built to win this first round matchup. They are ice cold, losing 4 straight to end the year. Both pitching staffs give up a lot of runs, so anything can and likely will happen. Overall, I think PaTP gets on base more and does more damage with their opportunities."
His pick: PaTP, 5-3
LBNA GM Jean-Francois Legault told us: "Yes, I'm planning to make changes to the regular season strategies. First, I'm going with a 3-man rotation instead of 5. That's how I built the team in the first place.
"Second, my two other starting pitchers will go to the bullpen and they become key elements. My bullpen was the cheapest I could get for the season but with two good starters going there, it becomes less of a liability.
"Third, with so many good arms there, I'm going to use most of my relievers as specialists.
"My woes on the pitching side (19 runs allowed) were basically due to my CF's fielding. Tony Dure was awful in CF (UZR -5.6 – Effiency .945). Looking at the other teams that selected Tony Dure, they mostly had a good defensive season. So basically, it's a small sample thing and Dure should (SHOULD) be good in CF during the Tournament. The rest of the fielders were solid to very good. So basically, no changes on defense.
"On offense, the team was pretty much where we thought if you look at OBP (13th), SLG (17th) and OPS (15th), middle of the pack. We ended the season 24th in runs scored, so with a little more hits (AVG = .238) and power, we should be good enough to win some games.
"We have to get on a roll… 🙂 Go LBNA !"
Paramount v. PUB
Branda, finishing up his predictions close to dinner time, said: "The Meatballs are hot right now, the way a Meatball should be. I think Paramount is the better team but in a matchup of seeds this close, I am going with the hot team. Give me PUB in a close one."
His pick: PUB, 5-4
USoB v. USBA
Branda said: "If the USBA gets going, they could be a sneaky team in the tournament. They give up the 5th fewest runs in the league, but their problem will be whether they score enough to make that matter. For this match-up, I say they will because they are up against the 25th-ranked offense."
His pick: USBA, 5-2
USBA GM Tyler Carter told us: "Thing with my team is the pitching has been good but largely due to the defense we've played. We don't get many Ks, so the defense has to make a lot of plays to keep us going, which they have. As for the other side of the ball, we don't do much except smack some homers, so there's a good chance some lineup flips occur if that's not happening. It's likely I'll roll with the hot bats, if there are any."