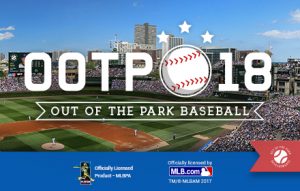 Major League Baseball's playoff history is full of thrilling comebacks and crushing defeats. Unheralded players have risen to the occasion and become heroes and great players have stumbled and revealed that they, too, are mere mortals.
Out of the Park Baseball 18 lets you tell your own October stories, and this year we decided to set up a 2017 MLB game as the American and National Leagues stood at the end of the season. Then we let 'er rip and saw what the playoffs might have had in store for us.
We even got MLB Network to kindly feature our forecast, as shown in this YouTube clip. Read on to find out what happened, and note that our sim deviated from what's really happening, but that's part of the fun, isn't it?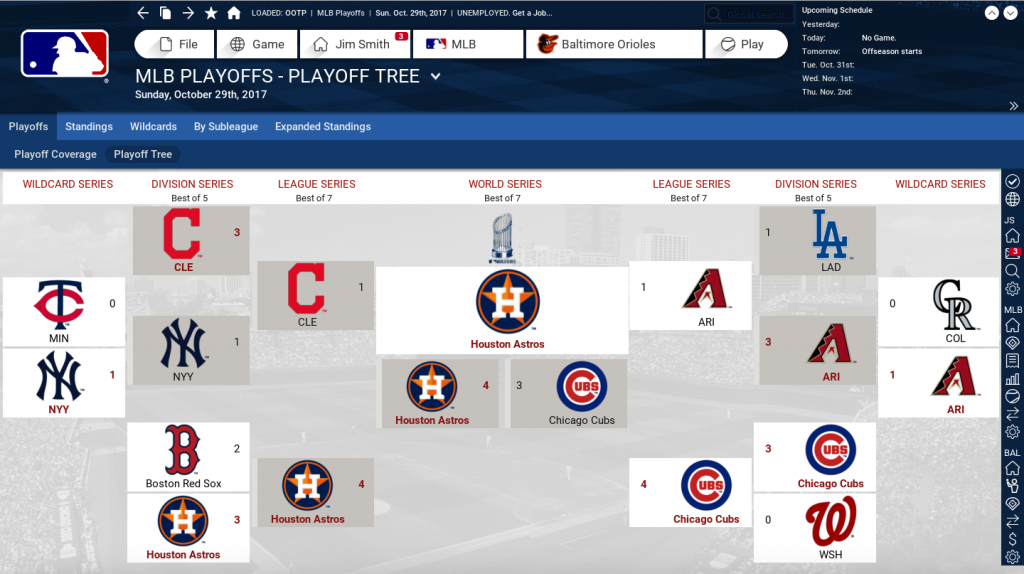 The Wild Card round
The expanded playoff format has had its share of thrills since it was introduced in 2012, and our sim was no exception.
American League Wild Card (NYY 7, MIN 6): The Minnesota Twins struck first when Joe Mauer homered in the top of the first off New York Yankees starter Luis Severino, but the home club evened the score the next inning as Matt Holliday hit a triple that plated Starlin Castro.
The next inning, though, Minnesota quieted the home crowd with three runs that all crossed the plate with two outs. They took a 4-3 lead into the bottom of the seventh when a pair of New York singles chased Minnesota starter Ervin Santana.
Reliever Taylor Rogers whiffed Brett Gardner and gave way to Michael Tonkin for a righty-righty matchup with Aaron Judge, who worked a 3-2 count before launching a three-run home run that proved to be the game winner. Minnesota eked out a run on a sacrifice fly in the top of the eighth, but Aroldis Chapman slammed the door shut in the ninth with a 1-2-3 inning.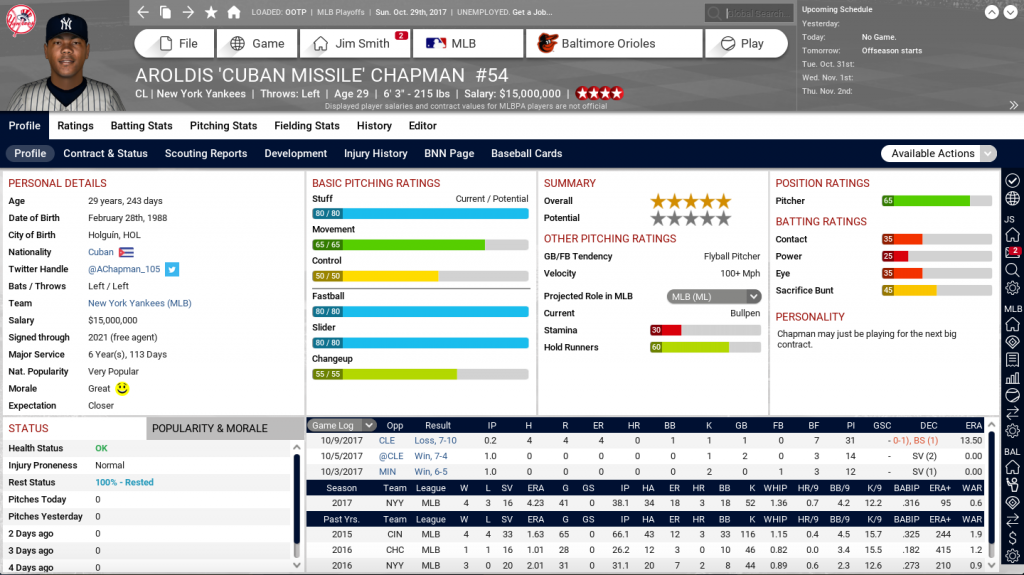 National League Wild Card (ARI 10, COL 7): Colorado also struck in the top of the first in their game, thanks to Carlos Gonzalez's two-run home run. He also hit a three-run bomb in the top of the third, and Jonathan Lucroy singled in a run for a seemingly insurmountable 6-0 lead.
Arizona came roaring back in the bottom of the third, however, plating five runs thanks to J.D. Martinez's three-run double and A.J. Pollock's two-run homer. Jake Lamb launched a two-run home run in the bottom of the fifth, giving Arizona the lead for good by a 7-6 score. They extended their lead to 9-6 before Colorado's comeback attempt fizzled in the eighth with just one run scored.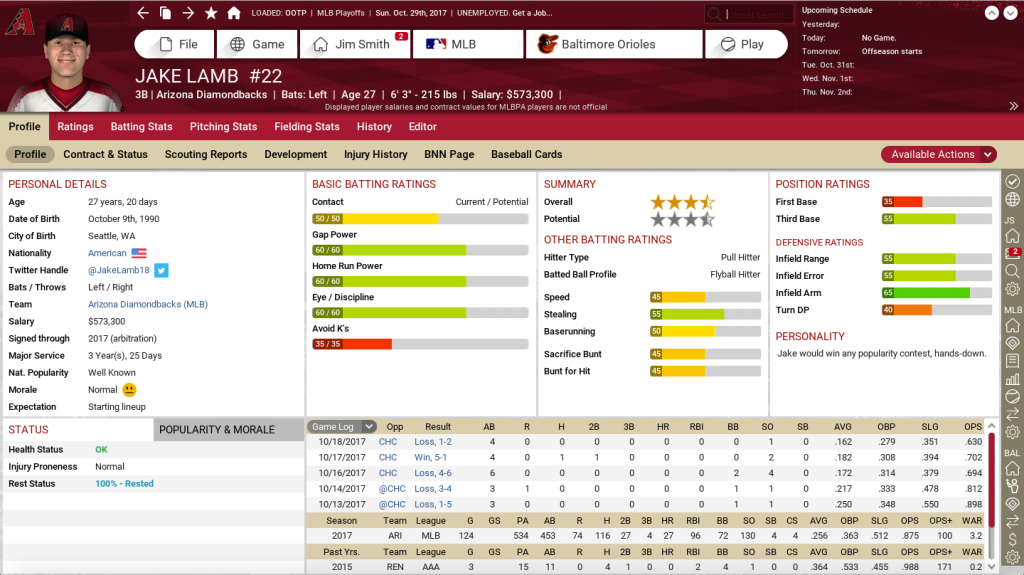 Neither starter fared well, with Jon Gray lasting 4.2 innings for Colorado and Zack Greinke managing just 3 innings for Arizona, with six earned runs charged to him. However, the home team's bullpen came through, allowing just one run the rest of the way.
American League Division Series #1 (CLE 3, NYY 1): New York struck first with a 7-4 win, breaking a 4-4 tie in the top of the eighth by plating two runs, but Cleveland answered with three straight wins — 6-4, 8-4, and 10-7 — to advance to the American League Championship Series.
The final game was a back-and-forth affair that saw New York take a 7-6 lead into the ninth inning, thanks to a solo home run by Aaron Hicks and Ronald Torreyes' run-scoring single. However, this time Aroldis Chapman proved vulnerable, surrendering a pair of singles that allowed Cleveland to tie the game. Then Carlos Santana singled in a run and Lonnie Chisenhall doubled in two more to deflate the home crowd and leave Cleveland celebrating.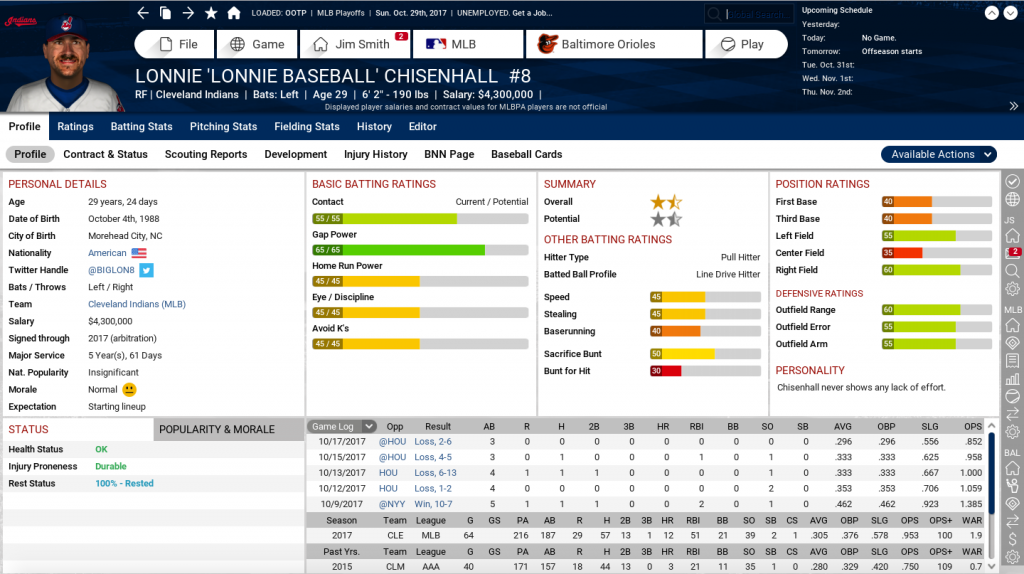 American League Division Series #2 (HOU 3, BOS 2): Again the losing team won the first game as Boston shut out Houston, 5-0, in Game 1, thanks to Chris Sale's complete game. Houston came back, however, with a 6-4 win in Game 2 (two runs off David Price in the eighth sealed the victory) and a 5-4 win in Game 3 (they erased a 4-1 deficit and took the lead for good when Jose Altuve scored in the top of the eighth).
However, Boston evened the series with a 6-2 win in Game 4, setting the stage for a dramatic Game 5. With the score tied, 1-1, in the top of the eighth, Boston took the lead against Dallas Keuchel as Dustin Pedroia singled in a run. Craig Kimbrel took the mound for Boston in the bottom of the ninth but surrendered a lead-off single to Altuve, who moved to second on a wild pitch and reached third on a double play. He then scored on Cameron Maybin's single, sending the game into extra innings.
Xander Bogaerts doubled in the top of the tenth but was left stranded. Kimbrel took the mound again in the bottom of the frame and struck out Marwin Gonzalez. When Brian McCann entered the batter's box, however, he was set on ending the game immediately, and he did so with a first-pitch solo home run that left the Houston crowd delirious with joy.
National League Division Series #1 (ARI 3, LAD 1): This was another series where the losing team won Game 1, and it may not have been more shocking than this one. Los Angeles seemed to be continuing to write the script for a magical season with a 3-0 Game 1 win that included Clayton Kershaw tossing eight shutout innings and Kenley Jansen closing the door with three strikeouts in the ninth.
However, in what was perhaps an omen, Los Angeles did all its damage in the first inning of Game 1. They lost a wild Game 2, 11-6, as they took a 6-5 deficit into the late innings in the hopes of pulling out some magic only to watch their bullpen implode as Arizona scored five runs in the final two frames. Game 3 saw Los Angeles' bats stifled by Zack Godley and a pair of relievers in a 1-0 loss, and in Game 4, Arizona took an early 3-0 lead and held on for a 3-2 win. Greinke redeemed himself with eight strong innings in the final game.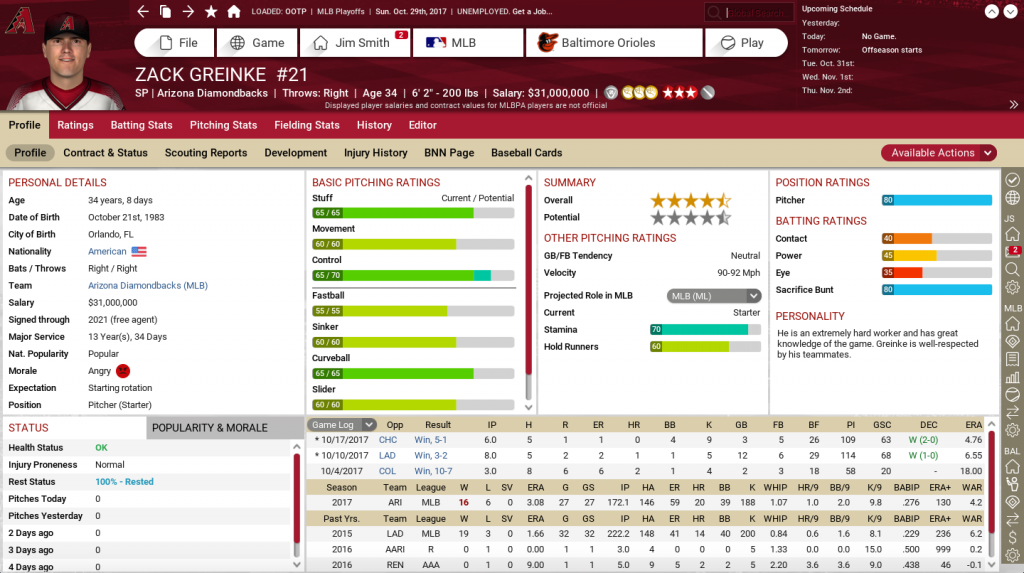 National League Division Series #2 (CHI 3, WAS 0): Chicago opened its World Series championship defense by making quick work of Washington. Jake Arietta shut down the opposition and Max Scherzer fell apart in a 6-0 Chicago win in Game 1. Washington struck first with three runs in the bottom of the first in Game 2, thanks to Daniel Murphy's three-run home run, but Chicago plated six in the top of the third as they batted around against Stephen Strasburg, and they held on for a 7-6 win.
In Game 3, which Chicago won, 10-7, Washington faced a 10-4 deficit in the eighth inning before pushing home a run in that frame and two more in the ninth. Hector Rondon surrendered a solo home run to Adam Lind in the top of the ninth before giving way to Justin Wilson, who allowed Trea Turner to triple and then score on a wild pitch. Daniel Murphy walked and then Wade Davis entered the game to finish it off and send Chicago to the National League Championship Series.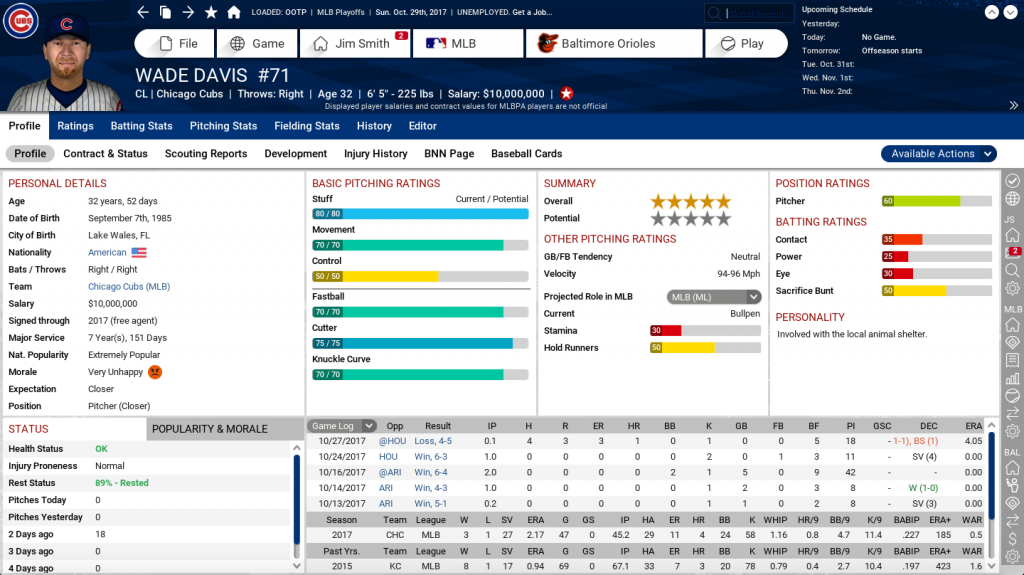 American League Championship Series (HOU 4, CLE 1): Houston jumped out to a 3-0 series lead en route to their first World Series berth since 2005, when they played in the National League. Game 1 was tense, though, with Houston winning, 2-1, thanks to a pair of runs in the top of the seventh inning off Corey Kluber.
Houston then routed Cleveland, 13-6, in Game 2 before pulling out another close win, 5-4, in Game 3. That game saw Houston put five runs on the board in the first inning off Trevor Bauer before relying on their bullpen in the late innings to fend off Cleveland. Game 5, however, was all Houston, 6-2, as they put four runs on the board in the fifth inning, again versus Kluber, and Justin Verlander tossed a commanding complete game with 11 strikeouts.
George Springer took ALCS MVP honors, thanks to his .348 average, with three home runs and six RBI.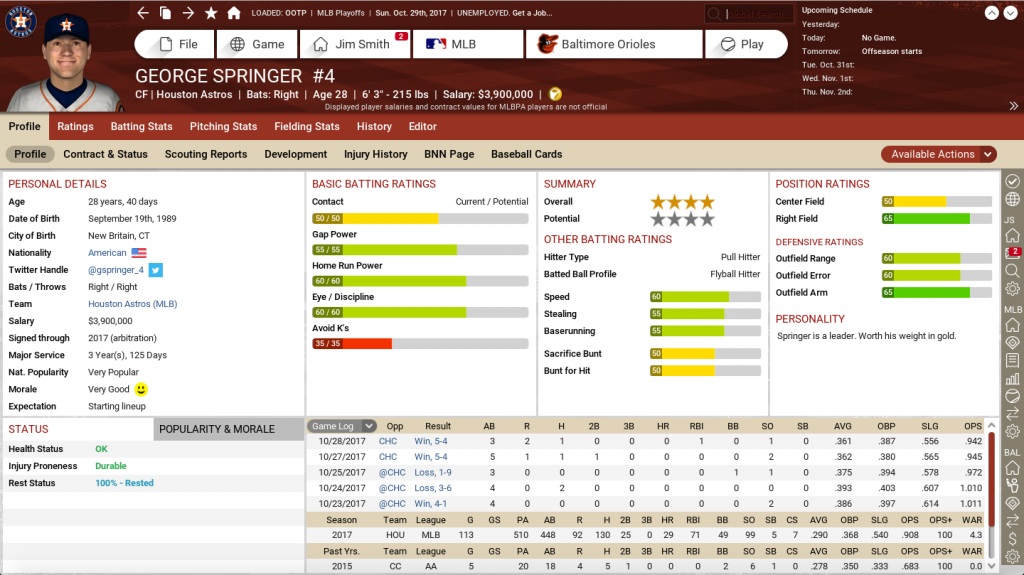 National League Championship Series (CHI 4, ARI 1): The script was pretty much the same in the NLCS, as Chicago raced out to a 3-0 series lead. However, they needed some late-inning drama to win Games 2 and 3. In Game 2, Jason Heyward tied it 3-3 with a home run in the bottom of the ninth before Wilson Contreras doubled in a run the next inning off Fernando Rodney.
Game 3, held in Arizona, lasted an astounding 19 innings before Chicago pulled out a 6-4 win. The teams took a 2-2 tie into extras and exchanged solo home runs in the 12th and 13th innings to remain knotted. In the top of the 19th, Chicago used a single and a pair of doubles to score twice and put themselves one game away from a second consecutive trip to the World Series.
In Game 4, however, Jon Lester struggled, lasting just five innings, and Arizona posted a 5-1 win to keep their hopes alive. That set the stage for Game 5, when Chicago nursed a 2-0 lead until the bottom of the ninth. Paul Goldschmidt led off with a double, advanced to third on a ground-out, and scored on Brandon Dury's single, but Jake Lamb flew out to end the game.
Chicago starter Jose Quintana took home NLCS MVP honors, thanks to his 2-0 record with a 0.59 ERA and 16 strikeouts in 15.1 innings pitched.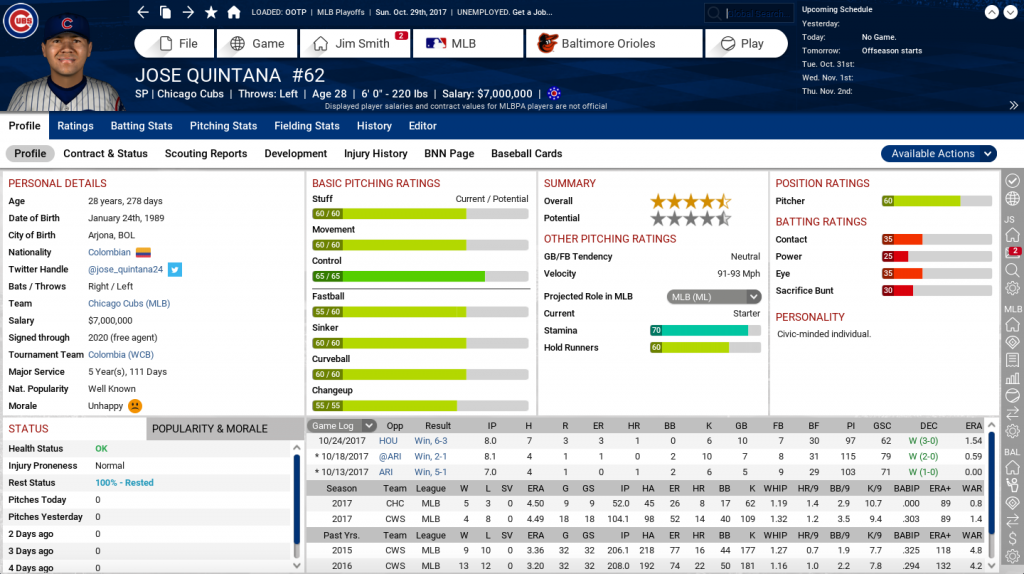 World Series (HOU 4, CHI 3): Last year's World Series was a classic, and this one provided plenty of thrills too. Chicago, behind Jake Arietta's strong pitching and home runs from Kyle Schwarber, Jason Heyward, and Anthony Rizzo, downed Houston, 5-1, in Game 1.
Houston evened the series with a 4-2 win in Game 2, thanks to a three-spot in the fifth inning. Neither starter — Kyle Hendricks for Chicago and Brad Peacock for Houston — was able to get past the fifth inning.
Game 3 saw Houston leap ahead in the series, two games to one, with a 4-1 win as Dallas Keuchel tossed six strong innings and the bullpen held Chicago in check the rest of the way. Jon Lester turned in a lackluster performance, lasting just 5.1 innings and allowing all of Houston's runs.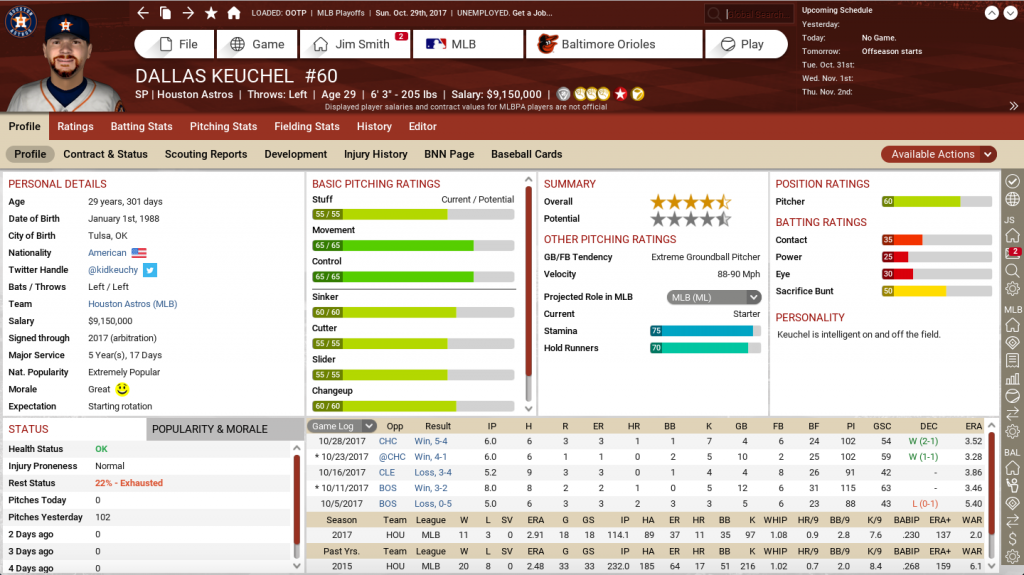 However, Chicago evened the series with a 6-3 win in Game 4, thanks to some sparkling pitching by Jose Quintana and home runs from Kris Bryant and Anthony Rizzo. Justin Verlander imploded, lasting just two innings and surrendering five runs, including both homers by Chicago.
With the momentum swinging their way, Chicago took a 3-2 series lead with a commanding 9-1 win in Game 5. Jake Arietta tossed eight strong innings and Heyward, Rizzo, and Jon Jay all homered for Chicago.
The series switched to Houston for Game 6 and, suddenly, the ghost of past Cubs losses loomed large. All seemed to be going well into the late innings: Kyle Hendricks had tossed seven strong innings, Schwarber had homered twice and Ian Happ had gone deep once, and Chicago took a 4-2 lead into the bottom of the ninth inning.
Chicago closer Wade Davis stepped to the mound and fanned Evan Gattis before surrendering a solo home run to Yulieski Gurriel. Then George Springer doubled and Alex Bregman drove a 2-2 pitch into the gap for another double that brought Springer home and tied the game. With the hometown crowd roaring, Jose Altuve singled and Bregman raced home, barely beating the throw and sending the series to Game 7.
In the final game, Houston struck early, taking a 5-1 lead after two innings, thanks to a parade of hits off beleaguered Chicago starter Jon Lester. In the tops of the fifth and sixth innings, though, Chicago scratched out two runs against Houston starter Dallas Keuchel, and the seventh saw Happ launch a solo home run that cut Houston's lead to 5-4.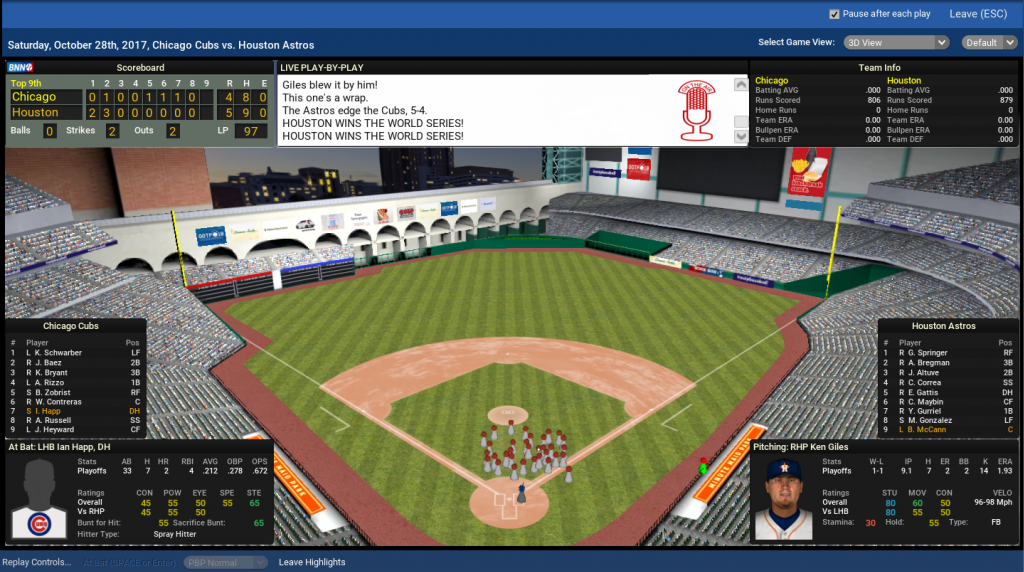 Houston then turned the game over to their bullpen, who shut the door, with Ken Giles pitching a 1-2-3 ninth inning to secure Houston's first ever World Series championship. Despite Houston's win, though, Jason Heyward took home MVP honors, thanks to his .481 average, with a pair of home runs and five RBI.