While everyone is enjoying the playoffs (we've given our predictions for the two AL and two NL Division Series, and will do so for both League Championship Series and the World Series), we thought we'd indulge in a little "What if?" scenario, since this season's trading deadline saw some big name players switch teams. The Toronto Blue Jays went all-in (and saw it pay off) by acquiring Troy Tulowitzki, David Price, Mark Lowe, and Ben Revere, while the New York Mets sought to bolster their offense in a trade for Yoenis Cespedes.
The Chicago Cubs and Pittsburgh Pirates gave their pitching rotations boosts by bringing in Dan Haren and J.A. Happ, respectively, while the San Francisco Giants grabbed Mike Leake but failed to see that deal help bring them a playoff spot. And the Los Angeles Dodgers, Miami Marlins, and Atlanta Braves completed a 13-player deal that set up the first team for the rest of the season while positioning the other two for their rebuilding projects.
But what if the players involved in those and other trades this season had been with their teams on Opening Day? Out of the Park Baseball 16 lets us answer that question, thanks to a recent roster update that's current as of Sept. 1. (Visit our forum to learn how to get the update and enable the changed rosters when you start a new game.) We set up a new game, enabled commissioner mode, and let 'er rip. (Want to download the league and continue where it left off? We've uploaded it for that purpose. (Warning: The file is over 300MB.))
Keep in mind the fact that just because these players could be on their new clubs all year doesn't mean that they couldn't get hurt, they couldn't have poor seasons, they couldn't get traded, and so forth. Remember: Anything can happen in baseball.
Final Regular Season Standings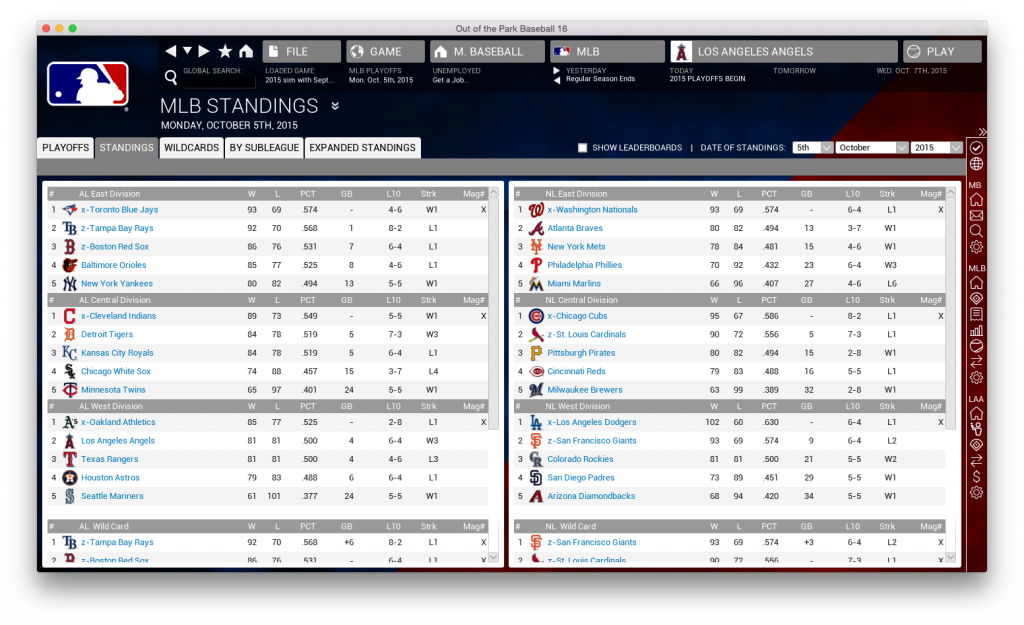 The rejuvenated Toronto Blue Jays powered their way to 93 wins and the best record in the American League, thanks to the second-most home runs in the AL. David Price anchored the rotation with a 17-9 record and a 3.43 ERA. However, the Tampa Bay Rays were nipping at their heels with 92 wins – They flipped the Toronto script with a pitching-heavy strategy led by Nate Karns' 16-win season.
In the National League, the Los Angeles Dodgers posted Major League Baseball's best record with 102 wins. Zach Greinke won 17 games while Clayton Kershaw and Alex Wood each accumulated 15 victories. The Chicago Cubs had the second-best record in the NL with 95 wins thanks to a balanced attack, and having Kris Bryant on the roster from Opening Day certainly didn't hurt Chicago's chances.
Final Regular Season Stats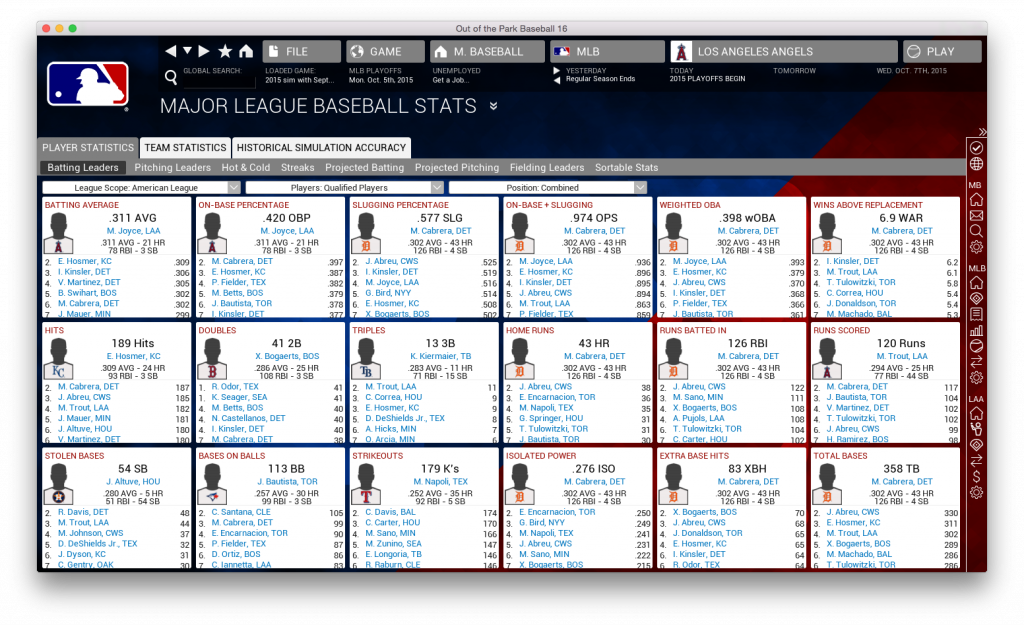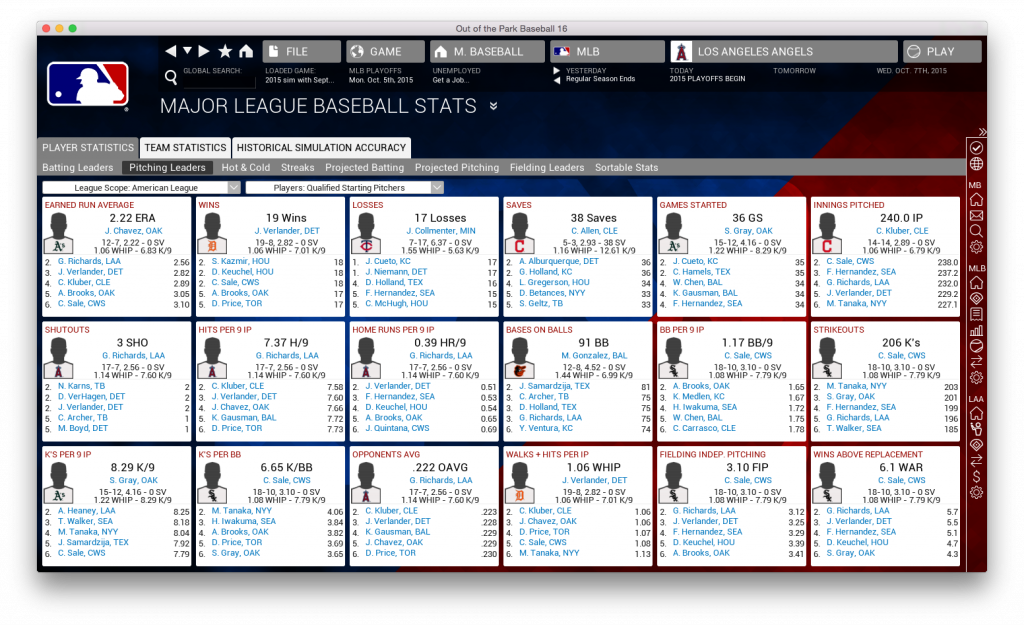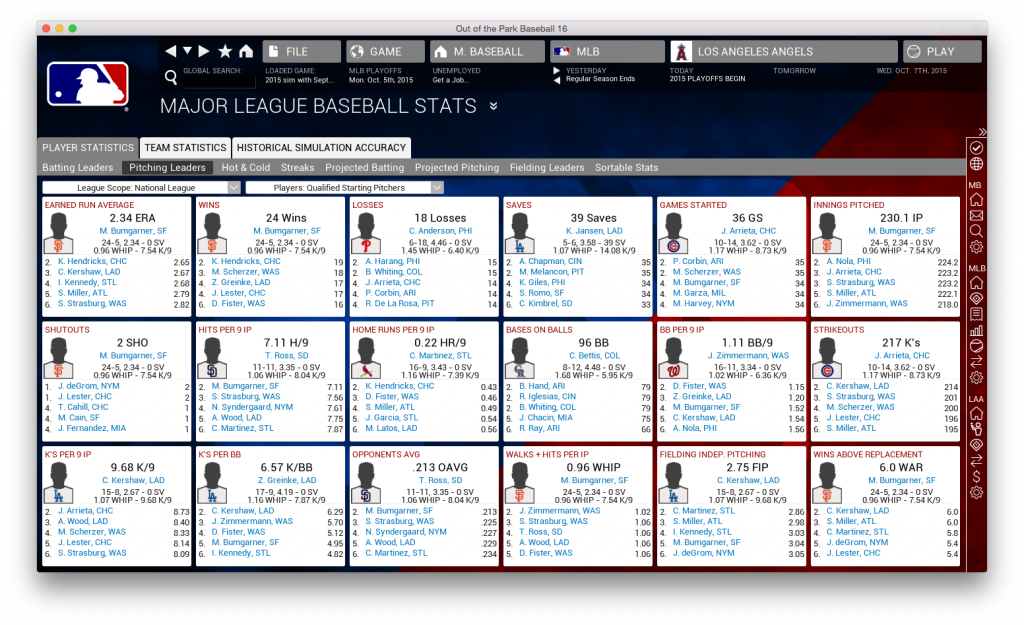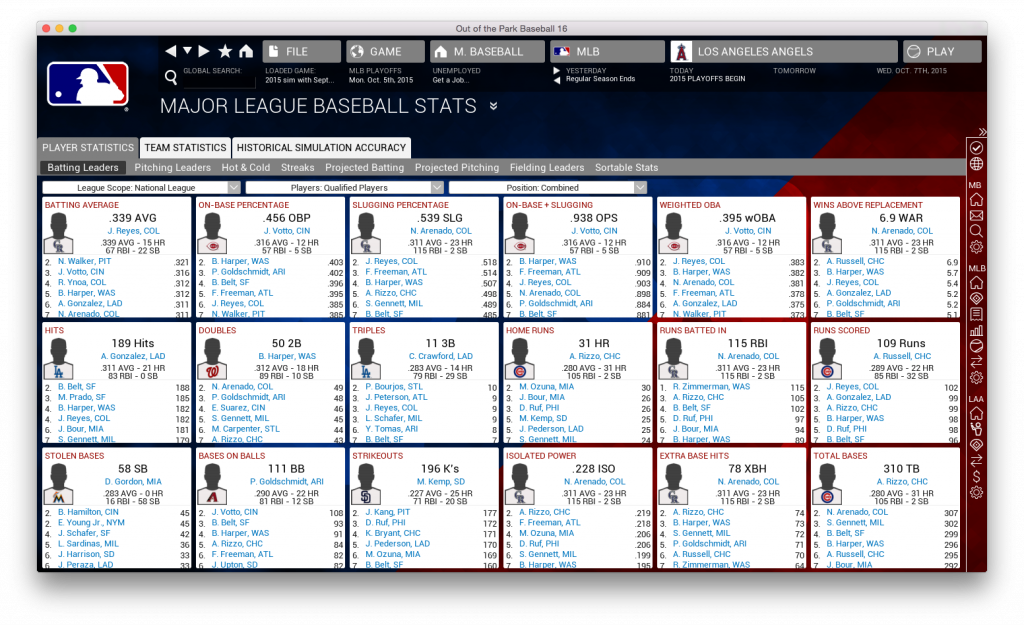 The Playoffs
Wild Card Round
The Boston Red Sox carried a 9-5 lead into the bottom of the seventh inning of their Wild Card play-in game against the Tampa Bay Rays and survived a late rally to win, 9-8.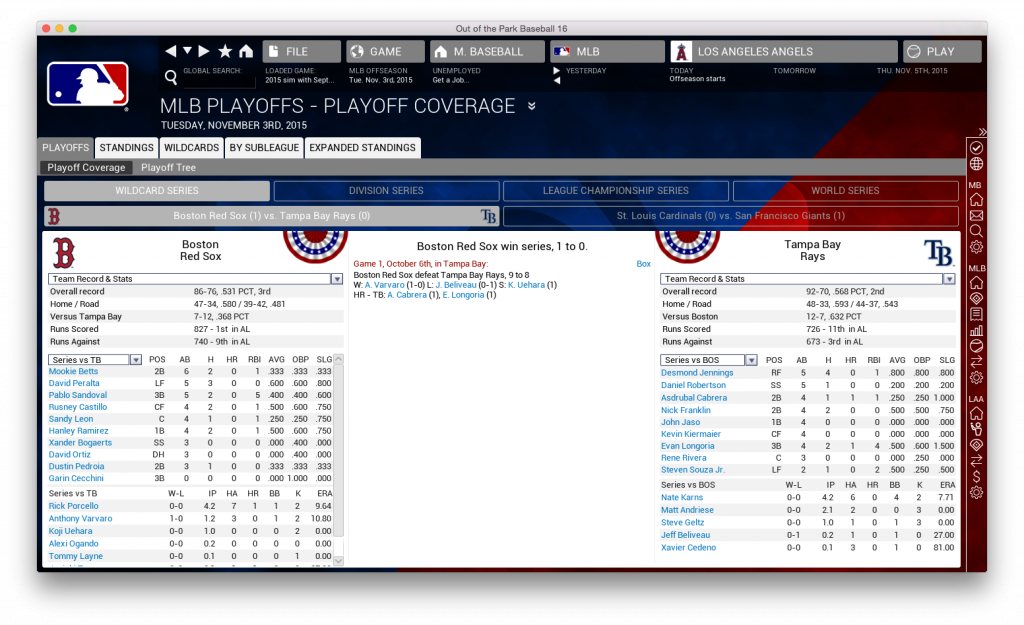 Over in the National League, Madison Bumgarner led the San Francisco Giants to a 4-1 win over the St. Louis Cardinals, pitching six strong innings before turning the game over to the bullpen for three shutout frames. San Francisco's relievers allowed just one hit and two walks.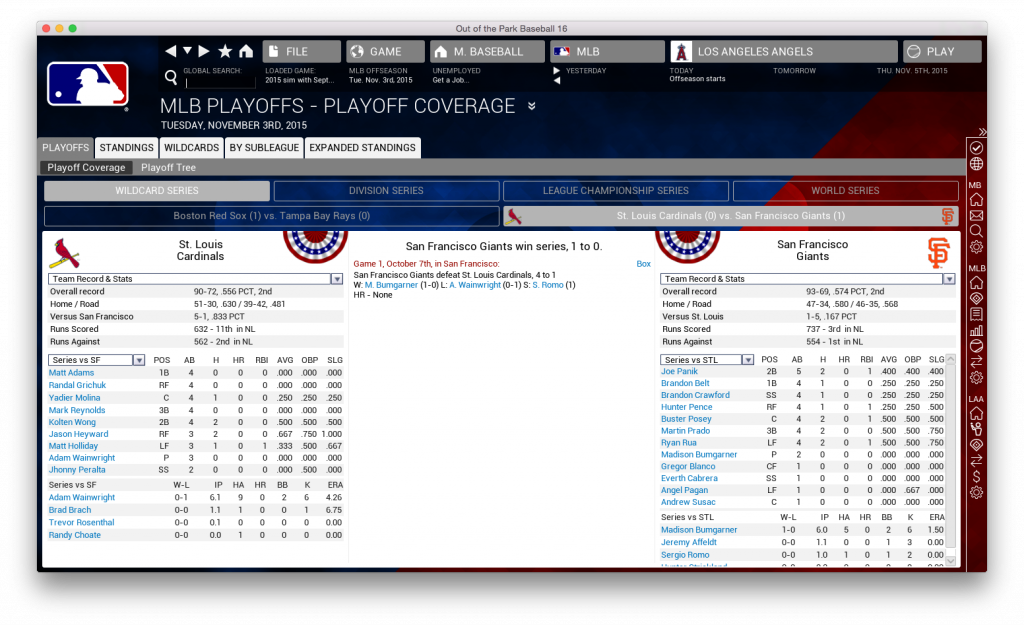 Division Series
The Boston Red Sox downed the Toronto Blue Jays, three games to one, in their Division Series, thanks to a pair of wins by Wade Miley. Meanwhile, the Cleveland Indians spotted the Oakland A's the first game of their series before ripping off three straight victories.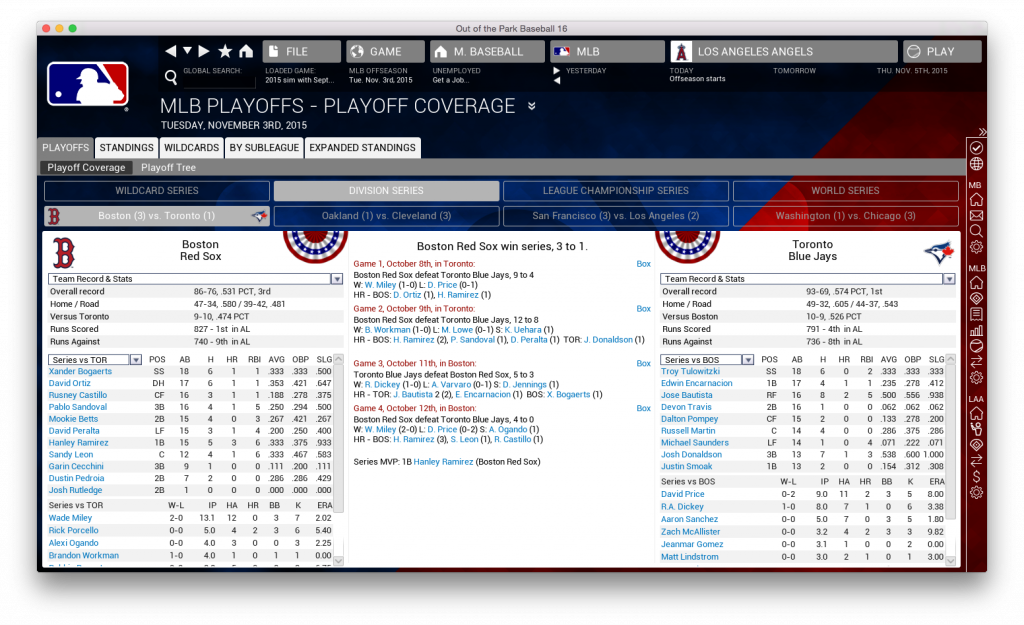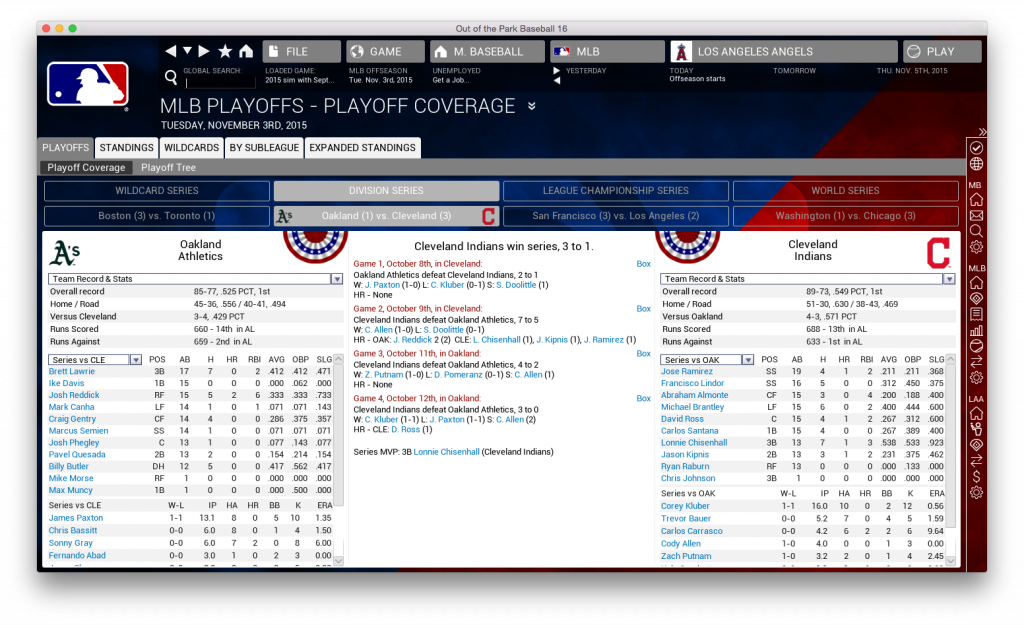 The San Francisco Giants faced their long-time nemesis, the Los Angeles Dodgers, and bested them in five games. The series was a back-and-forth battle that saw Bumgarner again turn in a sparkling performance for one of their three wins, while LA's Kershaw continued his odd tendency to underperform in the playoffs: He was 0-1 with 14 innings pitched and a 5.79 ERA, despite allowing just one walk and whiffing 16 batters.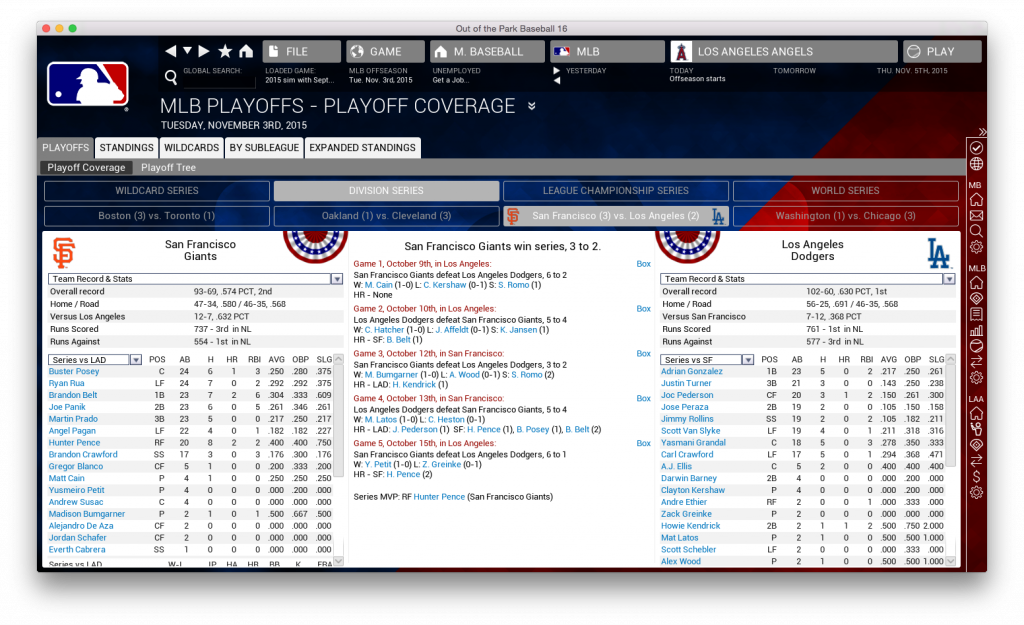 The last division contest featured the Chicago Cubs taking care of the Washington Nationals in four games. Jake Arrieta led the way with two wins and a 1.29 ERA in the series.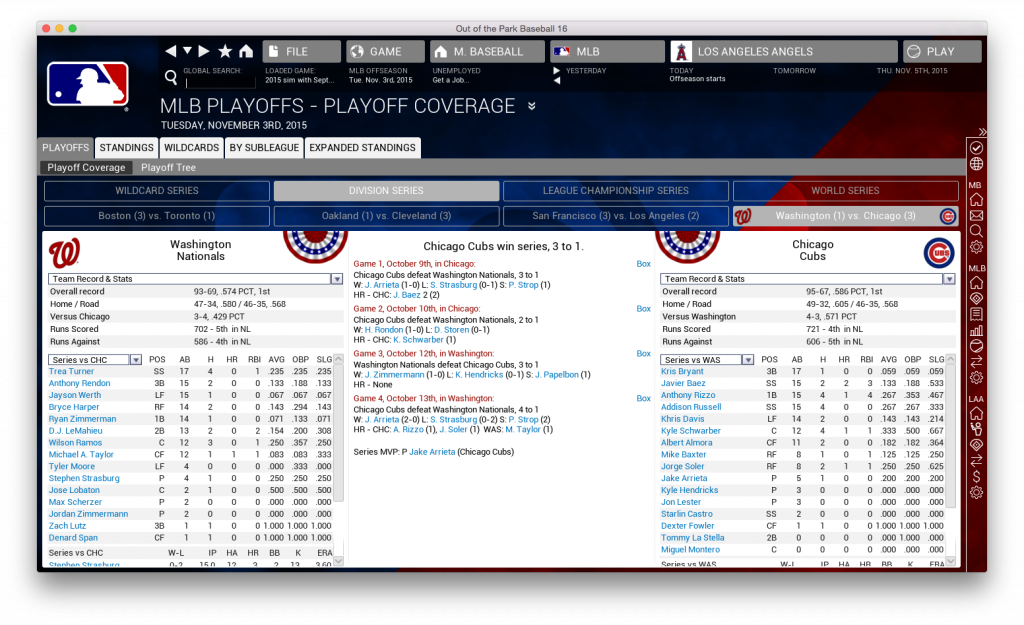 League Championship Series
Cleveland downed Boston in six games in the ALCS. Corey Kluber was 0-2 with an 8.44 ERA, but Carlos Carrasco hurled 13 2/3 shutout innings in his two starts and Jose Ramirez hit .370 in the series, earning himself MVP honors.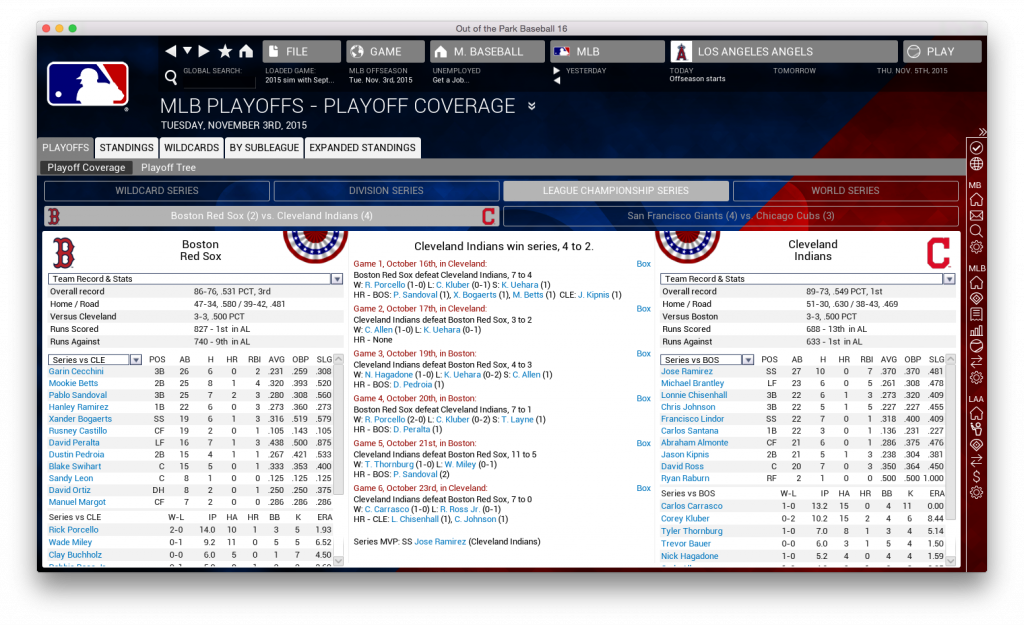 Meanwhile, the Chicago Cubs had their die-hard fans believing the "curse" was finally over as they took a 3-1 NLCS lead against the San Francisco Giants. However, Madison Bumgarner had other plans, tossing eight innings of shutout ball to best Jon Lester and win Game 5, 1-0. He even accounted for the game's only run with a home run.
In Game 6, San Francisco scored six runs against Travis Wood in the first inning en route to a 10-6 victory, and in Game 7, they broke a 3-3 tie with runs in the sixth and eighth innings for a 5-3 win and a World Series berth. Kris Bryant, Dexter Fowler, and Khris Davis (acquired in a June trade) were retired in order in the bottom of the ninth in front of a stunned Wrigley Field crowd of 40,930.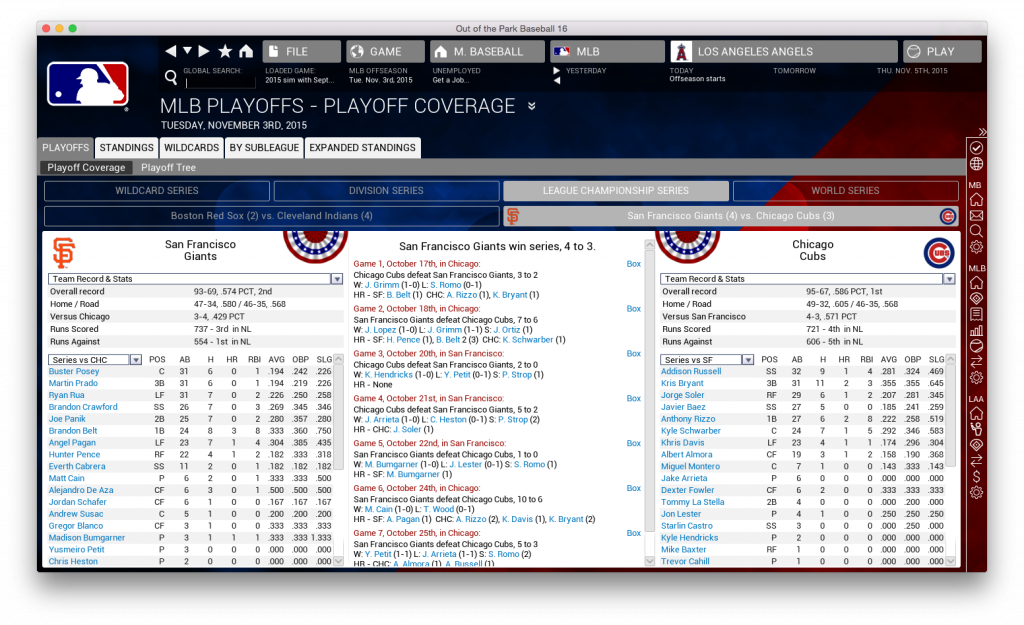 World Series
The San Francisco Giants thumbed their nose at that "even year, win it all; odd year, miss the playoffs" nonsense and repeated as champions by defeating Cleveland in five games. Bumgarner was 2-0 with a 2.51 ERA, Sergio Romo saved three of the four wins, and Joe Panik and Gregor Blanco both hit over .300 in the series. Corey Kluber turned in a 1.50 ERA in his two starts, but Cleveland's offense scored only 10 runs in the series.