This is a guest post written by Community Member Holy Goalie. He's @gamergoalie on Twitter and you can find him on the GameHounds Podcast.
I am lucky enough to have watched Bobby Orr play. Well if you consider turning 49 next month, lucky. I was intrigued by FHM2, but I thought it would be to hard to play, and being a 70's and 80's hockey guy, I didn't think I would know enough current players to make it fun for me.
Then I saw Jeff's videos of him playing the 1979 Winnipeg Jets, and both my concerns were washed away.So I picked up the game and began my own journey into hockey history. I'd like to share some of my adventures with you here in Tales from the Historical League.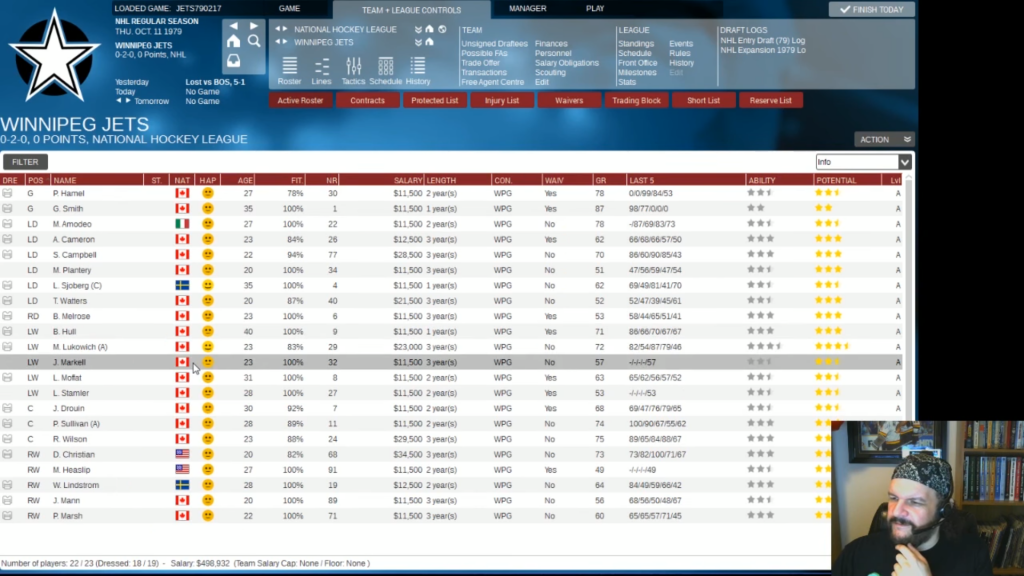 My first tale begins with, of course, the 1970 Big Bad Bruins and Bobby Orr. I couldn't think of a better place to start. Could I repeat as Stanley Cup Champions with this team?
After being formally introduced as the GM and Coach of the Bruins (and also playing in Commissioner mode), I was ready to play the 1970 season.
I would offer one bit of advice for first time players: click and explore. You can learn so much about this game just by clicking around and exploring all the menus. This game also has a lot of customization, from setting the avg goals per game to the frequency of injury. So click and tinker to set up your league the way you want it to be. And when in doubt, hit the Home button to orientate yourself.
Being brand new I decided to just go ahead and play my first preseason game against the Chicago Blackhawks, but I got an error message about my roster. When I went to the Roster page I noticed at the bottom that I had too many players on the active roster. I needed to Right Click individual players to send a few players to the Reserve List to get it down to the 23 player maximum. Then I had to Right Click on players to dress and scratch who I wanted in the line up. Finally I went to the Roster screen and let the AI assistant coach set my lines, and I was ready to play.
I clicked on the Play menu and clicked to play the game versus the Blackhawks. For this game I decided on a normal play clock so I could see more of the details of the game. I lost 6-2, Cheevers was pulled in the first period, and Bobby Hull had a career day for the Blackhawks.
First thing I did is make a trade with Minnesota for Gump Worsley. Would that help the team? Probably not, but it's my team, and my league, and I'm making my own fun. He would be my starting goalie.
The next preseason game was against the California Seals. Hopefully I don't win by too much. I mean, no way I could lose to the lowly Seals, right? Well I did and badly, at home. Okay, I got some work to do…To be continued….
(If you are interested in writing a blog telling a story, please let us know!)