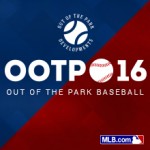 The American League and National League rosters are set for the 2015 All-Star Game to be played on July 14 at Great American Ball Park in Cincinnati. The pundits have weighed in with their thoughts, but we decided to sim the game in Out of the Park Baseball 16 and get a glimpse of what might happen. The National League won a 10-inning thriller with a two-out walk-off hit by the Los Angeles Dodgers' young phenom, Joc Pederson. Read on for all the details.
By the way, if you're intrigued, OOTP 16 is 50% off now through July 15. For just $19.99, you can guide your favorite Major League Baseball team through unlimited seasons of championship chasing: Sign free agents, trade players, negotiate contract extensions, run the June draft, set lineups and your pitching assignments, call the shots from the dugout, and much more. The game is also an official Major League Baseball and Minor League Baseball licensee, so you'll enjoy authentic team and league logos all the way down through the minors.
The mobile version, MLB Manager 2015 for iOS and Android, is $1.99, or 60% off, for the All-Star break.
[Read more…] about National League Walks Off With Win in Simulated All-Star Game