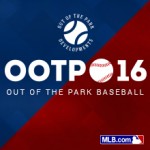 Out of the Park Baseball provides a wonderful "What if?" laboratory for all kinds of experiments, from "What if free agency existed in Babe Ruth's day?" to "What if baseball started expanding sooner than it really did?" It's also great for seeing how underachieving players' careers could have turned out, and the inspiration for this blog post hit me while watching ESPN's "30 For 30" special about Bo Jackson.
Jackson's baseball career was impacted by the awful injury he suffered while playing football, and he was never the same when he attempted his mid-90s comeback. So what if we rewound the clock to 1986, his rookie year with the Kansas City Royals, and took a look at what could have been? (Want to suggest a player or scenario we should use for a future "Tales From the OOTP Multi-Verse" installment? Drop us a line at info@ootpdevelopments.com.)
To set this up, I took a cue from Questdog, a user on our forum. He suggested basing potential ratings on career peak seasons in step one of the historical season setup wizard, as well as turning off recalc and using talent ratings and the OOTP development engine in step three. Recalc is normally on by default in OOTP's historical seasons – It recalculates player ratings based on their actual stats that upcoming season, when the in-game calendar turns to January 1, so their performance is more in line with reality.
In this case, we want to base Jackson's career performance on the potential OOTP gives him in 1986, when the possibilities are vast. However, the Kansas City Royals didn't seem to feel that Bo knew enough to have a career with their organization, since they traded him in April or May of 1986 in every sim. After the first sim, I eschewed the minor leagues and went with the reserve roster, per Markus's suggestion, so I suppose with guys like Willie Wilson and Lonnie Smith patrolling their outfield, Kansas City didn't see room for Jackson on their club. He also started every sim as a highly touted prospect (usually #11 or #12 in all of MLB), so I guess his team figured he was worth more as trade bait.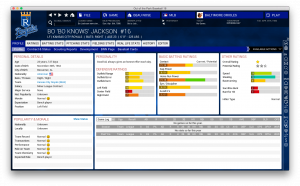 I simmed Jackson's career five times. Here are his stats from each sim, along with a composite of the five. Below you'll find more in-depth information about each sim.
[Read more…] about Tales From the OOTP Multi-Verse: Bo Jackson and What Could Have Been