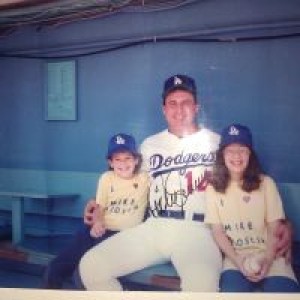 Yes, that's former Los Angeles Dodgers catcher and current LA Angels manager Mike Scioscia between two smiling kids. That photo was snapped in 1990, and the kid on the left is Scott Andes, who went on to become such a respected blogger that he was able to earn press credentials and meet and interview many Dodger players and other luminaries.
Of course, Andes' love of baseball also led to his discovery of Out of the Park Baseball in 2016, when he launched his newest site, LA Dodger Report. He recalls: "I played OOTP because I love simulated baseball games that are realistic where you can begin a campaign/season and build your own roster.
"OOTP was one of the most if not the most realistic computer simulated baseball games I have ever played. It gets pretty addicting especially when you get deep into the season. You can make trades, sign players, build and tweak your roster and the game play is fantastic."
Andes naturally took the helm of the Dodgers and had steered the club to first place, 18 games above .500, about 80 games into the season. Unfortunately, his computer's hard drive crashed and he lost the files, but, he says he remembers "being pretty confident that my club was going to go deep into October, much like the real Dodgers, although in my head I had already crowned them World Series champs."
If you build a blog, they will come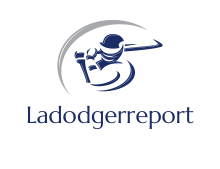 Andes says he co-runs LA Dodger Report with senior writer Oscar Martinez. Before his current site, he was co-editor and writer at Lasorda's Lair, which was later renamed, and he spent some time at LA Dodger Talk before launching his own endeavor.
He says: "I had been considering building my own site for a while but hadn't gotten around to it. I always wanted to host my own Dodger fan site community for years. Freedom was a big part of it after serving as editor/writer for other sites that I did not own. Being able to control and drive content on my own was a huge motivation for me. The main reason was to create a community for myself and many other like-minded Dodger fans to discuss the Dodgers. A place I could call home forever and chronicle the Dodgers' seasons.
"The site is focused primarily on Dodger discussion. The chat rooms are pretty lively and I have always strived to build a community where all Dodger fans can come and talk Dodgers or baseball, no matter how much or little knowledge they have of advanced stats. It's a place to come and talk Dodgers and I wanted to make it a site where fans can get a little bit of everything, including game recaps, analysis, trades, rumors, opinions and videos/highlights.
"Lately we've been focusing more on videos. Oscar runs the YouTube channel and does a great job creating vids for the site where he discusses everything Dodgers. I want to add more minor league coverage as well, but growing the community through videos, highlights and interactive data is where we would like to move the site toward. We write from a fans perspective because we are fans, first and foremost. We love our Dodgers, win or lose, and welcome all Dodger fans."
Andes says that the site has a solid core audience who have helped elevate some of the work he and Martinez have done. One example involved an LA Angels broadcaster making negative remarks about Pantone 294, a group of Dodgers fans who support the team at road games. They're known for their large Dodgers flags.
"Apparently the Angels announcer, who I will not name right now, said some unfriendly comments about Pantone and Oscar rightly called him out. Oscar had another infamous article about Justin Turner's early season struggles before he got on a roll last year. Shortly afterward, Turner started to hit and we jokingly credited Oscar with his incredible season and hot hitting."
Andes adds: "My claim to fame was probably my top ten Dodger bum list that I wrote on a different site years before I created LADR. That article and another one about Dodger Stadium were linked in the LA Times."
Fond baseball memories
Like many lifelong baseball fans, Andes says that his "best memories are rooted deep in my childhood. The Dodgers are more than just a baseball club but a connection to my family. My grandfather was a huge Brooklyn Dodger fan who grew up and lived in Boston. He followed the team out west and when he passed away, he was buried wearing his 1988 World Series championship hat and sweater. (That's the way I want to go as well, but with a 2018 championship hat and sweater). His son, my uncle, took my sister and I (Stacie Wheeler, who now writes for True Blue LA) to hundreds of games during our childhood.
"We collected all kinds of Dodger and baseball collectibles and were faithful members of the Blue Crew fan club (the equivalent to today's Jr. Dodgers). We watched every game. One of our greatest memories from childhood was meeting former Dodger catcher Mike Scioscia in the Dodger dugout before a game."
After earning his press credential, Andes says that he had a few memorable experiences. "Perhaps my fondest memory was when I got the chance to meet my childhood hero Orel Hershiser in the Dodger dugout. I was attending a game in the Vin Scully press box and while waiting for the pregame press conference, I ran into him. He had met my sister earlier that season at a viewing party at the SportsNet LA studios and my heart soared when he said he remember my sister and had viewed our site.
"A year later, I had the incredible opportunity to attend a live taping of the Dodgers' pregame show at the SNLA studios in which my sister and I watched a game with Orel, Nomar, and John Hartung. It was a thrill of a lifetime for me as Orel talked about the game, his career, and his favorite ties. The trio spoke about Sabermetrics and told us a few of their approaches to the game while I looked up some of Nomar's stats, requested by Hartung, while sitting next to Nomar.
"Other fantastic moments from my journey into the Dodgers stadium press box included meeting and shaking Vin Scully's hand and talking to Charley Steiner and Dick Enberg in the press box bathroom about how to properly pronounce Erisbel Arruebarrena's name. He was a young Cuban shortstop for the Dodgers at the time and nobody could spell or pronounce his name.
"I've seen Yasiel Puig salsa dance in the clubhouse and met others such as Ned Colletti, Stan Kasten, etc. I've interviewed and spoken with a few of the players, but I always considered myself more of a behind-the-scenes guy. I would often get nervous around the players and preferred to stay behind my laptop. I was never truly comfortable on camera or interviewing players. Either way, I've been truly blessed."