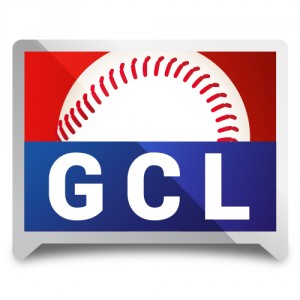 Yes, you can still pre-order OOTP 16 for PC/Mac or Linux and get it three days before its release in March, along with a free Steam key.
If you need to catch up, check out our Round 2 preview of the Grand Championship League. (It has a link to Round 1 recaps too.)
Games 1 and 2 of Round 2 are in the books. Here's what happened in each series: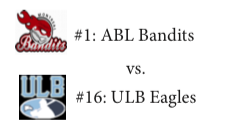 ABL, 2-0: ABL put aside any fears about their offense with a commanding 9-2 win in Game 1, and then in Game 2 they walked off with a 4-3 win in the bottom of the 11th inning on a two-out single. The runner who came home had reached first on a costly one-out error.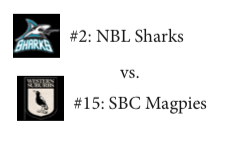 Tied, 1-1: SBC made a statement with a 9-6 win in Game 1, but NBL plated four runs in the bottom of the eighth inning in Game 2 to emerge with a 10-6 victory. A pair of errors in that fateful inning proved costly for SBC.
Tied, 1-1: ASBA blanked WBL, 3-0, in Game 1, but WBL returned the favor with a 4-0 shutout in Game 2 to tie the series.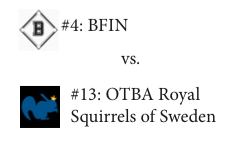 OTBA, 2-0: In Game 1, a bases-loaded walk in the top of the ninth inning gave the Royal Squirrels a 4-2 lead, but BFIN pushed a run home in the bottom of the frame and had a runner on third when Ron Adams flied out to end the threat. OTBA won by an identical 4-3 score in Game 2, and once again BFIN struck with a run in the bottom of the ninth, but their next three batters failed to reach base.

Paramount, 2-0: Paramount won Game 1, 4-3, and survived for a 6-4 win in Game 2, after Corporate scored four runs in the final three frames and left a runner on first in the top of the ninth as their last two batters struck out.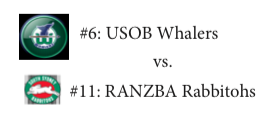 RANZBA, 2-0: Game 1 entered the top of the ninth tied, 1-1, and then the Rabbitohs used two singles, a double, and a sacrifice fly to score three runs. USOB pushed a run across in the bottom of the ninth and had runners on second and third when a pop-out ended the game. In Game 2, the Rabbitohs scampered around the bases to take a 7-1 win and the lead in the series.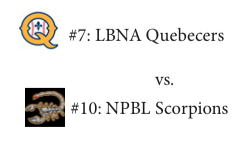 Tied, 1-1: LBNA stomped the Scorpions with an 11-2 Game 1 win, but NPBL came back to silence the Quebecers' bats in a 2-0 Game 2 victory that evened the series.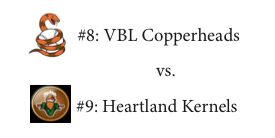 Heartland, 2-0: Heartland used a double, a sacrifice bunt, and a single from its first three batters to break a 2-2 tie in the top of the 10th inning of Game 1. Then they set down VBL in three straight for the 3-2 victory. In Game 2, Heartland went from small ball to big ball as they erupted for a 13-5 victory.