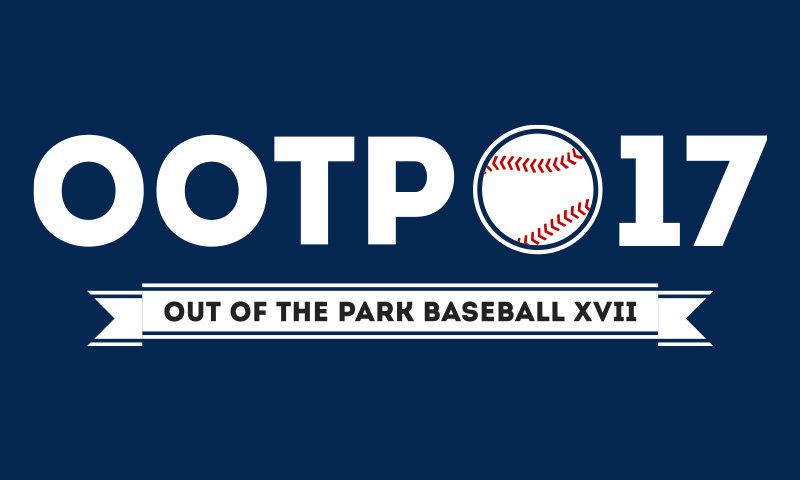 The buzz is through the roof for Out of the Park Baseball's new Historical Exhibition feature, and why not? Never before has a game allowed you to pit the greatest team in baseball history against one another. Combined with OOTP's unmatched simulation engine, we'll soon have definitive answers to some of the greatest "Who's the best?" debates of all time.
Will the 1927 New York Yankees and their "Murderers' Row" prove to be baseball's best-ever team? How about the 1998 version of the Yanks that won 125 games and swept the World Series? Maybe the 1907 Cubs and their microscopic 1.73 team ERA? Or the '76 "Big Red Machine"?
It seemed cruel to keep you waiting until March 22 to get the answer to the "Greatest ever" debate, so we picked one lucky OOTP fan to choose his dream match-up. But we didn't stop there: we went the extra mile and got the players from those teams of old back together for a real-life Clash of the Titans!
Let's turn it over to our winning fan, Middy M. Middleton, for the big announcement. Will we be watching Johnny Bench take swings against "El Duque" Hernandez? Frank Robinson vs. Jack Morris? Don't keep us in suspense, Middy … what greatness will be taking the field for this historic exhibition?
Middy M. Middleton: Actually, greatness makes me break out in hives. "Be like a good lane line and always stay in the middle of the road," my mother used to say. Bearing that in mind, I'm happy to announce my selections for the OOTP 17 Clash of the Titans exhibition: the 1971 New York Yankees vs. the 1947 Philadelphia Athletics.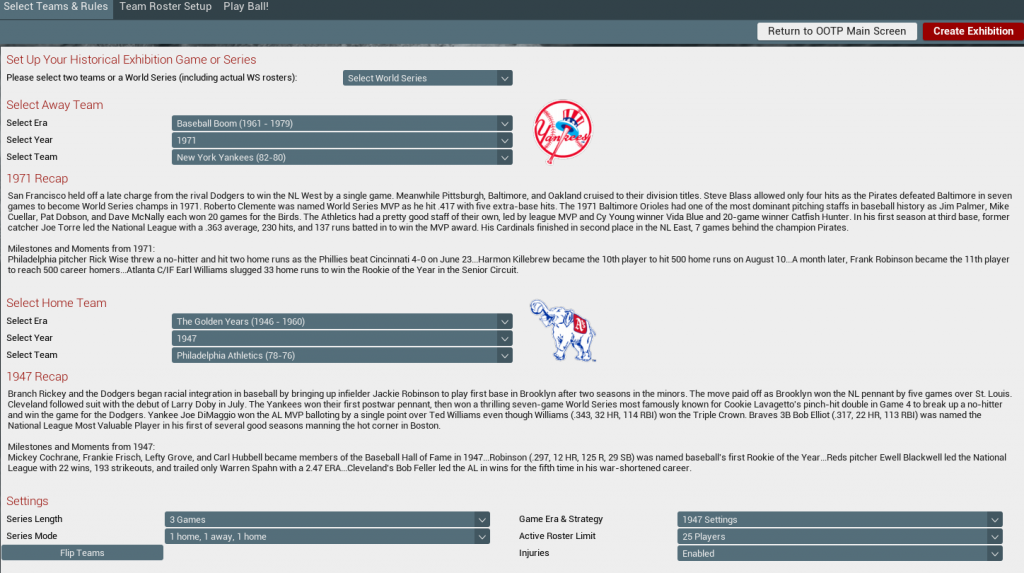 Okay …
Historical Exhibition – Meeting of the Middlings!
The 1971 New York Yankees (82-80)
vs.
The 1947 Philadelphia Athletics (78-76)
True to our word—and upon receiving assurance that New York and Philly indeed fielded professional baseball teams in 1971 and 1947, respectively—we gathered the actual players from these Monsters of Mediocrity™ to take the field for a very special exhibition that will answer the question that's haunted us all from time immemorial: Which is the most marginal team of all time?
First, our lineups for today's game:

Smatterings of applause greeted these noble warriors as fans realized they indeed recognized a few of them as actual ballplayers. "Wow, Bobby Murcer!" said diehard Yankees fan Chris Bruner. "He had his best year in '71! And Thurman Munson! Heck of a catcher, Munson. Roy White was pretty good, wasn't he? Felipe Alou, of course, and … hmm … I remember Jerry Kenney, don't I? No, wait, that's Gary Kasney from Accounting. God, that guy! Keeps taking my yogurt from the break room fridge. My name's on the carton, Gary! In red marker! Jerk."
The ballplayers themselves were thrilled to be participating in this once-in-a-lifetime exhibition. "It's neat," said Terry Ley, relief pitcher on the Yankees' reserve roster. "I've was enjoying retirement with my family when I got the call that they wanted me to take part in this exhibition. At first I thought it was a prank call, but they assured me I played for the Yanks in '71. I looked it up and, sure enough, I threw nine innings in a big league career that lasted one season! Who knew?"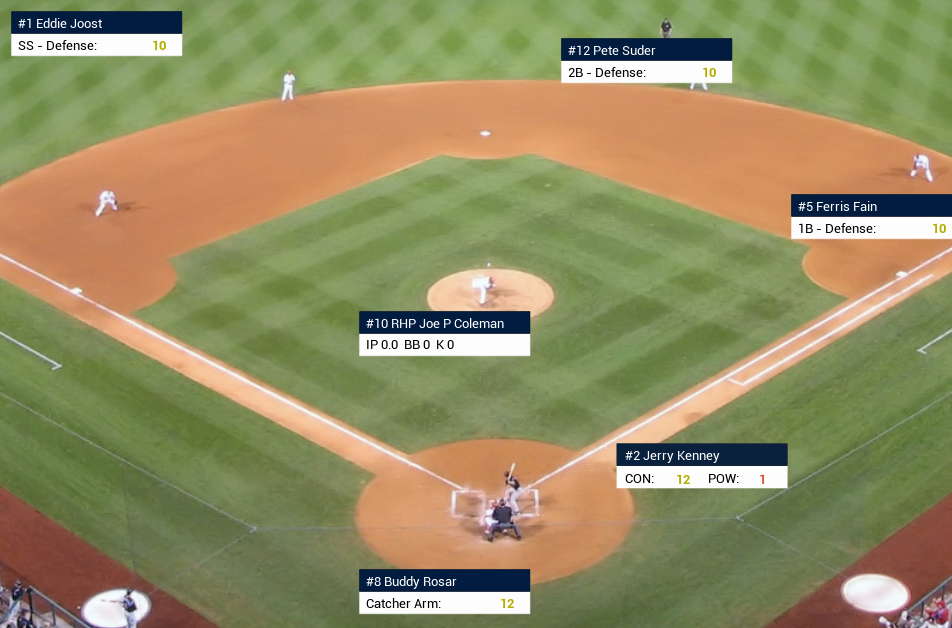 Not everyone was as enthused about the exhibition. "I don't get it," said Athletics' left fielder Barney McCosky. "Why couldn't they have picked the 1940 Tigers? We came within a game of winning the Series, and I knocked 200 base hits that season. That was a team. But the '47 A's? C'mon."
"I don't know," chimed Pete Suder, Athletics second baseman. "I think it's kind of nice that all this new technology lets folks connect with us old-timers again. Remember when we were kids arguing over the greatest teams, and the only way to settle it was to throw rocks at each other until someone yelled 'Uncle'? This seems a lot less painful."
"Yeah, but the '47 Athletics? Nobody remembered the '47 Athletics even back in 1947! This whole exhibition is pointless!"
"You're pointless."
"You're pointless!"
"No, you're pointless!"
"Why don't you come here and call me pointless to my face, Suder?"
"…"
"Yeah, that's what I thoug—"
"You're pointless."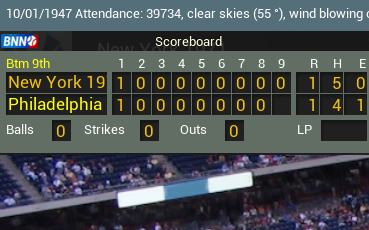 The exhibition remained tied into the bottom of the 9th, when Philly center fielder Sam Chapman struck a double off New York pitcher Fritz Peterson that brought in Hal Majeski for the game-winning run. A crowd of hundreds made noises that might generously be termed cheers. And baseball fans everywhere finally had the definitive answer to that burning question: "Better team? 1971 Yanks or 1947 A's?"
The answer is the A's. And nobody even had to throw rocks to settle it.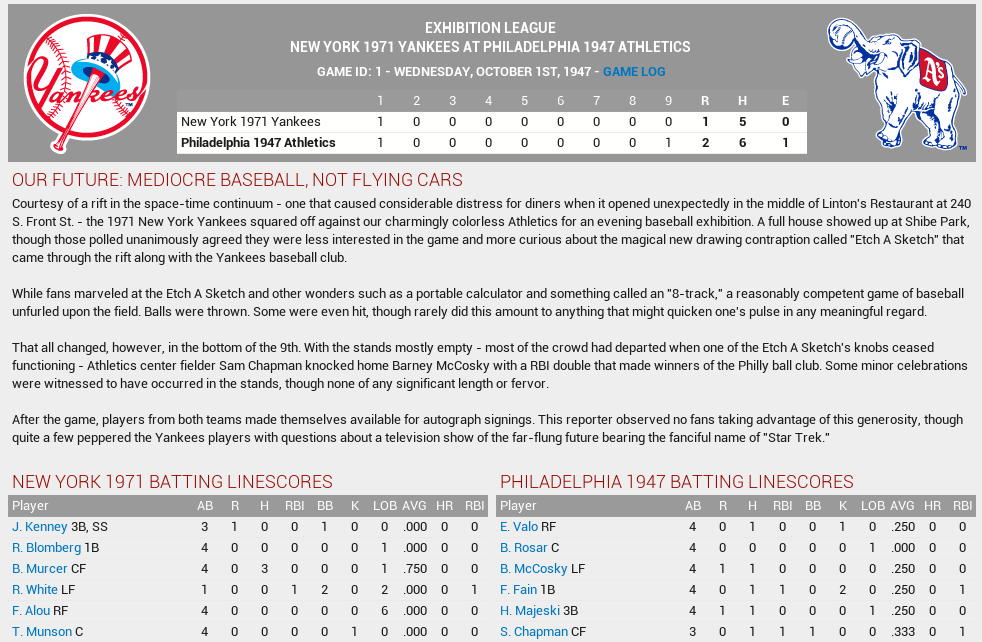 Don't Be Like Middy Middleton: Release the Krakens of Baseball!
OOTP 17's Historical Exhibition engine puts a Rubik's Cube-level of baseball permutations at your fingertips. Select teams from as far back as 1871 and square them off in best-of-nine battle royals. Pit the 1903 Boston Americans against last year's Kansas City Royals and see if the 2015 World Series winners have what it takes to beat the boys who took home the trophy in aught-three. Make the epic stars of yesteryear battle for ultimate supremacy and unassailable bragging rights.
Or, heck, just settle that argument with your one annoying buddy who insists the 1899 Cleveland Spiders would have wiped the floor with the 1890 Pittsburgh Alleghenys. It's your game, after all.