Don't forget: Tomorrow, Thursday, March 19, is the last day to pre-order OOTP 16 for PC/Mac or Linux and get it on March 20, three days before its release on March 23, along with a free Steam key. If you're one of the many who can't wait to get their hands on the best baseball management game on the planet, this is your last chance to get it early!
By Jeff Fox
For this entry in the OOTP 16 Road to Release series, we're going to visit an alternate baseball universe where the Regional Baseball League (RBL) is the dominant major league in America. It started in 2011, but we'll fast forward 30 years to 2041 and see how this league has gotten along. Along the way, we'll take different looks into the league and its players using many of the newest features of OOTP 16. Are you ready to take a stroll down OOTP Cornucopia Lane, OOTP fans? Then let's play ball!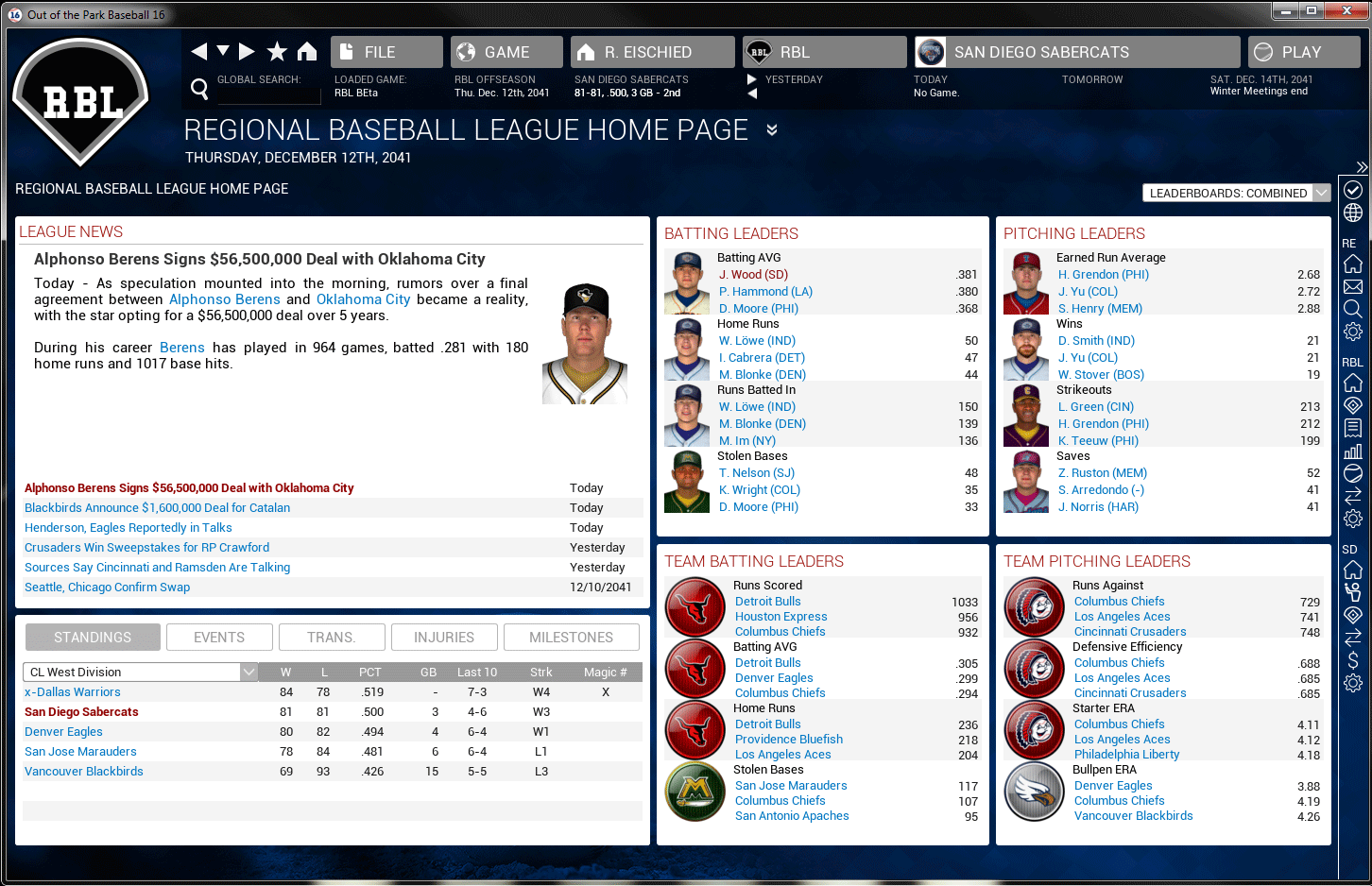 Our trip to the RBL Hall of Fame
The first thing to note after thirty years of RBL baseball is that there were some really great players in this league, so good that they found themselves enshrined in the RBL Hall of Fame. And wouldn't you know, just in time for our visit to the hall of fame, the OOTP team added a hall of plagues for those enshrined in its illustrious hallways. These give an overview of each player and highlight the team they chose to represent in the hall.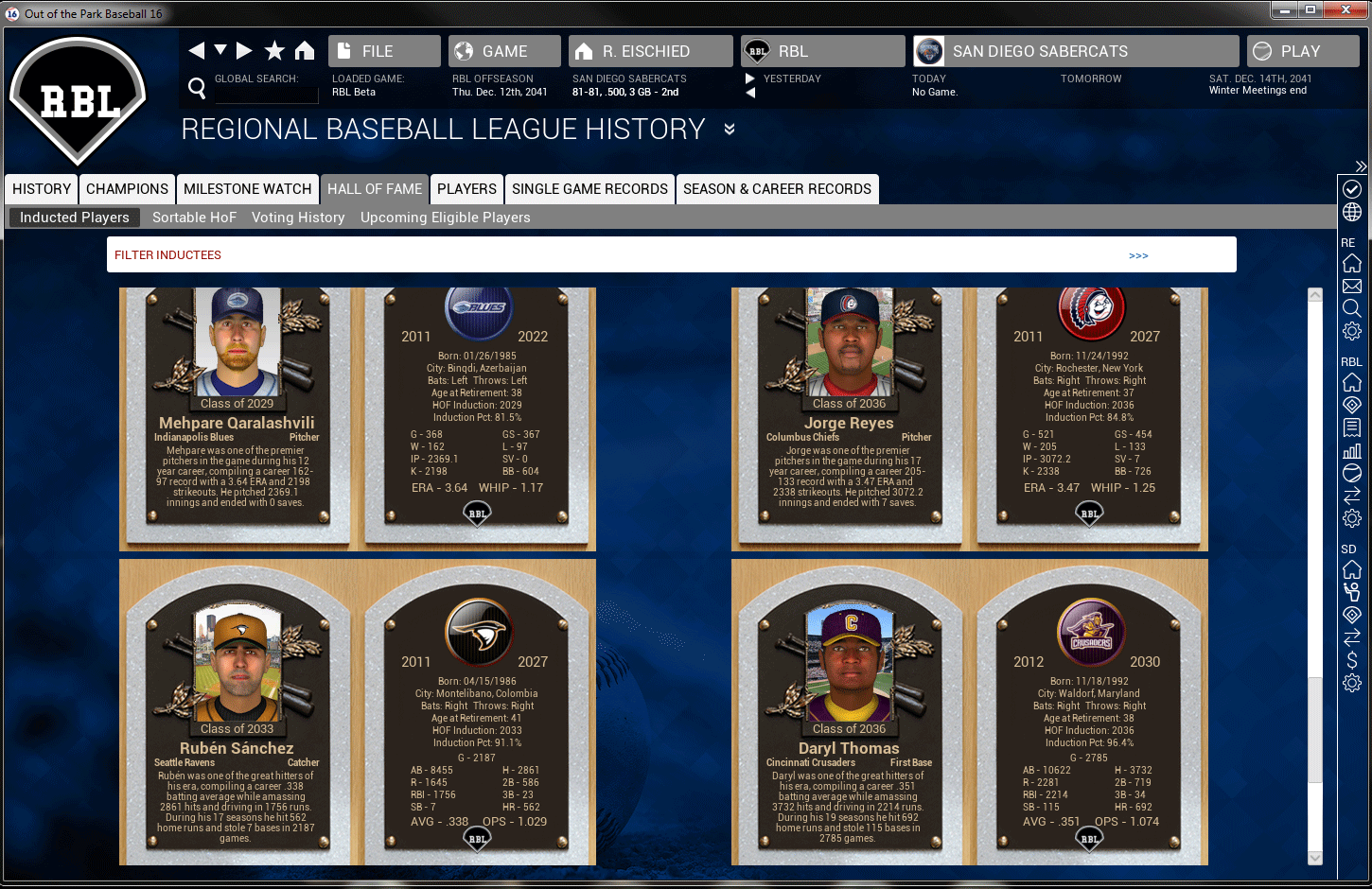 As we look at the plagues and soak in the baseball greatness, one player in particular catches our eye: Daryll Thomas, AKA "The Rumble." Thomas was easily the most dominant hitter in RBL history, smashing the RBL career record of 692 home runs.
"I wonder," you think out loud, being a stats hound and student of Bill James sabermetrics and all. "What do this guy's RBL Hall of Fame metrics look like? They must be insane." Well you would be correct. And luckily, OOTP 16 gives us a way to see those popular standards.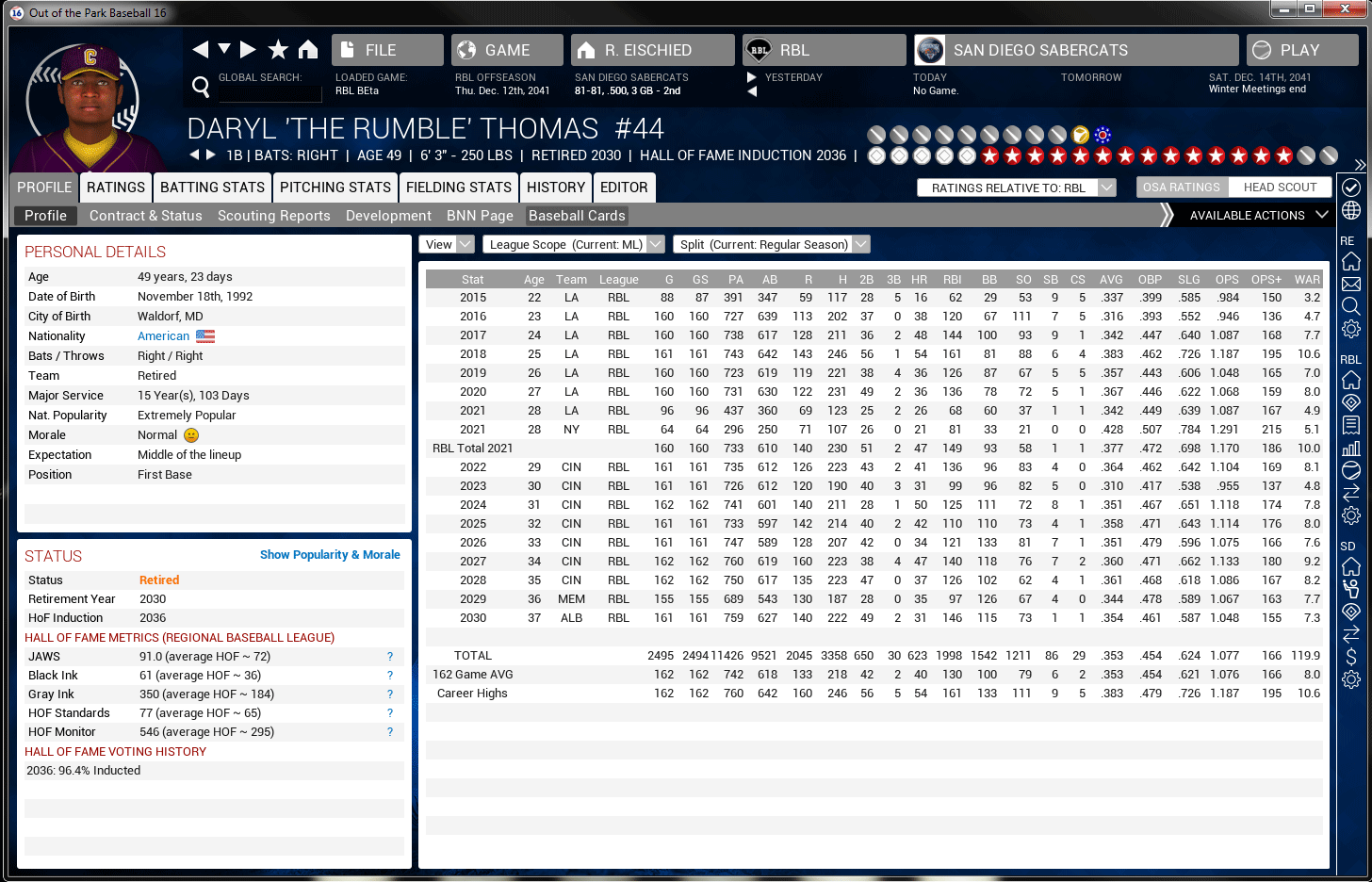 A quick look at Daryll's player profile now displays detailed history of his RBL Hall of Fame metrics (which, as expected, are impressive). But what do all these different numbers mean? What is "Gray ink" and why is his score of 350 here (as opposed to the league average of 184) so impressive? No problem, just click on the ? icon next to each metric to see a description.
As one would expect, Daryll was a first round inductee, with 96.4% of voters naming him on their ballots, as we can see on his profile too. Wow. Nice job, Daryll! But how did he do compared to his peers in the hall?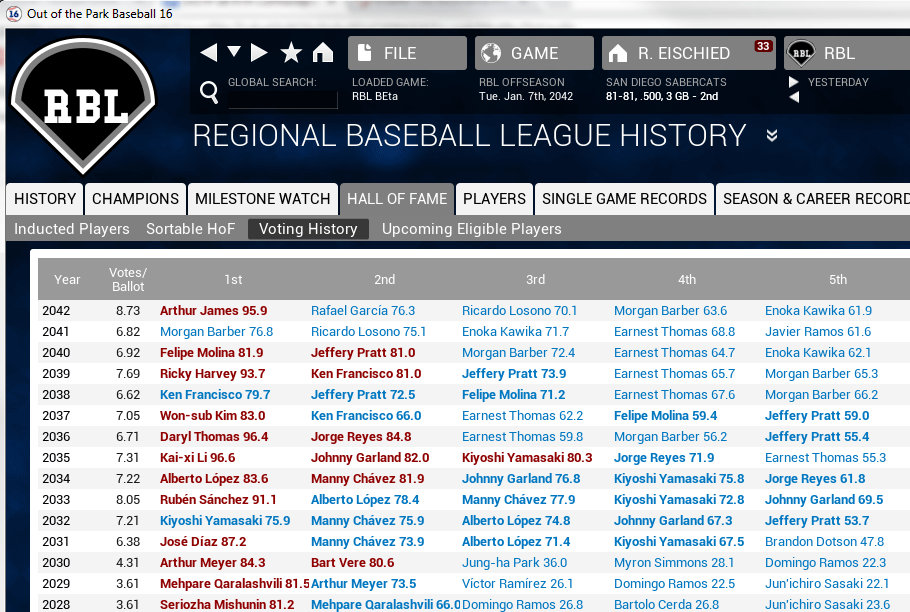 We can open up the new OOTP Hall of Fame voting page to see a complete record of every hall of fame vote since the league began in 2011. As one would expect, no one made it in during the league's early years, but candidates began appearing regularly by 2023. The players whose names are bolded on this page have been inducted into the hall. Those in red were elected in that year.
But what about this year's list of inductees? Is balloting for this year's induction still open? Good eyes – yes, it is!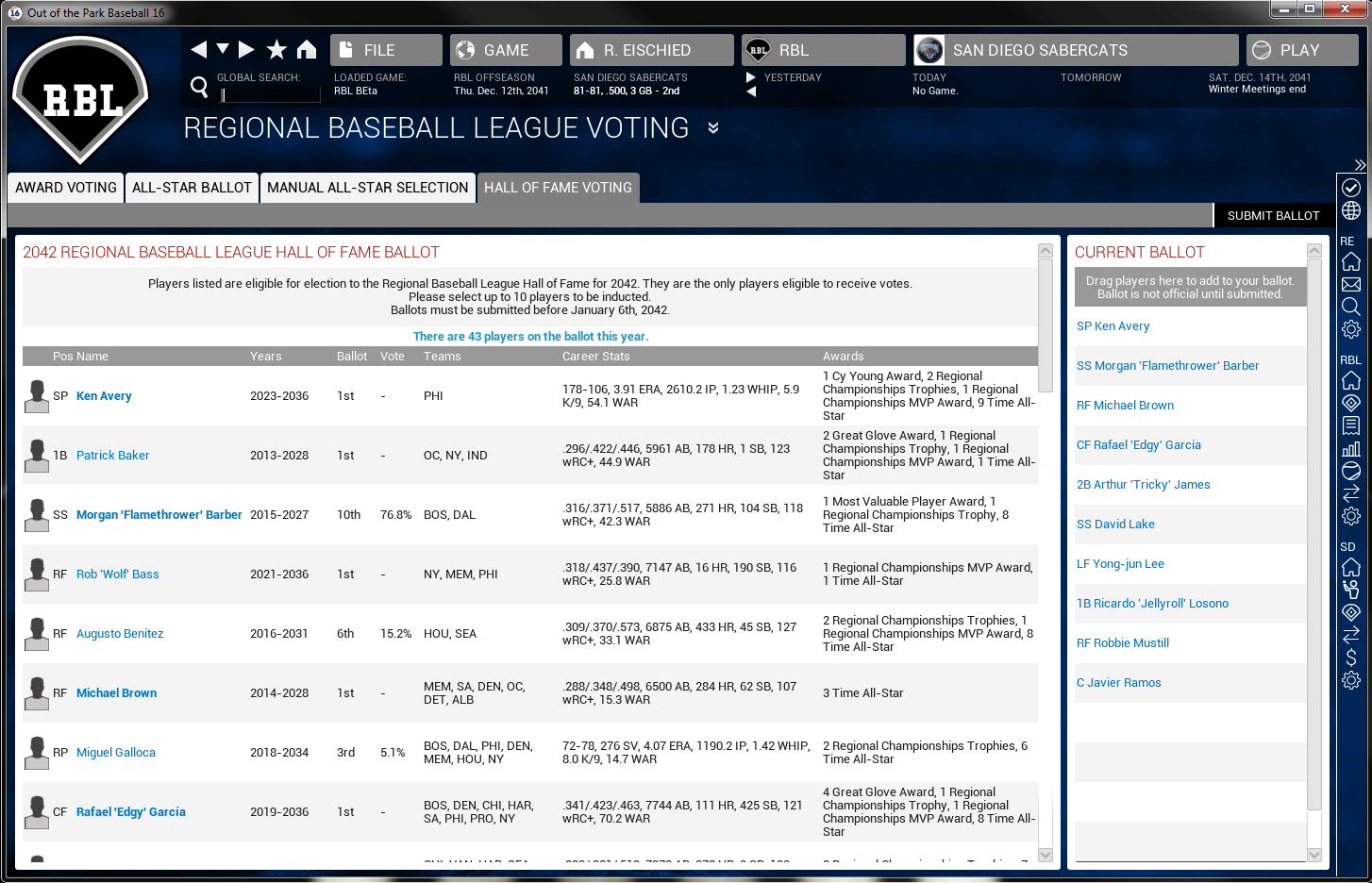 We move to the OOTP Hall of Fame Balloting screen and view the list of 43 players eligible to receive votes this year. There are no less than 23 new retirees who have become eligible this year. Morgan "Flamethrower" Barber came close last year, appearing on over 76% of ballots, but this is his last year of eligibility. Will he get past the RBL's requirement that he appear on 80% or more of voters' ballots this time? We've added him to our list of ten players we're voting for on this year's ballot, so fingers crossed for him.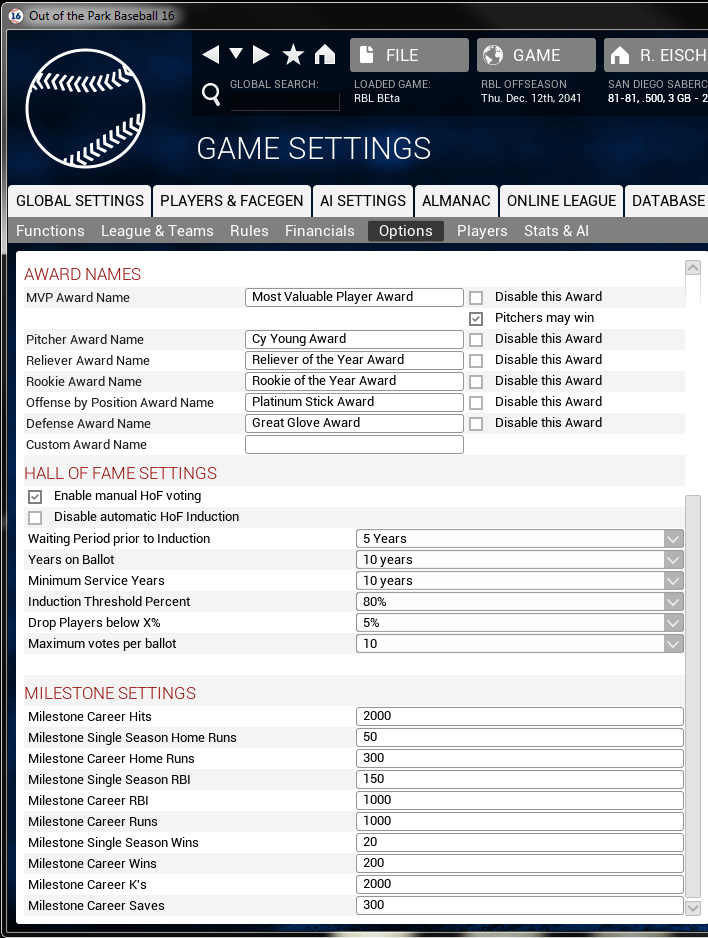 Speaking of the cutoff % and number of entries per ballot, OOTP 16 gives you complete control over the experience with new options for manual balloting, induction and loss of eligibility thresholds, and votes per ballot. It's a deeper and more immersive OOTP Hall of Fame experience than ever before.
FAST FORWARD to January 9, 2042 – The Hall of Fame voting results are announced and first-time nominee Arthur James is elected with 95% of votes. Morgan Barber dropped to only 63% and failed to secure a plaque in Sayreville (that's the home of the Hall in the RBL).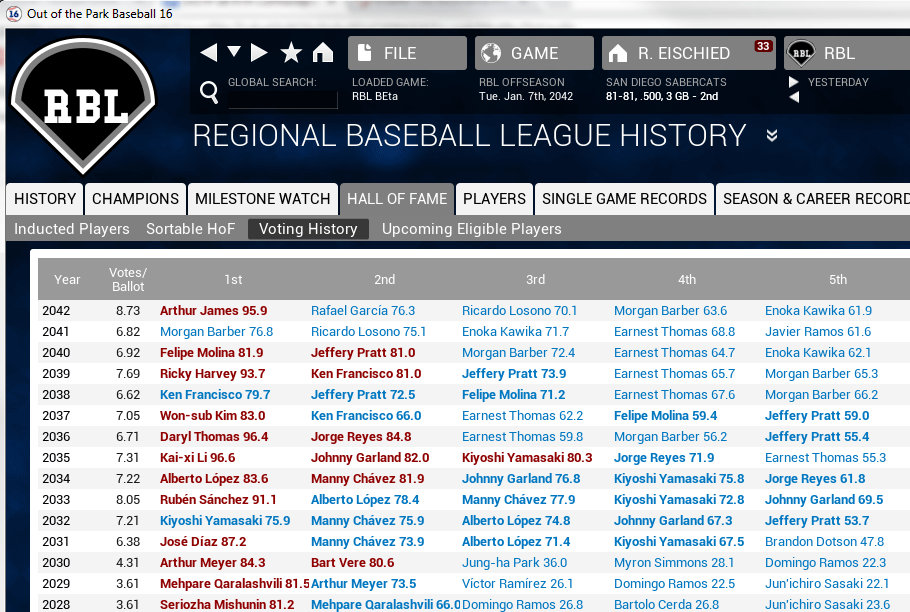 All Star Voting
FAST FORWARD to May 26, 2042
It's that time of year again: Time to begin voting for the All-Star teams! The RBL's best and brightest compete in a mid-summer contest for the fans. In the past, the RBL has either used an automatic process to select players or an all-at-once system where a manual selection process was used.
But you have spoken and this year, the power is finally in your hands! The all new All-Star Balloting process lets you vote for who you think should be a part of the annual All-Star contest. Select from all players, or all qualifying players, and cast your vote!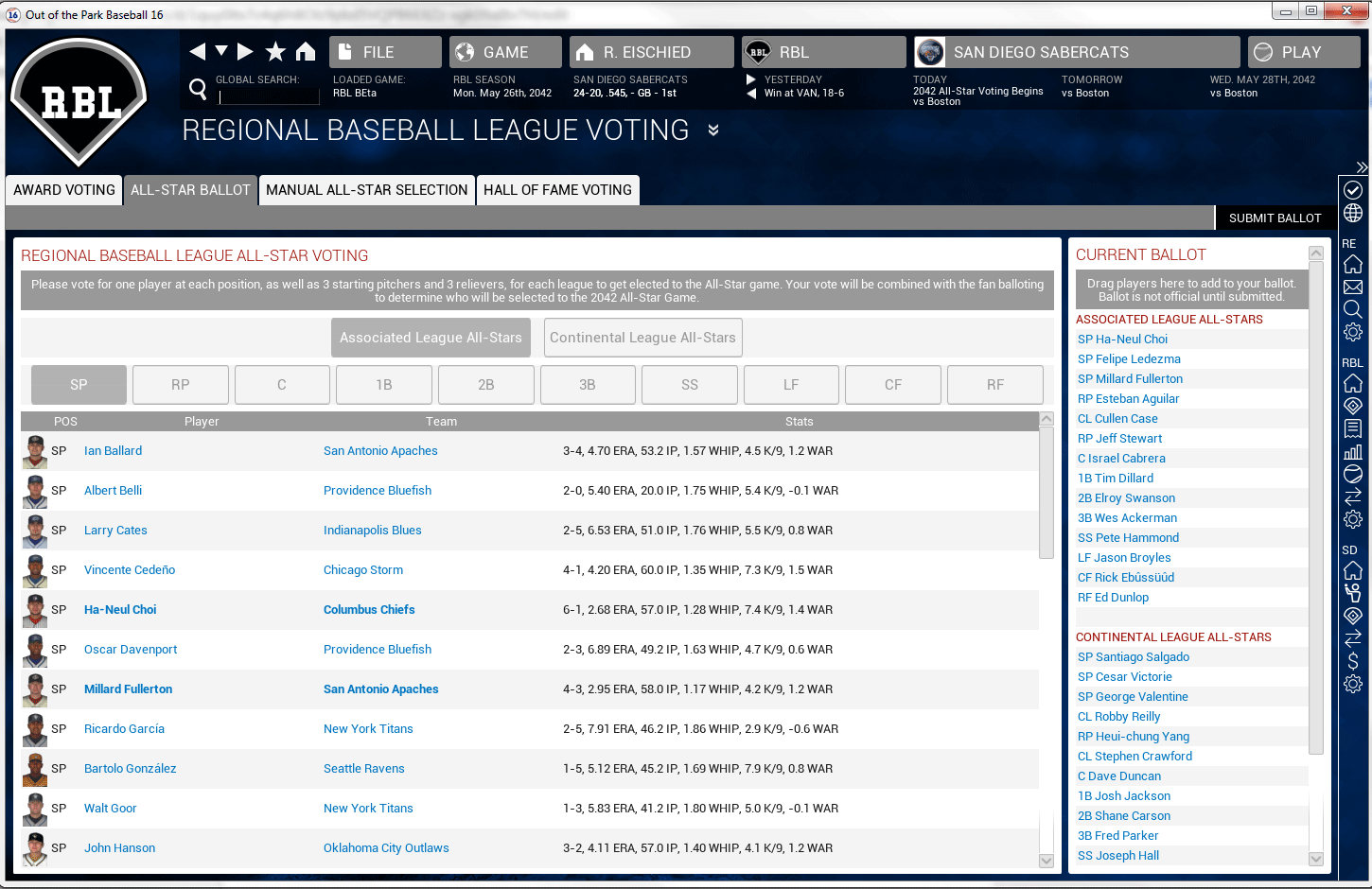 As the season progresses leading up to the All-Star game, you'll get regular email updates showing the leading vote getters for all leagues in all categories. Do you vote early and watch as the totals continue to roll in or will you vote at the last minute, hoping to push your favorite player over the top and onto the team? OOTP offers more choices than ever as to how the game's best and brightest are chosen!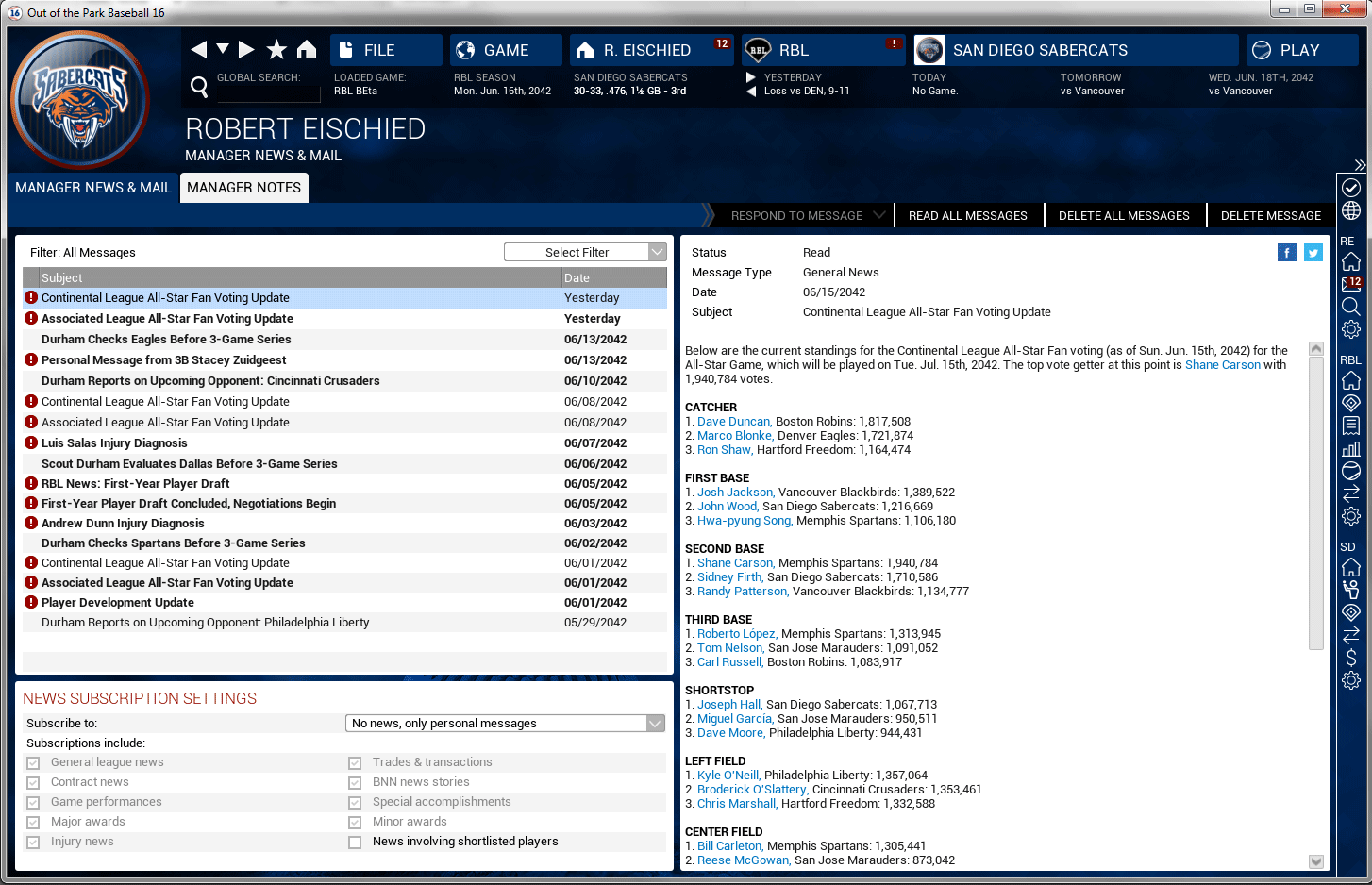 Get deeper into players than ever before!
Congratulations, RBL fan! You've won the "Be an RBL GM for a day" contest, giving you the opportunity to step into the shoes of your favorite team's General Manager and get a look at some of the latest and greatest tools they use to manage their clubs. So let's take a quick peak at them:
Find A Player
OOTP 16 includes a new advanced player search tool that gives you the ability to search your game for exactly the type of player you're looking for. No more scrolling through long lists of players. Want to find a player with good contact, decent speed and low salary? Done. You can also search all leagues, including minor leagues, and filter out players under contract to find that diamond in the rough sitting in the free agency pool.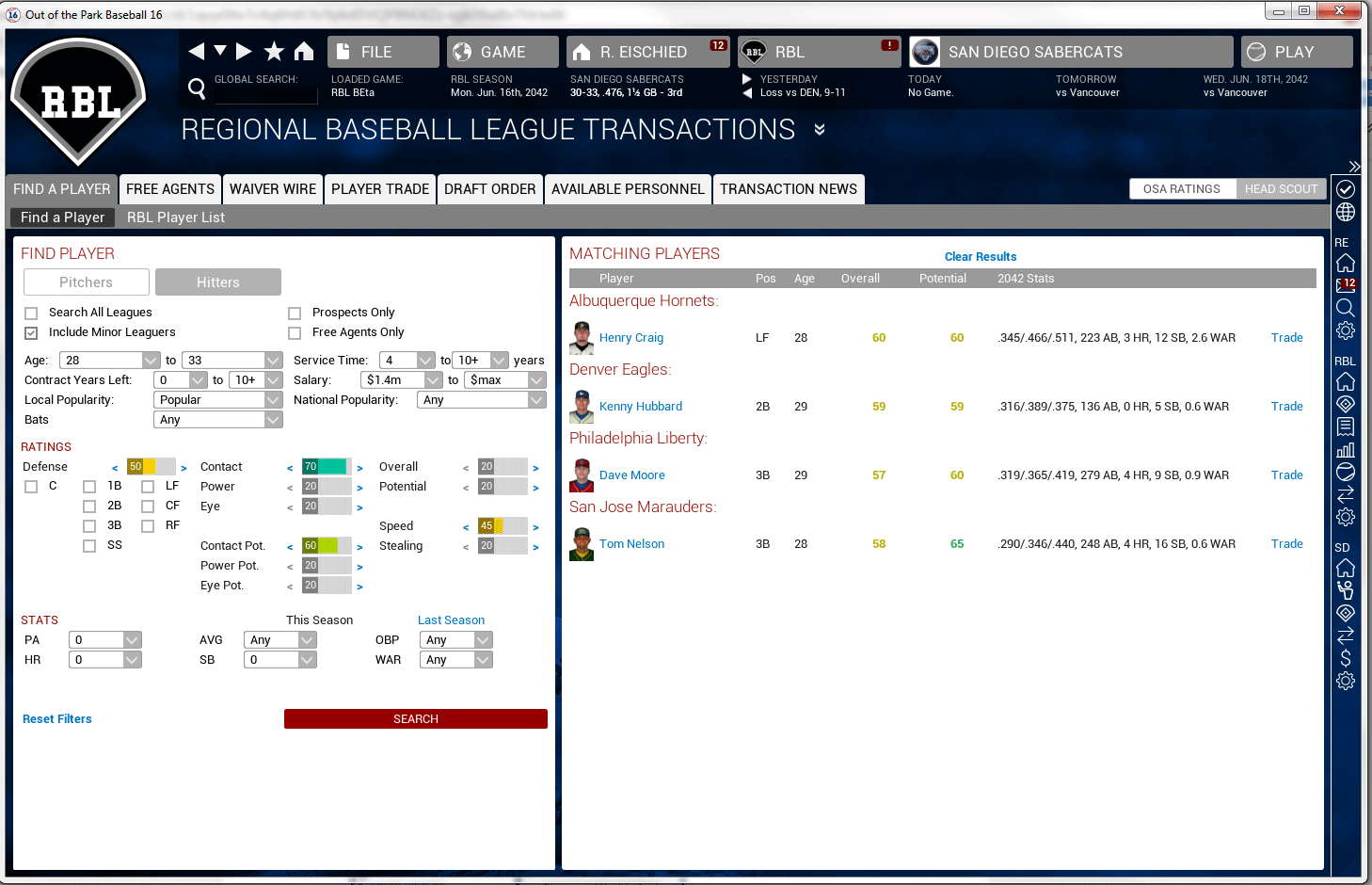 Player Popups
The RBL, like many major sports organizations, is made up of a lot of players, and at times, GMs must comb through long listings of these players in which only their names and some small details are available. OOTP 16 includes a great new feature letting GMs see a concise snapshot of player information in a handy pop-up.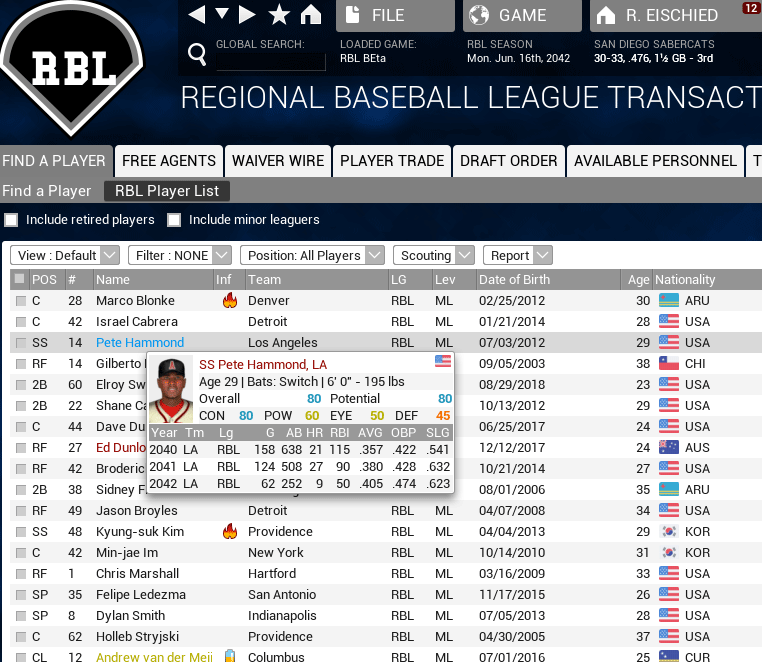 Award Icons on Player Profile (AKA Markus and Matt's Favorite New Feature)
GMs have a pretty good idea of how good players, are but wouldn't a quick visual of all the player's majors awards be a handy little tool? Well, OOTP 16 adds Award Icons to the player profile. It's a handy visual list of all major awards the player has won. Just hover over the icon to see what the award was for. Now you can quickly see just how amazing your best players are.

Improved FaceGen!
FaceGen has gotten an update in OOTP 16, resulting in some of the best and most realistic-looking player pictures ever!
Additional Exciting Features and Enhancements
We hope you enjoyed this immersive look into the RBL and the cornucopia of new features coming in OOTP 16. In addition to all the exciting new features we covered above, here are some of the other great new additions and improvements in OOTP 16:
● Rainouts – Games may now be postponed due to rain or other inclement weather. They're postponed and made up later. As Ernie Banks would say, "Let's play two!"
○ Infield shifts are used in a more modern way and include a new league-wide strategy setting.
○ Use shifts against the new hitting attribute in OOTP 16: Extreme Pull Hitter!
○ Pitchers who are left warming up in the bullpen for too long will start to tire.
● In-game sound improvements
● New currency options, including the Euro, Pound Sterling and Yen
● More player awards! The game now includes more awards, including the MVP (and the ability to include or exclude pitchers), reliever of the year and top overall hitter.
● More pictures! The game has added the ability to set background images for your league and team pages!
● And even more!
OOTP 16 puts a host of new tools and countless functional improvements all under your control so that you can mold and shape your mega million dollar major league franchise or small market independent start-up to its maximum potential. The game is truly yours for the taking, so come play it your way!
Out of the Park Baseball 16 – Turning fans into GMs!
Don't forget: Tomorrow, Thursday, March 19, is the last day to pre-order OOTP 16 for PC/Mac or Linux and get it on March 20, three days before its release on March 23, along with a free Steam key. If you're one of the many who can't wait to get their hands on the best baseball management game on the planet, this is your last chance to get it early!