Last month, we decided to turn to our loyal fans and see if you could help us come up with a promotional tagline that would sum up our company as the publisher of great sports management games. Over 250 of you sent in entries, and many of them had multiple suggestions (one person sent us about 50 ideas spread across several entries). We thank all of you for your thoughts.
We waded through the hundreds of taglines that were suggested and came up with a top 10 for internal discussion:
 "Be the Future of the Franchise"
"The Past, Present, and Future of Sports Management Games"
"Your Fantasy is our Reality"
"The Road to Legend Starts With You"
"Your Only Limitation Is Your Imagination"
" Where Awesomeness meets Realism"
"Turning Fans Into GMs"
"Imagine Your Dynasty"
"The Next Best Thing to Real"
"We Make YOU The Franchise"
Everyone who works for OOTP Developments voted, and we cut that list in half before settling on the winner:
 Turning Fans Into GMs
Congratulations to Jordan Rosenblum, who submitted the winning idea! He'll score copies of Out of the Park Baseball 16, iOOTP Baseball 2015, Franchise Hockey Manager 2015, and Beyond the Sideline Football this year.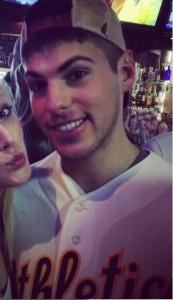 We thought we'd ask Jordan a few questions and learn more about him:
Q: How long have you been playing OOTP?
A: I've been playing Out Of The Park Baseball since 2008, my junior year in high school. I haven't experimented with any of your other games – yet.
Q: Why do you enjoy OOTP?
A: I love being responsible for decision making and putting good research to use. I'm a big Sabermetrics guy. I like getting down and dirty with the data to try and understand player performance – in real life and in simulation. I love the complexity and randomness that is built into OOTP – it keeps things fresh and real.
Q: What's your favorite moment playing OOTP?
A: I love following the prospects. I first started playing OOTP when the Mets traded for Johan Santana. As the Fake Mets, I elected to pass on Santana and keep the guys that turned out to be crap in real life – Kevin Mulvey, Deolis Guerra and Phil Humber. It made my day to see Humber crack the top prospect list and to eventually watch him develop into a stud – a fate he would not see in real life. It's humbling that a few lucky or unlucky breaks could be the difference between a great player and a bust, and Out of the Park offers an alternate reality where guys like Humber can fulfill their potential.
In my picture, I'm wearing a Brett Anderson jersey. I'm a big "Moneyball" fan: I got quite emotional during the opening credits of the movie and am proud of this fact. I also own Fausto Carmona's jersey from when he was on the Indians. I'm notorious for buying jerseys of guys that flame out. Hopefully Brett proves me wrong this year with the Dodgers!
Q: Which real baseball team is your favorite?
A: I'm a Mets fan, probably because my Dad is and I was a part of that community growing up. I have been since second grade. I still remember the 2006 NLCS: Bases loaded, two out, and Beltran goes down looking – the first time my heart was broken. Being a Mets fan has prepared me well for the many hardships life has to offer!
Q: Any other sports you enjoy?
A: I'm a big fan of playing football – baseball involves too much thinking and I have a mild case of the yips. In third grade I remember my coach yelling at our pee-wee football team at halftime:  "What are you guys doing out there? Rosenblum has half the tackles on the team!" I played defensive end but quit after that year –  I am left forever wondering whether I could have been the next JJ Watt. However, I'm 5 '10, 165 pounds, a perfectly okay size for work in advertising!