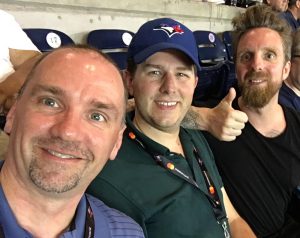 Three members of the OOTP Developments team — creator and lead developer Markus Heinsohn, co-developer Matt Arnold, and Chief Marketing Officer Rich Grisham — attended this year's Major League Baseball All-Star Game and All-Star Home Run Derby in Washington, DC. They spent some time letting us know how the trip went.
"It was a fantastic three-day celebration of baseball and its best players," Grisham says. "I had no idea the Home Run Derby and All Star Game would be so much fun to attend in person. So many fans of so many teams were there, and it was just a sea of happy fans and positive feelings. The Nationals did a great job hosting the event, and Washington D.C. is so exciting these days with all the new buildings and rebuilt neighborhoods. It was a great place for a big baseball party!"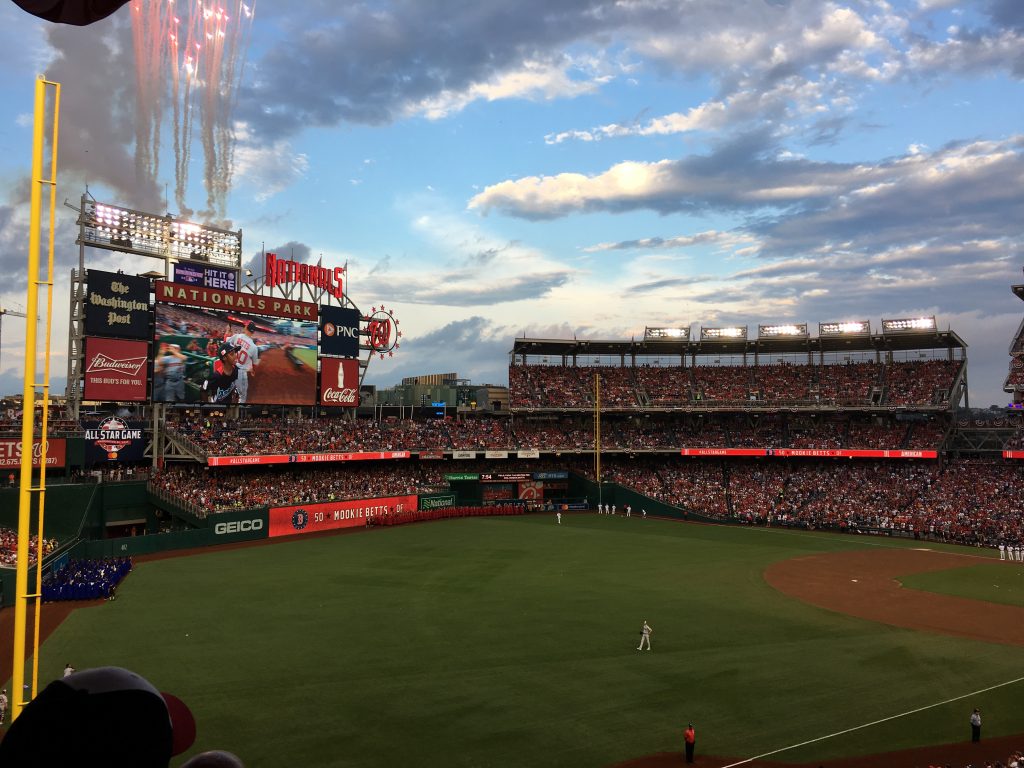 Hometown hero Bryce Harper was the winner of a hotly contested Home Run Derby, winning a pitched battle that came down to the last pitch of the final round. The All-Star Game itself was a spectacular game to watch, with several big home runs, a late-inning comeback by the National League to tie the game in the bottom of the ninth, and a fierce American League rally in the tenth inning to ultimately claim another victory.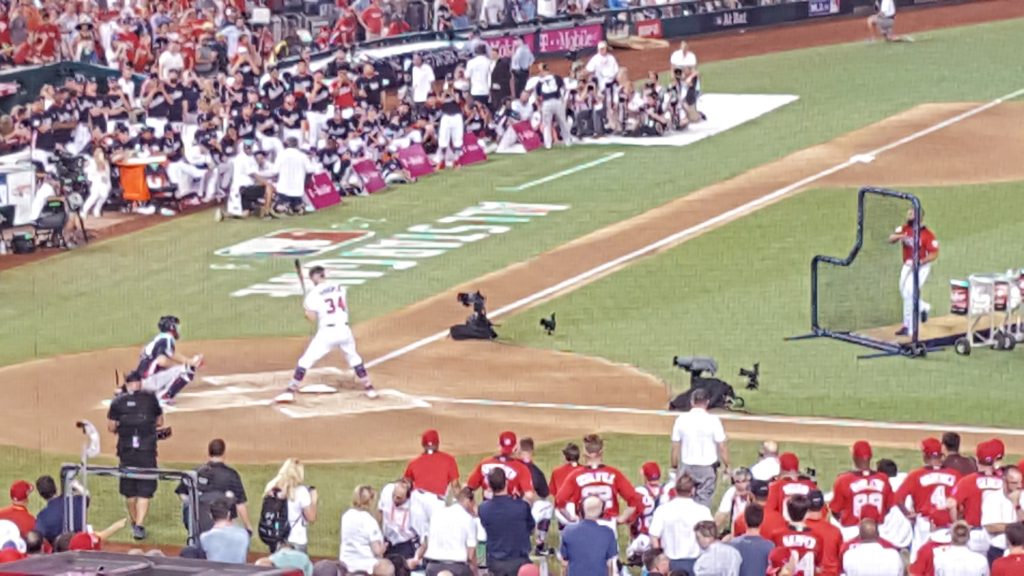 "I get goosebumps every time I get the chance to see a MLB game live," Heinsohn says, "and the MLB All-Star Game is the pinnacle. This year we witnessed an epic Home Run Derby and a record-breaking All-Star Game! I feel truly blessed — it was an amazing experience."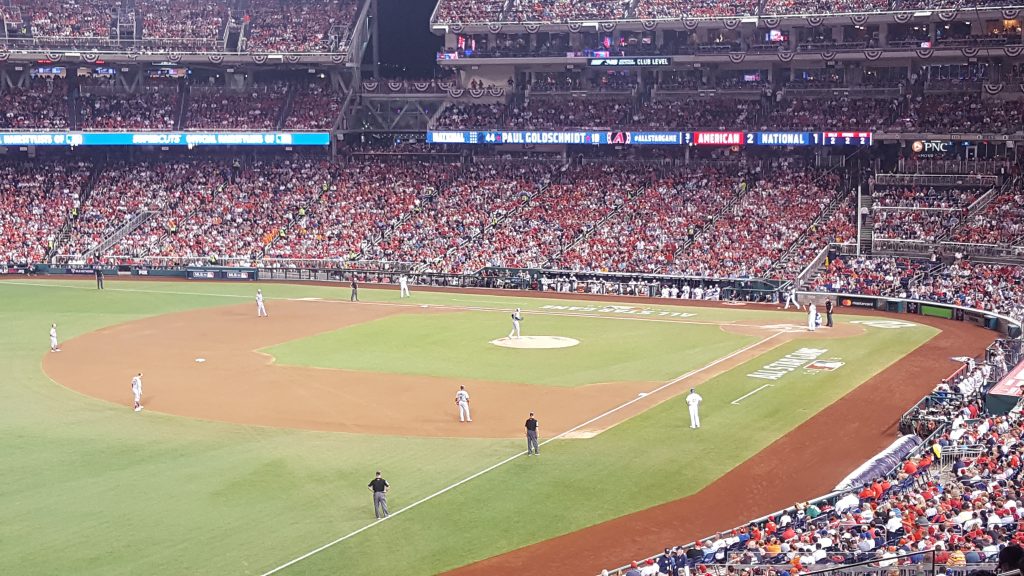 "For me," Arnold adds, "when I sit in the stands and watch the HR derby, I do always wonder about getting it in to the game. No promises when, but we'll have it in someday."
Fan Fest memories
In addition to attending the Home Run Derby and All-Star Game, Grisham and Arnold dropped by the Fan Fest, checking out a whole bunch of exhibits and even playing some Home Run Derby in VR. Rumor has it that Arnold crushed Grisham in a VR Home Run competition, but those claims cannot be completely verified.
"I easily defeated Rich in the HR Derby VR game," Arnold says.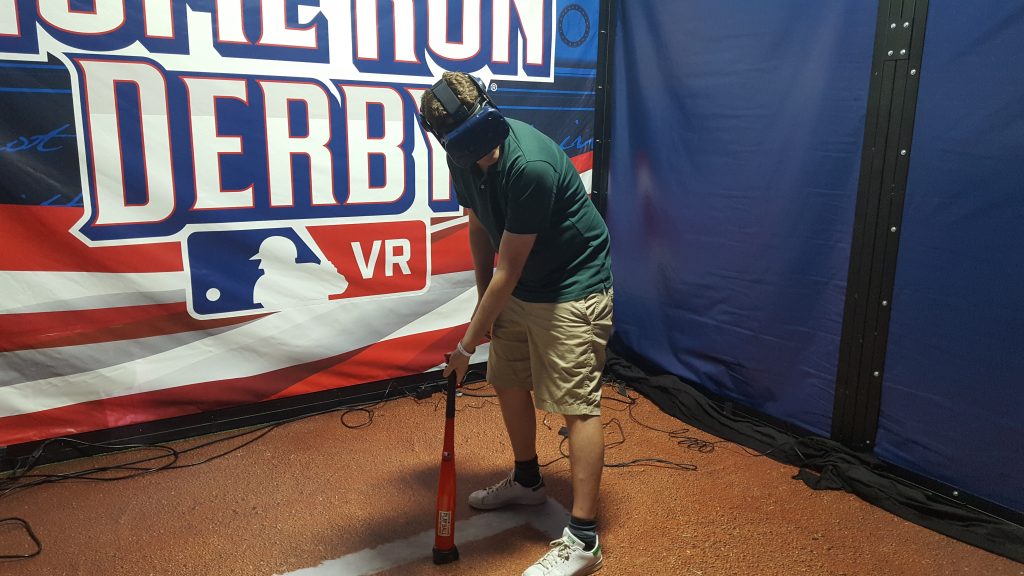 "The highlight of the Fan Fest was, no doubt, listening to the great Johnny Bench just riff on baseball for 45 minutes," Grisham says. "Here's a guy who's won multiple MVPs and was the catcher for arguably the best team in history, simply chatting about his career, the game today, being a parent, and so many other things. It was a thrill to see him in person and just soak in the baseball knowledge."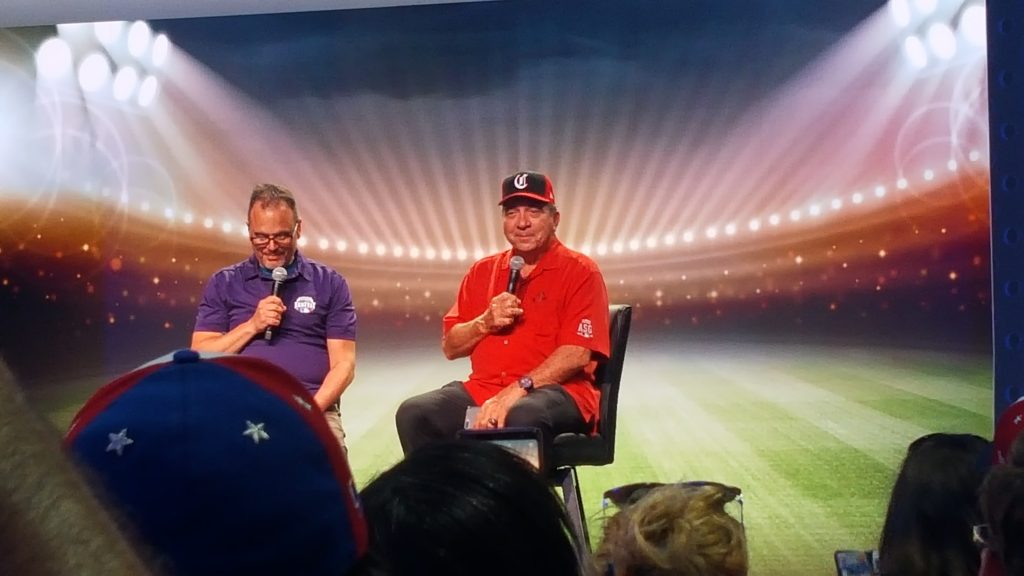 The perspective from Germany
Heinsohn had the longest trip of the three, coming from Hamburg, Germany, where OOTP Developments is based. He says: "I just love the atmosphere in the ballpark. Being based in Germany, it's a rare event for me personally to see the best players in the world perform in a big league ballpark, in front of an ecstatic crowd.
"We also met many members of MLB's games & VR division, which was a lot of fun and interesting. Hanging out with creative people who love baseball and game design is simply great!"