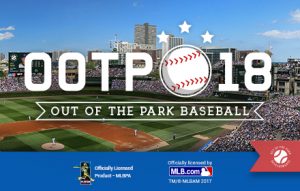 FOR IMMEDIATE RELEASE
For more information, contact:
Richard Grisham, Chief Marketing Officer
Mike Suszek, License Relations and Digital Content Manager
T.J. Lauerman, Community Manager
http://www.facebook.com/ootpbaseball
http://www.twitter.com/ootpbaseball
OOTP 18 Media Assets: https://www.dropbox.com/sh/19p1wujyyjz5sxp/AADnuXXYlCyq62_PDB8ArRola?dl=0
OOTP 18 Trailer: https://youtu.be/AkCiK1EGcVE
April 13, 2017
Out of the Park Developments announces strategic partnership with Trenton Thunder, Double-A affiliate of New York Yankees
Makers of Out of the Park Baseball 18, an Official Licensee of MLB.com, MLBPA, and MiLB.com, will work closely with Thunder to further the game's authenticity and reach
Follow-up to Metacritic's 2016 PC Game of the Year features deep experience of Trenton's historic successes, as well as those of hundreds of other major and minor league clubs
Out of the Park Developments, an official licensee of MLB.com, the MLBPA, and MiLB.com, today announced a strategic partnership with the Trenton Thunder, the Double-A affiliate of the New York Yankees. The partnership will further extend the rich authenticity that Out of the Park Baseball 18 offers fans, including the ability to experience each and every Major and Minor League club from every baseball season ever played, beginning in 1871 and continuing through 2017. In addition, Trenton Thunder staff and players will utilize Out of the Park Baseball 18 to run simulations and projections to provide strategic analysis as the 2017 season progresses.
"The Trenton Thunder are the gold standard of Double-A baseball," said OOTP CMO Richard Grisham. "Their alumni reads like a Who's Who of baseball greatness, and they consistently compete for – and win – Eastern League Championships. We're delighted to work closely with them to further extend OOTP 18's authenticity and interact directly with their fans on broadcasts and at Arm & Hammer Park."
"Our goal is to directly work with as many major and minor league clubs as possible to take our games to the next level," Grisham continued. "Working with teams benefits our fans in many ways, including park factors, financial models for clubs at various levels, retired numbers, and many other details that we have incorporated into the game. Our fans have been loud and clear with their delight, as it further adds realism and authenticity to a title that has won multiple awards. We could not be happier!"
"Out of the Park Baseball 18 gives everyone an opportunity to be the main decision maker for their favorite team and lead them to a Championship," said Thunder Public Relations Manager Jon Mozes. "As a kid I dreamed of becoming a Major League GM and OOTP 18 gives every fan the chance to live that dream."
In addition to that collaboration, Out of the Park Baseball 18 will be directly integrated in Thunder radio and TV broadcasts. Members of the Out of the Park Developments development team will also be appearing at Arm & Hammer Ballpark on Thursday, August 24th for the Thunder's game against Richmond. Fans in attendance will compete to win copies of their games Out of the Park Baseball 18, MLB Manager 2017, and Franchise Hockey Manager 3.
Out of the Park Baseball 18 is now available worldwide. The follow-up to the acclaimed Metacritic 2016 PC Game of the Year includes several exciting new features and a treasure trove of deep improvements to its award-winning gameplay.
Out of the Park Baseball 18 sells for $39.99 and is available on Steam and through the company's website at these links:
http://store.steampowered.com/app/465650/
http://www.ootpdevelopments.com/out-of-the-park-baseball/
About Out of the Park Developments
Out of the Park Developments is the developer of the award-winning OOTP and MLB Manager series of baseball management simulations, Franchise Hockey Manager, and Beyond the Sideline Football. German-based OOTP Developments was founded by Markus Heinsohn and Andreas Raht in 1999. OOTP Developments has consistently produced games that have met with critical acclaim, including winning Metacritic's coveted "PC Game of the Year" for the 2016 version of OOTP and "Game of the Year" for the 2007 edition of OOTP, which remains the second highest-rated PC game on Metacritic of all time. Further information on the company and its games is available from the OOTP Developments website, http://www.ootpdevelopments.com
About MLB.com
Established in June 2000 following a unanimous vote by the 30 Major League Baseball club owners to centralize all of Baseball's Internet operations, MLB Advanced Media LP (MLBAM) is the interactive media and internet company of Major League Baseball. MLBAM manages the official league site, MLB.com,and each of the 30 individual Club sites to create the most comprehensive Major League Baseball resource on the Internet. MLB.com offers fans the most complete baseball information and interactivity across computers and mobile devices, including up-to-date statistics, game previews and summaries, extensive historical information, online ticket sales, baseball merchandise, authenticated memorabilia and collectibles, fantasy games, live full-game video streaming and in-progress and on-demand highlights, live and archived audio broadcasts, Gameday pitch-by-pitch application, Statcast tracking technology, around-the-clock hosted and specialty video programming, complete blogging capabilities, console and mobile video games and the award-winning At Bat and Ballpark mobile applications. MLBAM powers more live events across the Internet than any other company in the world.
Major League Baseball Players Association
The Major League Baseball Players Association (www.MLBPLAYERS.com ) is the collective bargaining representative for all professional baseball players of the thirty Major League Baseball teams and serves as the exclusive group licensing agent for commercial and licensing activities involving active Major League baseball players. On behalf of its members, it operates the Players Choice licensing program and the Players Choice Awards, which benefit the needy through the Major League Baseball Players Trust, a charitable foundation established and run entirely by Major League baseball players. Follow: @MLB_Players; @MLBPAClubhouse; @MLBPlayersTrust
About The Thunder
The Thunder, Double-A Affiliate of the New York Yankees, play in the 12 team Eastern League.  The Thunder have drawn over 9.1 million fans to ARM & HAMMER Park over 23 years and have won the three major awards that Minor League Baseball teams can win; the Johnson Trophy for the "Nation's Best Franchise" (2005), the Larry MacPhail Trophy for Outstanding Club Promotion (2003) and the Bob Frietas Award for Long-Term Success (1998, given by Baseball America). The team has given back over $6.0 million worth of goods, services and monetary donations through Trenton Thunder Charities, under the Grand Slam We Care Foundation umbrella. The Thunder can be found online at trentonthunder.com,facebook.com/trentonthunder, twitter.com/trentonthunder and on youtube.com/AATrentonThunder.