In March, OOTP forecast a Fall Classic between the Houston Astros and the Washington Nationals, which was aired on MLB Network as part of their season preview. While the first team wasn't a surprise, the second one raised more than a few eyebrows among baseball fans.
And yet, here we are, with a 2019 World Series underway between the Astros and the Nationals. OOTP's playoff forecast, which MLB Network unveiled on Oct. 5, also showed both teams making it to the final round, and so now we've simulated the World Series 1,000 times to see which club could have the edge.
Sorry, Nationals fans (and former Montreal Expos fans who followed the team to its new home), but the Out of the Park Baseball 20 simulation engine says Houston will have the edge in this one, which would give them two championships over the past three years. Let's see how the simulations broke down.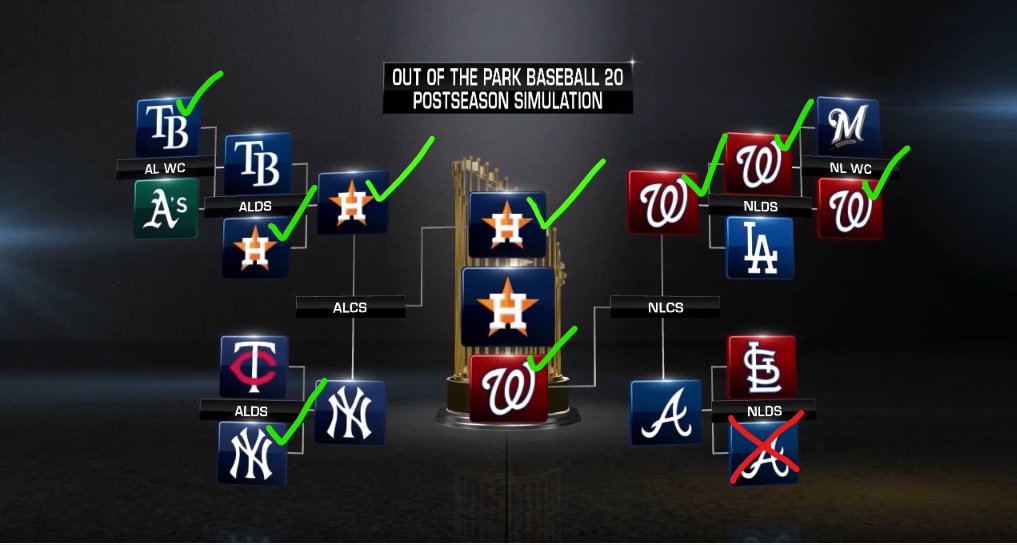 Out of the 1,000 simmed series, Houston took home the crown 585 times, with a cumulative 3,104-2,789 win-loss record. They scored 31,208 runs, an average of 31.2 per series, and clobbered 10,143 home runs, an average of 10.1 per series. They hit .263, a hair better than Washington's .260, and their team ERA was 4.77 while Washington posted a 5.08 mark.
Top hitters of note "Per 162"
One of the interesting attributes we can generate from our simulations is a "per 162" for each player, both pitchers and batters. That means we take those 5,893 simmed games and show how those players would have performed over 162 games, or the length of a standard MLB season.
Houston left fielder Michael Brantley, who made a thrilling catch and doubled up New York's Aaron Judge to help secure his team's ALCS win, was the top hitter on both teams with a .311 batting average (not counting players who saw minimal action), per 162. Teammate George Springer tied Washington's Anthony Rendon for the most home runs with 45 each.
Other top hitters on the Houston Astros included Yulieski Gurriel (.285 BA/.331 OBP/ .497 SLG/.828 OPS), Alex Bregman (.282/.399/.560/.959), Josh Reddick (.280/.327/.400/.728), and ALCS walk-off home run hero Jose Altuve (.278/.336/.472/.807).
Among the Washington Nationals, their top batters included Howie Kendrick (.298/.339/.467/.807), Adam Eaton (.285/.348/.441/.789), Juan Soto (.278/.383/.549/.932), and Trea Turner (.275/.325/.488/.813).
Pitchers who spent time at the plate didn't fare well in the 5,893 simmed games, which wasn't a surprise since Washington will only host three World Series games at the most and the DH will be used in Houston's Minute Maid Park. Only one pitcher hit a home run, Houston's Zack Greinke, who posted a respectable .190 batting average in 58 at-bats per 162. Perhaps spending half the season on a National League team will give Greinke an edge in the World Series.
Top pitchers "Per 162," along with some pitching items of note
Neither team's pitchers fared well in the sims. On the Houston Astros, Gerrit Cole was the only hurler with a sub-4.00 ERA, posting a 3.87 mark while winning 18 games and losing 17 in 53 starts (per 162, as with the other stats noted here).
Fellow starter Justin Verlander was right behind him in the win column, with a 17-13 record in 46 starts but a 4.82 ERA. Interestingly, Verlander's WHIP was just a little worse, at 1.19 compared to 1.13 for Cole, so Washington's hitters made the most out of their time on the base paths against him.
Houston's other top starter, blockbuster midseason trade acquisition Zack Greinke, posted a 14-10 record in 37 starts, with a 4.13 ERA and 1.24 WHIP. Roberto Osuna nailed down 35 saves with a 4.84 ERA, a 1.40 WHIP and a 7-11 record, so he had his share of struggles. Reliever Ryan Pressly saved three games. Fun fact: he had four wins in one of the simmed series — that would be one for the record books, if it happened in reality.
On the Washington Nationals' pitching staff, Max Scherzer topped everyone with a 3.81 ERA (best among all pitchers in the 1,000 sims), a 19-18 record in 53 starts, and 1.12 WHIP. Stephen Strasburg posted a 10-14 record in 37 starts, with a 4.84 ERA and 1.34 WHIP, and Patrick Corbin was 12-17 in 45 starts, with a 5.64 ERA and 1.55 WHIP.
Daniel Hudson posted 30 saves for Washington, with a 5.23 ERA and 1.55 WHIP. His record was 5-10, so like Osuna, he ran into some bumps in the road. It doesn't look like either team's closer can be relied on to be lights-out in this series.
Aside from obvious examples like Babe Ruth, we're not sure of many instances of position players pitching in a World Series, but that happened a handful of times in the 1,000 sims. The Washington Nationals saw catcher Yan Gomes, center fielder Michael Taylor, first baseman Matt Adams, and left fielder Gerardo Parra all spend time on the mound.
Taylor actually appeared in 11 games, or .001% of the 5,893 simmed games, and posted a 13.11 ERA in 11.2 IP. None of Washington's other position players hit double digits in games played (19 total).
The Houston Astros only had to dip into that well in 3 total games, with first baseman/designated hiter Yordan Alvarez and right fielder Kyle Tucker getting tapped for those duties. Alvarez showed up twice, tossing 2.2 innings and racking up a 6.75 ERA, while Tucker was on the mound once, getting rocked for a 13.50 ERA in 0.2 innings of work.
Want to go on a deep dive into the data from our 1,000 simmed series and 5,893 games played? Click here. [INSERT LINK, IF POSSIBLE]
Enjoy the real World Series! We know we will.
Major League and Minor League Baseball trademarks and copyrights are used with permission of Major League Baseball. Visit MLB.com.