"This is a next-level phase for us," OOTP Developments CEO and Out of the Park Baseball creator Markus Heinsohn says about OOTP 19's new Perfect Team mode. "It offers an always-on, dynamic new online experience for players that has never been available in our history. Giving players the chance to assemble completely unique teams, tailored to their preferred style, and competing against other fans from around the world, is extraordinarily fun."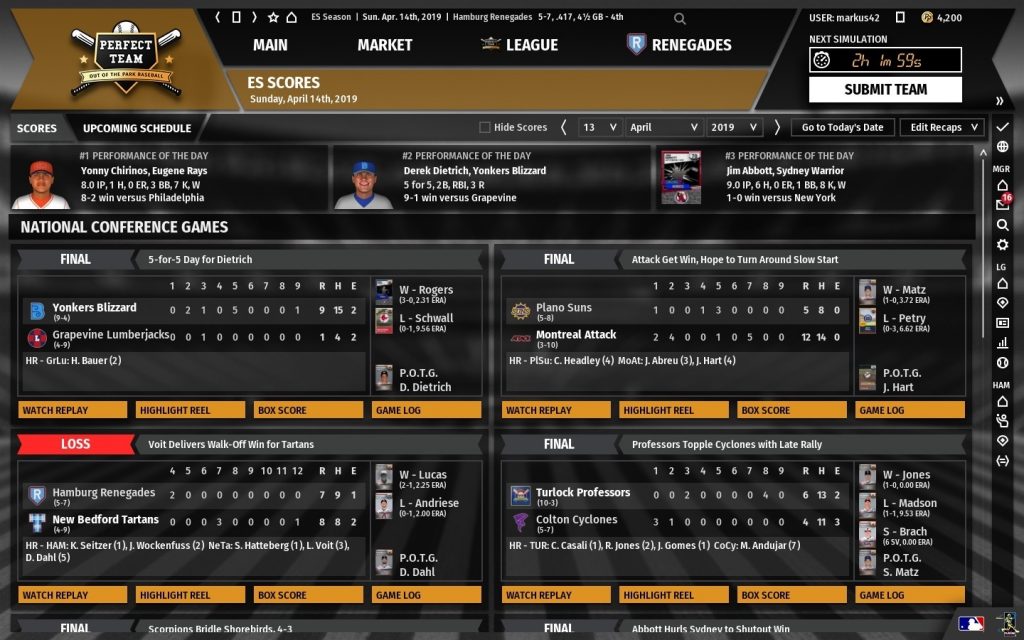 And what fun it is. Thousands of Perfect Team mode participants discovered that during the public beta of the new game mode, with over 8,000 teams created in more than 260 leagues. And now that it's been officially released as a free OOTP 19 update, fans around the world will get to experience the thrill of opening digital card packs, battling other managers in simulated online leagues, and working their way up to the Perfect League and a shot at a World Series crown!
We talked to Heinsohn, Perfect Team Community Manager Kris Jardine, and Development Assistant Lukas Berger about this incredible accomplishment in OOTP Developments history.
Combining the things people love about OOTP and baseball
You can get the free OOTP 19 update with Perfect Team mode on our forum. If you bought the game through Steam, Origin, or the Mac App Store, you need to update it there. When you get started in Perfect Team, you'll get 6 starter packs with 36 player cards total. You can sell or auction any cards you don't want, which earns you Perfect Points that you can use to acquire other cards and improve any weak spots on your team. There are thousands of player cards from today and yesteryear, including many fan favorites.
You can customize your team's logo, uniforms, and ballpark, and you can set lineups, strategies, and tactics just like you can in a traditional OOTP game. As you compete against other managers, you earn Perfect Points by unlocking achievements. You can also relive all the action with 3D highlights and full replays from simulated games.
"The depth of things you can already do in Perfect Team shows off the depth Out of the Park Baseball is known for," says Jardine. "It's really easy for more casual players to set their team' up for multiple simulations without losing control and for our more hardcore players, there are all the bell and whistle options they have become used to from the franchise."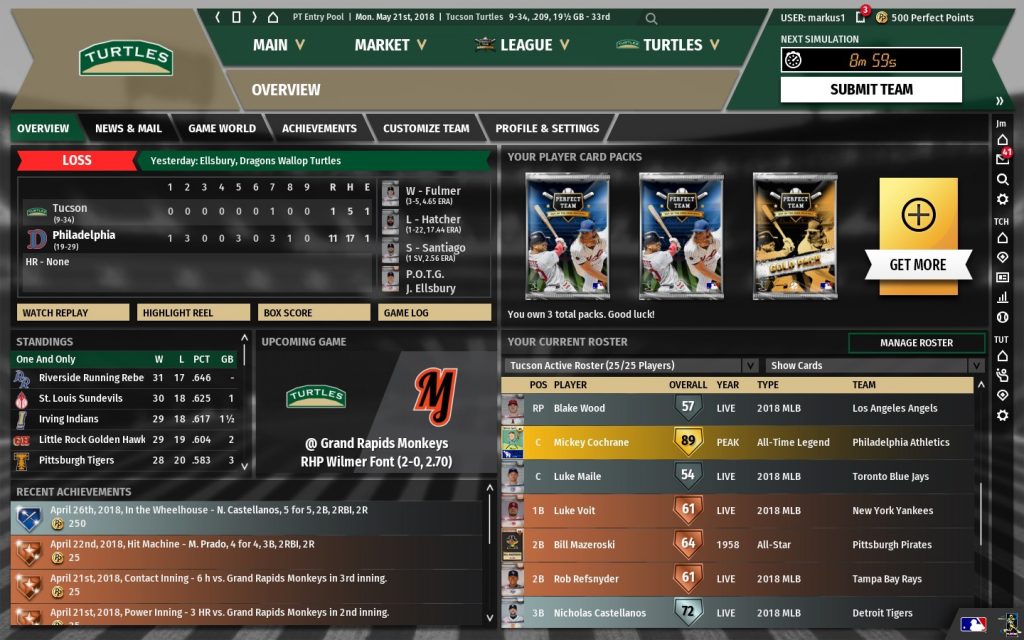 Berger adds: "It combines a lot of the things I love about OOTP and about baseball in one game mode: card collecting, modern and historical players, and head-to-head competition with other  
humans without the same level of micromanagement and time commitment that's needed to compete in an online league. I find myself eager to look at what my team's done when I get up every day."
The past, present and future of Perfect Team mode
Looking back on the creation of Perfect Team mode, Heinsohn recalls: "About 10 years ago, we had started development of an online league system where the league commissioner would be automated, but it quickly became apparent that this project would be too big to pull off for us. But, after years of steady growth, we were able to invest in resources and re-start development about 2 1/2 years ago. Also, technical developments like cheap cloud storage and online gaming backend providers made the project much easier than it would have been 10 years ago."
He adds: "The idea to make Perfect Team mode a multi-level league system where games are simulated every X minutes and combine it with traits of popular card collecting modes of other console sports games was simply a sudden idea of mine. It really did make Perfect Sense."
Berger works with Heinsohn to create the digital card categories, such as Record Breakers, Top WAR, Rookie Sensations, and Unsung Heroes. Berger explains: "We talk about what categories might be interesting and figure out how many we can have and how to balance them. After we have the categories, I pick the cards."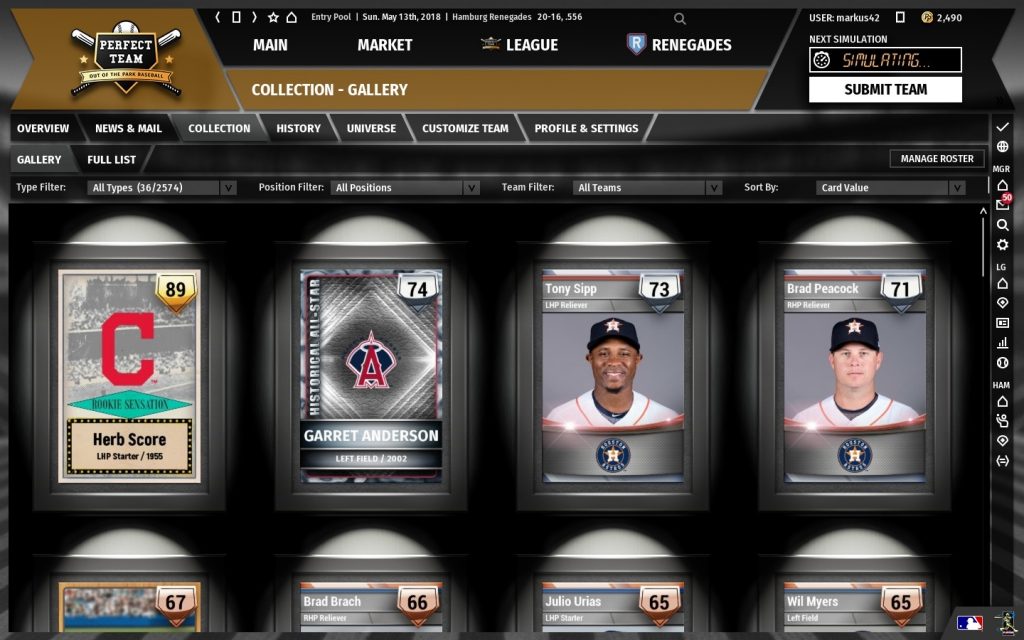 He notes that choosing cards for some categories, like Top WAR and Record Breakers, is a self-explanatory process, but others require a little more thought. "They're more fun," he says. "For Unsung Heroes, it involved a lot of searching through old team rosters for players that were lesser known but contributed in some memorable way to their team. For Rookie Sensations, we looked through lots of rookie years and picked interesting years and players."
Berger adds: "Same for the All-Star cards, where we were trying to get a combination of plenty of the best-known players, plus some lesser-known guys that might make people stop and look them up to see what they did in a given year and why we might've included them. It's just a lot of fun picking the cards."
Looking ahead, Berger says: "Next year, we'll have a category called Community Select where we'll take requests from the community regarding who they'd like to see cards of and a lot of those will make it into the game."
Heinsohn adds: "We have a million ideas and Perfect Team mode will expand tremendously in the coming years. One major new feature that will be coming in OOTP 20 is tournaments: we will have many different styles in varying sizes, simulation intervals, and rule sets. This will open the door to a whole new way to enjoy Perfect Team mode."
So different and original
We asked all three what they enjoy most about Perfect Team mode. Jardine replied: "It's so different and original compared to other card collecting modes, but it also keeps that same 'thrill of the hunt' mentality that makes those particular modes a rush.  I think the development team has some great ideas about where we want the mode to go in the future that will turn it into the complete baseball card collecting experience. It's very exciting."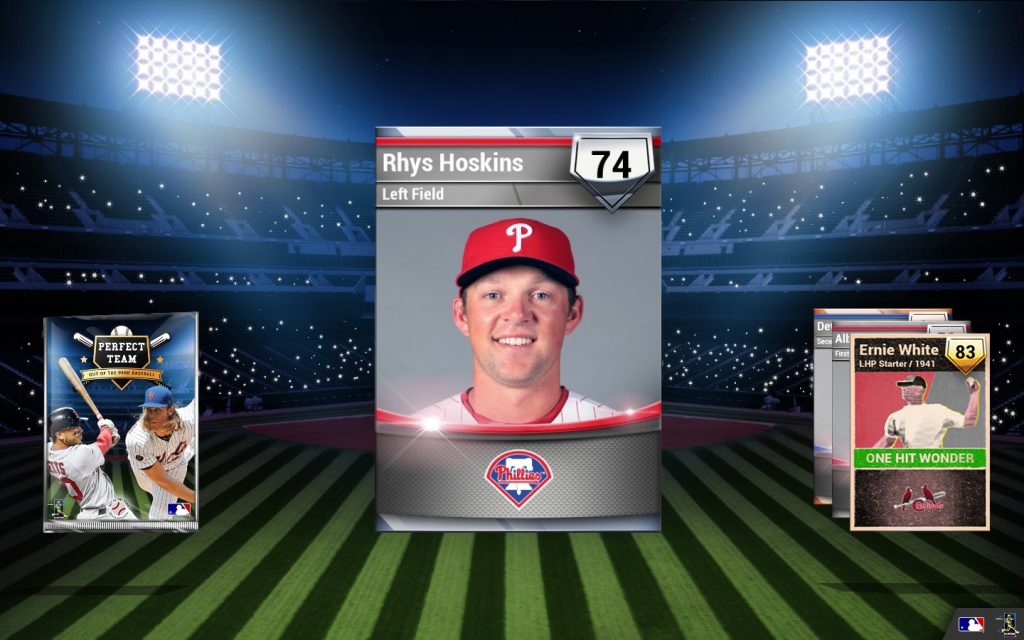 Heinsohn says: "Competing against thousands of fellow OOTP fans, each with their own unique roster and strategy, is just unbelievable. It's a whole virtual baseball universe and it's a lot of fun to feel being a part of that. It's also great to hang out with the community, on our forums or via Discord — the reactions we have gotten were simply amazing."
And Berger points out: "Opening card packs for sure! It takes me back to being a kid and doing the same with physical cards. The randomness and hoping for something great is so much fun — you'll get a dozen or so packs with nothing exciting, then a great Diamond Card and that makes it all worth it."
The thrill of victory
Finally, we wanted to know about some exciting moments experienced by all three during the Perfect Team public beta. Jardine said: "Once I learned of Perfect Team mode's existence, I said I wanted to get one of the 1997 Top WAR Roger Clemens 100 overall Perfect cards. I just happened to pull one on the Out of the Park Twitch channel last week, which you can relive on our YouTube Channel."
Berger adds: "In my playoff game in my most recent season, I went up 2 games to none in the Divisional round of the playoffs. Then I lost the next two games to force a deciding game 5. That game went 13 innings. In the 13th, I won the game with a walk off inside the park home run. By far the craziest and most exciting thing that's ever happened to me in any mode of playing OOTP. Of course I got swept in the LCS, but that's another story."