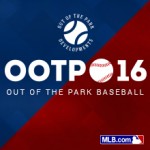 Yes, we have tons of great stuff in store for Out of the Park Baseball 16, leading off with an official MLB.com license that includes league and team logos, jerseys and ball caps, and historical MLB logos.
OOTP 16 also features 2015 Opening Day rosters, new team owner goals, improved team finances, an upgraded manager and coaches system, a revamped team strategy screen, simulated realistic OOTP Hall of Fame voting and interactive All-Star Game voting, and much more.
You can read all about it in our latest newsletter. If you pre-order by February 15, you'll save $5, get a free Steam key, receive the game three days early in March, and earn an entry in our sweepstakes for three $500 MLB.com Shop gift certificates. (Official sweepstakes rules are on our site.)
Manager-Only Mode
But as always, there's even more in store, and one of the oft-requested features we've added this year is Manager-Only mode. You may recall that the GM-only mode was added in one of OOTP 13's updates, and it was well-received by those of you who don't want to get your shoes sticky from the dugout floor during games. (Yes, the idea was that it would keep you from winning a Manager of the Year award, but it provided the foundation for improving the mode this year, so you can only go so far messing with team strategy, thanks to the new managers system.)
Well, what about those of you who don't want to put on a suit and tie and go to work in the GM's office every day? OOTP 16 has you covered: It adds a Manager-Only mode that lets you focus on whipping the players into shape while your GM deals with prima donnas who demand contract extensions, trades a hapless overachiever in his contract year for a couple prospects, and handles all those other things you don't feel like mucking around with.
Let's take a closer look at Manager-Only mode in OOTP 16, starting with the set-up. Since we obviously don't have Opening Day rosters available right now (pitchers and catchers haven't reported yet, folks), I'll go with an historical league. And because I was born in 1970 and I've been a Philadelphia Phillies fan since I was a kid, I'll choose 1977. (Also the year Star Wars, another of my pleasures, was released.)


And now here I am, in control of the 1977 Phillies. Sorry, Danny Ozark, but let's see if I can get the second of your three consecutive division championships to turn out a little better than real life.
If you're curious how the Play Mode section of the Manager Settings now looks, here you go. You'll notice that, yes, you can opt to not be fired, as when you play as the GM. As you can see, I am taking my chances and assuming my owner will love me no matter what I do.

Speaking of my owner, he's Jack Collins, a generous guy who has patient tolerance but who's also meddlesome. And he's worried right now, for whatever reason. (For those who don't know: There's no one with the last name Carpenter here because historical leagues in OOTP generate random owners.)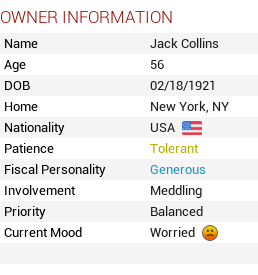 Luckily, I don't have to worry too much about dealing with him. That's a job for my GM, Derek Gallagher, a guy with 18 years of experience who's signed for $95,000 annually for the next four years. (Another new feature: When you play as a GM, your contract can be renewed. Or not. And, yes, OOTP's historical leagues generate random GMs too.)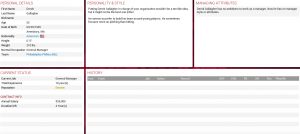 Using Manager-Only mode means I won't have to deal with Jack's goals for Derek, another new feature in OOTP 16. Here's what Jack wants him to do:
The first and third items seem pretty easy, and pretty much no-brainers, but I don't know why Jack is insisting on the acquisition of a power hitter by 1978. Mike Schmidt and Luzinski aren't enough? I guess not.
And I'm not sure why he's demanding an upgrade for Larry Bowa this year. Maybe it's because Bowa is 31 and will be a free agent after this season, so Jack figures we're better off moving on from him in the offseason.
At any rate, Derek is the guy who has to deal with this stuff, not me. I will report on his progress toward meeting Jack's goals in future blog posts.
In the meantime, I'm going to worry about my job, starting with my lineups: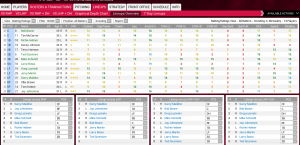 I'm not a fan of putting Bob Boone in the number two slot, so I swap him for Jay Johnstone. Batting a catcher second just seems weird to me, and every time I run Phillies teams from this era, I like the 1-2 punch of Maddox and Johnstone at the top of the order. I'm a fan of the hit-and-run, so if Maddox gets on base, I almost always flash that sign for Johnstone.
Then I take a look at my pitching: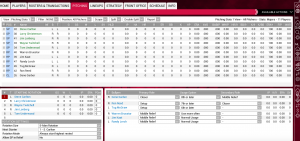 I'm happy with what I see there, so I leave the defaults and get ready to play ball.
Let's hope Derek doesn't pull any dumb moves.
More in my next post. See you then.