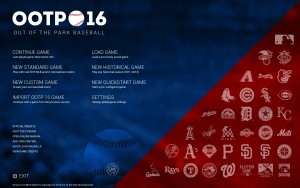 Last call for pre-orders! Tomorrow, Thursday, March 19, is the cut-off to pre-order OOTP 16 for PC/Mac or Linux and get it on March 20, three days before its release on March 23, along with a free Steam key.
Last time, I dealt with the fall-out when my Philadelphia Phillies GM, Derek, traded catcher Bob Boone (Bob Boone!) to the Houston Astros for right-fielder Willie Crawford. (See my first post for some background on this series, which explores OOTP 16's new Manager-Only mode as I take the skipper role with the 1977 Philadelphia Phillies.)
Since then, Derek also signed temperamental bench coach William Rodriguez. One of OOTP 16's other new features is a revamped managers and coaches system that breathes more life into those key personnel. Here's Rodriguez's profile: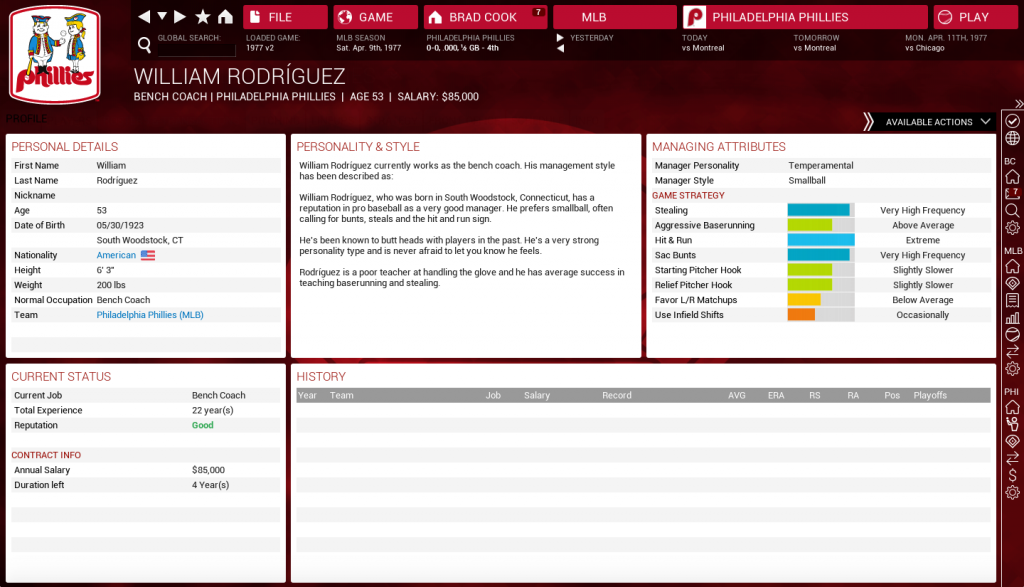 He's a small ball guy who likes the hit-and-run, so, as someone who also likes the hit-and-run, I think I'll get along with him just fine. I'm not so sure about that temperamental personality, though.
Before I play my first game against the Expos, I'll take a look at my strategies, courtesy of another revamped screen: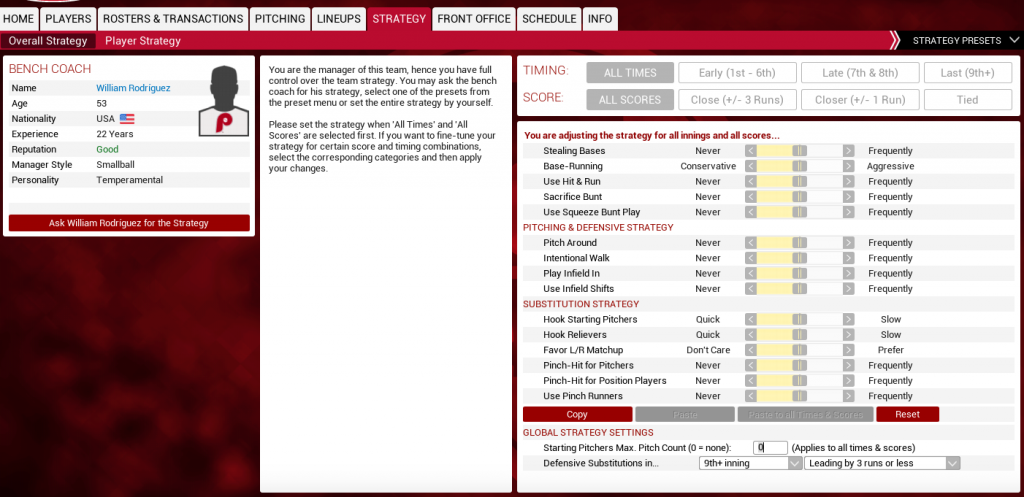 They're middle of the road across the board, as they are when you take over an historical team, so let's see what happens when I ask my new bench coach for his take on my strategies: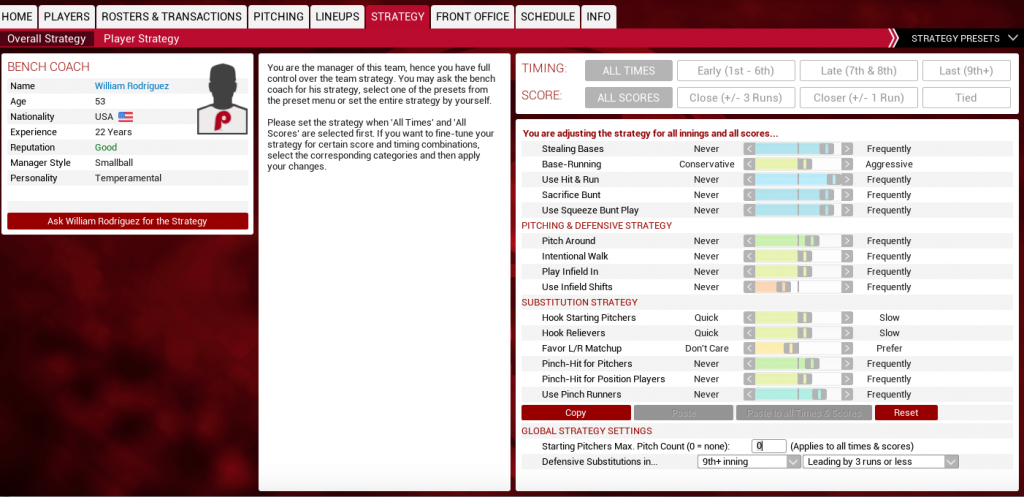 Pretty much what I expected. Before I move on, though, I thought I'd show off another cool new feature on this screen: The Strategy Presets dropdown in the top right corner: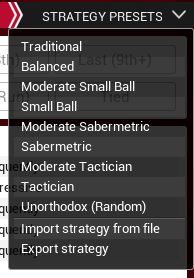 Here's what happens when I choose the Small Ball preset: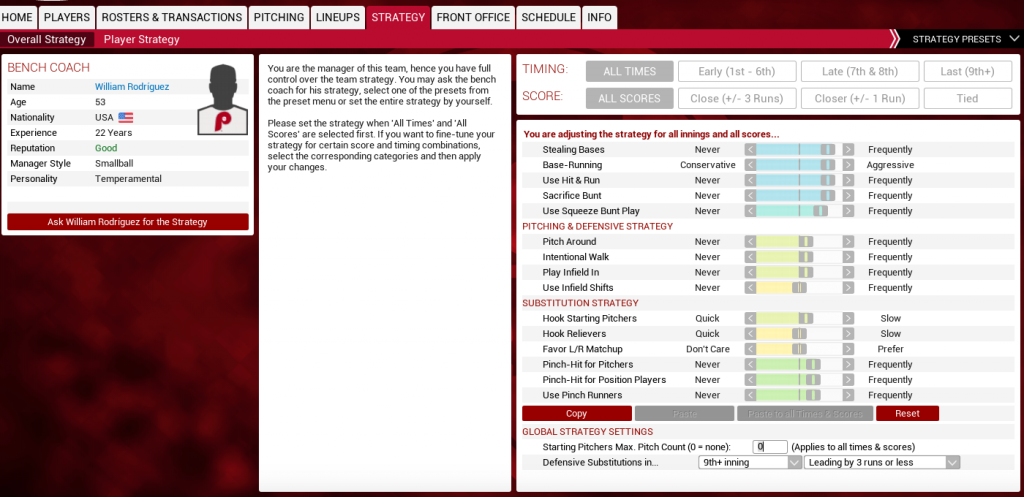 I'll switch back to what Rodriguez recommended. As you can see, there are various ways to apply certain philosophies to your strategy settings and then tweak the sliders to your heart's content. And if you have a specific style you want to always use, you'll notice that in the Strategy Presets dropdown, you can export your settings to a file and then import them into another saved game. Handy.
So, with that, let's play out our first game against the Montreal Expos: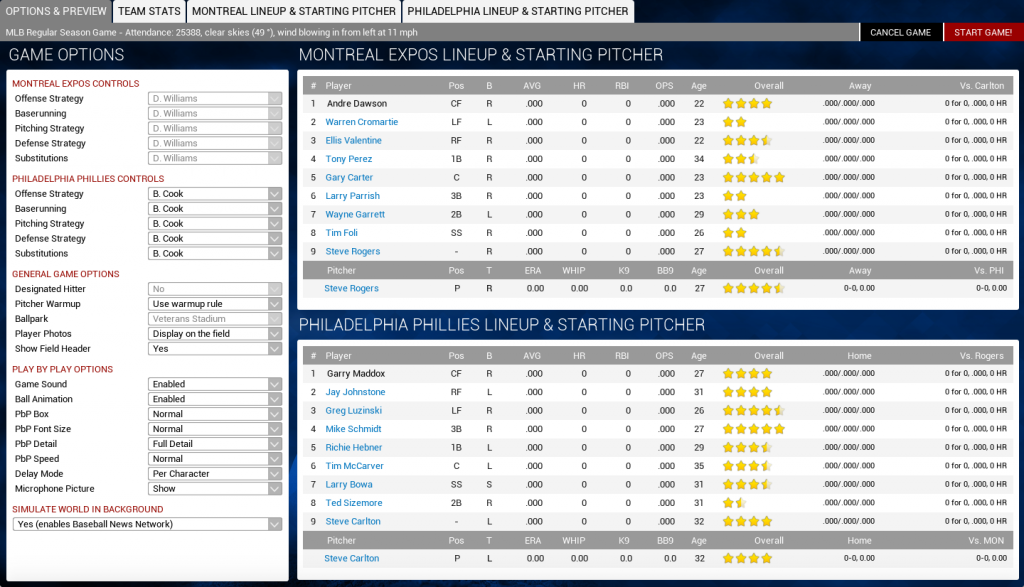 I won't play through the whole game, but I thought I'd point out something new in the game view: As just about everywhere else in OOTP 16, when you hover over a player's name, you get that handy pop-up. Also, notice the fielding award icons under players' names when they're in the field:

I'll sim to the end: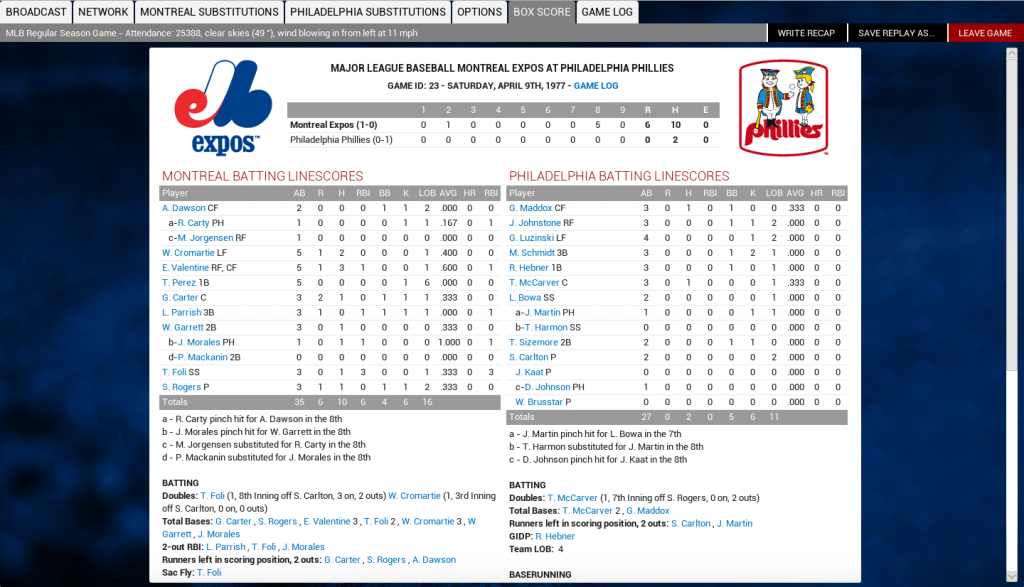 Ouch. Steve Carlton pitched well until the eighth inning, when everything fell apart for him. Unfortunately, it's hard to implement a small ball strategy when you only squeeze out two hits. Expos starter Steve Rogers surrendered five walks (one of them intentional), but we couldn't capitalize on that. Oh well.
I'll continue my season next time.