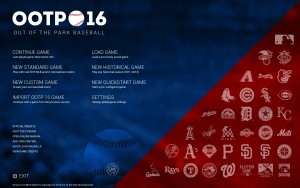 Don't forget: There's still time to pre-order OOTP 16 for PC/Mac or Linux and get it on March 20, three days before its release on March 23, along with a free Steam key. Pre-orders will be accepted through this Thursday, March 19.
My first post in this series will get you caught up on what I'm doing in more depth, but here's the TL;DR version: I wanted to showcase the new Manager-Only mode in OOTP 16, but since we won't have Opening Day 2015 rosters for a few weeks, I've taken over the 1977 Philadelphia Phillies.
I ended my last post having set up my lineups and pitching rotation to my satisfaction and said this: "Let's hope [my GM] Derek doesn't pull any dumb moves." Sadly, it didn't take him long: I loaded my save, simmed ahead a couple days, and discovered that on April 7, 1977, Derek had traded catcher Bob Boone to the Astros for right fielder Wilie Crawford.
Bob Boone! I know, OOTP doesn't see names, just stats and ratings, but still: One of my fondest childhood memories is watching Tug McGraw strike out Willie Wilson to end the 1980 World Series and seeing Boone race toward his jubilant pitcher. And, I know, the 1980 of this baseball world will almost certainly end differently, but, still: Bob Boone!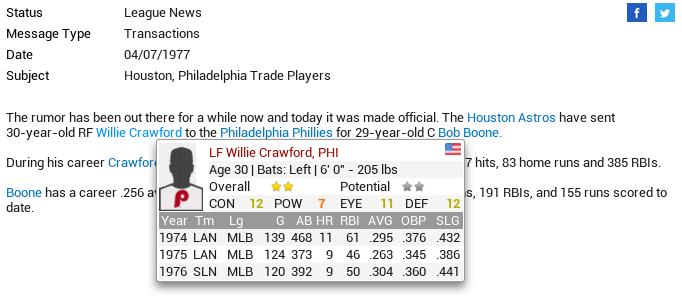 After the surprise wore off, I took a look at what Derek had done to the team: He moved a 29-year-old catcher with 2.5-star potential, and who had hit .271 the year before (but with just 0.9 WAR), for a 30-year-old outfielder (Crawford is solid in left and right) who hit .304 for the Cardinals last year, after several years in Los Angeles, and who accumulated 2.7 WAR.
I decided it wasn't an awful deal, once my inner child stopped crying. Crawford gives me another lefty bat, although I wasn't exactly starving for those before, and he's an upgrade over my other outfield back-ups, Jerry Martin and Ollie Brown. However, I'm happy with Jay Johnstone in right field and Greg Luzinski in left, so Crawford is going to sit on the bench, even though he expects to be in the starting lineup. We'll see how that goes.
Meanwhile, Derek summoned 24-year-old Tim Blackwell from the reserve roster to take Boone's spot, which means 35-year-old Tim McCarver will move into the starting lineup. I've shifted light-hitting first baseman Richie Hebner up into the fifth spot and slotted McCarver sixth, since this team doesn't have much power outside Mike Schmidt and Luzinski. (And suddenly I recall owner Jack Collins' insistence that Derek acquire a power bat. Hmmmm … By the way, when you're playing in GM-only mode, you can disable owner goals, if you'd rather not have your owner breathing down your neck.)
Here's how my lineups currently stand. We'll see how the platoon at first base works out.

It's now April 9, 1977, and we're getting ready for our Opening Day at home against the Montreal Expos. Steve Carlton is taking the mound for us, and hopefully it will be a nice day at Veterans Stadium. Unless Derek ruins any more of my childhood memories, that is.
Before I end this post, let's take a look at the Phillies' Meet the Team screen, another new addition to OOTP 16. I'm not sure why Derek hasn't signed a pitching coach yet; there are several who are looking for work.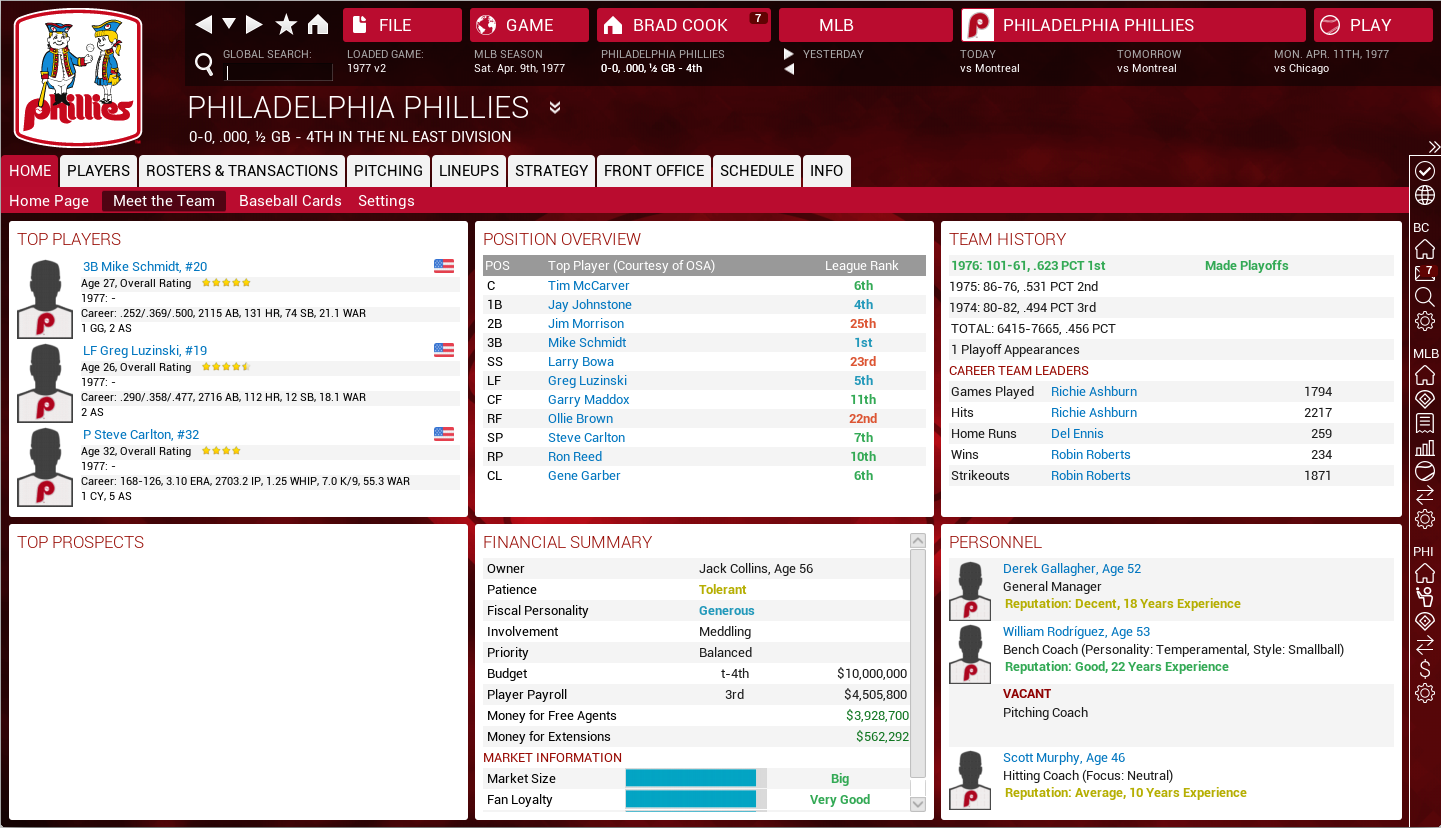 Next time: I play through my first game in Manage-Only mode and hope Derek doesn't trade away Mike Schmidt before his second at-bat.