Out of the Park Baseball is closing out its 18th year in 2017. OOTP has plenty of long-time players, as well as several long-running online leagues, but few have been around as long as SDMB. The online league was founded by Michael Weintraub and Zev Steinhardt 15 years ago and has embarked on its 30th season.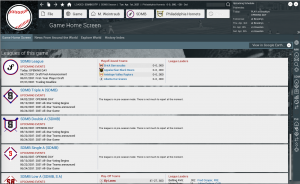 "I first ran across OOTP back in 2000 or 2001," recalls Steinhardt. "I had long had dreams of running a league of some sort. In high school (before the PC era), I used to try to run Strat-O-Matic leagues (without much success — there was just too much work involved doing everything, including stat keeping, manually)."
He continues: "Later on, I discovered Micro League baseball on my Commodore 64 (am I dating myself?) and would try to simulate whole seasons, but the games took far too long to seriously play 162 games a season for multiple teams. Once we got to the PC age and I discovered OOTP, I was hooked."
Weintraub's introduction to OOTP followed soon after Steinhardt discovered the game: "I first learned about OOTP in December 2002, when Zev was looking to fill the last two spots in the new league he started a few weeks prior. I had moved from the US to Europe earlier that year and was starved for baseball. The game spoke to my analytic mind, much more so than fantasy baseball ever could."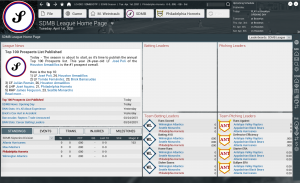 An easy-going league
It's not always easy to keep any online endeavor going for a few years, let alone 15, but Steinhardt says that SDMB's easy-going nature is a big part of why it has endured. "We go at a leisurely pace and don't have pages and pages of rules. We simply have the fun of playing the game without a lot of the rules-lawyering that other leagues get bogged down in. It's worked well for us for the last fifteen years."
He adds that his fellow league participants help him get more out of OOTP than if he was only playing the game solo. "I believe an entirely different dimension is added when playing against other players," Steinhardt explains. "Aside from the fact that the game is more complex when dealing with real people as opposed to a bunch of AIs, there is also the fact that, over the last 15 years, I have made some good friends with the people in this league. When I started this league, I never imagined that we'd still be playing in this league 15 years later, and certainly not that I would count the people in this league as my friends. All of that could never happen, of course, just by playing in a solo league."
Weintraub, who only plays OOTP solo for testing things, says the SDMB "has definitely helped me become closer to my father-in-law, AKA my most frequent trade partner."
Fictional fun
SDMB is a fictional 12-team league with such teams as the Seattle Monarchs, the Philadelphia Hornets, and the Maui Mashers. The Monarchs have won an impressive 14 championships in 29 years, including six straight before the Mashers broke their streak at the end of the last season.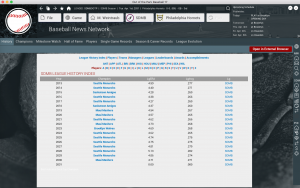 Weintraub says that changes to the league have been fairly minimal over the past 15 years. He notes: "After our second season we expanded from 8 to 12 teams. We have experimented with re-alignment, as well as various other rule changes the past few seasons, age limits in the lower minors being the most recent one."
Asked about interesting events that have happened in the SDMB, Weintraub replies: "We have a lot of fun on our league blog with player stories, like this one about a former outfield prospect who quit to play in the NFL. I remember another fictional storyline about a reverted trade happening because a player I had acquired, when my team was based in Europe, was denied entry at customs for getting drunk on the transatlantic flight and being sent back to the US."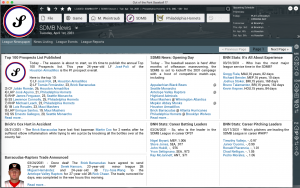 So many options
Steinhardt says he keeps playing OOTP because: "I love simulation games. Games such as Civilization and OOTP, where you get to take control of something and work toward winning (whether against other players or the AI) have always appealed to me. I especially like OOTP because of the degree of customization it allows you. Want to use real players? You can do that. Want to go entirely fictional? You can do that. Want to have some odd league configuration for whatever reason? You can do that too."
Weintraub adds: "OOTP has almost ruined this slow (real) baseball hot stove season. I would have signed Yu Darvish and traded for Giancarlo Stanton by now had that happened in our league. OOTP has also honed my Microsoft Excel spreadsheet skills, which my boss at work certainly appreciates."