Our mobile game has a new name: Formerly known as iOOTP Baseball, starting this year you'll be playing MLB Manager on your iPhone, iPad, or iPod touch, or on your Android smartphone or tablet. It's out now for iOS (iPhone, iPad, iPod touch) and Android.
Like Out of the Park Baseball 16, MLB Manager 2015 has an official MLB.com license, so we can feature authentic team logos for all Major League Baseball teams, including historical ones. On iPhone, iPad, or iPod touch, additional historical seasons are available as in-app purchases for $0.99 each, $4.99 for a 10-season bundle, or $19.99 for all available seasons (114 in total!). (International currency conversion rates may apply. Historical seasons will be added as in-app purchases to the Android version sometime in the summer.)
The setup process for a new game is the same as last year, except for the refreshed look and feel and the official logos. Here's the first step: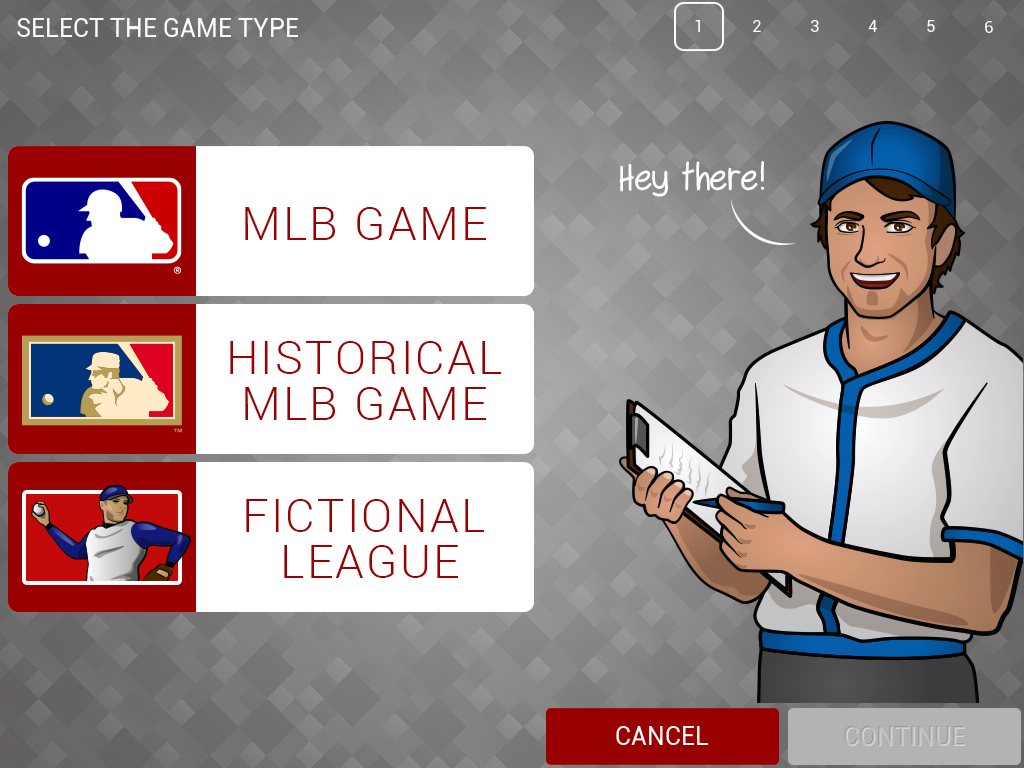 Here's what a 2015 season looks like when you choose your team: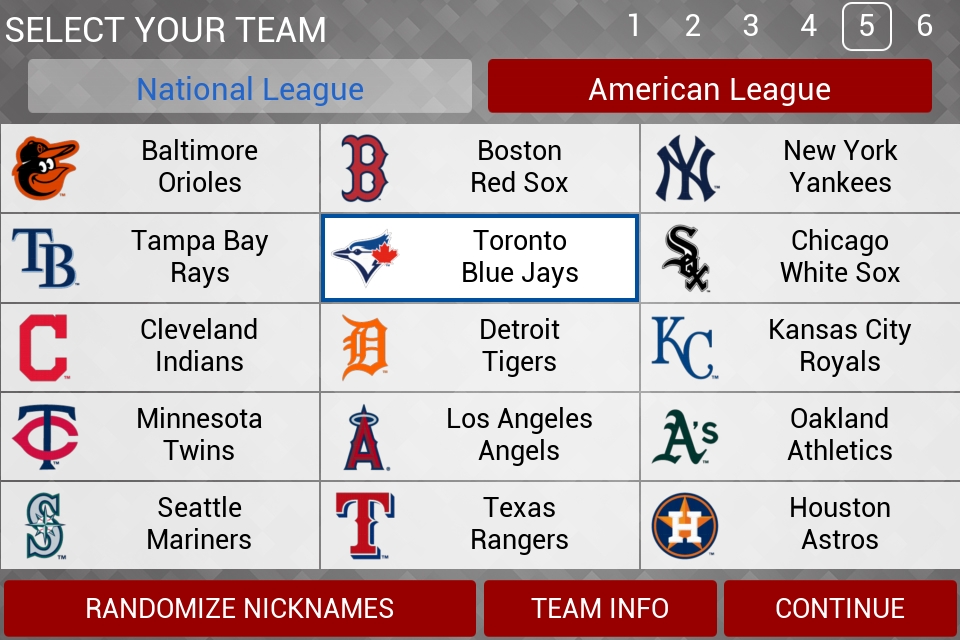 And here's what it looks like when you travel back in time to 1939: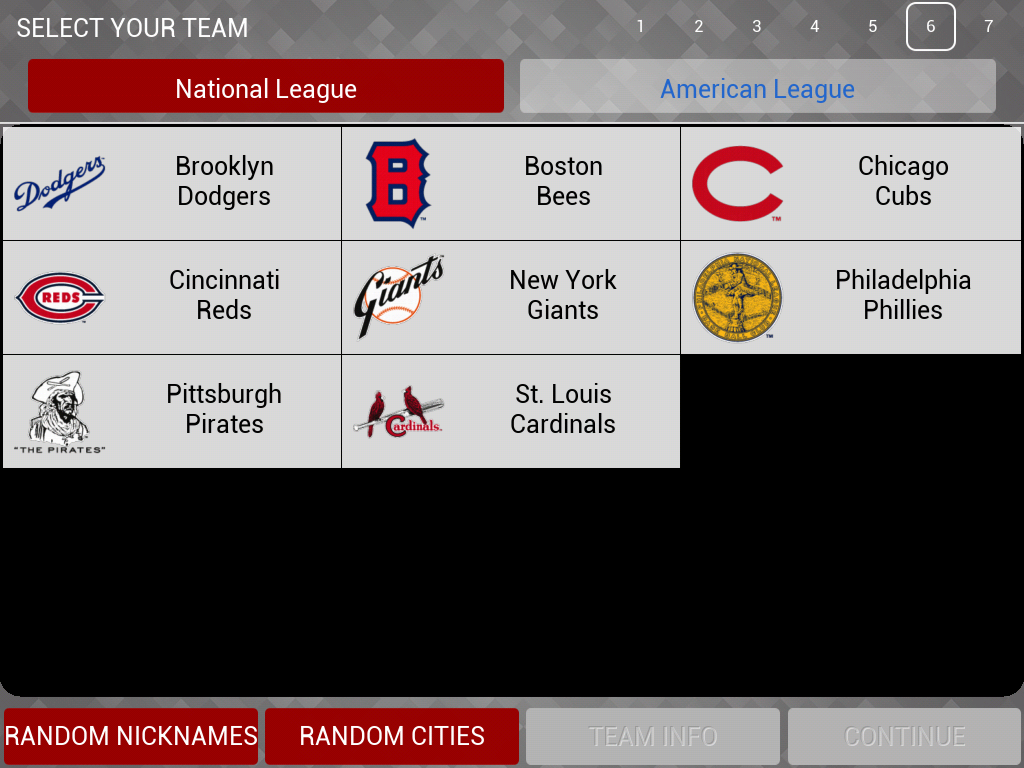 I'll take the reins of my favorite team, the Philadelphia Phillies, in 2015 and walk you through the new features in MLB Manager 2015. We'll start with the team rosters, which we've beefed up to include each club's projected 40-man Opening Day roster, along with 20-25 top prospects on the Minor League roster. As you can see, Philadelphia has 37 players on their Minor League roster, for a total of 62 players. Considering this team is in rebuilding mode, I'm sure several of these guys will see some big league playing time this year.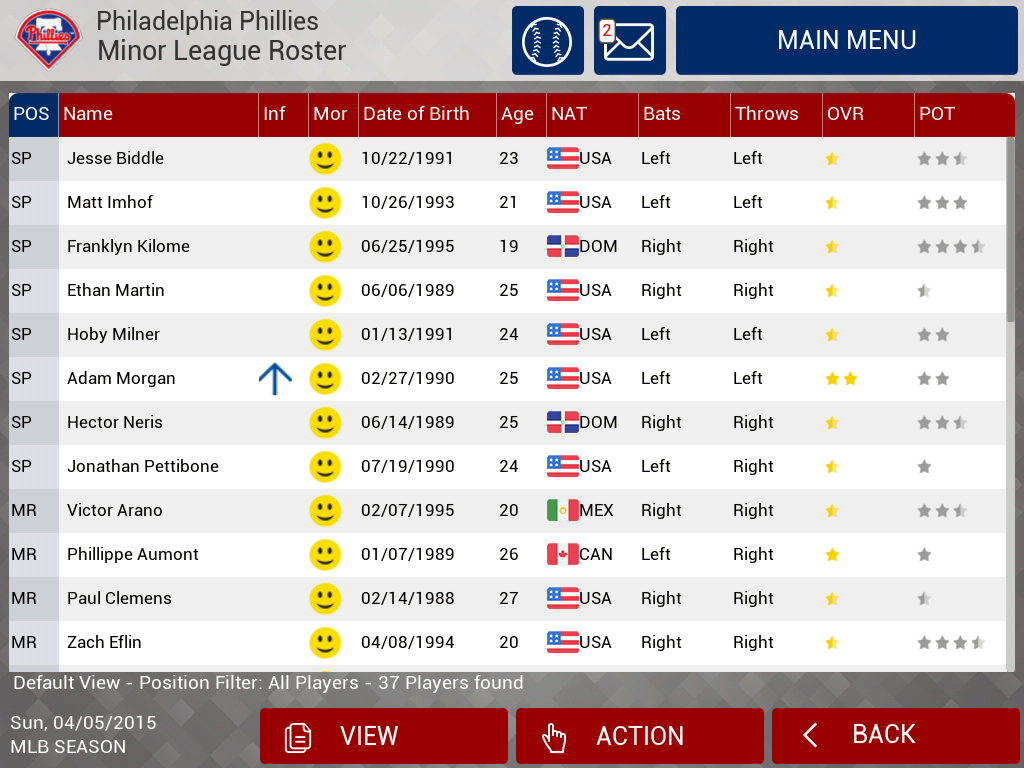 Shop 'Til You Drop (Three Times a Day)
Another great feature this year is the Shop a Player function, which we ported from OOTP. As the name implies, it lets you field offers from other GMs for a player and see if you get any good nibbles. You can shop up to three players a day.
Let's see how this works with a guy who has been the subject of many trade rumors, even as he joined his team for Spring Training: Cole Hamels. I go to his profile, tap the "Action" menu at the bottom, and tap "Shop a Player":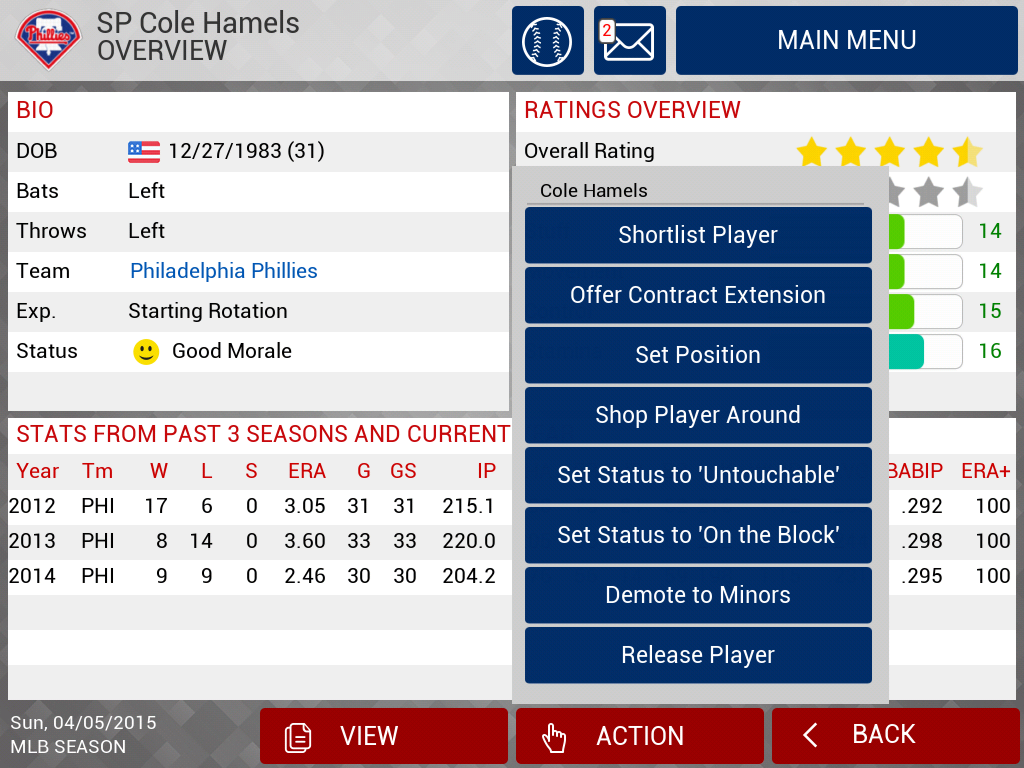 Then the game fields offers. I only received a couple of them, but it's important to note the date: April 5, 2015. Obviously, shopping a player before the season starts may yield many fewer offers than during the season, when teams start assessing their playoff chances and become sellers or buyers, depending on their current trend. I'll show you the offer screen after I've simmed further into the season, thanks to the handy "Auto-Play to Date X" feature. (Keep reading for more about that.)
While I'm at it, I also field offers for Ryan Howard (as in real life, no one is biting) and Cliff Lee (for some reason, every interested trade partner wants to offer me a catcher for him), which maxes out my shopping opportunities for today.
That also means I can't go back to the offers for Hamels, since a shopping trip is only active until you start another one. I can bide my time, though, and see what offers I receive later. I can't show you MLB Manager's improved trading AI, since it would be a bunch of code, but trust me when I say it results in better offers when shopping players around, as well as more offers when you put a player on the trading block.
Keeping a Shortlist and Checking it Twice
You probably noticed in the screenshot of Hamels' profile that there's another new feature in the "Action" menu: the "Shortlist Player" function. It lets you put a player on a shortlist so you can easily track their career, complete with news articles about him showing up in your in box. It's a feature that comes in handy when you trade a player away, hoepfuly with as few regrets as possible as you follow their progress. Tap it and you get this message: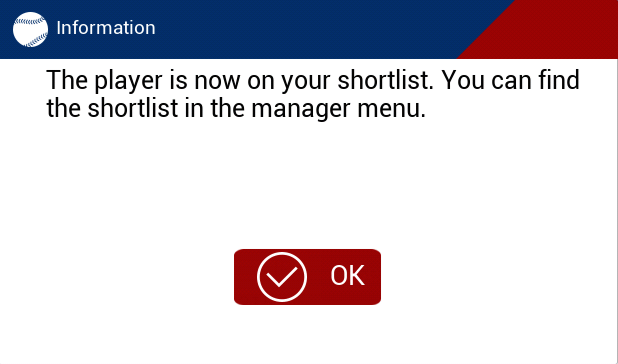 The last item in the Manager Menu, "Player Search," is now split in half to accommodate the "Player Shortlist" item: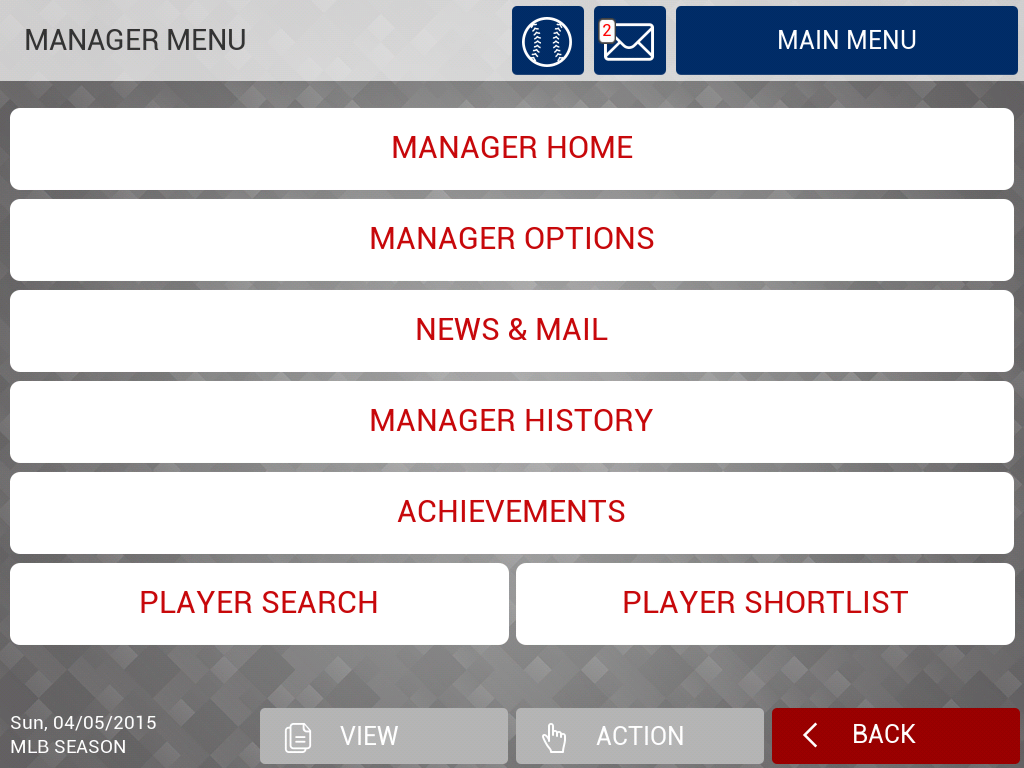 You can put as many players in the shortlist as you want. You'll notice that not only am I shortlisting guys I want to trade, but also a few I'd love to obtain … in a fantasy dream world where every team accepts nothing more than a bucket of balls in exchange for a player.
Let's Make a Date to Auto-Play
Once you have your team set up and a few guys shortlisted, you might want to take advantage of another great new feature: the ability to sim until a specified date in the future. Now you can do the kind of long-term simming possible in OOTP by tapping the "Action" button at the bottom of the Manager Home screen and tapping "Auto-Play to Date X."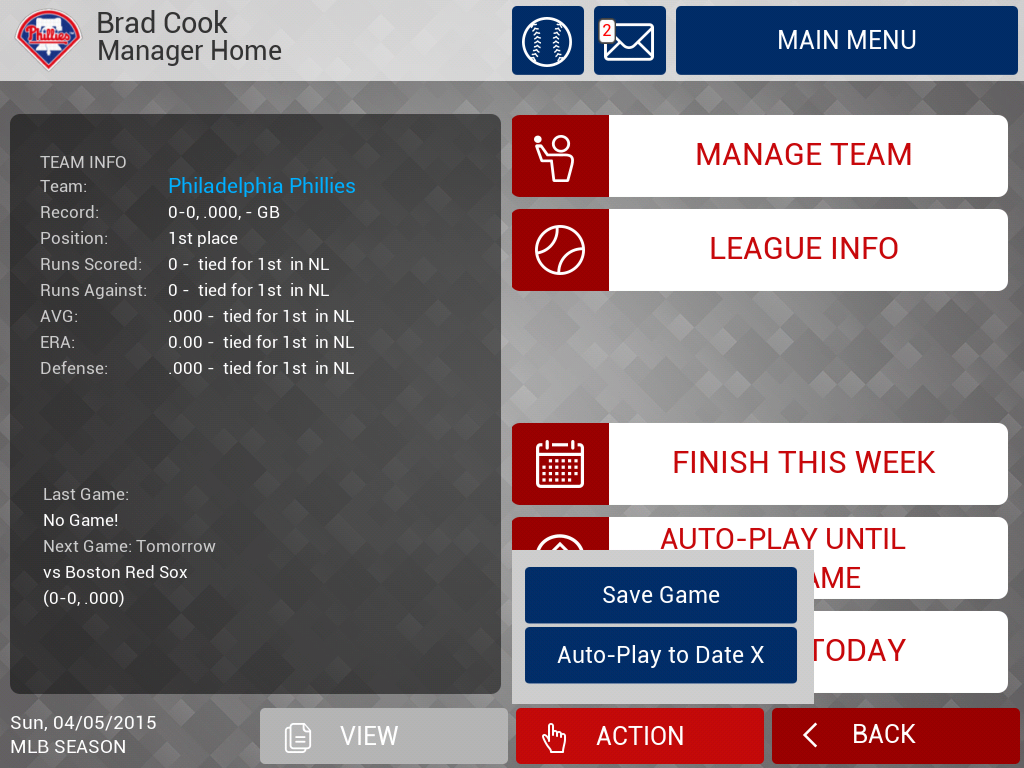 When you do that, you'll be able to set the date, month, and year, as well as check the box next to "Don't disturb me," if you want the AI to handle your team. I'll sim until July 10, 2015 and see what kind of offers I'll receive for some of my veterans, assuming the AI doesn't trade them away in the meantime, since I set them to "on the block."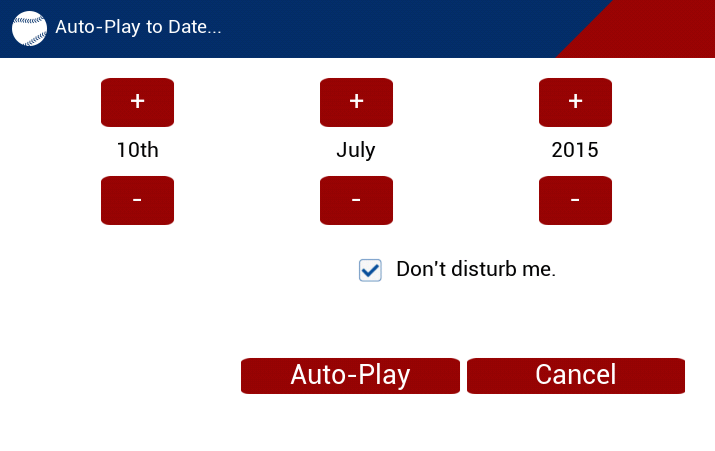 Repeat Shopping Trip
It's now July 10, 2015, and the Philadelphia Phillies are 44-44, in third place and 5.5 games out of the division lead. Amazingly, they were 10 games over .500 and in first place in early May, before they realized they were overachieving and fell back to earth. I shopped Cole Hamels around again and this time I received a lengthy list of offers. Notice that guys with MLB playing time during the season have their stats listed, which is handy.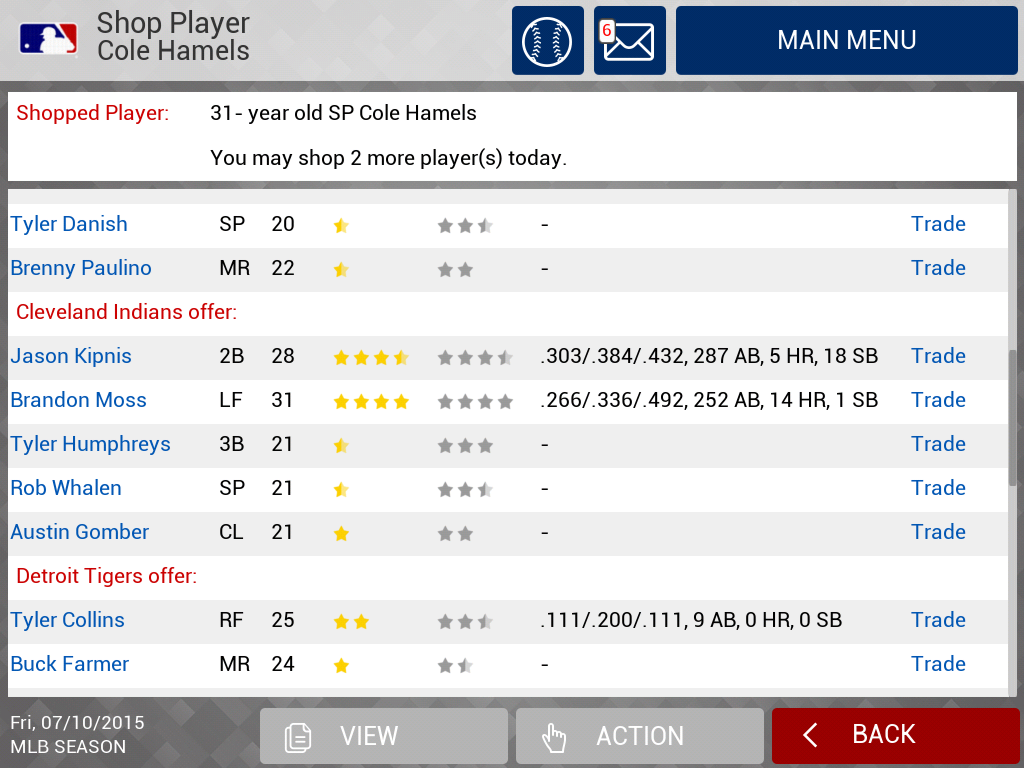 The Cleveland Indians are willing to part with either Jason Kipnis or Brandon Moss in exchange for Hamels, so I go with the former, figuring he's my replacement for Chase Utley, who I'll probably shop around next. (I'm an Utley fan, but it's funny how ruthless you can become when your team is struggling and you're ready to redo just about the entire roster.)
When I tap "Trade" and reach the trade negotiation screen, my manager suggests I add a prospect to the deal, so I throw in 19-year-old catcher Francisco Mejia, who has a lot of potential. The other side balks, so when I tap "Make this work now!", I choose young reliever Aaron Nola from the list to complete the deal. The team's relief corps is a lone bright spot, but I figure it doesn't hurt to have another one.
Expanded Season Leader Boards and New Career Leader Boards
I'm tempted to continue the rebuilding process, but I want to use the "Auto-Play to Date X" function to show you another cool feature we added this year: career stats leader boards. First, though, let's check out the expanded season leader boards. Where before we only showed the top three players in each category, now we have the top 10. I can't show you the entire screen, but you can see based on the scroll bar that it's pretty long.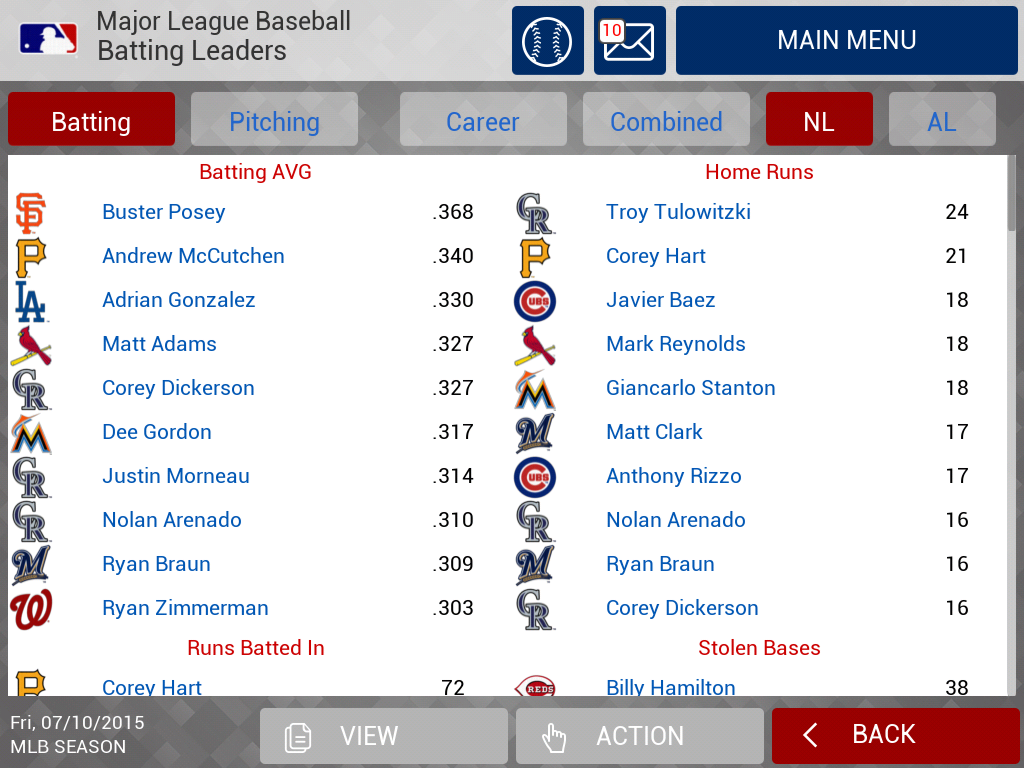 The career leader boards are based on the players currently in your league, if you're in the first year of a new game, but over time they change as new prospects are drafted, make it to the big leagues, and establish legacies of their own. Here are the career leaders as of July 10, 2015: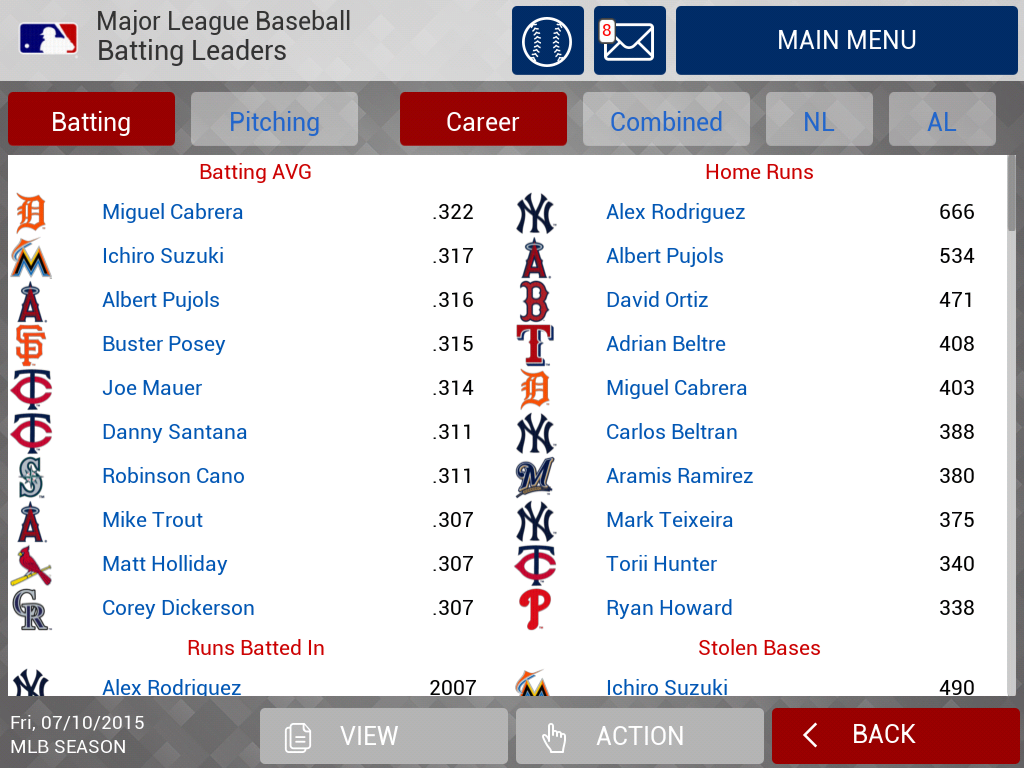 I'm going to sim until July 11, 2025 and see how the leader boards change. Here's how they look on that date. The players without team logos are retired.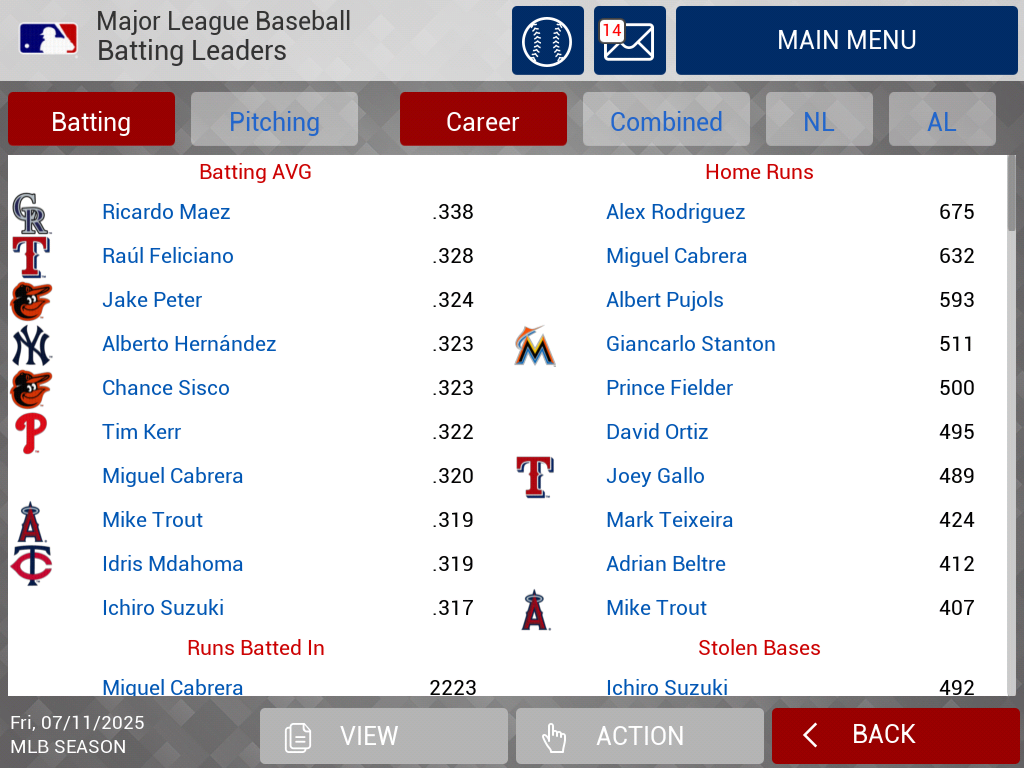 So, how is Philadelphia doing ten years from now? After suffering through some rough years, including a 106-loss season in 2019, they steadily improved and made the playoffs with an 84-78 record in 2024, although they didn't win it all: That achievement went to the Arizona Diamondbacks, who finished off a three-peat and are 50-35 on July 11, 2025, 2.5 games out of first place and eyeing a fourth championship in a row.
Here's how the Past Champion screen looks, now that we have the MLB.com license and can use the World Series trophy. Pretty nice, huh?

Better In-Game Subbing
There's one last new feature to cover, improved in-game substitutions, and I figured I might as well show it to you while managing the 52-34 Philadelphia Phillies in a game against the 53-33 Los Angeles Dodgers, in the year 2025. I'll quick play until the 7th inning and … Oh, my, we're losing, 10-0. Since we're down by so much, I'll take my current batter out of the game under the pretense that I need to rest some starters because this is a losing cause.
Before, you wouldn't know what was happening in the game when making a sub, but now you'll see the current game situation when you enter the substitution screen. When you choose a player, you'll see confirmation of exactly who you're replacing at the top of the screen.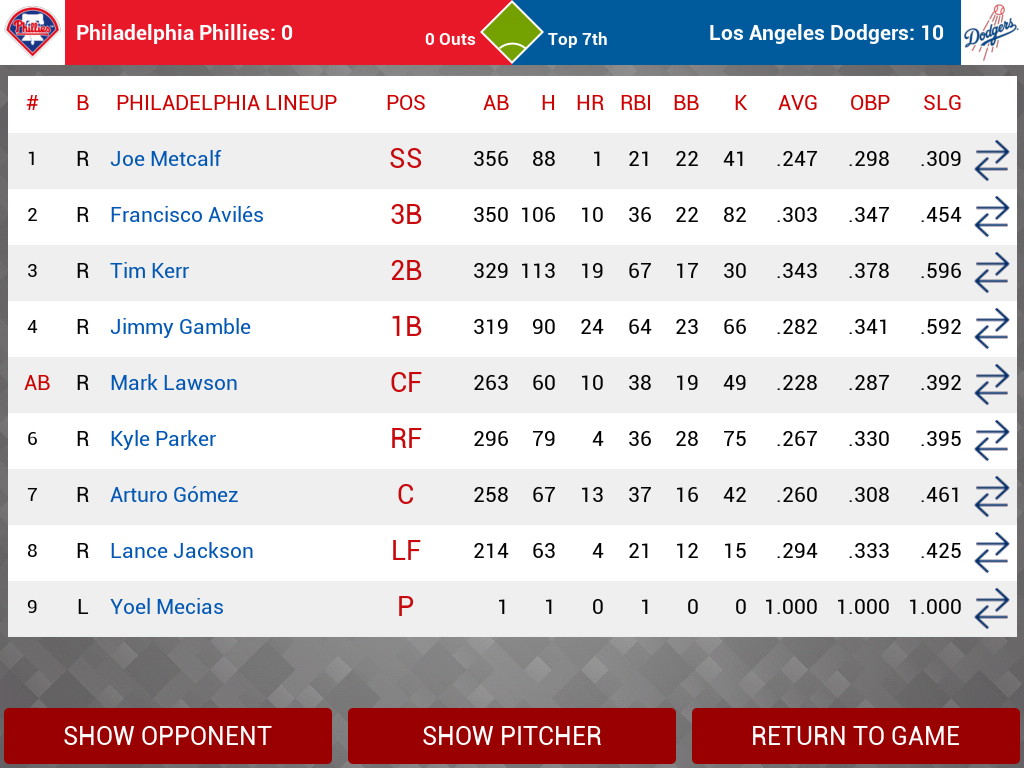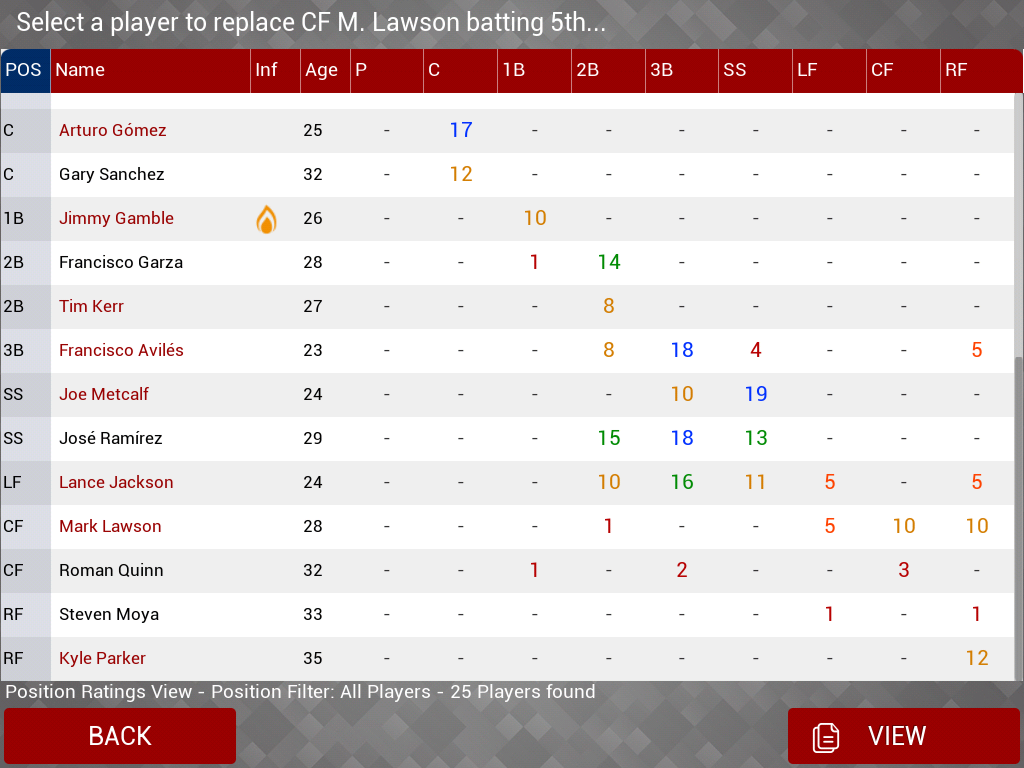 We added this feature because often when quick-playing ahead in the game, you would be faced with a request to, for example, put in a new pitcher because the AI had pinch-hit for him, but you had no way of seeing the current game situation. Is it a tight game, which means you may want one of your best relievers to face their top batters? Or is it a losing cause, like this one, in which case you'll want to put in a mop-up pitcher?
After making a sub, I auto-played the rest of my 11-0 loss and then simmed through the end of the playoffs. Philadelphia Phillies fans will be happy to hear that the team won the World Series in seven games over the Texas Rangers. They were down 3-1 in the series and won three straight, capping the streak with a walk-off 7-6 win in the bottom of the 11th inning in Game 7.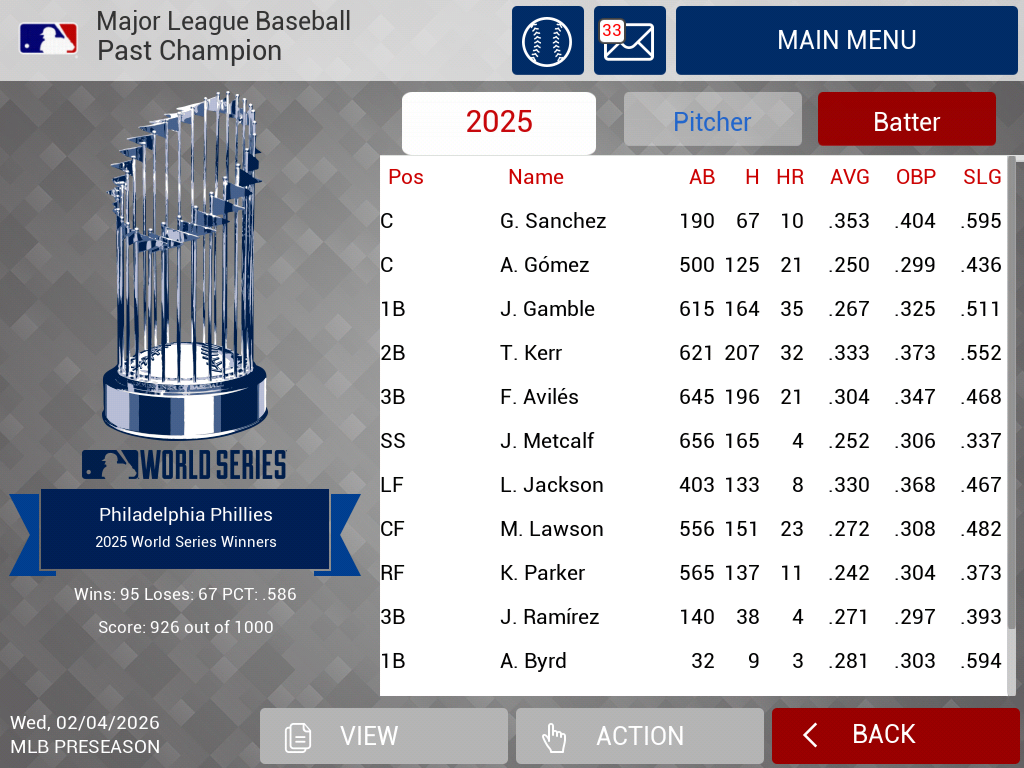 Rebuilding project complete. How about that? That's it for our look at the new features in MLB Manager 2015.