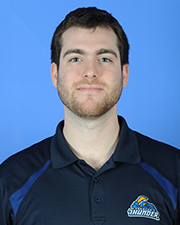 "Minor League Baseball is an incredibly fun way to enjoy the game of baseball," says Jon Mozes, Director of Broadcast & Media Relations for the Trenton Thunder, who are the Class AA affiliate of the New York Yankees.

He continues: "Each stadium is a unique view into each market around the league and around the country. Between the wacky on-field promotions and the interesting giveaways that teams do throughout the season, Minor League Baseball manages to bring family and friends together in a relaxed atmosphere."

Mozes is not only passionate about baseball, but he's a fan of Out of the Park Baseball, too. He generously gave us some of his time to talk about his love of OOTP and relate the many amazing baseball moments he has experienced.

Staying engaged with a game he loves

"I was introduced to OOTP when I was working for the Gary SouthShore RailCats in the American Association in 2013," Mozes recalls. "One of the other announcers in the league, Steve Schuster, had been playing for a bit and one night we got to talking about an MVP Baseball franchise I had in college and he started to tell me about OOTP."

He adds: "I picked it up that summer and suddenly found the best way to get through the long bus rides in that league. Our shortest trip was to Saint Paul, which is 7.5 hours."

Mozes says that he plays the game because he "likes the idea of being a General Manager and making decisions on players based on performance and scouting projections. It's particularly rewarding to sign a player in International Free Agency or have a late round pick blossom into a major league contributor. I can probably count on two hands the number of actual games I've managed as I opt to sim through chunks of the season at a time."

His current sim is one that may be of interest to fans of the rebuilding Philadelphia Phillies: "I'm in the midst of a Phillies simulation which had my 2019 season fall apart when Aaron Nola was lost for the season in mid-September with a broken toe suffered while getting out of the shower. I also managed to make the playoffs in the third year of an expansion franchise in Portland."

He adds: "I've continued to play because it's an active way to stay engaged in the game I love. I have always been interested in the development of baseball players and OOTP offers me an opportunity to dream on how the daily life of a General Manager can be.

"Critical daily decisions like how to set the 25-man roster when a player is dealing with a minor injury or some of the more global decisions that a GM is faced with about how to manage the 40-man roster or when to call up a top prospect are decisions that I'll never be close to in real life. Getting a chance to think through some of those items sheds some light on what life can be like for people that actually do those jobs."

So many great moments

Mozes is currently in his sixth season working for the Trenton Thunder. He caught the broadcasting bug in college, doing public address, radio, and webcast work for the University of New Haven. He was also the sports director for the campus radio station. After college, he embarked on a broadcast and media relations career in Minor League Baseball and in radio and on ESPN+ for some college sports teams.

He says: "Once I got the lay of the land in terms of how the industry worked, it was easy to see from a distance why working for the Thunder would be beneficial for my career. Getting the opportunity to call Double-A games at 23 was an incredibly rare opportunity and I'm so thankful to Adam Giardino, Will Smith and Jeff Hurley for the opportunity to grow with the organization over the last few years."

Asked about exciting sports moments he's experienced in his career, he replied: "God, so many moments to count." We thought it would be easiest to just list them here:

"Calling Gary Sanchez's grand slam in the fourth game of the season in 2014 as part of an 11-run inning."
"Aaron Judge hitting a walk-off homer in his home debut in 2015."
"Hosting a Chase Utley rehab in 2015 where Reading's bus was caught in traffic for almost 2 hours and I got to spend close to an hour just hanging out with one of my favorite players growing up."
"Calling a combined no-hitter thrown by Ronald Herrera and Jonathan Holder in 2016."
"Alex Rodriguez rehabbing with the Thunder in 2016."
Defeating Reading in the playoffs in 2016 and seeing our players celebrate by jumping into the pool in right field."
"The 4-run rally in the 9th inning against Portland that saw Mark Payton tie the game with a 3-run homer and Tyler Wade hit an inside-the-park home run to walk-off a win in 2016."
"Justus Sheffield and Taylor Widener throwing a combined no-hitter in the playoffs in 2017 against Binghamton."
"The 2018 Eastern League All-Star game that we hosted that featured Tim Tebow among some of the league's brightest stars."
Mozes concluded: "I've also had the chance to meet several former players that are now employed by the Yankees in some form: Reggie Jackson, Hideki Matsui, Andy Pettitte and Jay Bell all have a ton of interesting stories to tell."