The Quebec Nordiques spent 23 years on the ice between the WHA and NHL® before moving to Denver and becoming the Colorado Avalanche®. However, that didn't stop Franchise Hockey Manager 5 producer Jeff Riddolls and community manager Adam from indulging in a "What if?" scenario by bringing the highest level of North American hockey back to the city.
Adam explains: "As with any game we create, we wanted to do something interesting and long term. Since was going to be our first Twitch stream game, we decided to take the opportunity to showcase many of the new features in FHM5, allowing us to start with an expansion team, realign the divisions (we moved Toronto to the powerhouse Central Division) and had Quebec join in their spot."
He adds: "While I think there are many hockey fans who would love to see another team in Canada, Quebec was a natural fit, and I personally wanted to see what would happen if we moved Toronto back to the West."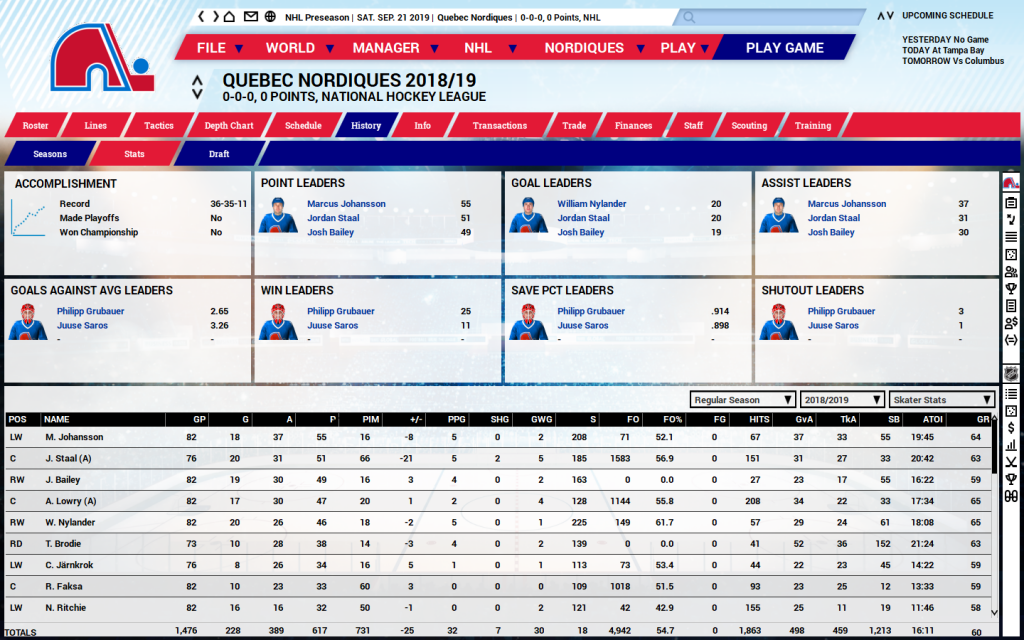 Jeff notes: "This stream was possible because of the new July 1 start feature in FHM 5. It let us expand and restructure the league – we moved Toronto to the Central Division to make room for us in the Atlantic. That ability to change the divisional and conference structure of leagues is another significant new feature: we could've radically reshaped the NHL if we had wanted to, splitting the teams into more divisions, creating an all-Canadian division, or almost any other format."
Building a strong core
A new team also brings with it an expansion draft, which can set the club up for quick success or see it mired in mediocrity for a few seasons. Jeff says of the new Nordiques' expansion draft haul: "The biggest name exposed was Toronto's William Nylander, who, as of this writing, is still holding out from the real Leafs. We managed to get him under contract a few days after drafting him. Carolina left Jordan Staal unprotected, another surprise, so that gave us two-thirds of our top line, and we filled it out with Josh Bailey, who the Islanders didn't protect in what was apparently a cost-cutting moved."
He adds: "Josh Manson also came over from Anaheim to be our first captain. And we picked up a strong 1-2 combination in goal by picking up Washington and Nashville's backups, Philipp Grubauer and Juuse Saros.  All in all, we wound up with a better core than we expected to get."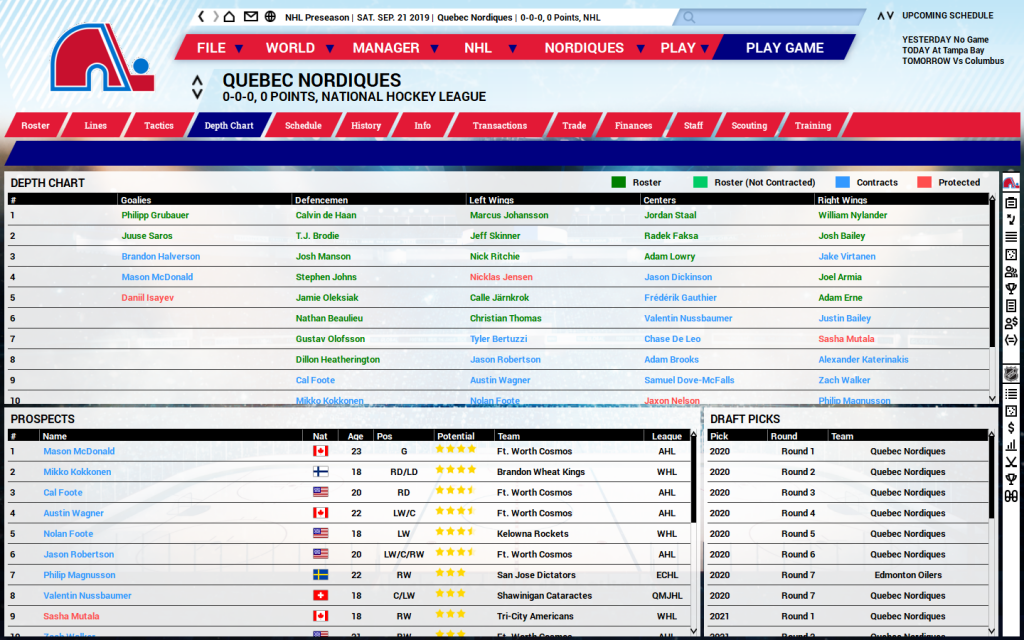 That strong core allowed Jeff and Adam to go young in the draft. Jeff explains: "We mainly drafted guys in their early-to-mid-20s that had some potential for improvement. Aside from Staal, the only player on our opening night roster over the age of 30 was Braydon Coburn. We also picked up a little veteran help after the season started by getting Rick Nash to sign, but neither of those guys was around for long: Coburn went to Dallas for 19-year-old prospect Jason Robertson, and we got 21-year-old Adam Brooks from Toronto for Nash."
He adds: "But our best trade of the season was moving Curtis Lazar to Tampa, who surprised us by offering Cal Foote, the defenseman who was their first-round pick in 2017. So that left us with a healthy pool of prospects even before we reached the 2019 draft."
Adam goes on to say: "We increased our prospect pool, adding Nolan Foote (Cal's brother) in the first round, Finnish Defenseman Mikko Kokkonen in the 2nd, and Swiss winger Valetin Nussbaumer in the 3rd, with a few more long-term prospects in the mid to later rounds.  We didn't get someone who is going to star for us next year, but we've found players who are going to be very important for us in year 3 and 4."
A satisfactory first season
While the Nordiques didn't make the kind of splash that the Vegas Golden Knights did in their inaugural season a year ago, Adam says: "While we didn't make the playoffs, we were more than happy to find as much success as we did in year one. We finished 36-35-11, 6th in the Atlantic Division. Our off season was pretty unspectacular, other than us rebuilding our goaltender depth by bringing in both Brandon Halverson and Mason McDonald – but we did make one big free agency splash – signing Jeff Skinner!"
He concludes: "The Toronto Maple Leafs found great success in their move to the Central, edging out Nashville for top spot and eventually breaking their long curse, winning the 2018/19 Stanley Cup®."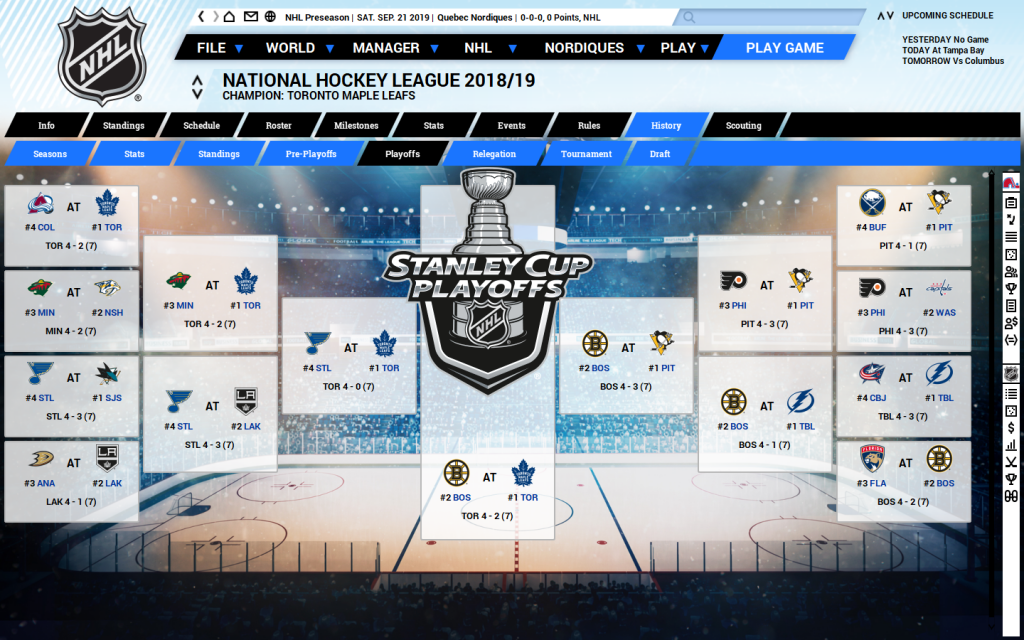 NHL, the NHL Shield, and the word mark and image of the Stanley Cup are registered trademarks of the National Hockey League. NHL and NHL team marks are the property of the NHL and its teams.  © NHL 2018. All Rights Reserved.