Baseball fans love to discuss who would make their roster if they had the pick of players throughout history, and of course many Hall of Famers typically make the cut. However, what about the guys who were pretty good but didn't quite have enough oomph in their stats to survive past one or two Hall of Fame ballots?
That's what Shawn Anderson's Hall of Very Good (HOVG) website is all about: It's a celebration of the also-rans who were pretty good players and who are often the favorites of a few baseball fans. Anderson has been inducting players into his Hall since 2012, and the current roster includes Jim Kaat, Lee Smith, Luis Tiant, Dale Murphy, and Tommy John, among others. Out of the Park Baseball has been a proud sponsor of the annual HOVG induction awards, as well as the site's podcast.
All of the inductees (or their families, in the case of deceased 2015 celebrity inductee and minor league player Randy "Macho Man" Savage) are aware of their places in Anderson's Hall of Very Good, he told us. However, he said that 2014 celebrity inductee Ted Giannoulas, who played the famous San Diego Chicken for many years, "was the most gracious individual we've dealt with. He always acts like this is the first and only award he's ever received and, come on, we all know that's not true."
Jay Mohr Joins the HOVG League
Anderson has also had a few brushes with fame on his podcast, including a recent episode that featured comedian, actor, and "Saturday Night Live" cast member Jay Mohr. Anderson and co-host Louis Olsen began talking with Mohr about their favorite very good players, and soon the three started drafting teams of players who had great careers but didn't make the Hall of Fame.
The players chosen included: Jim Thome, Albert Belle, Steve Garvey, and Julio Franco (Anderson); Fred McGriff, Lou Whitaker, Alan Trammell, and Jim Kaat (Olsen); and Bernie Williams, Gary Sheffield, Jack Morris, and Don Mattingly (Mohr). Be sure to listen to the podcast episode for a funny story Mohr told about talking to one of his draft picks, Nomar Garciaparra, in a cab and grilling him about why he struck out three times in a game once.
And since OOTP and HOVG are all about synergy, we created a league in Out of the Park Baseball 17 and populated it with the teams assembled by Anderson, Olsen, and Mohr. You can play along, too: we saved it as a QuickStart that you can download from the OOTP website. Olsen topped the regular season standings in the simulation and beat Mohr in the championship series, 4 games to 2. Check out these screenshots (we cloned the pitchers so the teams had enough relievers):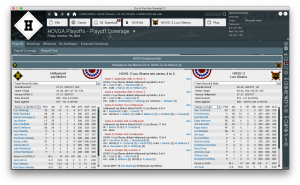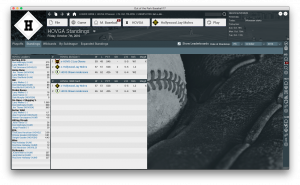 "I find it extremely funny that Lou won, given both Jay and I were giving him such a hard time about his team," Anderson said. Olsen added: "Jay and I built teams that were agreeable to your sim, which is why he and I split our season series, but I won the only one that mattered."
Scheduled Between an ABC Meeting and a Movie Pitch
Asked how the interview with Mohr came about, Anderson replied: "I've known that Jay has known about the site for a few years and, on occasion, he and I will talk baseball. A few months ago, we were talking the Hall of Fame credentials of Bernie Williams via Twitter, and before I knew it, we were DM'ing about the possibility of him doing the podcast and putting together our own HOVG-worthy teams."
He continued: "Lou and I are always looking for guests that we feel will be interesting and would get what we're doing. Jay definitely fits the bill and it didn't hurt that Lou and I are both fans of his work. The hardest thing was nailing down a time. Ultimately, it worked out for the best: Find me another podcast where Jay Mohr is telling Nomar Garciaparra stories after drafting him to his all-time HOVG team. You can't."
Olsen added: "Jay is one of the best in the business, bar none. I also love his podcast. And, no joke, he fit us in between a meeting with ABC and some other movie pitch."
Haven't Scratched the Surface Yet
Looking ahead to the future of HOVG, both the website and the podcast, Anderson said: "I'm always planning the next year's inductees. As far as the podcast, Lou and I try to find guests that not only we want to talk to, but guests that we think people might find interesting. I think you'd have a hard time finding a baseball podcast with the variety of guests that we've secured and, honestly, I'm not even sure we've scratched the surface yet."
On the subject of podcast guests, Olsen noted that his favorite was David Denson, recipient of HOVG's 2016 Glenn Burke Memorial Courage Award. Denson currently plays in the Milwaukee Brewers farm system and publicly announced his sexual orientation in 2015, becoming the only openly gay player currently in professional baseball.
"He's an incredibly kind, gracious, and talented young man," Olsen said. "I was so taken aback by how wonderful and open he was with us about all aspects of his life."
Following the Careers of Virtual OOTP Hall of Famers
Anderson and Olsen both play OOTP. Olsen remarked: "I have only ever won a World Series once, and it was with one of the least talented rosters I had ever put together."
Anderson said: "I actually remember the day I found out I was getting a copy of OOTP to review. I was at the zoo with my family and was so excited that OOTP had thought enough of The Hall of Very Good to have us test the game. Along the way, I've made up my own rules and teams and have followed the careers of my own virtual Hall of Famers."