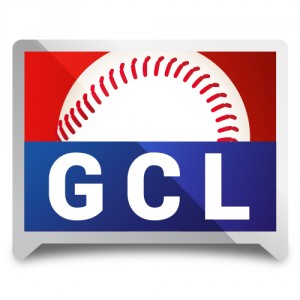 OOTP 16 will be out worldwide on Monday, March 23! Get it on PC/Mac or Linux from us or you can buy it on Steam.
You can check out our Road to Release series too, if you want to know more about what's new in the game.
Meanwhile, the Grand Championship League post-season tournament's last recap of Round 3 has links to prior recaps in that series.
Now about the Semi-Finals:
Here's how Games 5 & 6 went. A major upset is brewing, folks.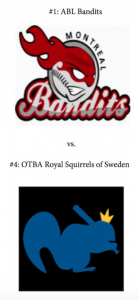 OTBA, 4-2: The Royal Squirrels of Sweden used two walks, a single, a double, and a sacrifice fly to score three runs in the second inning, which was all they needed as they coasted to a 7-1 victory in Game 5. ABL struggled to get anything going against OTBA starter Mike McDonald (4-1 in the tournament, with a 2.81 ERA), who lasted 5.2 innings before turning the ball over to reliever Ricardo Feliciano (two saves, 0.71 ERA in the tournament).
In Game 6, however, ABL averted disaster by jumping out to a pair of runs in the first inning. They carried a 4-4 tie into the bottom of the seventh inning, when they pushed three runs across and then held on for a 7-4 win. Where OTBA's Feliciano was brilliant in Game 5, he fell apart in just one-third of an inning of work, getting charged for all three ABL runs and dropping his record to 2-1, while his ERA leaped to 1.75.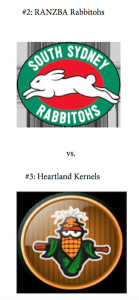 Heartland, 4-2: Heartland broke a 1-1 game open in Game 5's fifth inning, scoring five runs on three singles, a double, and a two-run home run en route to a 9-1 win. Kernels starter Pedro Vargas ran his tournament record to a perfect 8-0, with a 2.59 ERA, while the Rabbitohs' Jorge Aguilar took the loss, his second in a row. He gave up six runs in 4.2 innings.
In Game 6, it looked like Heartland might end the series early as they carried a 1-0 lead into the bottom of the eighth inning. RANZBA's lead-off hitter singled and moved to second on a ground out. After a strike-out, the runner scored on an ill-fated error that allowed the hitter to reach second. The very first pitch from Heartland reliever Ken Bell was smoked into center field for a single, bringing home the winning run as the Rabbitohs held on for a 2-1 victory and kept their hopes alive.