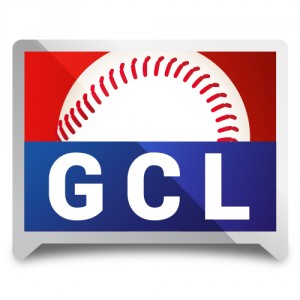 Don't forget: You can still pre-order OOTP 16 for PC/Mac or Linux through Thursday, March 19, and get it on March 20, three days before its release on March 23. You'll also get a free Steam key.
The OOTP 16 Road to Release has started, too, with the first edition, a look at the MLB.com license, and the second entry, "Owners, GMs, and Managers — Different Roles, Different Ways to Play." The third entry is "A Walk Down Feature Cornucopia Lane."
And if you want to check out the "Is it Lonely in the Dugout" series that looks at manager-only mode in OOTP 16, the next two entries in that have been published too: "Part 2: Dealing With Trades" and "Part 3: Strategy Presets."
Meanwhile, the Grand Championship League post-season tournament's last recap of Round 3 has links to prior recaps in that series.
The semi-finals have started. We posted the preview earlier today. Here's how Games 1 & 2 went: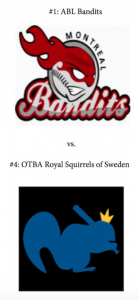 Tied, 1-1: OTBA carried a 2-1 lead into the bottom of the seventh inning in Game 1, but ABL's first hitter of the frame homered. The Bandits then used a walk and a single to set up first-and-third with no outs, but two weak ground balls against a draw-in infield couldn't get the job done, and a fly-out ended the inning. In the bottom of the eighth, a two-out double with a runner on first brought home the winning run and ABL escaped with a 3-2 victory.
Game 2, though, was all Squirrels, 6-0, as Jesus Hernandez tossed a complete game, scattering four hits while walking none and striking out seven. Four runs on five singles and a walk in the second inning were all OTBA needed to even the series.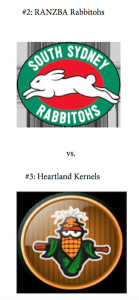 Heartland, 2-0: Heartland beat the home-team Rabbitohs, 4-1 in Game 1 and 6-1 in Game 2, to jump out to a 2-0 series lead. In the second inning of Game 1, the Kernels' second batter tripled with one out, and a two-out single brought him home. Two singles later, the Kernels had the only other run they would need. RANZBA managed a run on a sacrifice fly in the third inning, and in the fifth they had a runner thrown out at home, but that was the end of any threats from them.
In Game 2, RANZBA opened the scoring with a run in the bottom of the first inning, but Heartland roared back in the next frame with four runs on a solo home run and a three-run blast, giving them all the runs they would need. The Rabbitohs couldn't mount much of a threat until the bottom of the ninth, when they had runners on first and second with two outs, but a ground-out ended the game.