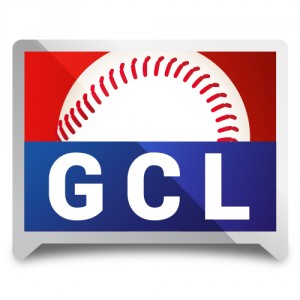 Yes, you can still pre-order OOTP 16 for PC/Mac or Linux and get it three days before its release in March, along with a free Steam key.
If you want to catch up on the Round 1 action in the Grand Championship League, check out our final recap of that action.
Meanwhile, Round 2 is about to begin, with the Sweet Sixteen vying for the eight slots available in Round 3. As before, these are best-of-nine series.
Here's the bracket, and then we'll take a closer look at each series, complete with commissioner Mike Branda's predictions and quotes from some of the GMs.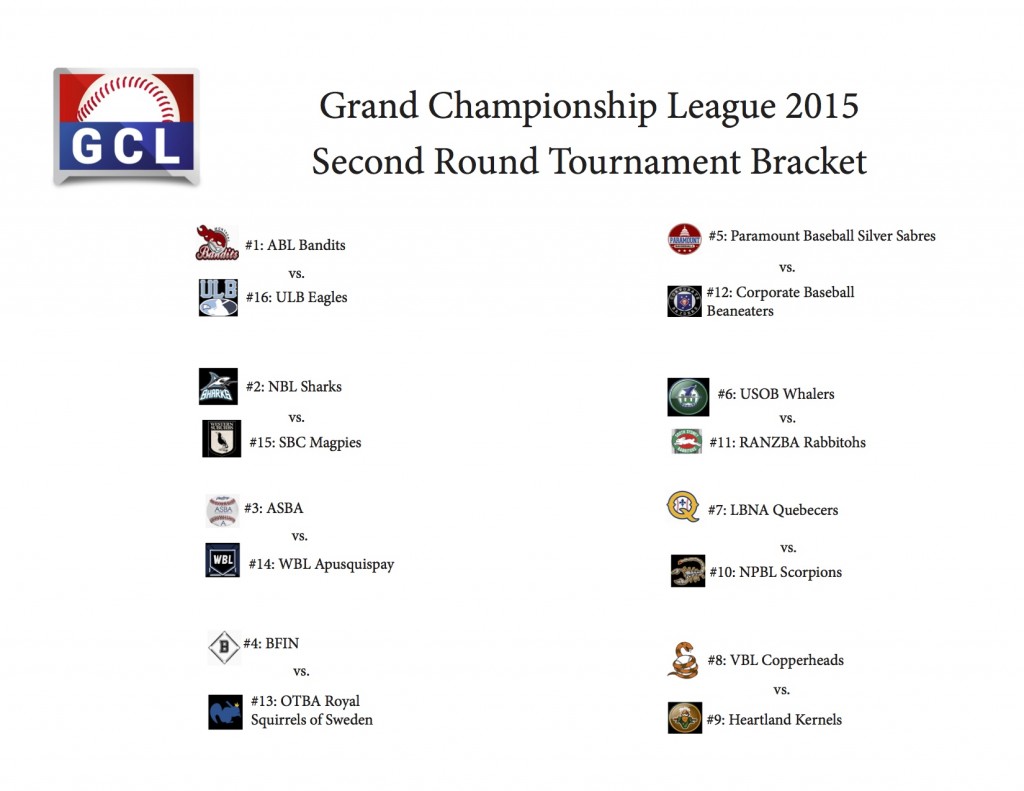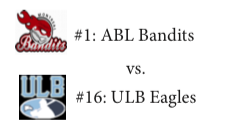 ABL finished off their first-round opponent in six games, but they struggled at times, and Branda thinks they're ripe for a Round 2 upset:
"I was not impressed with our #1 seed at all in Round 1. They went up against a good pitching staff in RIBC, but they also had one of, if not the worst, offense in the GCL and the ABL outsocred RIBC 9-3 in four of the five games. Outside of one big game (a 7-4 win), the ABL looked weak against the worst team in the GCL.
"The ULB steamrolled the CBL. After their Game 1 loss, the ULB bats awoke and everything clicked. I'm probably wrong and ABL will probably wake up but give me the upset ULB over our #1 seed in 9 games."
ULB in 9
ABL GM Christian Latulippe had this to say: "No real adjustments planned for the ABL Bandits. We need to keep dominating at home. Our rotation and line-up are set, and that will set how we match up against the right-handed pitchers of the UBL.  Both stadium are not quite hitter-friendly, so it should be low scoring again."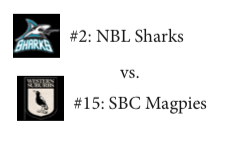 Branda said:
"The SBC swept TTWB (I predicted the upset), and I think it was more a product of TTWB being just ice-cold heading into that series than SBC being that good. I look at the 62-game sample size of both teams paired with the first round matchup and I just think NBL comes out on top here. I just do not think SBC's pitching will be able to contain the lineup of NBL, and while NBL's pitching is far from perfect – I think the SBC lacks the firepower to capitalize."
NBL in 7
NBL GM Anthony Tibero said: "On the one hand, you're probably thinking: 'Duh, you were the #3 seed playing that #30 seed? You better advance!' But, on the other hand, this is no ordinary league. It's not called the Champions League for nothing! (Annoying kid chimes in: 'Actually, it's called the "Grand Champions League"' — the Dude responds: 'STFU Donny!')
"Consider this: the top 3 pitchers in the rotation of that #30 seed are *clones* of the 3 SPs in our rotation! So, let's just say that the talent margin between teams is quite slim. And the first round seemed to prove just that. Seven of the 16 series are heading to a decisive game 9. But, more alarming than that, of the nine series that have been decided already, seven underdogs won. And, even more alarming still, of the top 10 seeds, only *two* favorites have advanced. Thankfully, we're one of those two. 😀
"And while we did wallop our opponent in games 1 and 7 of our series and we did win the series 5 games to 2, that is misleading as to how close the series actually was. Among other things, the series featured not one but two 14 inning games and it featured five games that were decided by 2 runs or less. In those 5 games that were decided by 2 runs or less, we scored in the 9th inning in *every* one of those games. 😆 😎 That's truly remarkable. We were actually losing heading into the 9th inning in games 5 and 6 yet managed to win both! We hit a 2-run jack in the 9th to erase a 1-run deficit to steal game 5, and we tied up game 6 in the 9th only to perform some late inning magic to prevail in the 14th inning — and, oh yea, this was after a game 4 which featured a game winning 2-HR in the 9th.
"Survive and advance!"
SBC GM James Mathis said: "On the offense side, we just have to hope that our hot hitting continues.  The TTWB series was the first time all year that our offense performed like the offense that we thought we had.  Sometimes, it's better to get hot at the right time.  On the pitching side of the equation, we are going to do a 180, just like the road parks that we played in and will be playing in.  NBL plays in Coors Field, while our first round opponents called Petco home.  That's not ideal for us, as we were 3-7 in drastic hitters' parks during the season with a -20 run differential, including a 6-3 loss against NBL on the road.  (NBL had won our home game in the series earlier in the season, 13-5.)  We are starting two lefties to open the series in Coors: Jose Rodriguez (winning pitcher in Game 3 of the opening series) and Fred Powell (DNP in the opening series).  I'm not sure that anything can slow down that Shark offense in their park, but they seem to have more trouble there with lefties than they do us normal folks.  We're definitely the underdogs, here and hope to be able to steal one of those first two games."
Branda said:
"The ASBA has one of the best pitching staffs remaining in the tournament. The WBL has the worst offense remaining in the tournament. The WBL had some nice outings against AFBL's pitching, though, which leads me to wonder if the WBL is hot at the right time? They took care of AFBL pretty easily, but at the end of the day I think ASBA is the better team and has enough to stop the momentum WBL has."
ASBA in 6
WBL GM Kevin Clawson said: "The simple answer for the WBL is 'nothing.' Not because of how well we did in the first round, but because it's really the best team we can put forward. We still plan to rely heavily on the pitching staff and hopefully they can replicate what they did in Round 1. Our offense also showed up much better than they ever had, so that would be a nice boost as well."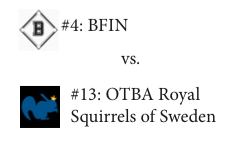 The #28 Squirrels knocked off the fifth-ranked The Show Spirit because, well, because they're squirrels. They could probably survive a nuclear holocaust, but Branda begs to differ:
"The BFIN has a lineup that is downright scary, ranking #1 in the 62-game season. They are coming off the most dramatic Game 9 victory, scoring 2 runs to walk off a winner. BFIN scored double digits twice in that series and at least 5 runs, 3 other times. That will be tough for OTBA to keep up with, and I am not sure their pitching staff is equipped to contain that lineup."
BFIN in 8
OTBA GM Nicholas Reynolds said: "There's not a ton of adjustments you can make with only a 25 man roster, but since BFIN is a very different type of team compared to The Show, we'll try to tweak a bit. The Show was a slightly above average offensive team with solid pitching and a good defense while BFIN has the league's best offense but a questionable pitching staff and defense. They're built to win 8-7 games while we're built to win 3-2 games. I know we'll likely hit their pitching so really it comes down to whether our pitching and defense can shut down or at least limit the league's top offense. I'm hoping that's the case as my team was built to stifle exactly this kind of team build but in a playoff series, anything can happen.
"One thing we'll definitely need to improve on is limiting errors – after having only 19 in the regular season, we had 7 in 8 games – that severely undermined our defense. That can't happen again if we want to advance to the next round. We'll also need a few of our regulars to get hot on offense – we especially can't afford another .194 with 1 RBI series from our cleanup hitter and DH. We beat them in the regular season 6-5 and 10-5 and those are the sort of games I'm expecting.  Hopefully our success against them in the regular season carries over to the playoffs."

Branda said: "When Paramount beat PUB in Round 1, they seemed to win their games pretty easily. Their two losses were both by just 1 run each. Corporate also had a pretty easy run through Asahi2, so these are two teams coming in very hot and not very tested. Overall, Paramount to me is one of the most balanced teams remaining and I have to go with that – though I think this series will go the distance."
Paramount in 9
Paramount GM Derek Bobola said: "We made a few changes to the lineup a few sims prior to the playoffs that we were comfortable with to be better defensively in the outfield so we feel we made our changes already and now its just a matter of performing to our capabilities. We had a good round one series and we were 2-0 on the year against our competition this round so its just a matter of who can execute the best. Hopefully we keep this rolling, we have a lot of guys excited about our first Grand League tourney and would love to see it keep going."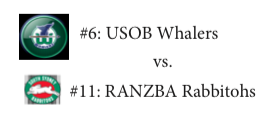 Branda said: "RANZBA played BSA pretty closely the whole way, while USoB was down 3-1 in the series and managed to rip off 3 straight and then eventually a Game 9 win. RANZBA keeps the ball in the park, which could in theory eliminate a huge advantage for USoB in this series. I look at this as a matchup problem for the USoB and I take the Rabbitohs!"
RANZBA in 8
RANZA GM Stefin Clapham said: "No changes planned… we just beat a team with a significantly better record, and one of my most talented players (my closer) was basically worthless the whole series."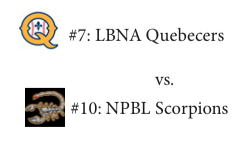 Branda said: "I think this is a pretty evenly matched series, and even their Round 1 series wins were similar. NPBL, though, lost 4 straight in their series and managed to come back to win 2 straight to take the series. LBNA came into Round 1 ice cold, and had a very back and forth series with an eventual Game 9 victory. This is a coin flip to me. Overall, I think NPBL coming back the way they did is more impressive to me – so I give the edge to them.
NPBL in 9
NPBL GM John Heinz said: "NPBL doesn't plan on making any major adjustments – same as last time – two goats, three virgins, cross my fingers and pray!"
LBNA GM JF Legault said: "I don't think things will change much but we must do a better job against the right-handed pitchers. We went 2-4 against RH pitchers in the 1st round and NPBL has no LH starter in his rotation. Time for our big lefty hitters to shine ! Go Quebecers!"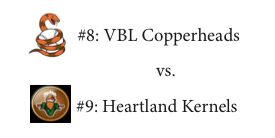 Branda said: "My GM Dave Lockar knows that if he lost in Round 1 I'd probably fire him Vince McMahon style. I need to come up with a good threat for a Round 2 defeat. Heartland is a good matchup for the VBL because Heartland's pitching on paper shouldn't be able to contain the VBL offense. Still, Heartland just beat a pretty damn good offense in WBH – so perhaps we can toss away the 62 games and focus on that?
"Still, it's my league and my guy and the paper matchup allows me to pick them and not feel awful about it… so I gotta do it."
VBL in 9
VBL GM Dave Lockar said: "Aside from the obvious rotation adjustment we'll have to make, don't expect much changes for the first game or two. Our main focus is to get the offense consistent. One game they're hot, another they're cold. In our hard fought series against MBWBA, we had five games where we scored more than six runs, and in our four losses we scored two runs combined. That's not good enough. We need them to score five runs or more on a consistent basis, as that is what this team is built around.
"There are two lineups we like to use against righties, and one of those lineups is red hot (scored 6+ runs in nine of their past ten games), and one that we feel is optimal if everyone clicks (as seen in our last series when we had offensive outbursts). What I haven't mentioned is, that one game where we didn't score more than six runs was against Heartland. Couple that with a couple struggling players needed for that lineup, we have a decision to make. I would say we'll use both lineups at least once this series, but if one gets hot, we'll ride with it.
"As for the rotation, expect it to be R/L/R/L instead of R/R/L/L this series. That's just because of Banuelos being exhausted from pitching game nine. Thankfully both teams are in the same boat. No adjustments will be made to the bullpen."
Heartland GM Garrett Pack said: "No big adjustments planned. Hector Encarnacion will get a little more playing time, Ken Rogers a little less (gotta know when to fold them). We had some lucky breaks in Round 1 getting big hits with runners on base. We'll need that luck to continue in Round 2."