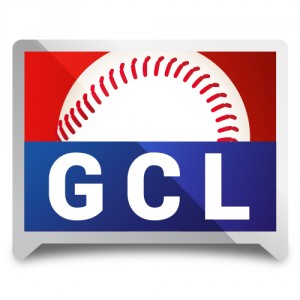 Yes, you can still pre-order OOTP 16 for PC/Mac or Linux and get it on March 20, three days before its release on March 23, along with a free Steam key. Pre-orders will be accepted through March 19.
If you need to catch up, check out our Round 2 preview of the Grand Championship League. (It has a link to Round 1 recaps too.)
A handy link to all the GCL blog posts, ever
Games 7 and 8 of Round 2 are in the books. Three teams moved on to Round 3 while three series will have a deciding Game 9 tomorrow night. Here's what happened in each series: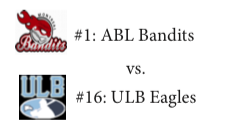 ABL wins, 5-2: ABL has been the top seed from the beginning of the tournament, having finished in first place during the regular season, and they moved on to Round 3 with a 6-5 win over ULB in Game 7. However, they didn't make it easy on themselves: The Bandits entered the top of the ninth inning with a 6-2 lead and promptly got the first batter to fly out on one pitch before surrendering two singles and a double that plated a pair of runs.
Another single put runners on first and second. The next hitter struck out on three pitches, but yet another single brought in a third run in the inning, despite a close play at the plate. Facing yet another first-and-second situation with two outs, the Bandits pitcher finally forced a fly out to end the game and send ABL through to Round 3.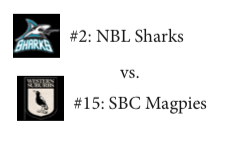 Tied, 4-4: Facing elimination, NBL held on for a 4-3 Game 7 win that saw SBC score a run in the top of the ninth and leave a man on second before the threat ended. NBL then downed SBC, 4-1, in Game 8 to force a deciding ninth game tomorrow.
Tied, 4-4: ASBA took Game 7, 8-3, but WBL came back to win a razor-thin 1-0 Game 8 that took another series to Game 9.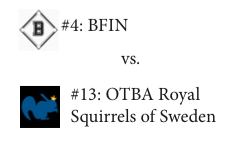 Tied, 4-4: BFIN rolled to a 7-0 Game 7 victory, and then Game 8 happened: The Royal Squirrels had a 5-2 lead through seven innings but gave up a run in the eighth on a wild pitch and two more in the ninth, courtesy of two singles and a double, to send the contest to extra innings.
In the top of the 12th inning, BFIN used a single, a stolen base, and another single to plate a run. A walk and a hit-by-pitch loaded the bases with one out, but the OTBA pitcher struck out a batter looking and coaxed a lazy fly ball out of the next one. In the bottom of the 12th, however, the Royal Squirrels struck back with a solo home run to keep the game going.
BFIN went 1-2-3 in the top of the 13th, setting the stage for the first two OTBA batters to go down in the bottom of the frame. Then a pair of walks brought in a new BFIN pitcher, who allowed a second-pitch single that scored the winning run. OTBA won with a walk-off hit, 7-6, to force Game 9.

Paramount wins, 5-2: Paramount laid off Corporate with an 8-0 Game 7 victory that sent them through to Round 3.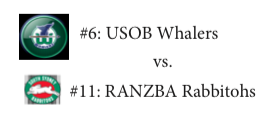 RANZBA wins, 5-0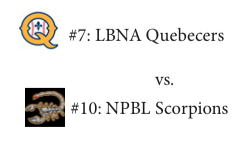 NPBL wins, 5-3: A shutout-happy series continued with a 7-0 victory by NPBL in Game 7. The Scorpions then finished off the Quebecers with a 5-2 Game 8 win.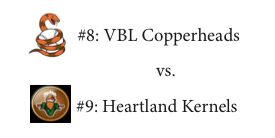 Heartland wins, 5-1