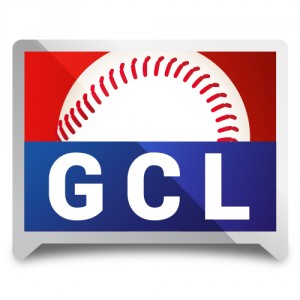 Yes, you can still pre-order OOTP 16 for PC/Mac or Linux and get it on March 20, three days before its release on March 23, along with a free Steam key. Pre-orders will be accepted through March 19.
If you need to catch up, check out our Round 2 preview of the Grand Championship League. (It has a link to Round 1 recaps too.)
A handy link to all the GCL blog posts, ever
Games 5 and 6 of Round 2 are in the books, and two teams advanced to Round 3 while three others stand one win away. Here's what happened in each series: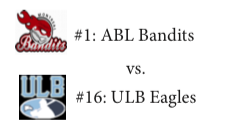 ABL, 4-2: ABL took command of the series with an 11-1 thrashing in Game 5, but ULB staved off elimination in Game 6 as they broke a 5-5 tie with a run in the seventh inning and three more in the eighth, all with two outs in both innings, en route to a 9-5 victory.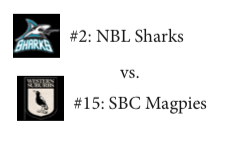 SBC, 4-2: SBC used a two-out, two-run home run in the bottom of the eighth inning to win Game 5, 5-4, and then put themselves on the brink of an upset with a 6-2 victory in Game 6.
Tied, 3-3: There was more late-inning drama in this series as WBL walked off with a three-run home run in the bottom of the 11th inning for a 6-3 Game 5 victory, but ASBA calmed down the Apusquispay bats with a 3-0 win in Game 6.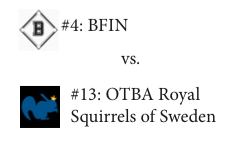 Tied, 3-3: BFIN kept the run-producing machine going with a 7-3 Game 5 win, but the Squirrels kept chittering as they scampered over the opposition in Game 6, 11-0.

Paramount, 4-2: Corporate kept themselves from being pushed to the brink with a 2-1 Game 5 victory that saw Paramount hit a solo home run in the top of the ninth to halve the deficit and strand a runner at second as the third out was recorded. However, Paramount came back from a 2-1 deficit to score five runs in the seventh and eighth innings as they won Game 6, 6-2, to put themselves on the brink of Round 3.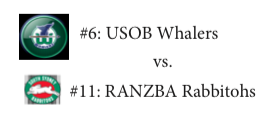 RANZBA wins, 5-0: It may not be a major upset, but the Rabbitohs advanced to Round 3 with this round's only sweep as they won Game 5, 8-2.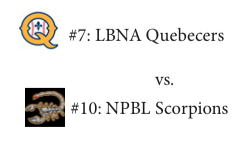 Tied, 3-3: LBNA was shut out in Game 4, but they returned the favor in Game 5 with a 3-0 shutout. However, the Scorpions came right back for a 4-0 shutout victory in Game 6 to keep the series knotted.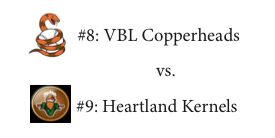 Heartland wins, 5-1: Heartland cornered VBL with a 5-3 win in Game 5 and then killed the Copperheads with a 5-4 Game 6 victory, becoming the second team to advance to Round 3. VBL had runners on first and third with one out in the bottom of the ninth inning in Game 6 and scored a run on a sacrifice fly before a ground out ended their season.