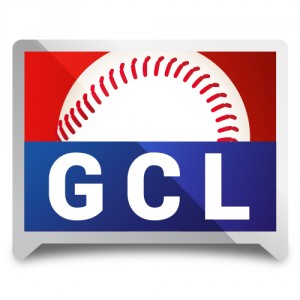 OOTP 16 is out now! Get it on PC/Mac or Linux from us or you can buy it on Steam.
You can check out our Road to Release series too, if you want to know more about what's new in the game.
Meanwhile, the Grand Championship League post-season tournament's last recap of Round 3 has links to prior recaps in that series.
Now about the Semi-Finals:
Neither series will see an eighth game because both of these ended in seven, with the tournament's top seed, the ABL Bandits, have fallen to the OTBA Royal Squirrels of Sweden, who entered the post-season as the 28th seed but somehow managed to find a way to survive.
Meanwhile, the RANZBA Rabbitohs and Heartland Kernels both finished the regular season 29-33 and entered the tournament as the 24th and 21st seeds, respectively.
Here's a look at both series' finales, which were one-run games, along with a preview of the Finals, which will pit OTBA against Heartland: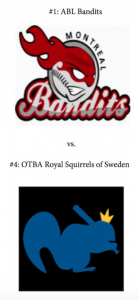 OTBA wins, 5-2: The series was decided by a Game 8 that featured a 10-9 slugfest victory by OTBA, but not before ABL tried to mount a furious late-inning comeback that fell short. Both starters were knocked around, and the game featured just two doubles and one home run by ABL, but five doubles from OTBA. The teams combined for 26 hits.
OTBA jumped out to a 2-0 lead after two innings. A solo Bandit home run in the bottom of the third halved the deficit, but the Squirrels scored a run in the fourth and two more in the fifth to widen their lead and hush the home crowd. In the top of the seventh, OTBA started sending many of those fans to the exits as they scored five runs, including a bases-loaded double that cleared the bases with two outs, but ABL would not go quietly.
In the bottom of the seventh, ABL cut into that 10-1 deficit as they scored three times on four singles. In the bottom of the eighth, two singles and a walk loaded the bases with no one out, but a fly out by Frank Hicks was not deep enough to score a run. Pat Wilcox, however, smashed a line drive single to left that scored two runs, with the second run coming as the throw went to third to unsuccessfully nail the trailing runner. After a strikeout, a single to right scored another run, but this time an attempt to throw out a runner at third succeeded, and the inning ended.
After an uneventful top of the ninth, ABL came to bat and the faithful rose to their feet. (It was unsure at press time how many Bandit fans attempted to re-enter the stadium and were denied.) A pair of doubles with one out made the score 10-8, and a murmur grew into a steady cheer. A single gave the Bandits runners on the corners, and a first-pitch single elicited a roar as a run came home and ABL found themselves on the cusp of an incredible comeback. They were denied, however, as Hicks grounded into a double play and Cinderella continued to dance.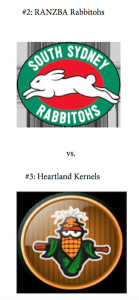 Heartland wins, 5-2: Game 6 was decided by a 2-1 score in favor of RANZBA, but Game 7 went to Heartland, 2-1, as another home team fell. The Kernels struck in the first inning with a run, but the Rabbitohs answered with a first-pitch solo home run to tie the game in the bottom of the second. In the top of the fourth, a two-out single with a runner on second scored the deciding run for Heartland.
The game was quiet the rest of the way. In the bottom of the ninth, the Rabbitohs managed a two-out walk as Paul Cooper worked an eight-pitch at-bat that featured three foul balls. However, the next batter popped up on a 2-2 pitch and the Kernels celebrated their trip to the Finals.
Finals Preview
What can we expect as the 29-33 Heartland Kernels prepare to face the 27-35 OTBA Royal Squirrels of Sweden? Commissioner Mike Branda had this to say: "I think it's real interesting that three of our final four finished under .500, with the #1 seed being the other team. I am conflicted here."
He added: "I'd like to take Heartland because I know you took OTBA from the start but I simply cannot deny the OTBA magic right now. They managed that big comeback in Round 2, ran through Round 3, and even when ABL appeared to come back against OTBA … OTBA held on. Then on the other side, Heartland has not had a hard time in these playoffs yet. In Round 1 Heartland was taken to the limit, and since then they have lost just five games in the last 20 games. That's a tough road ahead for OTBA. Heartland also knocked out my own league, so it's tough for me.
"I really don't know, but my gut says OTBA knocked off the #1 team in this league, so pair that with some come-from-behind magic and I gotta take them to win it all."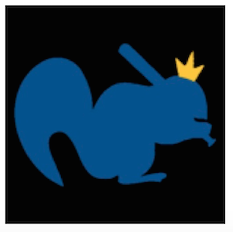 Asked if he's going to change anything for the Finals, and if OTBA is a team of destiny, GM Nicholas Reynolds had this to say: "We're not going to change much as far as pitching – Heartland has a similar, power-heavy offense like the ABL. We need to shut down their power to shut down their offense and that's one thing we've been pretty good at in the playoffs so far. Their pitching staff is also similar in that neither staff walks many but has plenty of other weaknesses that we hope to exploit. The big difference is that their defense is a bit stronger so we may get a few less cheap singles than we did last series.
"I don't necessarily think we're a team of destiny, it's more that we're a team that played poorly for a couple of months before getting hot at the right time. Heartland is in the same situation as us. We did make some strategic tweaks in the postseason and I'm assuming Heartland did the same and perhaps that has made the difference. We're just hoping we can stay hot for one more series and make you look like a genius for picking us to win despite our sub-.500 regular season record! Either way, Heartland is a great team who just beat RANZBA, who I thought would win it all. They're going to be a very tough matchup for us but I feel like I do have the stronger team."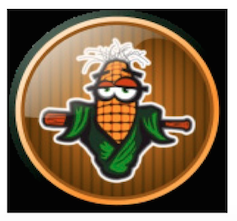 Heartland GM Garrett Pack was a bit more flummoxed than his counterpart: "I have no idea what to do," he said. "First of all, the Royal Squirrels of Sweden are here against the against the odds. Add in the facts that they are rodents, they are royalty, and they are Swedish. In all my time playing OOTP I have not had to plan against any of those characteristics. I'm completely flustered. I'm just going to send the same lineup out there and hope for the best."