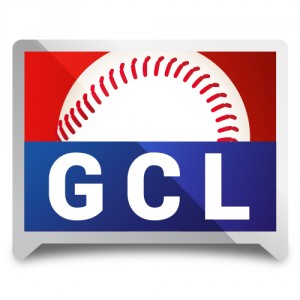 Don't forget: There's still time to pre-order OOTP 16 for PC/Mac or Linux and get it on March 20, three days before its release on March 23, along with a free Steam key. Pre-orders will be accepted through March 19.
The OOTP 16 Road to Release has started, too, with the first edition, a look at the MLB.com license, and the second entry, "Owners, GMs, and Managers — Different Roles, Different Ways to Play." The third entry is "A Walk Down Feature Cornucopia Lane."
And if you want to check out the "Is it Lonely in the Dugout" series that looks at manager-only mode in OOTP 16, the next two entries in that have been published too: "Part 2: Dealing With Trades" and "Part 3: Strategy Presets."
Meanwhile, the Grand Championship League post-season tournament has concluded its third round and is headed to the Semi-Finals. The last recap of Round 3 has links to prior recaps in that series.
Here's a look at the Semi-Finals bracket and then we'll delve into what the GMs of the final four teams have to say about their chances.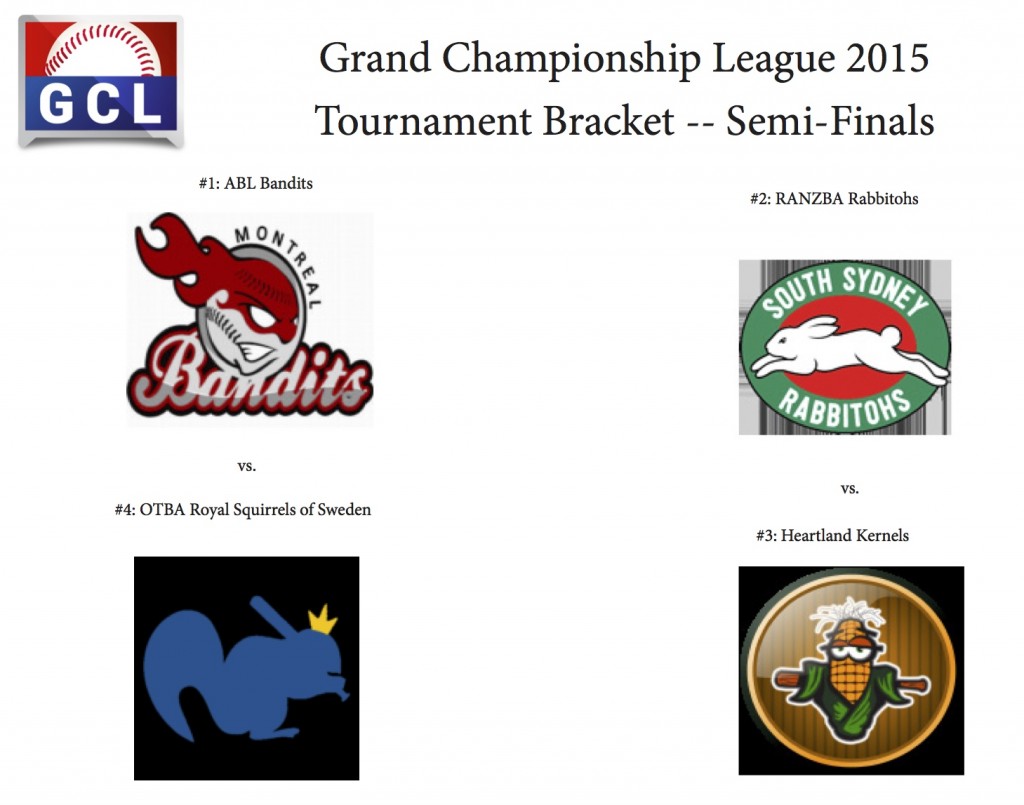 Here are the match-ups: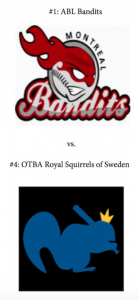 ABL continues its run through the tournament as the top seed, having not run into much difficulty. Meanwhile, OTBA is the lowest-seeded team still alive, having entered in the 28th spot. (#29, the SBC Magpies, survived until Round 3, when ABL knocked them off.) Has the clock struck twelve for the Royal Squirrels of Sweden, or are the ABL Bandits finally due for a tough series that could end their season?
ABL GM Christian Latulippe said: "At this point, the team is doing well, no major change are planned.  We worked hard all season to get the #1 seed, and we have to take advantage of it, we are still playing well at home in the playoff where we are 10-1.  The key is there.  The OTBA are hot right now, they beat #5 The Show Spirit in 8 games, the #9 BFIN is a difficult series in 9 games and in the 3rd round they took care of #8 ASBA in an expedited way in only 6 games.  They are hot right now, we have to respect them, nobody get in the final four only with luck.  However, we are ready and highly motivated."
OTBA GM Nicholas Reynolds had this to say: "I intentionally built this team as an elite defensive team around a pitching staff that limited walks and HRs. The style of play in the playoffs really helped my team as my #1, #2 and #3 starters only gave up 20 HRs combined between them while my #4 and #5 starters gave up too many with 24 combined. We don't worry too much about getting strikeouts as the strong defense should be able to convert enough balls in play into outs. I would have loved to have a staff that was great at everything but it just wasn't feasible and this is a strategy that I have had success with in other leagues. We try to limit baserunners as much as possible and strand them by taking away the HR and other extra base hits and forcing teams to hit a lot of singles to drive in runs. I also try to rely heavily on a few ace relievers to pitch in a "stopper" role as much as possible. In a normal 162 game league, I like to have my best reliever pitching 70+ games and 100+ innings in a non-closer role to get the most value (a strategy I learned from one of the other owners in the OTBA). In the playoffs, I can usually rely on my 2 best relievers the entire series unless one of my starters gets knocked out early and that works to my advantage.
"Offensively, we just underperformed in the regular season. If you compare our hitters to ABL's great offense, we have almost all the same hitters but with vastly different results and that's just down to bad luck. We've rebounded in the playoffs because our players are playing to form and I've made a few strategy tweaks to try to limit the amount of outs we're giving away. It's an offense built to mirror my pitching staff – we want to walk a lot and to always have runners on base when we get the extra base hits and HRs to put up crooked numbers. For this tournament, since I expected teams to draft power pitchers, I also wanted guys who don't strike out often to try to maximize the number of balls in play.
"Despite the huge disparity in our regular season records, I think we have a legitimate shot vs the ABL. I think our pitching staff and defense is better than theirs and we just need to offense to continue performing like they have throughout the playoffs. We've averaged about 4.5 runs a game in the playoffs versus about 3.5 in the regular season.  Our offense should be able to continue performing at that level (which coincidentally is what the ABL averaged with basically the same players in the regular season!)"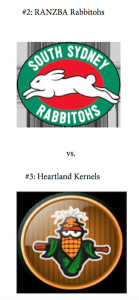 The RANZBA Rabbitohs and Heartland Kernels are another pair of low seeds that have survived the tournament, having entered it in the 24th and 21st slots, respectively. (Teams are reseeded after each round, and tie-breakers are used to determine who goes where. Both teams finished the regular season with 29-33 records.)
RANZBA had some curious stats: They were 30th in batting average but first in home runs, and their pitchers were 4th in overall ERA, as well as first in home runs allowed and fourth in overall runs allowed. In the tournament, the bats came through and the pitching was just good enough to get them this far. Asked what he might change, if anything, for the semi-finals, GM Stefin Clapham said: "I'm not changing anything. We keep beating better teams than us, so why break it?"
Meanwhile, Heartland GM Garrett Pack said: "I will not be doing anything different for the next round. If something works, don't fix it. The Kernels had a bad regular season pitching, but the stats show there was some bad luck involved too. In the playoffs, the pitching has performed closer to expectations with some good luck. Pedro Vargas has been the star of the rotation with a 6-0 record so far. Don't know how long that will last, but it has got us pretty far.
"The good luck has also carried over to the hitters. We have been able to get some good hitting in succession and made use of some opportunities with runners on base."