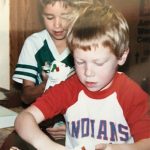 Brent Long, commissioner of the GAF Online Baseball League that came together on the NeoGAF forum, discovered Out of the Park Baseball with last year's version 16, but once he did, he was hooked. "When I play any game that tries to simulate a sport, I'm always most interested in the long-term development of my team," he says. "You get to see what would happen if you were in control and, right now, OOTP probably does that the best out of any game that I've played."
He joined the GOBL not long after its inception and soon became the commissioner. "GOBL brings me into the game every single day," Long observes. "There's a lot more intrigue when you know you're competing against other people and not just the CPU." (The league has a few openings, so anyone who's interested in joining should see the thread on the NeoGAF forum and contact Long (he's "brentech") for more information.)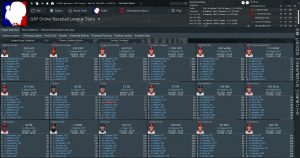 Peering Into the Future of MLB
Currently in the midst of the 2023 playoffs, GOBL started with a standard MLB setup in 2015. All the participants run their teams in GM-only mode, which means they have to contend with AI-controlled managers who may or may not do what they want. "You have to work within the staff you hire," Long says.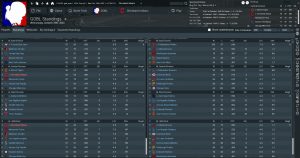 He notes that he likes playing in an online league because of its competitive nature. In addition, he says, "playing with a league provides a community to discuss what's happening within the game. We have some great league members who really drill down into the stats and go out of their way to let everyone know what a player is doing."
As an example, he points to a story from CosmicQueso, GM of the Oakland Athletics, who played in the 2021 World Series against the Pittsburgh Pirates. "The morning of Game 7," the A's GM recalls, "I was attending to my duties when I saw the red line in the news feed: 'Graveman injury diagnosis.' My heart stopped. Pensively clicking the story, I was in shock. And awe. [It said]: 'Kendall Graveman injured his hand while working on his farm. He'll be out 6 weeks.'"
He continues: "Due to injury and use, I could find no one worth giving the ball to. Enter David Lopez, a 24-year-old signee from the Dominican Republic who had pitched a combined total of 61 minor league innings, but who had put up a respectable 3.67 ERA at AAA Nashville. Out of options, I gave Lopez the ball. His Major League Baseball debut, starting Game 7 of the World Series. It was a disaster." And it was Oakland's third losing World Series appearance since the GOBL started in 2015.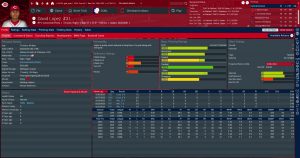 Molding Cleveland Around Great Defense
Long, who is the Cleveland Indians GM, has also experienced his share of frustration in a league where the American League representative in the World Series didn't win the championship from 2015 through 2021. (The Minnesota Twins finally broke through and secured the 2022 title.) Long took Cleveland to the World Series in 2017 but lost in five games to the Arizona Diamondbacks.
Asked about his philosophy toward building his team, Long replies: "I decided I would try to mold a team around great defense. I can't afford a true ace in my rotation or big name power hitters, so my pitchers need defenders with excellent range and ability to play their position. Over a few seasons, I was able to trade for prospects and acquire talent via the First Year Player Draft and Rule 5 Draft, usually grabbing one or two mid-tier players in free agency per season. A big exception before our current season: I spent large on a two-year deal for Buster Posey).
"I think I finally have the roster I've been building towards, but I currently have very little developing in my minor leagues (as my scout sees it, anyway). Luckily, I have a very young group of guys on the active roster, so that should give me time rebuild the minors. Unfortunately, that means I don't really have many players with the ability to cover when a guy gets injured."
One strategy Long has used to keep his team competitive is to let veterans go while their value is high, no matter how painful it might be. He points to Trevor Bauer as an example of that: The ace of his staff won 22 and 21 games in 2015 and 2016, respectively, but in June 2018, Long traded Bauer to Houston for a trio of prospects who are currently mainstays on his team. Meanwhile, Bauer won 14 games in 2019 and 15 in 202 before posting a 9-18 record with a 4.10 ERA in 2021 and seeing his career decline from there. In 2023, he pitches for the San Francisco Giants.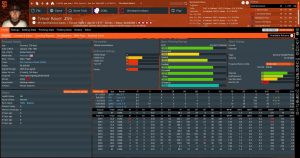 Long is a recent convert to Cleveland Indians fandom. He grew up more of a fan of Ken Griffey Jr. than any specific team, but a 2009 move to the Cleveland area gave him a club to claim. He credits OOTP with helping him learn more about the team. "[The game] brought me back into the loop," he says. "It's a strange feeling when you suddenly know the names of all the guys coming up from the minors."