Welcome back to FHM 2015 The Road to Release. Today we want to take a look at another area that will receive a complete overhaul from the 2014 version: fictional leagues.
Stay tuned for a series of screenshots that show off the new fictional league creation wizard, but, first, let's review the thinking that went into this:
Fictional leagues in 2014 never felt quite right. On one hand, FHM didn't offer as many options as OOTP does, but on the other hand, there were enough options available that fictional leagues could be prone to crashes. We quickly discovered that the number of possible option combinations was large enough that we couldn't anticipate all of them.
So for 2015, we went back to the drawing board and redesigned the fictional mode from the ground up. We aimed for two goals: making it fun to play and keeping it as stable as possible. We looked at feedback on the forum and thought about what we'd like to see in a fictional hockey league. We decided that we wanted to let you create a small world to play in, since real life hockey is so complicated that we can't give you numerous options for each aspect of an actual league (again with those pesky stability problems).
With that in mind, we created a fictional mode that is centered around one default major league. If that's all you want, great: You should be able to quickly run through the wizard and get started. The default league features an annual draft class with fresh fictional players, and every team has a reserve list, or you can set up a minor league to replace the reserve lists. You can also add a major junior league level, in which case those teams draft players and then the major league teams select from them later in an entry draft.
If this isn't the kind of fictional mode you were hoping for, please understand that it's more important for us to deliver a rock solid game than to cram in a lot of options that only a small percentage of our customers want. If we can expand fictional mode in a later version of FHM, we will, but for now, we want to keep it simple.
Here's a run-through of the fictional league wizard:
Step 1: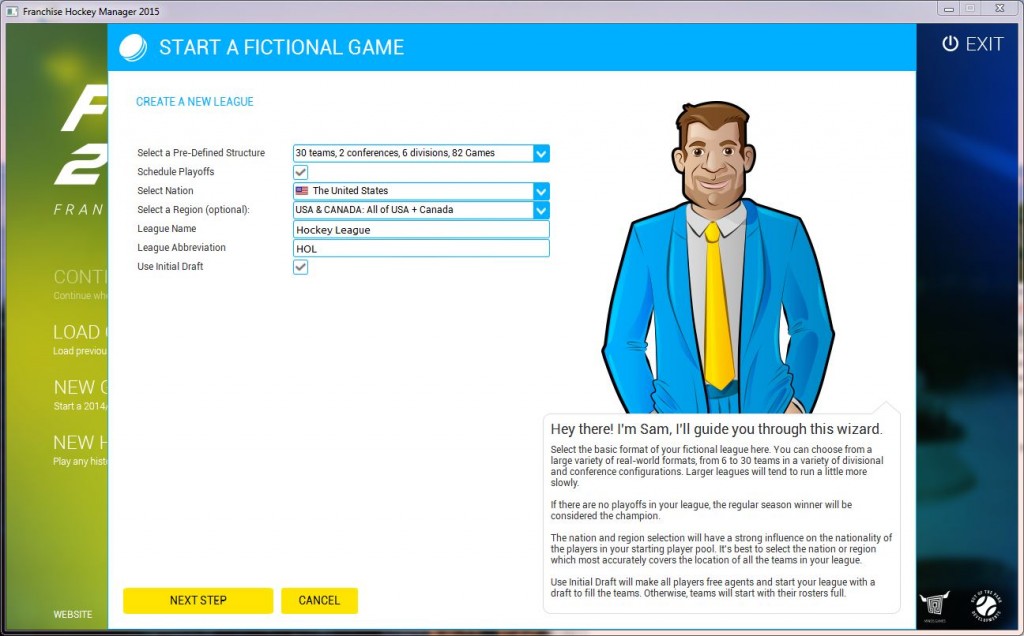 Start by choosing one of many pre-defined league structures. We might allow you to define your own structure, but that hasn't been decided yet.
Step 2: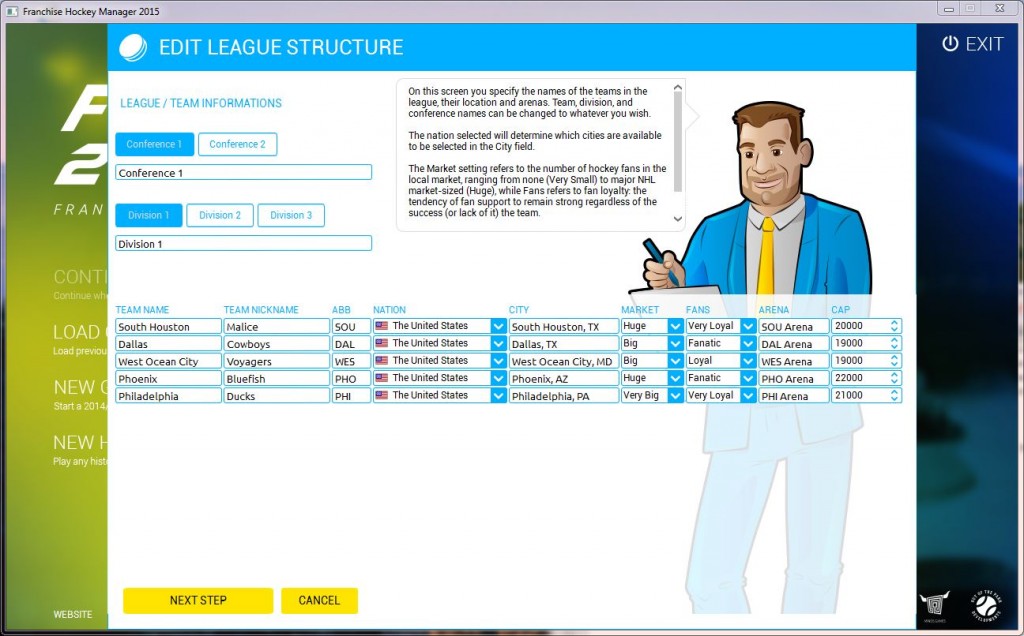 Next, you can edit the nicknames, cities, abbreviations, arena names, salary caps, and countries, as well as choose market size and fan loyalty.
Step 3: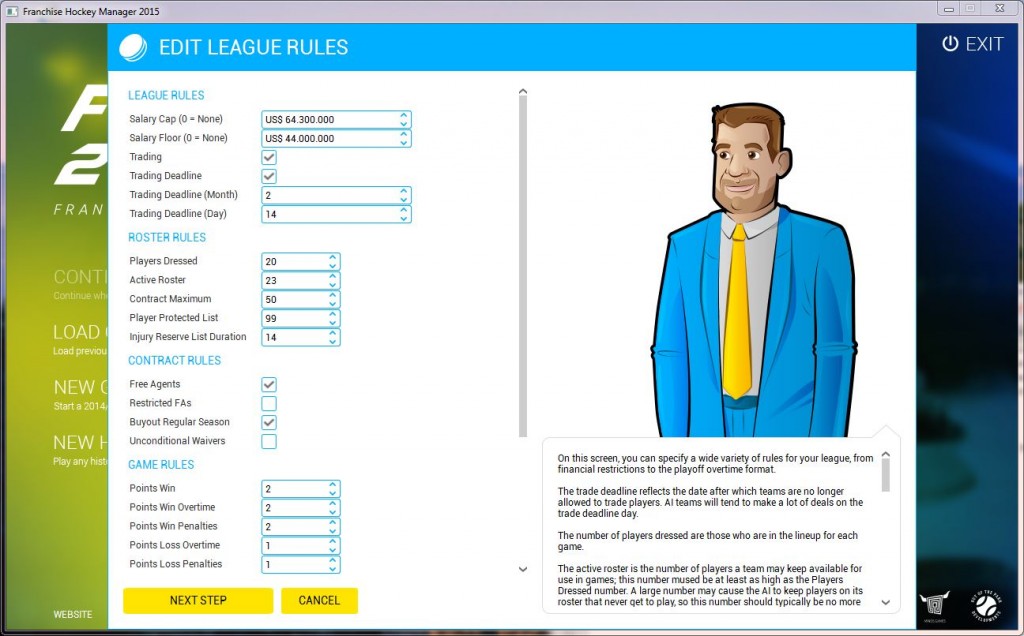 The third step allows you to edit the league rules. There are more options that appear when you scroll down: Points For a Draw, Overtime Skaters, Overtime Length, Penalty Shots, Sudden Death, Overtime Draw, and PO Overtime Skaters.
FHM recalculates all hidden settings when you make changes. For example, if you choose a lower salary cap, all salary levels are recalculated throughout the league.
Step 4: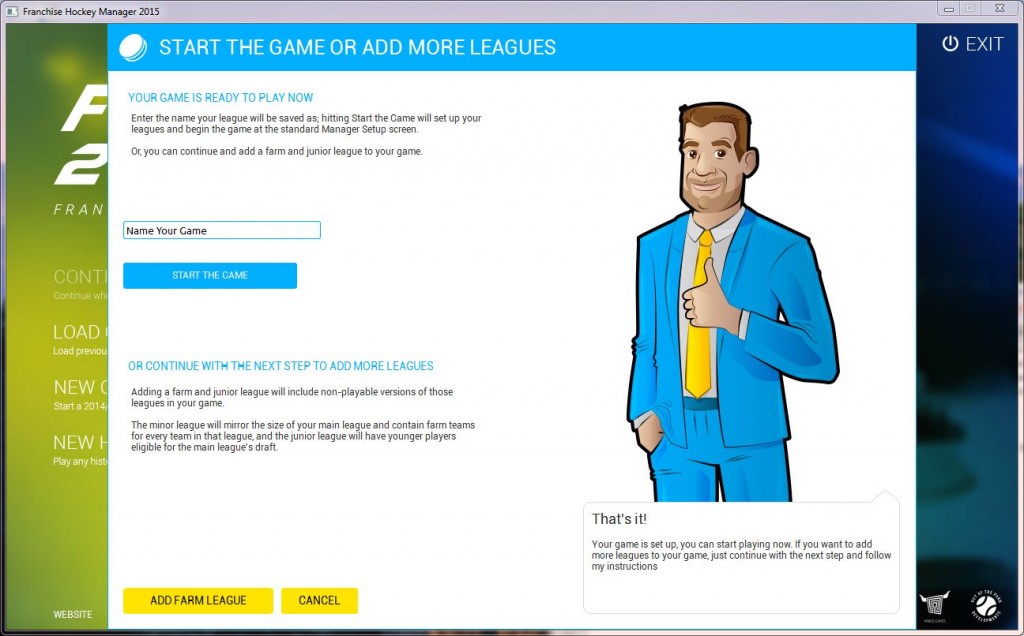 If you just want one league, then name your game and get started. Otherwise, click "Add Farm League" at the bottom of the screen and continue with the setup steps shown below.
Step 5: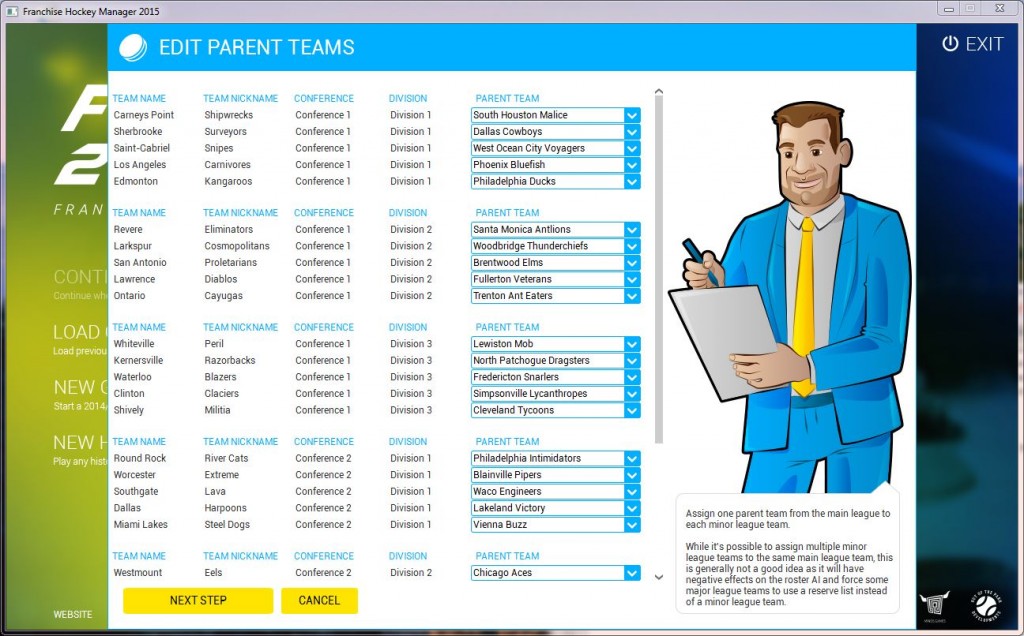 Assign the farm teams to parent clubs.
Step 6: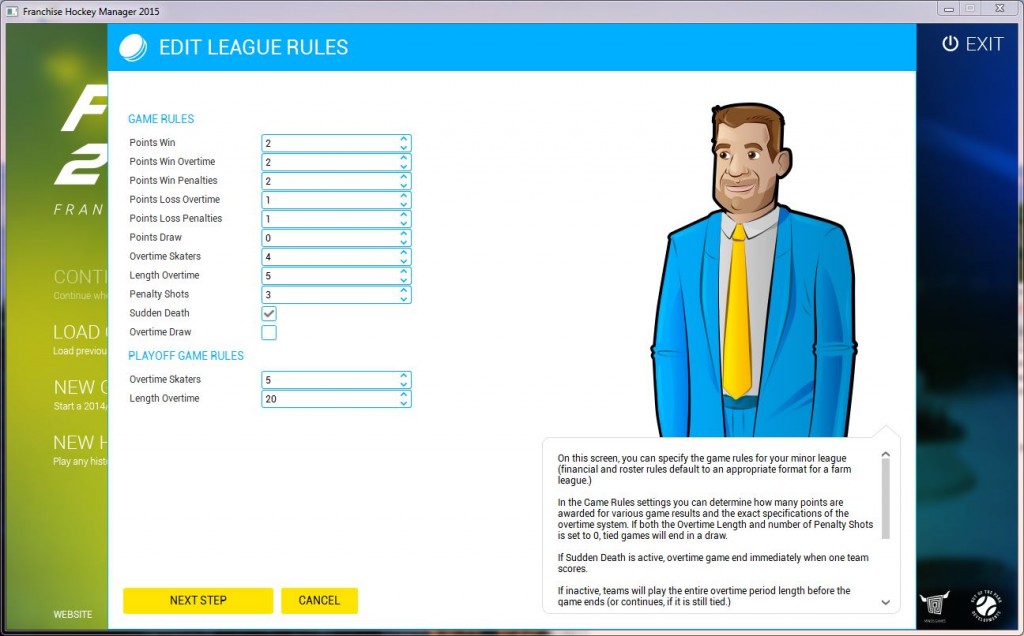 You'll notice that the rules for farm leagues are more limited than for major leagues. This goes back to the idea of keeping fictional leagues as simple as possible, to minimize unforeseen problems.
Step 7: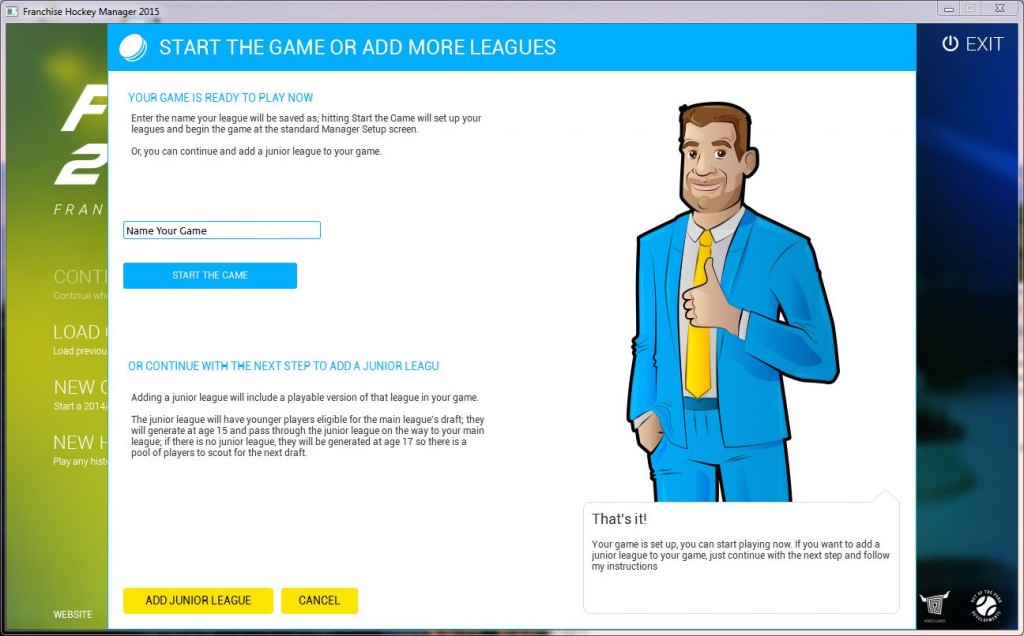 Once the farm league is set up, you can get started or click "Add Junior League" at the bottom to add one. Its setup options are the same as for a farm league, so we won't show those again.
After you add a junior league, you'll be back at step 7, except the only option now will be to launch your fictional game. Have fun!