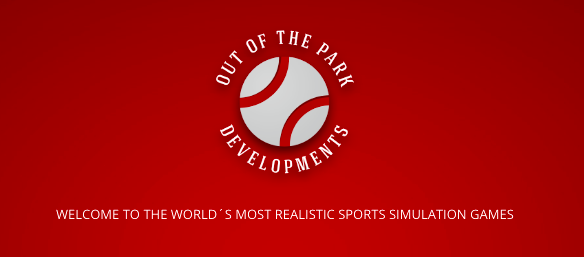 OOTP 19 is available for pre-order now. Save 10% and get the game 3 days early!
Like any good network, the OOTP Developments Twitch channel has steadily expanded its programming options during the past few years. It currently offers this lineup of streaming hosts:
Jeff Riddolls (Franchise Hockey Manager Producer):

Jeff is currently running the Brandon Wheat Kings of the Western Hockey League, a Canadian major junior hockey league comprised of 16-to-20-year-olds, during the 2017-18 season.

Adam (FHM Community Manager):

Adam took the reins Florida Panthers

®

of the National Hockey League

®

in a modern day sim and is currently in the year 2020.

Kris Jardine (OOTP Associate Community Manager):

Kris is in an historical play-through, guiding the Montreal Expos in 1982, after their "Blue Monday" loss to the Los Angeles Dodgers in 1981.

T.J. Lauerman (OOTP Community Manager):

T.J. is trying to see if he can put the 1990s era Cleveland Indians over the top and bring a World Series title to the city.
"We've got these amazing guys who are terrific at streaming and connecting with our fans, so I thought, 'What better way to help that connection grow than with consistent, weekly shows!'" explains Rich Grisham, OOTP Developments' Chief Marketing Officer. "The shows allow us to tell different stories and interact in real-time with fans."
He adds: "We have returning fans, newcomers, and curious onlookers pop in regularly now. We've grown our overall audience significantly during the live shows as well as the YouTube archives, and – most importantly – it serves as a real-time forum that 'humanizes' the Out of the Park Developments team. It's been a big success."
Seeking success with the Brandon Wheat Kings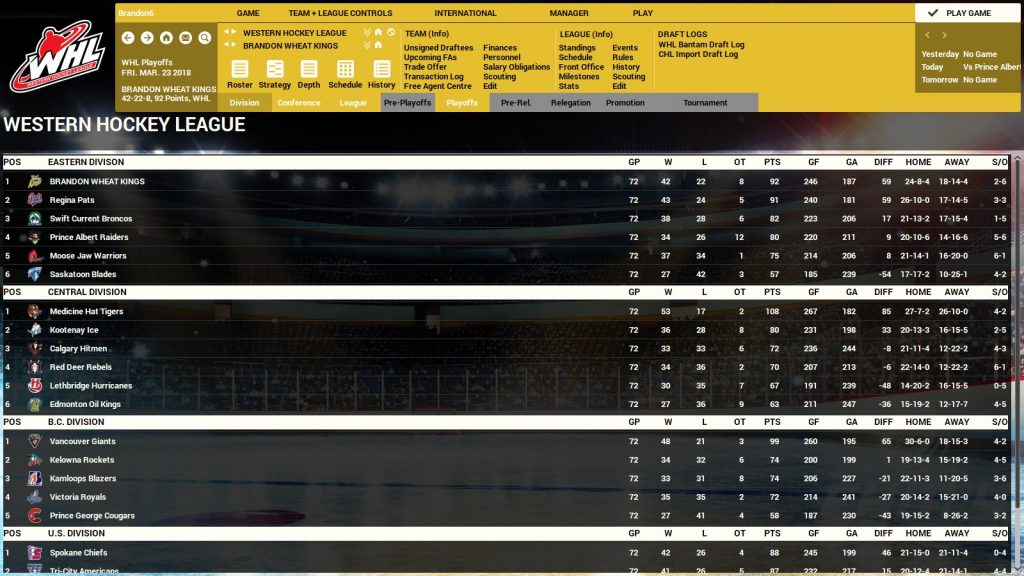 Riddolls' show is an intriguing one, especially for anyone who's not familiar with Canada's junior hockey system. He explains: "Junior hockey has a couple of particularly unique features: one, of course, is the upper age limit: no one plays past age 20, and the best players are usually gone before that. So teams can rise and fall rapidly, and you need to plan around that rapid rebuilding cycle.
"But since the fate of your stars is partly out of your hands, there can be pleasant surprises and big disappointments if you get or lose someone when you don't expect it. For example, the rights to Nolan Patrick, the #2 overall pick in the last draft, actually belong to Brandon, and we'd hoped that the Philadelphia Flyers® might decide to send him down to us, since he'd be a superstar for us. No such luck, unfortunately."
He continues: "The other interesting aspect of junior is a second championship tournament.  After the WHL playoffs end, the champion goes on to play the champions of the Ontario and Quebec league (and a host team) in the Memorial Cup.  So, if you become the league champions, you're only halfway to the top, and you have to figure out how to beat some star-laden teams you've not played against before."
Riddolls notes: "Brandon has a strong team with several NHL® draft picks, some of whom are already under contract to NHL® teams — 18-to-19-year old players drafted from major junior can't be sent to the minors, so they're returned to their junior team."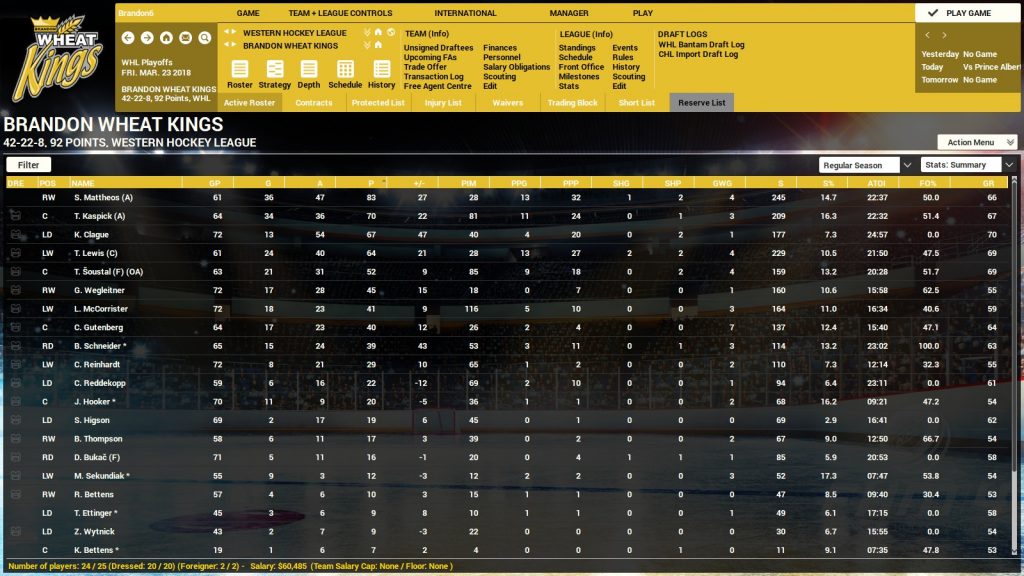 Asked how his team is doing in its first season under his guidance, Riddolls replies: "We're still in the first season, but had a fight right to the wire for first place overall in the Eastern Division. With two games left in the season, we were one point ahead of Regina and appeared to have
things all sewn up when we went up 3-0 over Moose Jaw early in our second-to-last game. And then we fell apart, giving up five unanswered goals to lose 5-3 and drop a point back of Regina going into the final game.
"Fortunately, the team came up big in the last game despite missing a key player and won 3-1 while Regina lost 4-1 to Swift Current to put us back on top at the end of the year.  We'll be resuming the game at the start of the playoffs when we do our next Brandon stream, likely on Feb. 21 (7 pm Pacific, 10 pm Eastern)."
Looking ahead to the future, Riddolls says: "Our focus is on winning this year, so we traded away some prospects to pick up a couple of good veterans at the trading deadline.  They played well down the stretch for us, so it's paying off so far. But we're going to have to make some tough decisions next summer, because we stand to lose a lot of our NHL® prospects, and it's not certain that our younger players will be ready to step up into major roles for us next year.
"It's complicated even further because the WHL drafts players at age 14, and they can't play full-time in the league during the season after they're drafted, so the draft can't help us immediately. I may wind up having to fight to keep my job while I rebuild."
Seeking the first, elusive Stanley Cup®
Meanwhile, in the year 2020, Adam is in charge of a Florida Panthers® team that has been struggling lately. He explains: "It's been a tough go for us, being on the brink of being fired, blowing the team up, and trying different things to find success. We may finally be on the right track."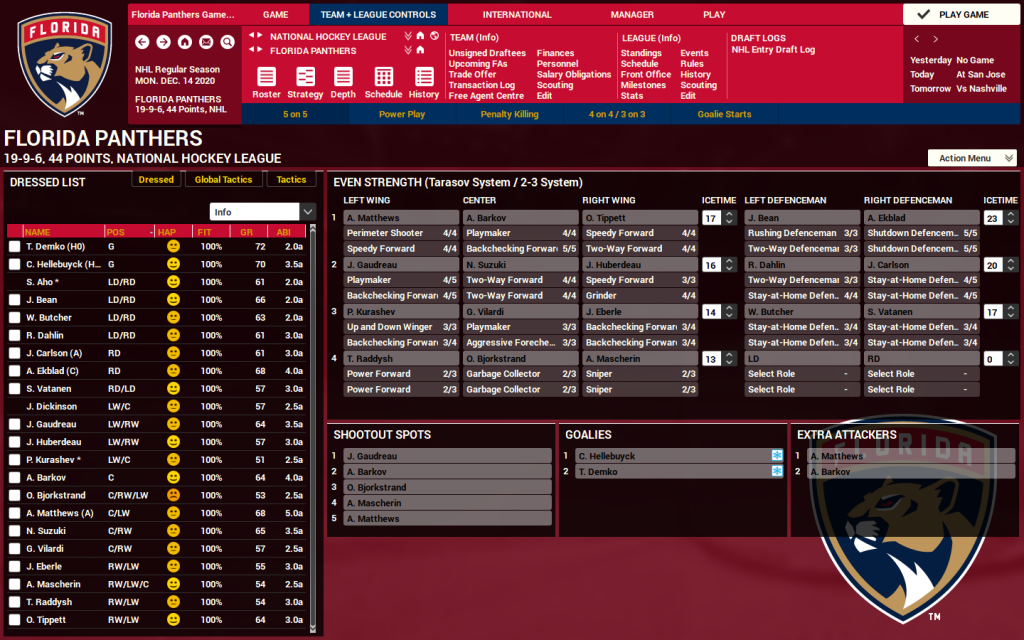 He adds: "The most interesting (or maybe frustrating) thing in this mode so far has been the poor play of our defense and goaltending when we're on the Twitch stream. We haven't seemed to find a rhythm, but when I tried to finish off our latest season, we went undefeated in the final calendar month, pushing us from out of the playoffs into second in our division. We unfortunately lost in the playoffs in four straight games, but that may have been the streak we needed to turn things around. I have no intention of stopping until we finally win our first, elusive Stanley Cup® on the stream."
Following up on Blue Monday

Jardine's historical Montreal Expos sim got off to a strong start as the team made the playoffs in 1982 but failed to capture the World Series championship that has eluded a franchise that began in 1969 and became the Washington Nationals in 2005.
However, as in every historical sim, Jardine's baseball universe has begun to diverge from reality, and something intriguing happened after the first season. He recalls: "During the 1982 offseason, we were offered a trade from St. Louis. They wanted a young, 20-year-old catching prospect by the name of Andres Galarraga. In exchange, they sent us a 27-year-old defense-first shortstop who goes by the alias 'The Wizard': Ozzie Smith. The jury is still out on whether or not we made the right move, but early returns have been positive for the 'Spos."
Looking ahead, Jardine says: "I would love to be able to bring the first ever World Series to Canada and specifically, bring one to Montreal. We have a very strong team in the National League, so hopefully we can get the job done before we switch over to Out of the Park Baseball 19." (Editor's note: That would be the first World Series win for a Canadian team in this baseball universe, since the Toronto Blue Jays didn't capture a crown until 1992 in the real world.)
The dynasty that almost was
The OOTP Twitch channel's other "What if?" exercise involves Lauerman taking over the Cleveland Indians in 1991. He says: "After watching 'The Dynasty That Almost Was' on MLB Network, I wanted to take over the team at roughly the same point that John Hart did and see if I could do what he, and the movie Major League, couldn't, and bring a World Series title to The Land."
He continues: "So far it's been pretty straight-forward, but one interesting thing was that we were able to draft Phil Nevin in 1992, and, somehow, the new York Yankees still ended up with Derek Jeter."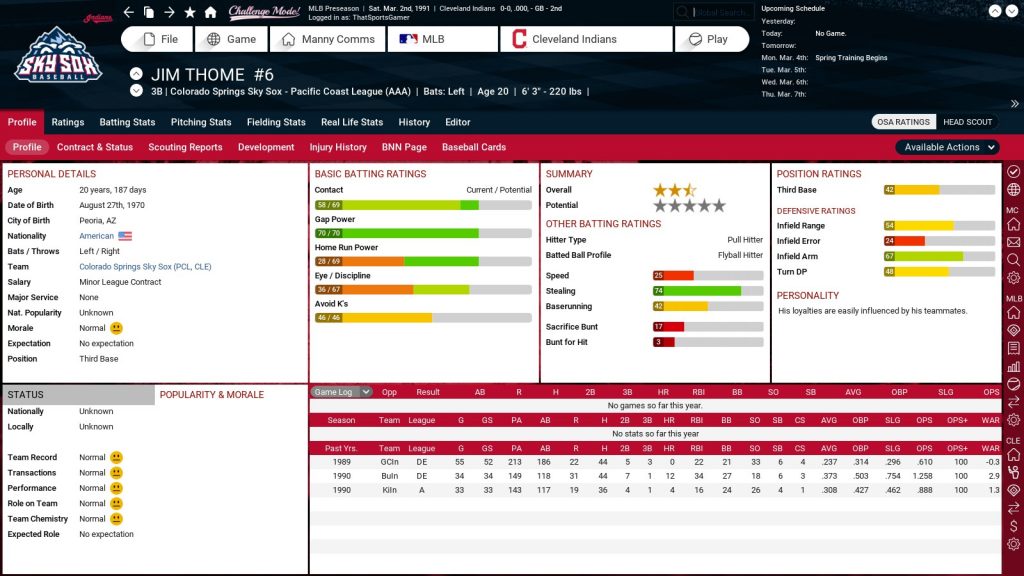 Asked for his future plans, Lauerman replies: "The basic plan is to pretty much follow the path that the Indians actually did in the early 90s, but maybe keep an extra player or two, and make some more interesting trades. I'm into 1992 right now, and Manny Ramirez and Jim Thome have made it to the majors, and I was able to trade the Seattle Mariners for a package of Omar Vizquel and Make Hampton. If everything works out, I'm hoping to have a championship contender around 1994-5."
Stay tuned for more!
Grisham would like to send us off with these thoughts: "As we grow, so will the series! We've got big future plans to showcase additional new modes like tournaments and Perfect Team, and as we expand our overall title portfolio, the opportunity to expand the breadth and depth of Out of the Park Developments on Twitch will get bigger. Stay tuned!"