This is a guest post by Dan Glickman. Dan is a freelance writer, journalist, and blogger from Rochester, NY. When not searching for a job, watching baseball or playing video games, he runs The Baseball Continuum.
Not much is known of the baseball culture of Greenland. It is, after all, Greenland, one of the coldest and least densely populated places on the planet. But, there is baseball there. Not like the baseball we know, but baseball all the same. Because, you see, in Greenland they play "diamond wall baseball". This strange game involves outfield walls that are almost a straight line, making the field look like a literal diamond.
And then, there is the fact the outfield walls are 700 feet high. I don't know how they pull that off, but just roll with it.
Never heard of Greenland's "diamond wall baseball"? That's because it doesn't really exist. It only exists in Out of the Park Baseball 2016. I've been doing a series called "Breaking OOTP" at my blog, the Baseball Continuum, which I try to push the OOTP engine to it's limits. So when I was asked to bring a special installment to the OOTP site, I decided I'd do this.
So, let's look at the field that all eight teams will be playing, the brilliantly named "Wall Park":
Wow, it does look like a diamond, doesn't it? What are those dimensions? Well, going from the  left-field line to the right-field line, they are 412-335-300-290-300-335-412. And, yes, all the walls are 700 feet. Why 700 feet? Because this is partly inspired by the Wall from Game of Thrones. That's why.
Now, there is a great site by Eriq Jaffe that determines what the park factors for OOTP would be for stadiums. Here's what it spat out for the "wall park":

However, when I tried to insert that into the game, it appears that the OOTP developers have developed an immune system to keep it from being too crazy. Trying to enter 16.514 for doubles just caused the game to reset it to 1 whenever I tried to save or change the page. So, I had to dial it down to…. 4.999.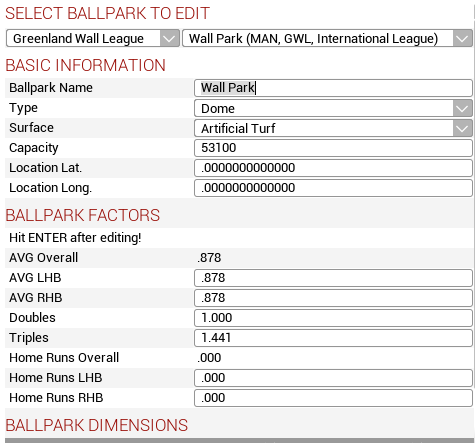 Meaning, that, yes, this simulation will see players have almost five times as many doubles as could be expected if they were all playing in neutral fields, but it could have been much more crazy!
Now, there are eight teams in the Greenland Wall League, and for the most part it's the same rules as MLB. Them, all the players, and all the names and logos of the teams were completely computer-generated. So, we get some weird names:
So, why would a team in Qasigiannguit be called the Hoosiers? Are there even bees in Sisimiut? And why are both divisions called "white"?
Well, the last one is because I was an idiot and somehow forgot to give them new names, but, yeah, the other stuff is just because that'd what the game spat out for them. This isn't really about who wins the season, anyway, but rather how insane the doubles numbers will be and if any other weird quirks will happen.
Oh, there is one more difference: the Nuuk Rivermen will have one guy who is at the highest possible level in EVERYTHING. Why? Because why not? Meet Ake Holby: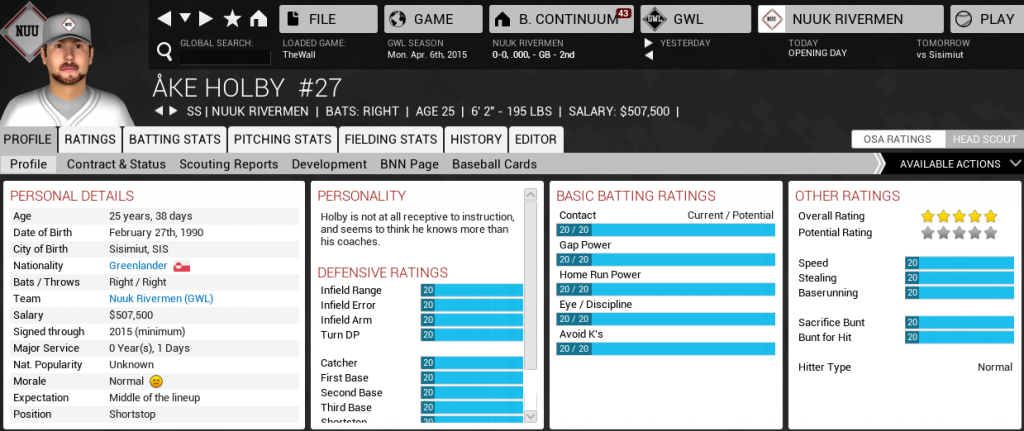 So let's cut to Nuuk's first game of the season, against Sisimiut. With two outs in the top of the first, Sisimiut's Magnus Seidenfaden does what plenty of players do in the Greenland Diamond Wall League: hit the ball off the 700-foot wall.

The game, overall, is uneventful, with the Bees beating the Rivermen 7-2, with only four doubles in the game! This is a far cry from, for example, a game that took place the day before between Maniitsoq and Oasigiannguit, which had NINE doubles in a game that only had 15 total hits!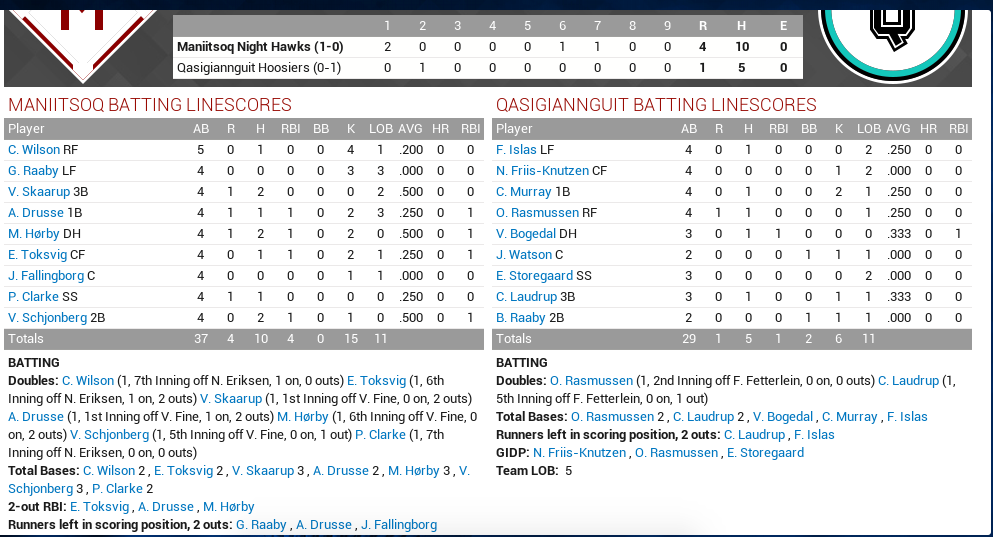 Yes, this will be a weird league. And that's made all the more clear when we fast-forward through two months to the end of May and look at the league leaders: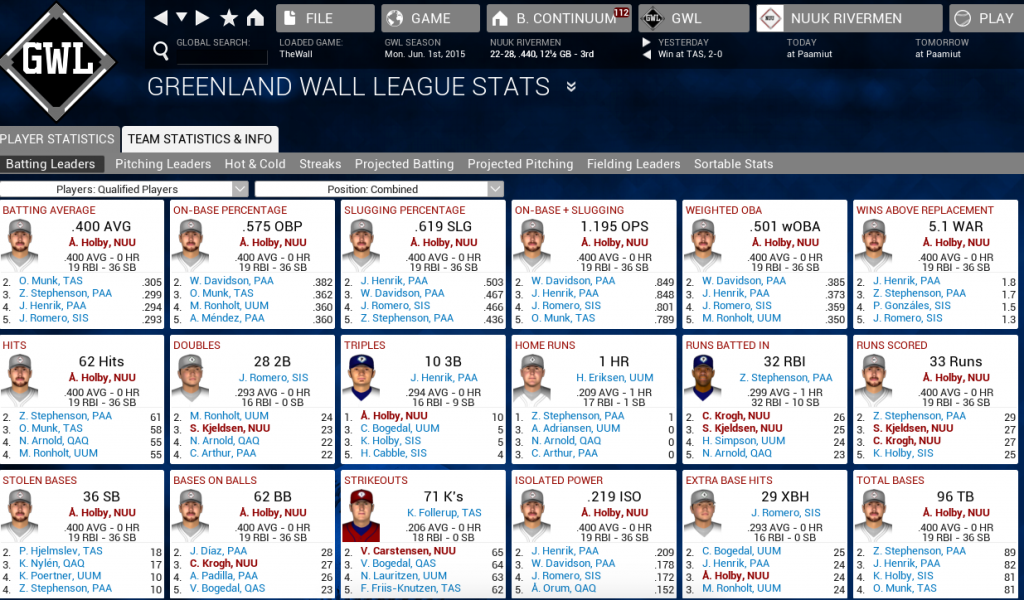 The first think you probably notice is that, as expected, there aren't many homers. There are just two. Personally, I think that OOTP greatly underestimates the number of inside-the-park homers that would result from having a gigantic wall and the corners being over 400 feet away, but then again I doubt the people at Out Of The Park Developments expected anybody to be doing this insane. Well, at least those two home runs that have happened in the first two months of the season were inside-the-park, right?

Holy crap. Henrik Eriksen hit a baseball 867 feet for a home run despite the fact the park level is .000. And, what's more, it actually sort of makes sense that a ball that somehow got over a 700 foot fence would end up going that far. Still, that's over 300 feet longer than the longest estimated home run in history by Mickey Mantle and over the length of the Hindenburg. It should be both physically and mathematically impossible given the park factors I put in. I am now honestly curious as to how OOTP calculates how far HRs go. This might be worth further study in the future. At least the other HR was probably a inside-the-parker, right?

What. Okay, so, clearly, there's something inside of Out of The Park Baseball that demands that dingers be hit. I literally set the park factors to .000 and yet two guys hit it out but nobody hit a inside-the-parker. Bizarre.
But anyway, other things that stand out in the leaderboard is that Ake Holtby, the do-everything superman I created, is hitting .400, has a war of 5.1, has 36 steals and is tied for triples at 10.
Now, let's zoom to the All-Star Break and take a look at the leader boards: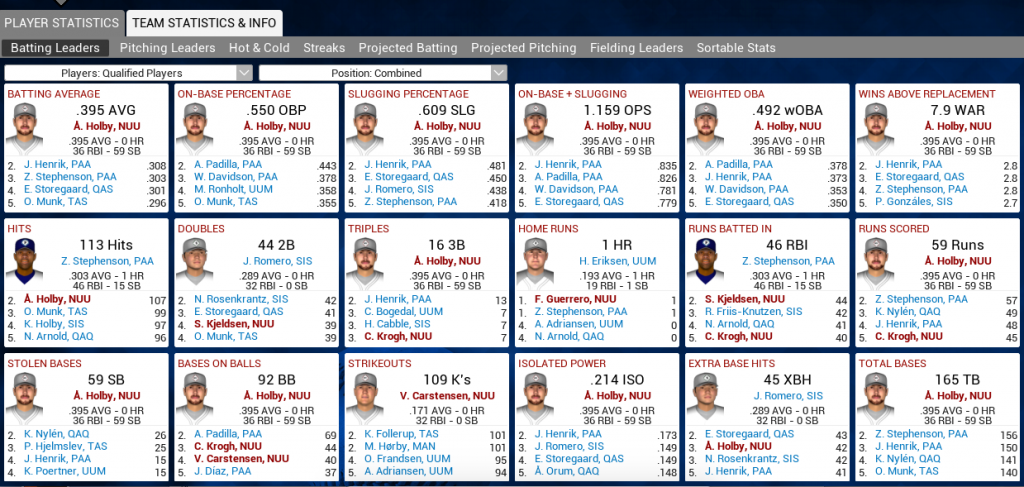 First off… yes, Francisco Guerrero hit the home run and it wasn't a inside-the-parker. Bizarre. Holby's quest for .400 is on it's way but he's currently fallen behind the line. And the current mid-year leader in doubles, Juan Romero, has 44 doubles. By comparison, Michael Brantley had 45 doubles all of last year, and it was enough to lead the league. Oh, and Romero? He has 89 total hits, so almost half of his hits were doubles.
Oh, and Holby's 59 stolen bases is one more than Dee Gordon had last year to lead the league. The 16 triples is also one more than last year's MLB leader (Eddie Rosario). And, again, this is just the first half of the season. The near-total lack of home runs and the strange dimensions of the Wall Field are causing the would-be homers to be distributed into other types of extra-base hits, and Holby's maxed-out stats are making some statistics even more ridiculous.
Oh, by the way, Holby only has been struck out 14 times. At first you might find that amazing, and it is… until you realize that he's on pace to have more strikeouts than Tony Gwynn had in some of his best seasons. Then again, Tony Gwynn was a freak of nature that not even Breaking OOTP can replicate. Yes, there are certain things in baseball that Out Of The Park can't seem to replicate even when it's been set-up in a way basically meant to create crazy results: Bowser couldn't out-homer 2001 Barry Bonds for a team made up of Mario character that couldn't out-win the 2001 Mariners, and nobody was able to break the professional record of 69 straight games with a hit in a league where the outfield did not, technically, exist.
I now prepare to zoom to the end of the season. Well, almost. Because at one point in September, Ake Holby gets a injury: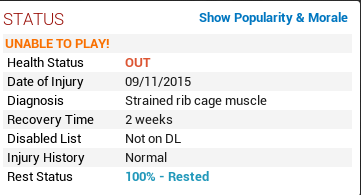 I, of course, am not going to let this stand. So, like a friendly and generous deity, I heal him: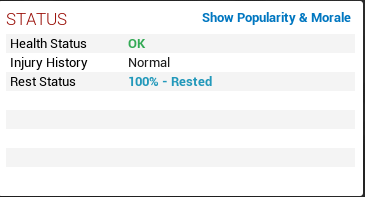 And then I realize something: I gave Holby perfect scores in every fielding position. Other than the pitching stuff, Holby is the perfect player. Why not Campaneris this thing?
So I did. Now, the first 8 innings were boring: Holby didn't commit any errors, but he didn't do anything too amazing either. But, then there's the 9th inning. Now, the only things I didn't make Holby perfect in was pitching. How would he do? He was up 13-8, but it didn't start off well, as he gave up a line-drive single to the first hitter and then walked the second.
And then Bendt Junge did this: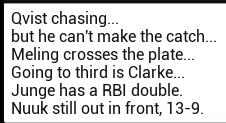 And then Holby walked a guy, and then Gregos Raaby of Maniitsoq hit his third double of the game to make it 13-11. And then Valter Skaarup hit a 2-run single to tie the game at 13.

You'd think I would pull Holby now, but, guess what? I'm not because this is Breaking OOTP.
And, besides, Holby got the next guy to pop out for the first out. Oh, sure, the next guy hit a double and put two men into scoring position with just one out, but, who cares? This is Breaking OOTP! And if I want to have a non-pitcher pitch in a world with few home runs and an insane amount of doubles, nothing can stop me!
And, sure, the next guy drives home the go-ahead run, but it's on a groundout. And then, the next guy seems to hit an easy grounder so…

Oh crud. Oh, that won't do.
Ultimately, the inning ends with Maniitsoq up 15-13.
BUT WAIT! In the bottom of the 9th, the Rivermen score a run and soon have the tying run on second with just one out. Oh drama!

But, alas, the next person grounds out. And so, it's up to Francisco Guerrero to get the game to Ake Holby.
He fails:

Here's the box score for the game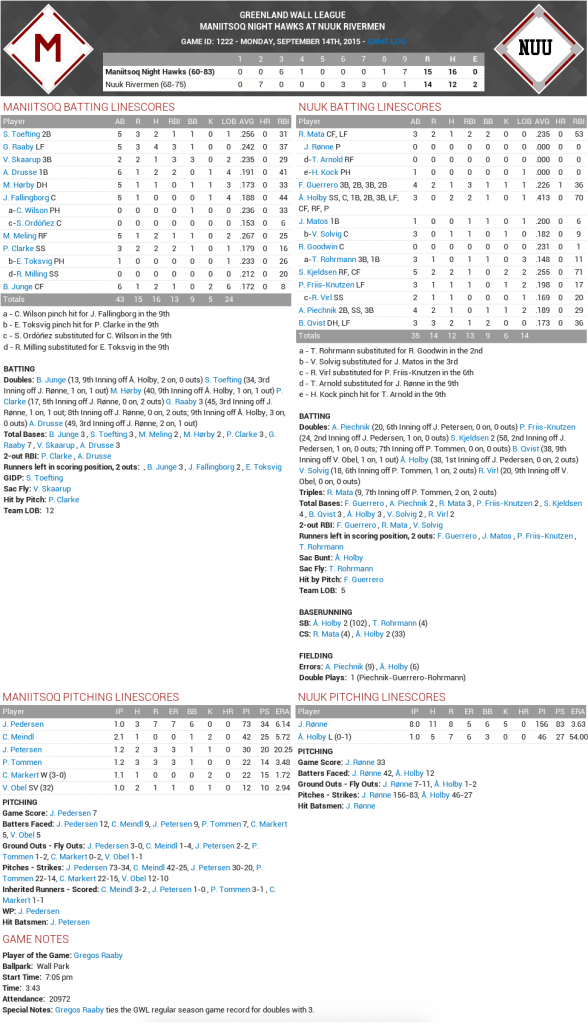 So, with that done, all that's left is to see how the season ends: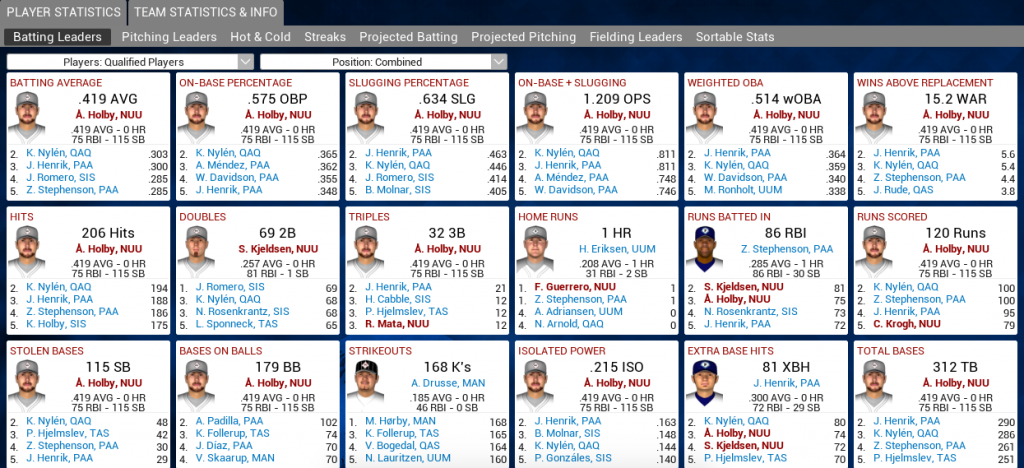 Holy cow. Look at Holby. Never mind the .419 batting average or 206 hits, look at that .575 on-base percentage, which in MLB would have been the highest in history before Barry Bonds became a thing. The 15.2 WAR would be the highest in history. So would the 39 triples. His 179 walks would be the most of the pre-Bonds era. The 115 stolen bases would be the most since 1982.
Sern Kjeldsen's 69 doubles, meanwhile, is shockingly only two more than Earl Webb's 1931 record. Perhaps, like Bowser's failed attempt at Bonds or J.R. Miles' failed assault on the professional hitting streak record, that's just one of the weird things that even the strange world of Breaking OOTP can't seem to break.
Now, finally, here's how the teams did and the overall league's stats:


Obviously, the most notable thing is how there were a total number of ZERO home runs after the All-Star break. The other thing is how crazy the stolen bases were for Nuuk (primarily because of Holby) and the rest of the teams. Oh, and in history, only 14 teams have had 350 or more doubles in a season. Every single one of the teams in the Greenland Wall League got well above that.
Oh, and obviously the 700-foot walls and the essential abolition of home runs caused the league's batting averages to plummet to .234, which would be the lowest league batting averages ever if you were to take MLB as one league and behind only the .230 of the American League in 1968.
So… what did we learn from this special installment of "Breaking OOTP"? Well, for one thing, it tells us a bit about the limitations of OOTP, but also how remarkable it can be even within those limitations.  The game wouldn't let me turn the doubles up to 16, only up to 4.999, and yet even then it produced a doubles-happy environment with no-doubt countless balls off the walls, and even with home runs supposed to be banned, there were three out of the park homers.