The Major League Baseball Postseason is underway, with the Houston Astros seeking to defend their first World Series championship. Many of the teams have returned from the 2017 MLB Postseason, with the exception of the Atlanta Braves (last appearance: 2013), the Oakland Athletics (last appeared in 2014), and Milwaukee Brewers (last berth: 2011).
Like last year, when Out of the Park Baseball 19 correctly forecast the Houston Astros winning the World Series in seven games, OOTP 19 has offered a glimpse into the 2018 MLB Postseason. Our friends at MLB Network offered a look at what could be in store this month, courtesy of OOTP 19's robust simulation engine.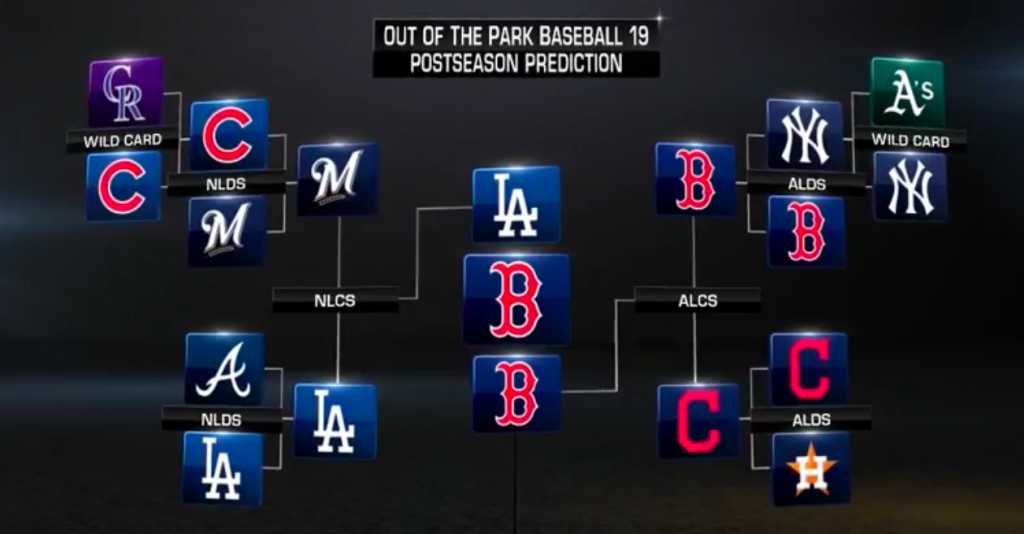 National League
OOTP 19 saw the Chicago Cubs defeating the Colorado Rockies in the Wild Card play-in game before falling to the Milwaukee Brewers in the NLDS. The Los Angeles Dodgers beat the Atlanta Braves in the other Division Series, setting up a National League Championship Series in which the Dodgers punched their ticket to the World Series for a second straight year.
American League
On the other side of the playoffs, OOTP 19 forecast the New York Yankees eliminating the Oakland Athletics in the Wild Card play-in game but losing their Division Series to the Boston Red Sox. The Cleveland Indians ensured the Houston Astros wouldn't successfully defend their championship but lost the American League Championship Series to the Red Sox.
World Series
Sorry, Los Angeles Dodgers fans: OOTP 19 saw the Boston Red Sox as heavy favorites throughout the Postseason, putting an exclamation mark on a remarkable season with a World Series win. After two straight years in which they lost in the Division Series round, this would be the Red Sox' first championship since 2013 and fourth since 2004.
The Curse of the Bambino has definitely been put to rest, no matter how the real life Boston Red Sox fare this October.