OOTP 17 is the ultimate sandbox game for baseball fans – and it's so big, we sometimes receive suggestions from new fans as well as longtime players about new and interesting ways to jump in and play. With that in mind, here are five really cool "hardball sandcastles" you can build, in no particular order.
And don't forget that you can mix and match just about any options you want to create a unique experience that few baseball fans have ever seen!
1. Run nearly any minor league team, past or present.
(Bonus points: Try one in another country.)
OOTP has long offered full minor leagues, down to Short A and rookie ball, so you can accurately simulate your draftees' progress as they strive for a shot at the big leagues. Previously, when you took over a historical MLB club, their minor league teams were fictionalized, save for any prospects who eventually played in the majors—you could block fictional players from reaching the majors.
In OOTP 17, along with the full MLB license, we also introduced full historical minor leagues from 1919 through 2015, with a database of more than 150,000 real players. Yes, that means guys who played some minor league ball but were famous for other things are in the game, such as Michael Jordan, John Elway, Ricky Williams, and Mario Cuomo (I know, right?). The Sporting News published a handy list of nine such players, if you want to take a shot at seeing if any of those guys could reach the majors.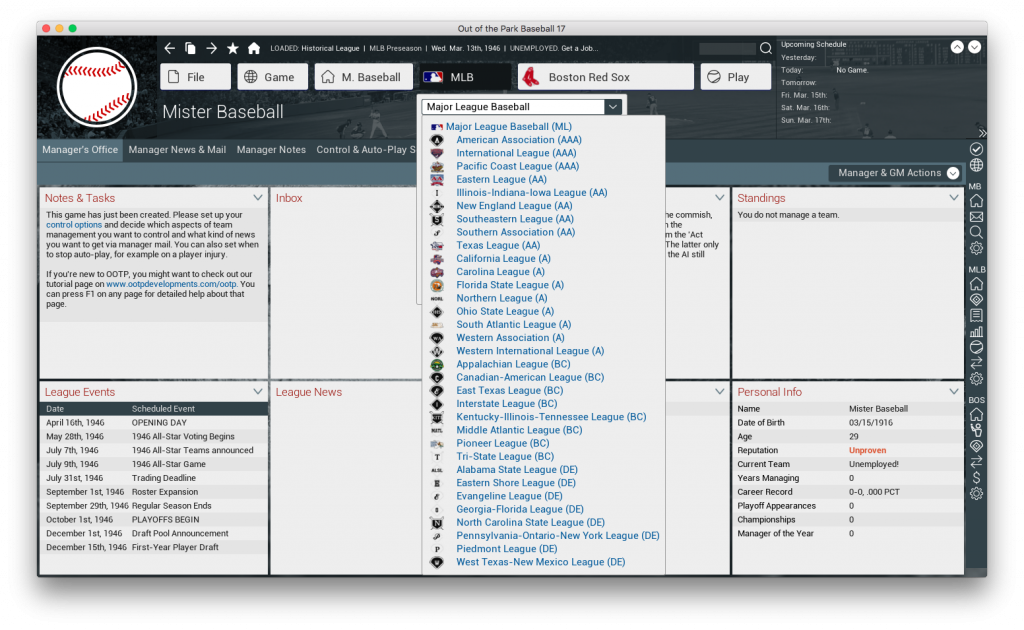 Running a minor league team offers some unique challenges, since you're at the mercy of the parent team's decisions. That is unless you run an independent minor league team—yes, those are included too. Witness a rising star have a breakout season and he could easily be snatched away to play at the next level. If your team is really good, you run the risk of losing your best players.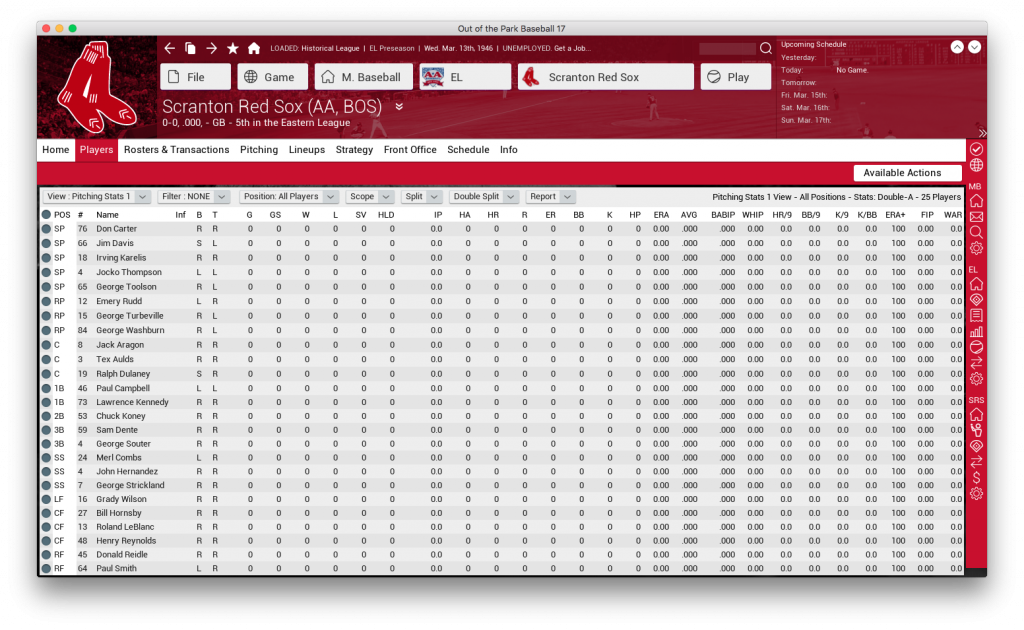 OOTP 17 also features minor league teams alongside its big leagues in Japan, Korea, and Taiwan, which gives you the chance to take on that unique challenge in another country.
2. Take control of an historical team and radically rewrite history.
In addition to full minor leagues dating back to 1919, OOTP 17 offers full major leagues as far back as 1871. As you play through history, the game naturally expands the leagues and relocates teams when those events happened historically, but you can flip the switch on those events and rewrite history. What if the reserve clause never existed and free agency was part of baseball from the beginning? What if teams like the Montreal Expos or St. Louis Browns never moved? If you have automatic league expansion turned on, you can always undo team moves by editing them so they're back in their original cities.
As you play through history, real players also show up. You have three ways to handle that:
They can show up on their natural big league clubs at the start of the season in which they made their MLB debuts.
They can enter the amateur draft the year before they made their MLB debuts, which enables all kinds of interesting alternate reality scenarios.
They can show up randomly throughout history, which creates the ultimate mash-up universe. Babe Ruth and Albert Pujols might play on the 1982 Milwaukee Brewers with Three-Finger Brown and Max Scherzer leading the pitching rotation.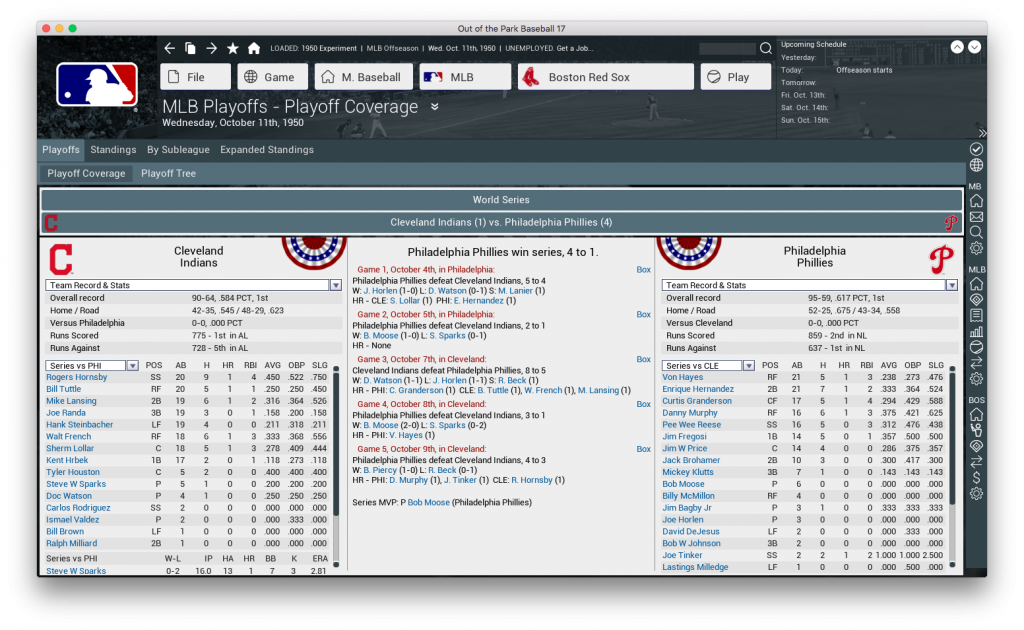 You are welcome to dig deeper in OOTP 17's sandbox to fidget with additional game-changing options. How about getting rid of the reserve clause and letting modern free agency rules exist from the beginning of the sport? What if dead ball baseball persisted until today? Try either of those scenarios and more by tinkering with the league settings.
3. Replay any World Series in history.
Pretty much every baseball fan has a few World Series match-ups they'd like to replay, so this option offers hours of excitement. In addition, you can set the game era and strategy parameters for a historical match-up or World Series replay. You can choose either team's year for that setting or the modern era.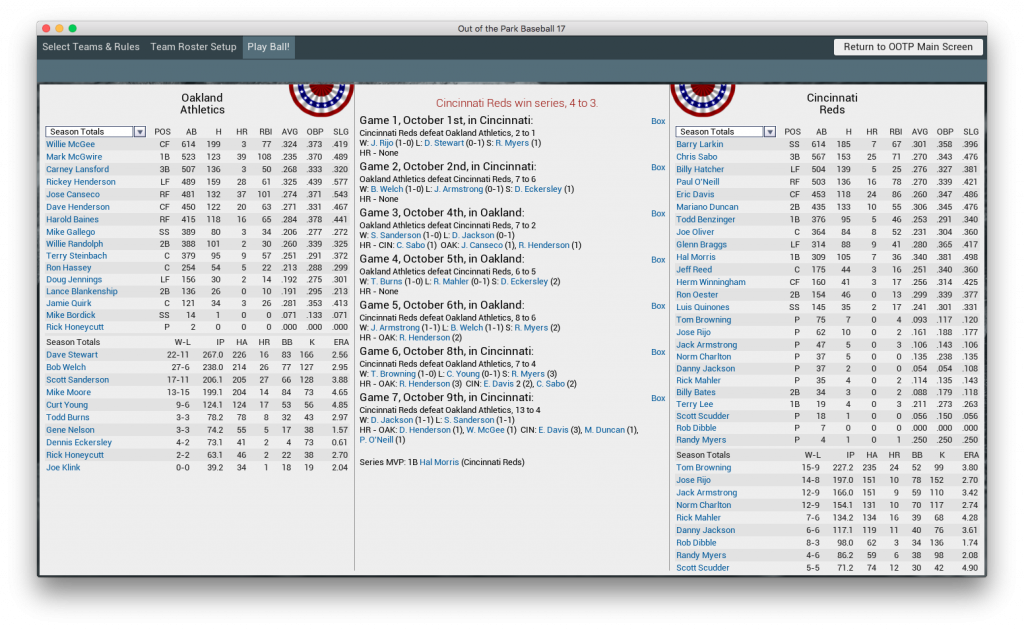 4. Play in GM-Only or Manager-Only mode.
The default mode most people use for OOTP is one where they are the GM and manager of their team, so they can execute trades, set lineups, decide when to steal bases, and so forth. It gives you ultimate control over the club, but if you want a new challenge, try GM-Only or Manager-Only mode.
As each name implies, you take on one role or the other and are limited to their respective functions. So go ahead and be the GM, but be prepared to deal with a manager who will handle the day-to-day tasks the way he wants; some managers are more agreeable to interference from you than others. If your manager refuses to let you meddle at all, your only choice is to fire him and try someone else.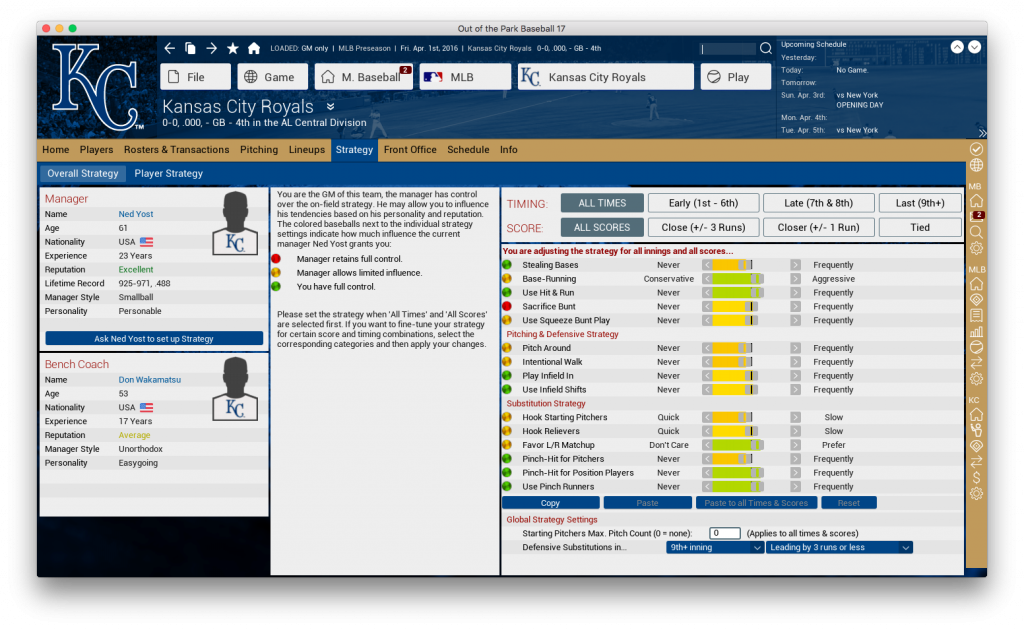 Or you can manage the team your way, but don't be surprised when you advance a day and your pesky GM took it upon themselves to trade one of your players away. Welcome to the big leagues, buddy.
5. Build a fictional world and tinker under the hood.
If you want to build a one-of-a-kind sand castle, create a fictional baseball world. You can select a real world configuration, such as MLB or Japan's major league setup, as the foundation, or you can create something entirely fictional, with up to two subleagues, up to 50 divisions per subleague, and up to 50 teams per division. Your league can be based anywhere in the world.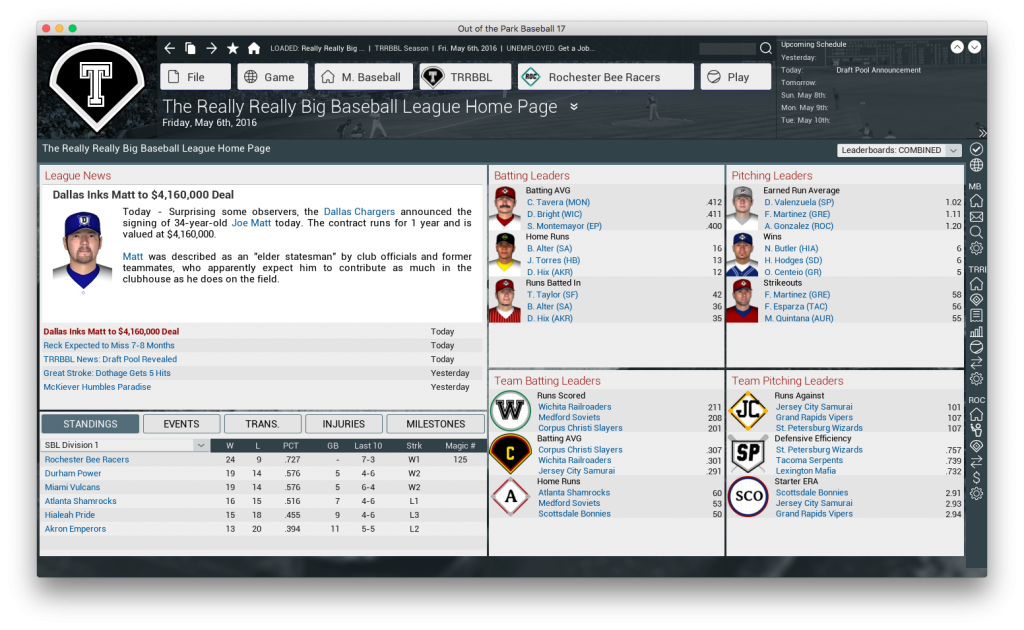 If you're really ambitious, you can tinker under OOTP's hood and build something really interesting, such as SABR member Chuck Hildebrandt's English Baseball League, which asks the question: What if baseball, not soccer, became popular in England toward the end of the 19th century? We interviewed him for this blog, if you want to learn more. Or check out our interview with Ian Silva, who created the very intricate Koana Islands baseball universe.
There are even more possibilities to explore, so fire up OOTP 17 and start dreaming up your own world.