(This article is based on a 2015 season sim conducted in late February, during the Out of the Park Baseball 16 Beta period, so anything that has happened in Major League Baseball since then is not reflected. However, it's still useful for looking at how the current season might unfold.)
By John Comey
In Major League Baseball, consider 2015 a year of transition in an era of transition.
The power of the game has shifted west from a long-standing hold on I-95. While Los Angeles and Boston still hold rank as two big market powers to be reckoned with, smaller market and overlooked franchises have been slowly redesigning the landscape of baseball. Home runs and slugging percentage are out; walks, steals, and OPS reign supreme.
The hub of the game is on The Beltway, I-70 in Missouri, and on I-5, from Anaheim to LA, from San Francisco to Seattle. Miami may very well be a force to be reckoned with, while nobody quite knows if Atlanta is going to contend or rebuild. Nobody knows if the kids in Chicago are all right. Nobody knows what to expect in Oakland, Detroit, Toronto, or Cincinnati.
Really, the only thing everyone can agree upon is that Philadelphia will be awful. (Written by a Phillies fan. Sigh.)
If you want a shining example of transition, consider this: this year's version of Out of the Park will be the first without Derek Jeter.
Without Jeter, Bud Selig, or Adam Dunn, Carlos Zambrano, or Jason Giambi, fans are in uncharted waters. So we decided to do something we have not done before. We are going to play out the season, and let OOTP try and make sense of what happens. There are far more questions than answers to begin the season. What better method is there to answer them, than to have the best game on the market settle things?
April: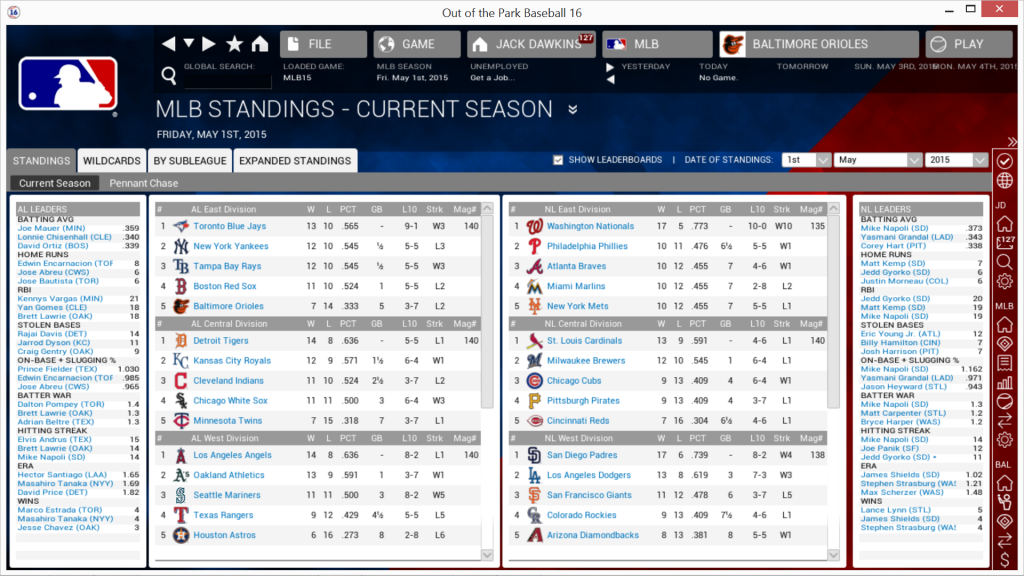 The surprise is in San Diego, where the Padres blew out to a 17-6 start. They did this with the quick acquisition of Mike Napoli from the Boston Red Sox. All Napoli has done is hit .373/.476/.687 in his first month with San Diego. It will be interesting to see if he keeps that up. Napoli took the NL Player of the Month award, while Brett Lawrie is showing to be another stellar pickup by Beane. He won AL POTM, hitting .309-5-18. Lance Lynn, as he does everything, sneakily won NL Pitcher of the Month, going 5-0 with a 2.06 ERA. Masahiro Tanaka picked up where he left off, going 4-1, 1.69, with 35 strikeouts in 37 innings. He nabbed the top pitcher award in the AL for April.
The Nationals, meanwhile, already own a 6.5 game lead in the NL East. They finished the month on a ten-game win streak, winners of twelve of their last thirteen.
April 6: Martin Prado, in his Miami Marlins debut, goes 6-7 with five doubles in a 3-2 win over Atlanta. Despite the five doubles, he drives in no runs.
April 8: Wei-Yin Chen tosses the season's first no-hitter, a 2-0 blank of the Tampa Bay Rays. Chen strikes out four and walks four, getting thirteen groundball outs. James Loney, predictably, has no hits, but two walks. Manny Machado homers in the win. He stays intact.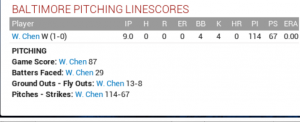 April 10: Almost on cue, Troy Tulowitzki strains his PCL and will miss three weeks. Meanwhile, San Diego, wanting more offense, trades C Tim Federowicz and a prospect for Mike Napoli. You read about how that turned out for the Padres.
April 12: Robinson Cano goes down with an injury and misses five weeks with shoulder bursitis. Also, the Adam LaRoche experiment lasts one week in Chicago, as the White Sox ship him off to Tampa Bay, in exchange for Grant Balfour and a prospect. Meanwhile, Carlos Gonzalez, having missed the signal from Troy Tulowitzki earlier in the week, finally goes down with his first injury of the season. He will miss 1-2 weeks with back tightness.
April 13: Buster Posey goes down for 4-5 weeks with a lat suffered earlier in the week. That's a big blow to the San Francisco Giants' offense.
April 15: Top prospect Byron Buxton has his contract purchased by the Minnesota Twins. Meanwhile, the Los Angeles Angels lose Albert Pujols to a torn calf muscle. Pujols was hitting .353/.350/.588 at the time of the injury. Jose Reyes also goes down for a month with a strained rib cage.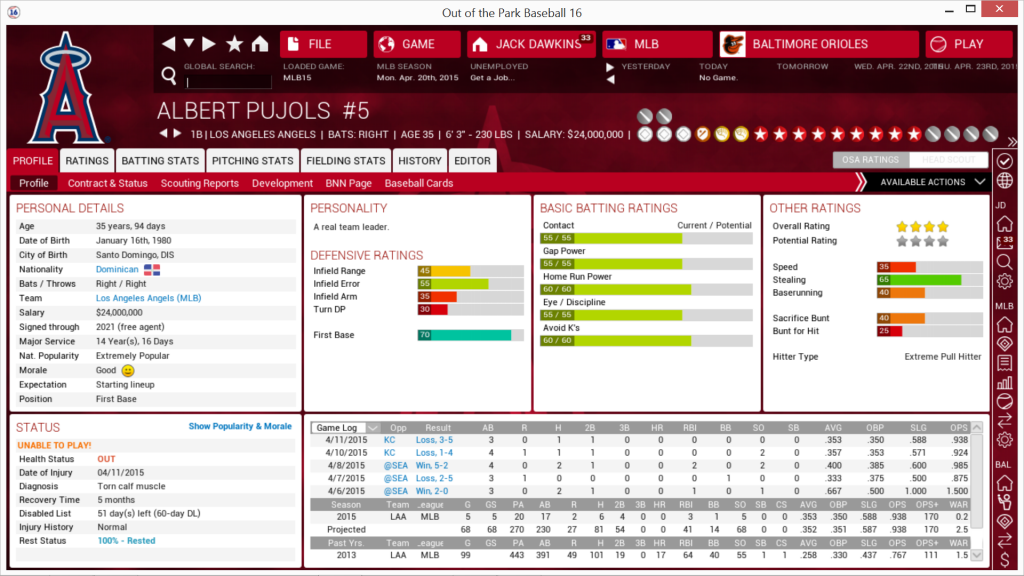 April 16: Stephen Strasburg tosses a three-hitter, punching out thirteen Philadelphia Phillies in a 4-0 Washington nationals win.
April 17: Rafael Soriano signs with Colorado. The deal is for the season, at less than a million.
April 18: The Chicago White Sox send Andy to AAA. On the field, Edwin Encarnacion hits three solo home runs against Atlanta. That give him six on the year, despite a .212 average. (He would finish the month .295-8-15.)
April 19: Only an error from Wilmer Flores allowed the Miami Marlins to reach base against Bartolo Colon. The error, with two outs in the first inning, didn't seem like anything at the time. Colon pitched the year's second no-no, striking out seven and walking nobody in the Mets' 7-0 win over the Miami Marlins. It was 0-0 until the eighth, when the Mets scored all seven of their runs, primarily against starter Henderson Alvarez.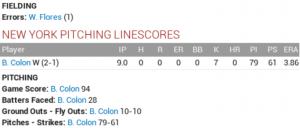 April 28: Danny Salazar shot himself in the foot. Literally. He'll miss a month. This comes one day after fellow AL Central Danny, this the Minnesota Twins' Santana, goes down for two months with elbow tendinitis.
May: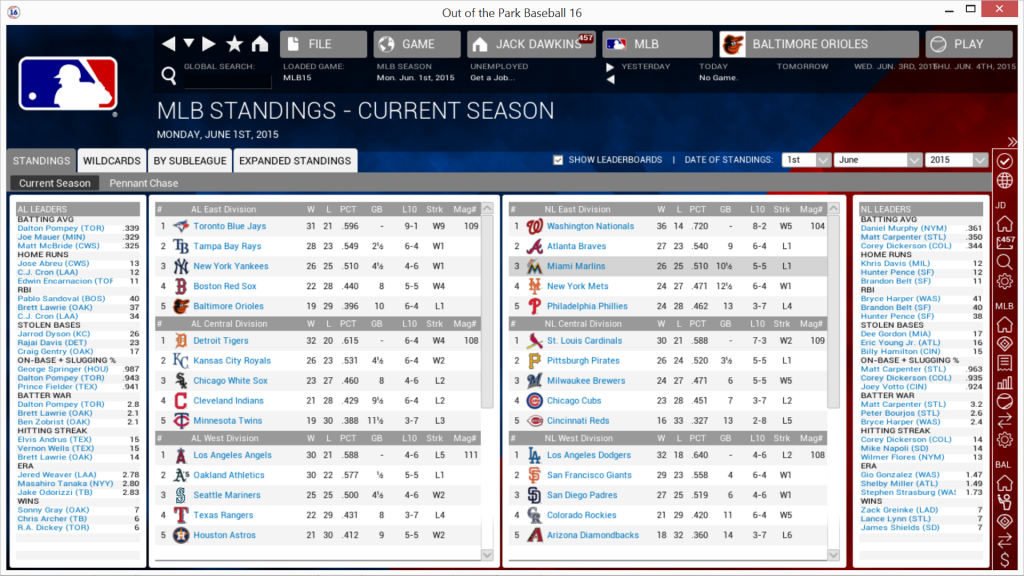 The big story came from Toronto, where the Blue Jays ran off nine straight to end the month. The 31-21 team took a 2.5-game lead over the Tampa Bay Rays. This is due, in no small part, to rookie Dalton Pompey. Pompey hit .345-4-19 in May, taking ROTM honors for the AL. Meanwhile, Colorado has been a disappointment, going 21-29. Their big stars, Troy Tulowitzki (.220-4-12) and Carlos Gonzalez (.234-6-19), have been the microcosm of their downfall. The Washington Nations (36-14, winners of 30 of their last 40) have run away with the NL East, taking a nine-game lead over Atlanta. The Pittsburgh Pirates are attempting their yearly slow build towards contention; where they refused to wake up during April, they are now just 3.5 back of St. Louis.
May 10: San Francisco Giants closer Santiago Casilla goes down with an elbow injury and will miss at least the next calendar year. Meanwhile, Leonys Martin, due to symptoms related to a concussion, is forced to retire. The Boston Red Sox lost ace reliever Junichi Tazawa to an injury on the mound. The prognosis is pending.
May 11: The Los Angeles Dodgers, who won their thirteenth straight game, open up a six-game lead on San Diego and San Francisco. The San Diego Padres have lost seven in a row. Did they buy the hype, or too many sluggers? Elsewhere in the NL, in a move that shook the foundation of the NL Central, and may very well have playoff ramifications, the St. Louis Cardinals traded for Aroldis Chapman from Cincinnati. That's odd, considering Trevor Rosenthal's status as the closer in St. Louis.

A quick look at Rosenthal shows an injury (he's due back this week) and ineffectiveness proved to be the cause of the move. It will be interesting to see what St. Louis does when he returns. Notice the player pop-up that has been added to OOTP16. It is wonderful for getting a glimpse of the player, without having to go to his player card.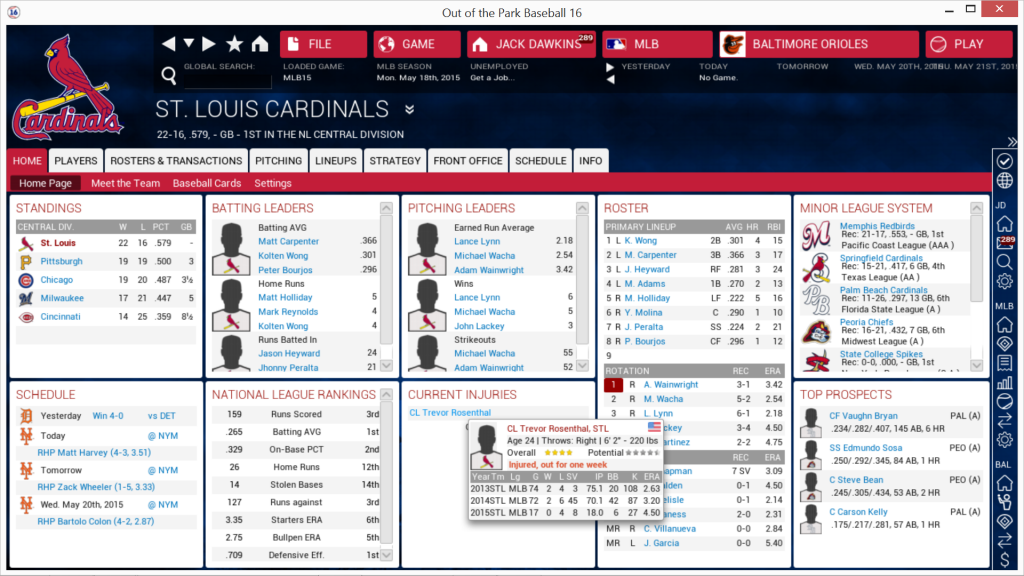 May 14: The Boston Red Sox lose relief ace Junichi Tazawa to a torn labrum. He is looking good for an Opening Day return in 2016. That's the good news. The bad news is the same news. He had given up just four hits, against 14 strikeouts, in 15 innings.
May 21: B.J. (Melvin) Upton broke his kneecap, effectively ending his season. He hit .243-6-11 in 38 games. Additionally, Aroldis Chapman, the newly-acquired St. Louis Cardinals closer, tore his rotator cuff. The Cincinnati Reds sold high. He will miss the rest of the season. It's Rosenthal's show now.
May 27: Tanner Scheppers tossed the season's third no-hitter, beating Cleveland 1-0. He struck out seven and yielded just a walk to Lonnie Chisenhall.

May 31: The Cleveland Indians traded Danny Salazar to the Colorado Rockies, a few weeks after he shot himself in the foot.
Also, the Philadelphia Phillies traded Cliff Lee to the Los Angeles Angels, getting three prospects in return. The Phillies had gotten themselves to .500 earlier in the month, but slid back to last place.
June:
(Editor's Note: The screenshot of standings got damaged. Needless to say, nothing really changed. You can go back and check on any day in the standings during a season in OOTP, but doing so here would create a spoiler. Maybe at the end of the piece.)
A 22-5 month helped the St. Louis Cardinals (52-26) open up a ridiculous 16-game lead on Pittsburgh. Their staff ranks in the top three in every category but strikeouts. Meanwhile, the Washington Nationals (51-26) hold a 10-game lead on Atlanta, while the Los Angeles Dodgers are comfortably in front of the San Diego Padres and San Francisco Giants. The races to watch are in the AL, where all three divisions are up for grabs. Toronto (47-32) has the biggest lead, six over Tampa Bay), but they are hurting. The Boston Red Sox, at 36-43 (half-game worse than Houston), are the league's biggest disappointment. Even the Chicago Cubs, at 32-47, have so many kids that it would take time for them to grow.
June 7: Adrian Beltre hit his 400th career home run. It would be a month full of landmark home runs.
June 8: Texas' losing streak reaches 10, and the Rangers fall to 22-35, worst record in the American League. As of today, Gio Gonzalez has a 1.27 ERA, which you can see below (pitchers sorted by wins). Five pitchers have ERAs below 2.00; all are from the NL.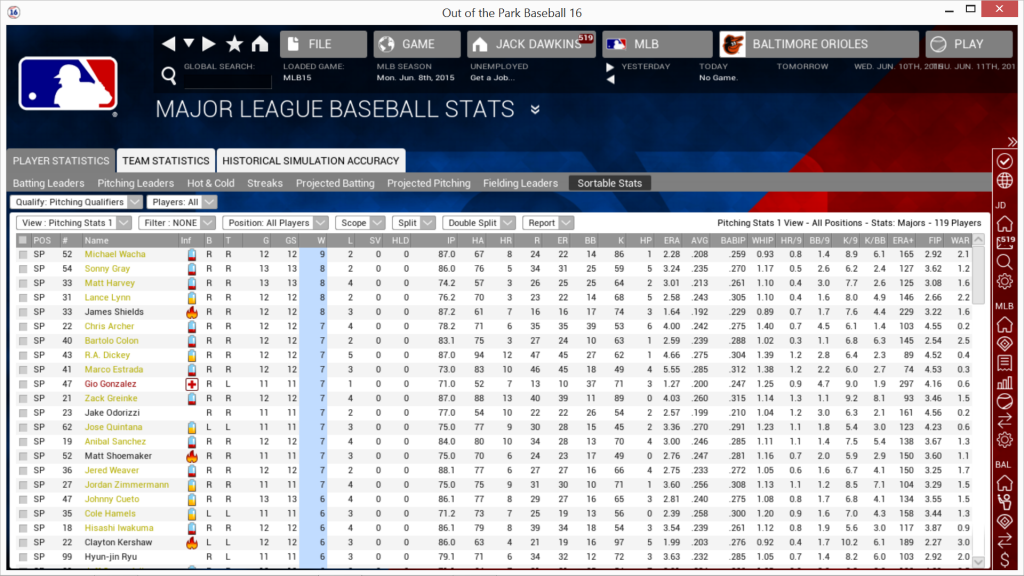 June 12: Michael Wacha (10-2) is the first to ten wins, after going eight innings of six-hit ball to beat Kansas City, 5-1. Two days later, James Shields (10-3) joins him after beating the Los Angeles Dodgers, 5-2.
June 15: Justin Turner cycles for the Los Angeles Dodgers, going 4-5 with seven RBI against the Texas Rangers. Meanwhile, Miguel Cabrera hits his 400th career home run, a two-run blast off Tommy Hanson.
June 17: Not to be outdone by their NL counterparts, the Los Angeles Angels' Mike Trout goes 5-6 with a cycle against Arizona. He is hitting .305/.373/.523 with 15 homers and 49 RBI on the season so far.
June 19: The Minnesota Twins throw in the towel on 2015. After being neutral on their stance, winning versus rebuilding, they decide to enter the rebuilding stage.
June 20th: Prince Fielder, having rebounded nicely from last season's disaster (.293/.393/.502), hits the 300th home run of his career, a ninth inning shot off of Grant Balfour. He has 13 homers on the season so far.
June 24: Alex Rodriguez collects his 3,000th hit. He is hitting .235/.330/.310, with three homers and 31 RBI, in 321 at-bats. His WAR sits at 0.1, and he is on pace to hit his 660th home run on the final day of the season. For the record, his last home run was May 22nd.
June 25: Texas officially puts Elvis Andrus on the trading block. He is hitting .296/.333/.373 in 41 games. Andrus, as one could expect, is angry at being put on the block…but not really, because it's by the 29-49 Rangers.
June 26: Carlos Beltran continued his incredibly disappointing campaign by breaking his elbow. The New York Yankees put him out to pasture via the 60-day DL. He hit .249/.293/.419 with 10 homers and 33 RBI.
June 28: Torii Hunter suffers a setback in his recovery from a neck injury. It is his second prolonged injury of the season: on April 15, he went on the DL with a severe hamstring pull. He returned from his injury on June 4, only to go down with a neck injury on June 10. So far this season, he has played in just eleven games.
Carlos Gomez has had a similar fate. The Milwaukee Brewers' CF missed five weeks with a fractured foot, returned, and then, on the same day, went down for three months with a herniated disc.
July: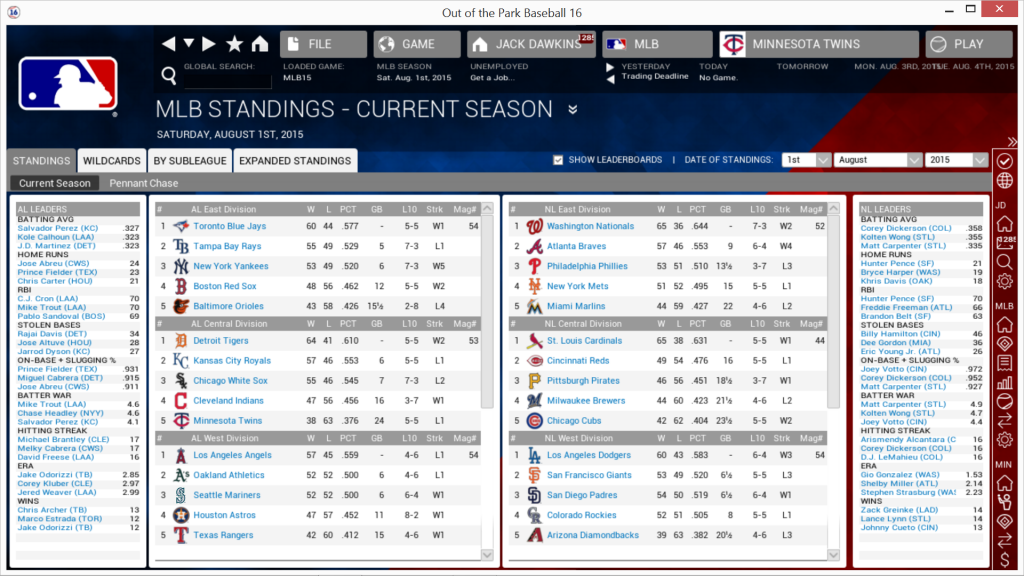 The big story here is injuries. Otherwise, all the teams held serve during the month, while the possibility remains, at least in the AL, for some intriguing pennant races. The wild card races, in both leagues, are going to be very intriguing. In the NL, the Atlanta Braves have a grip on one spot, while the second is up for grabs between the San Francisco Giants, San Diego Padres, Colorado Rockies, and the surprising Philadelphia Phillies and New York Mets. In the AL, a dogfight is ready to take off involving the Kansas City Royals, Chicago White Sox, Tampa Bay Rays, New York Yankees, Oakland A's, and Seattle Mariners. The Boston Red Sox and Cleveland Indians, and even the Houston Astros, are not too far from jumping back in.
Offense is down across the league. Through the trading deadline, Jose Abreu leads the AL with 24 homers, while Sal Perez's .327 leads the circuit. Corey Dickerson and Kolten Wong are the surprise stars in the NL, while Hunter Pence leads with 21 homers, two ahead of Bryce Harper.
There were a lot of trades made, though none particularly significant. Khris Davis was, arguably, the biggest bat to move. His 18 homers and 60 RBI moved from Milwaukee to Oakland. The other bat to move that made news was Victor Martinez; the DH, hitting .304-8-36, was sent to the New York Yankees for struggling starter Nathan Eovaldi (3-7, 5.01).
July 1: Francisco Liriano tears a back muscle, will miss 5-6 months. It is a sign of things to come.
July 2: Alex Rodriguez goes on the DL with a ruptured MCL. The 40-year-old will likely retire at season's end. His season ends at .235/.330/.310, with three homers and 31 RBI. He finishes the season with 657 career home runs.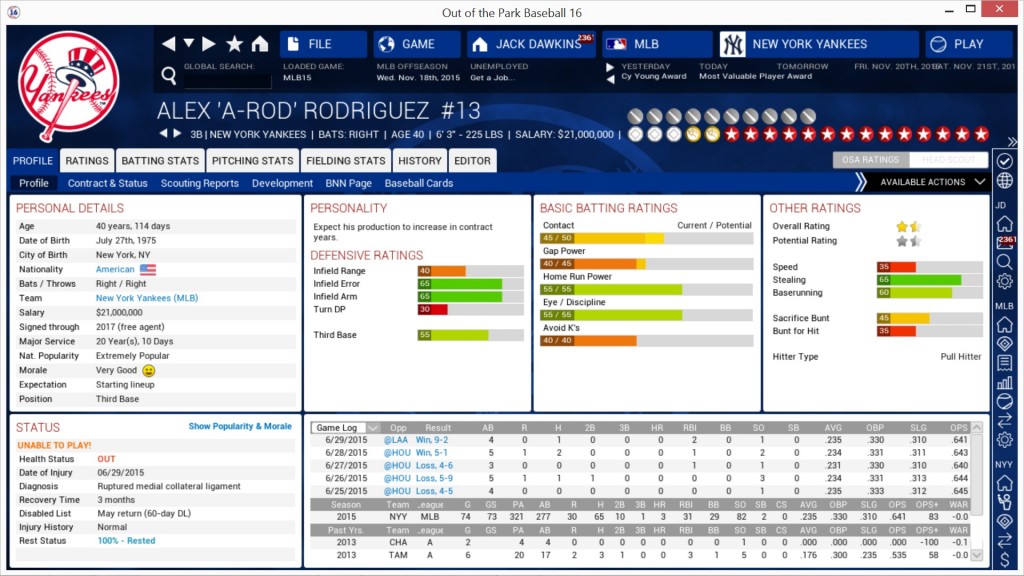 July 3: Brady Aiken, drafted eighth overall by the Chicago White Sox, signs for a $6.69 million signing bonus.
July 10: Matt Harvey tosses a no-hitter against the Arizona Diamondbacks, striking out 13 against no walks in a 1-0 Mets win. He hits two batters. His Game Score (100) is the highest of the season thus far by a pitcher. Josh Hamilton's three-homer game against the New York Yankees on June 6th generated a 105.

July 12: Felix Hernandez (2-3, 4.50, 1.36 WHIP) is a controversial All-Star selection, as is CC Sabathia of the New York Yankees (6-6, 3.54, 1.17 WHIP). Yan Gomes (.309/.361/.509, 2.6 WAR) is a first-time All-Star, as is JD Martinez (.342/.366/.563, 3.1 WAR). Hanley Ramirez, hitting .219, is Boston's only All-Star. Kolten Wong, the leading candidate for NL MVP (.369/.390/.558, 4.3 WAR) is a first-timer for the St. Louis Cardinals. Mike Napoli, traded at the beginning of the season, is named for the San Diego Padres. He is hitting .270 with 18 homers. Bryce Harper, hitting .283 with 18 homers, gets a nod.
July 15: Not sure if they want to contend, the Philadelphia Phillies hedge their bets, sending Jonathan Papelbon to the Mets for Lucas Duda. This effectively ends the Ryan Howard era in Philadelphia (though that, admittedly, ended long ago).
July 17: In one of the best games of the season, Felix Hernandez and Masahiro Tanaka pitched a scoreless game going into the ninth inning. Jacoby Ellsbury doubled off Hernandez to start the inning, then stole third. Cole Figueroa's single scored Ellsbury with the game's only run, giving the New York Yankees a 1-0 win. Hernandez pitched good enough to win, scattering seven hits over his eight innings, while striking out four and walking nobody. But Tanaka gave up just one hit in 8 2/3, striking out 12 and walking one. The winning pitcher was Cody Allen, who pitched to one batter.

July 19: Corey Dickerson, the revelation of the Colorado Rockies this season, ruptured his MCL. In 86 games, he was hitting .358/.406/.546, with nine homers, nine triples, and 49 RBI. His WAR of 3.7 was highest on the team. He was a first-time All-Star this season.
Meanwhile, David Price signed a five-year, $112 million extension with Detroit. Pundits feel the Tigers got a bargain.
July 22: Jordan Zimmerman goes on the 60-day DL with a ruptured tendon in his finger, suffered in the third inning of his start against the Los Angeles Dodgers. He will miss the rest of the regular season, and, barring a miracle, the playoffs. The Washington Nationals are leading the division by nine games over Atlanta. He was 10-7 with a 3.56 ERA; this likely won't put his pending free agency into question, but it will end his 2015 season.
July 23: Hyun-Jin Ryu goes down after surgery for radial nerve decompression. He is 10-6 with a 3.41 ERA, and a WHIP of 1.04.
July 24: Justin Verlander, 8-8 with a 3.34 ERA, is lost for the rest of the regular season with tendinitis in his biceps. He may return for the playoffs, should Detroit get there. The Tigers currently lead the AL Central, though Kansas City and Chicago remain in striking distance. It's been a rough few days for top flight starters across baseball.
July 28: The Chicago Cubs, seeing their season slip away in last place, 40-63, trade Jake Arrieta to the Angels for two prospects. For Cubs fans, it's new packaging, same contents.
July 30: The Boston Red Sox take their turn to rebuild. For the Cubs and Red Sox, the hopes of spring feel so long ago.
July 31: Chris Archer, 13-5 with a 3.64 ERA for the Tampa Bay Rays, is lost for the year with shoulder problems. It is a big blow to the Rays, who are surprise contenders in the AL East. Luckily, Matt Moore returned two weeks ago, and has been dominant so far, going 1-0 with a 0.64 ERA in two starts. He has yielded five hits and struck out 22 in 14 innings.
August: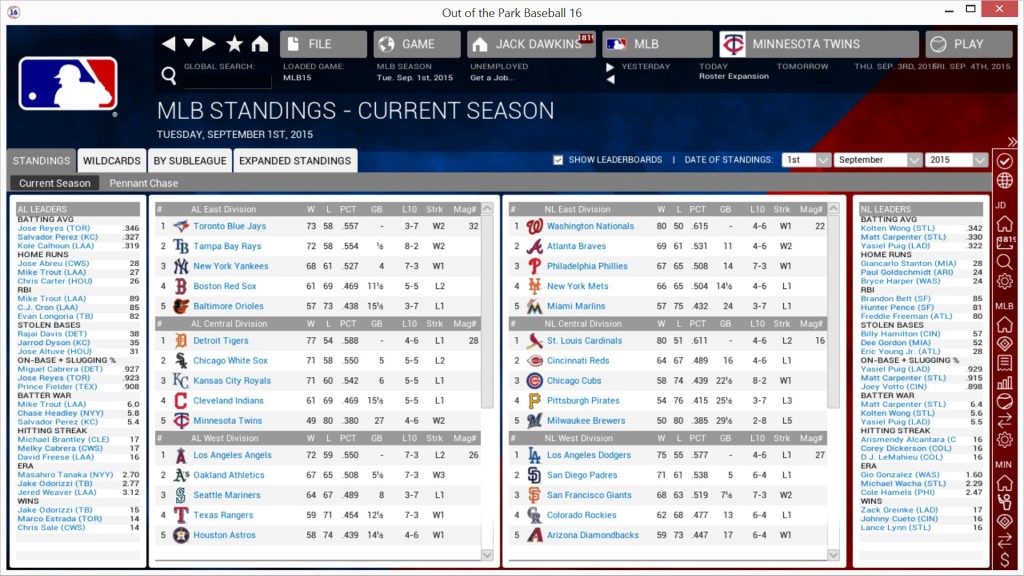 The NL East and Central are all but decided, with Washington (80-50) and St. Louis (80-51) holding 11- and 16-game leads, respectively. The Los Angeles Dodgers hold a five-game lead over San Diego, but even that feels sturdy. The Wild Card races are tight, yet top-heavy, with San Diego and Atlanta holding the spots, ahead of San Francisco, Philadelphia, and New York. Cincinnati and Colorado are attempting to pull back into the race.
In the AL, though, things are getting interesting. Toronto has blown what was, at one point, a seven-game lead in the East. They lead Tampa Bay by just a half-game, and the New York Yankees by four. Detroit and the Los Angeles Angels hold 5- and 5.5-game leads, respectively, but none feel all that safe. There is a four-team race for the two Wild Card spots; Tampa and Chicago would own them now, but Kansas City, New York and Oakland are all close.
August 1: Drew Smyly, having a very solid year with Tampa, is lost for the season with bursitis in his shoulder. Smyly was 8-6 with a 3.51 ERA, though his 1.07 WHIP shows his effectiveness more.
August 4: Jose Fernandez, the electric young starter for the Miami Marlins, lasted just four starts in his return from surgery in 2014. He had surgery to remove bone chips in his elbow, and will miss at least six months. Fernandez was 1-0 with a 1.63 ERA, giving up just 16 hits and striking out 24 in 27 innings. Surely, Miami fans are hoping Fernandez doesn't go down the Derrick Rose path.
August 9: Brett Lawrie and Billy Butler both go 5-for-10 in the A's amazing nineteen-inning, 12-11 victory over Houston. The Astros, down 7-3, scored four in the ninth to tie it. They scored three in the 17th, only to see Oakland come back. After Houston took an 11-10 lead in the 19th, Oakland managed to score two on Marcus Semien's single up the middle, scoring both Lawrie and Butler with the winning runs.
August 18: Sonny Gray is placed on the 60-day DL with shoulder inflammation. He was 13-7 with a 3.61 ERA and a 1.22 WHIP in 167 IP. The Oakland A's are trying to contend in the AL West, as well as the Wild Card, but will have to do without Gray for the rest of the season. They would also lose Scott Kazmir later in the month, though that wasn't as bad (it was Kazmir who was bad, going 5-12 with a 5.00 ERA).
August 19: Carlos Gomez's season is lost, as a setback in his recovery from his herniated disc in June will cost him the rest of the season. Gomez finishes the season with a .261-7-13 mark in 37 games.
August 27: Matt Kemp has generally been a disappointment in his first season in San Diego. And now, his season will likely end prematurely, thanks to a strained oblique. Kemp, hitting .238/.290/.410, will likely miss the rest of the regular season. Jake Goebbert, he of a 51 games in the majors in 2014, steps into his spot in right field.
August 30: The Cleveland Indians lock up Corey Kluber to a six-year extension worth $79.5 million. Kluber is 12-9 with a 3.13 ERA (1.09 WHIP) and 176 K vs 175 H in 195 IP.
August 31: Jonathan Pettibone pitched a rain-shortened no-hitter in New York, besting the Mets 2-0 in seven innings. Pettibone (8-11) threw 6 2/3 perfect innings before the game was called due to inclement weather (another new feature of OOTP16). Notice Zach Wheeler's line and record. Could there be a more tough-luck pitcher this season than Wheeler?

September: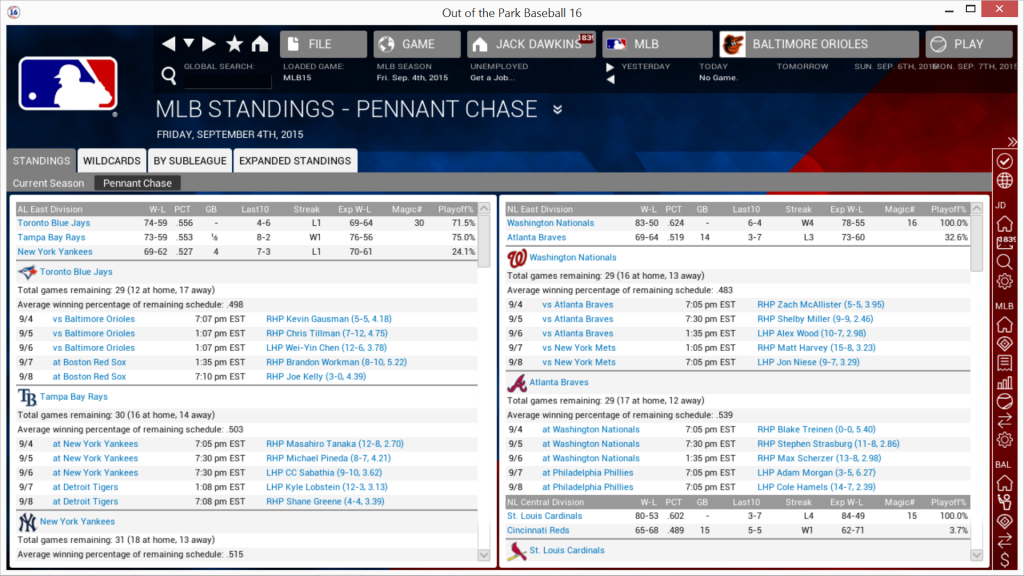 A new feature in OOTP16 is the Pennant Chase screen. Here, you get to see a closer look at each division race, looking more in-depth at the teams fighting for the division crown. As you can see with the AL East, Toronto has the easiest schedule the rest of the way, but only 12 of their last 29 games are at home. This is a really nice way to get a quick look at all of the races shaping up around the league.
September 1: Jose Reyes fractured his ankle, and will miss the rest of the year. He began his year with a rib cage strain that cost him a month, but managed to be an All-Star and viable MVP candidate. Reyes hit .346 (.923 OPS) with 44 extra-base hits and a 4.5 WAR this season. The Toronto Blue Jays have turned to 27-year-old rookie Ryan Goins to fill the spot.
September 6: In perhaps the unlikeliest brawl of all-time, Phil Hughes plunks Jed Lowrie. Lowrie snaps and goes after Hughes. The ensuing brawl results in whopping nine-game suspensions for them both.
September 14: The stars are showing up for their teams late in the season. This time, Evan Longoria led the Tampa Bay Rays with a cycle against the New York Yankees, going 4-for-6 with a pair of RBI in a 5-4, 12-inning win. The game, the front end of a doubleheader, was a rescheduled game from a September 6 rainout. Longoria is having a monster season, hitting .277/.365/.495 with 32 homers, 105 RBI, and a 6.2 WAR.
Additionally, Jayson Werth, whose season has been cut to just 30 games due to injuries, fractures his thumb, and will miss the rest of the season. He was hitting just .207-4-9 in 134 PA.
September 18: Arizona's Chase Anderson no-hits the San Francisco Giants in a 9-0 win. Anderson (7-9) struck out nine and walked two. The Giants fell off in September, going 10-17 and falling out of the NL West discussion.

September 21: Miguel Cabrera's MVP candidacy received a boost when he hit three homers in 12-10 victory over Chicago. Cabrera is hitting .322-25-86.
September 23: Troy Tulowtizki, since coming back from his early season injury, has become a solid MVP candidate for Colorado. Against Pittsburgh, he hit for the cycle in a crazy 17-13 victory over the Pirates. He is hitting .279-24-71 on the year. In September, he is hitting .418-8-28, with a OPS of 1.203. Carlos Gonzalez is also become a candidate, hitting .275-29-92.
September 26: Paco Rodriguez, the Los Angeles Dodgers' young setup man, goes down with shoulder inflammation. He will miss the rest of the season. He was 4-3 with 12 saves and a 2.38 ERA. This comes just days after the team lost starting catcher Yasami Grandal (.273-9-54, 3.9 WAR) for the season with an ACL injury.
September 29: MVP candidate Chase Headley goes down with a fractured finger. Headley was hitting .317-24-77. The New York Yankees, who were fighting to stay in the both the AL East and Wild Card races, just lost their most productive hitter.
September 30: Melky Cabrera strains his hamstring and is out for the rest of the regular season. Cabrera has missed a third of the season due to injuries. When healthy, he was very productive, hitting .317/.356/.472 with 12 homers and 54 RBI. This comes as the pivotal season-ending series with Detroit is about to get under way.
October:

As the season turns towards the playoffs, there are still four division races to talk about.
AL East: Tampa Bay has clinched a playoff spot, but leads Toronto by just a game in the division. The New York Yankees are 4.5 back, and are hanging on by a thread. Boston and Baltimore have been eliminated. The Blue Jays and Rays face each other in Tampa Bay in the final series of the season.
AL Central: Detroit has clinched a berth, and lead Chicago by 2.5. Kansas City is four back of Chicago for a wild card berth, but only a game back of Toronto for the second spot. Detroit goes to Chicago for the final series of the season, while Chicago could eliminate Kansas City with a win at home on 10/1.
AL West: The Los Angeles Angels are 1.5 up on the Oakland A's. They are 3.5 up on Seattle, who is eliminated, but four back of Texas, who is not (this is due to games played by Texas). LA is in Texas, while Oakland is in Seattle.
AL Wild Card: Chicago is in the driver seat, while Toronto holds a one-game lead on Kansas City for the second spot. The New York Yankees are three back, while Oakland is all but finished.
NL East: Washington has rolled to the NL East title. Atlanta controls the second wild-card spot. The Philadelphia Phillies, a feel-good story in mid-September, are technically still alive, but barely.
NL Central: St. Louis has won the division, and had it won long ago.
NL West: Los Angeles and San Diego are tied, both ten games ahead of the San Francisco Giants, who floundered down the stretch. One of them will get a wild card spot. Quite fittingly, the season ends with the two teams facing off in Los Angeles. The pitching matchup to watch is in the first game, where the stunning resurgence of Josh Johnson (10-5, 2.37) will face Clayton Kershaw, whose 15-12 record defies convention, given his 2.26 ERA and 0.94 WHIP.
NL Wild Card: The loser of the NL West battle gets one spot, while Atlanta has the other. They can clinch with a win or a loss by Philadelphia and San Francisco.
So, without further ado…
October 1: All three AL East teams won. The Chicago White Sox beat Kansas City, 7-2. Washington beat Atlanta, while both San Diego and Los Angeles won.
October 2:
New York Yankees 8, Baltimore 6 (11)
Tampa Bay 4, Toronto 3 (Tampa Bay clinches tie for the AL East title)
Detroit 3, Chicago 2 (Price beats Sale, Detroit clinches AL Central; White Sox already have a wild card.)
Kansas City 2, Minnesota 1
Los Angeles Angels 5, Texas 2
Seattle 2, Oakland 1 (Los Angeles Angels clinch a tie for the AL West)
Washington 3, New York Mets 2 (Gio Gonzalez goes to 20-3, beats Matt Harvey)
San Diego 5, Los Angeles 3 (Padres get to the bullpen after Kershaw leaves, leads NL West by 1)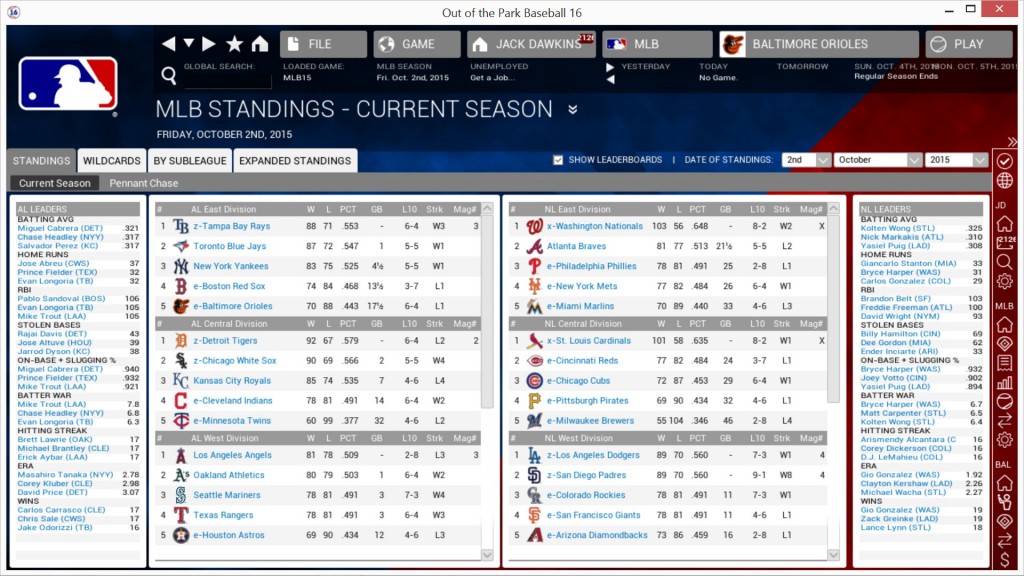 October 3:
Tampa Bay 5, Toronto 3. The Rays, who many thought would be stripping down and starting over, win the AL East. Evan Longoria hits his 34th homer in the win, and is named POTG. Joe Maddon sends his congratulations via Western Union telegram.
Baltimore 3, New York Yankees 1. The New York Yankees are eliminated from playoff contention.
Los Angeles Angels 11, Texas 0. The Angels clinch the AL West, eliminating Oakland from playoff contention.
Oakland 3, Seattle 1 (12): It's all for naught.
San Diego: 3, Los Angeles 2: San Diego wins the NL West. Overall, they go 20-9 since September 1, 37-20 since the trading deadline. They were behind by five games on August 31, only to surge back and take the division. The Padres used a 10-game winning streak to secure the division, and send the Dodgers to the Wild Card round.
Going into the final day of the season, only the second AL Wild Card needs to be settled. Toronto gets it with a win, while Kansas City needs to win and Toronto lose. The Blue Jays are sending smoke-and-mirrors Marco Estrada, who is 15-9 but with a 5.91 ERA, to the mound in Tampa Bay. The next home run he gives up is his 40th on the season. Meanwhile, the Royals will send Kris Medlen (7-6, 5.15) to the mound in Minnesota.
October 4: Despite a valiant comeback, including two homers from Josh Donaldson, the Blue Jays fall in Tampa Bay, 8-7. Meanwhile, Kansas City wins 6-4 in Minnesota. So we will have a one-game playoff for the one-game playoff.
October 5: Edinson Volquez (11-17, 5.22) vs. Marcus Stroman (14-11, 3.39) in Toronto. This was no contest. Daric Barton's three-run homer off Volquez in the second gave Stroman all he needed. The Blue Jays' hurler tossed 7 1/3 innings of five-hit ball, and Toronto marches on with an 8-0 victory. The Kansas City Royals fought hard, but couldn't push through that final hump.
October 8-9: The Wild Card Round
Toronto (Josh Collimenter, 9-14, 5.78) vs Chicago White Sox (Chris Sale, 17-11, 3.71). This went as expected, as Sale pitched eight strong innings after giving Toronto an early lead, and two fourth-inning home runs gave the Chicago White Sox the edge they needed in a 6-2 victory.
Atlanta (Shelby Miller, 11-12, 2.76) vs. Los Angeles (Clayton Kershaw, 15-12, 2.31). This was a much more even matchup than one would think, especially since the Dodgers stumbled since July 1, with a 41-42 record. All anyone wants to talk about, however, is Kershaw's inability to win a postseason game. The lefty's reign of futility continued, giving up five runs over ten hits in 6 1/3, as the Braves rolled, 6-3. Miller gave up three runs while scattering eight hits, but struck out ten in six innings, and the bullpen struck out seven in the final three innings, as the Braves move on to face the St. Louis Cardinals.
2015 Playoffs: Divisional Round
Los Angeles Angels vs. Tampa Bay: A fantastic series that went back and forth. Tampa Bay cruised in the opener, 7-1, behind Matt Moore. Los Angeles took the next two games, including a 6-5 heart-stopper that saw LA come back to tie it in the eighth on Mike Trout's three-run homer, then overcame a two-run deficit in the tenth on Kole Calhoun's two-out, two-strike, three-run walk-off. This answered Evan Longoria's two-run jack in the top half. With the Angels holding a 2-1 series lead, the Rays turned to Matt Moore, who was dynamite in 14 games during the season (7-1, 2.88, 1.12 WHIP).
All Moore did was no-hit the Angels.

Moore struck out seven and walked four, beating CJ Wilson and the Los Angeles Angels, 1-0. The only run came off Juan Francisco's second-inning home run. The crowd in Anaheim gave Moore a standing ovation, and rightfully so.
That sent the series back to Tampa Bay for Game 5. Again, the combination of Kole Calhoun and Mike Trout did considerable damage, hitting homers in the sixth off starter Alex Cobb to tie the game at 4-4. And, when Trout scored on CJ Cron's double in the eighth, giving the Angels a 5-4 lead, it seemed like the Angels were going to pull off the upset. Juan Francisco, though, had none of it. He homered off midseason acquisition Cliff Lee in the eighth, tying the game back up. The game went to extras where, again, it was Francisco in the 12th, singling home Kevin Kiermaier with the walk-off.
Tampa Bay wins, 3-2

Chicago vs. Detroit: The White Sox beat David Price and Justin Verlander in the first two games in Detroit, and had Chris Sale going in Game 3 in Chicago against Kyle Lobstein. Granted, the lefty, in his first full season, went 13-5 with a 3.54 ERA. But still, tossing a rookie out there against one of the top pitchers in the game…well, Lobstein got the win, 3-2. They came back the next day, and beat the White Sox 2-1, scoring both runs in the final two innings. The latter, a Miggy Cabrera homer off David Robertson, broke the Sox back. After a series in which three games were decided by one run (and the other was a 4-2 win for Chicago), Detroit opened up for a 7-3 victory.
Detroit wins 3-2

Atlanta vs. Washington: They will be talking about this one in Washington for years to come. The club rolled to 106 victories, best in the league. They also signed Max Scherzer to a large contract in the offseason to win playoff games. That, he did not do, losing both of his starts, including Game 5 at home. Mike Minor beat Scherzer both times he faced him, and Craig Kimbrel racked up all three saves in the series victory for the Braves. The Nationals could point at Anthony Rendon (.150-1-1), Ryan Zimmerman (.118-1-3), or not starting 20-game winner Gio Gonzalez in more than one game (Matt Williams was criticized for starting Stephen Strasburg in Game 1 last year, and he did it again this season; Strasburg lost Game 1 again). Goznalez was 20-3, 1.93, and gave up just 137 hits in 209 innings. He threw 4 2/3 innings in Game 3, an 8-0 win. That was all the postseason action he saw. People will talk about this series as the one Washington, and Matt Williams, lost, not particularly about the one Atlanta won.
Atlanta wins 3-2

San Diego vs. St. Louis: Only one series went by convention. The Cardinals, who steamrolled through to 102 victories, then cooled off the hottest team in baseball behind Michael Wacha (7 IP, 3 H, 10 K, 1 R in a 2-1 Game 1 win), Adam Wainwright (8 innings of three-hit ball) and Lance Lynn (7 2/3 innings of two-hit ball), as the Cardinals rolled to a series sweep of the Padres.
Cardinals win 3-0
League Championship Series
Detroit vs. Tampa: Kyle Lobstein has been smack dab in the middle of these playoffs for Detroit. After losing Game 3, he found himself starting Game 7 for the Tigers, one many Detroit fans didn't think they would have had to play, after going up 3-1 on the Rays. The Rays came back in Gave 5, scoring three in the bottom of the ninth off Al Alberquerque to stun Detroit, 3-2. They routed the Tigers, 9-1, to even the series.
So, there was Lobstein, facing Alex Cobb, with a World Series berth on the line. The lefty got into plenty of trouble, giving up nine hits in his 5 2/3 innings. Yet, he managed to give up just a single run. Miguel Cabrera, who has seen the moment time and time again, seized another one: his grand slam off Alex Cobb in the fifth, with two outs, sent the Tiger faithful into hysterics, and gave the Tigers a 5-1 lead.
Carlos Marmol gave up three in his inning of work to make it interesting, but the Tigers would hold on for a 5-4 win, and the American League pennant.
Tigers Win 4-3

Atlanta vs. St. Louis: The Cardinals, who are in the NLCS for the fourth year in a row, used their experience, and a former Brave, to get to the World Series. Five of the six games were decided by one run. Game 5 was the capper. After a back-and-forth game, the Cardinals scored two in the ninth to take a 9-8 lead. Trevor Rosenthal, who had been shaky at best this postseason, gave up a tying home run to Kelly Johnson, sending the Braves fans in Atlanta into rapture. In the 11th, though, it was pinch hitter Greg Garcia, whose single scored Jon Jay, that made the final difference. Adam Wainwright slammed the door on the Braves in Game 6, pitching 8 2/3 innings of three-hit ball in a 1-0 clincher. The only run came off Jhonny Peralta's single, which scored Matt Holliday. Jason Heyward went .308-2-6 against his former team, and the Cardinals are off to the World Series for the third time in five years.
St. Louis wins 4-2

World Series
Detroit vs. St. Louis
After a playoff season that could not be characterized as anything less than amazing, this felt anti-climactic. The Tigers, after losing Game 1, rolled four straight wins. The Fall of Trevor Rosenthal continued. After his blunders through the postseason, fans and pundits both wondered whether the team would have had better success had Aroldis Chapman had been healthy. Never mind that he was lights-out in the regular season…he had struggled mightily in the post. In Game 4, he lost after giving up a double to Tyler Collins, and a walk-off single to Yoenis Cespedes. He would not have a chance to make an impact in Game 5, as David Price tossed seven shutout innings, as Detroit shut out the Cards, 5-0.
Cespedes was named World Series MVP for his .381-3-7 effort in the five games. It is a storybook ending for aging Detroit owner Mike Ilitch.
2015 World Series Champion: Detroit Tigers (4-1 over St. Louis)

Awards
Rookie of the Year: C Matt McBride of the Chicago White Sox honored: Wins the 2015 MLB AL Rookie of the Year Award
CF Steven Souza of the Tampa Bay Rays honored: Finished 2nd in 2015 MLB AL Rookie of the Year Award voting.
3B Joey Gallo of the Texas Rangers honored: Finished 3rd in 2015 MLB AL Rookie of the Year Award voting.
3B Jake Lamb of the Arizona Diamondbacks honored: Wins the 2015 MLB NL Rookie of the Year Award.
CF Joc Pederson of the Los Angeles Dodgers honored: Finished 2nd in 2015 MLB NL Rookie of the Year Award voting.
RF Jorge Soler of the Chicago Cubs honored: Finished 3rd in 2015 MLB NL Rookie of the Year Award voting.
Cy Young: CL Wade Davis of the Kansas City Royals honored: Wins the 2015 MLB AL Cy Young Award. This is not a misprint.
SP Masahiro Tanaka of the New York Yankees honored: Finished 2nd in 2015 MLB AL Cy Young Award voting.
SP David Price of the Detroit Tigers honored: Finished 3rd in 2015 MLB AL Cy Young Award voting.
SP Clayton Kershaw of the Los Angeles Dodgers honored: Wins the 2015 MLB NL Cy Young Award.
SP Michael Wacha of the St. Louis Cardinals honored: Finished 2nd in 2015 MLB NL Cy Young Award voting.
SP Adam Wainwright of the St. Louis Cardinals honored: Finished 3rd in 2015 MLB NL Cy Young Award voting.
MVP: CF Mike Trout of the Los Angeles Angels honored: Wins the 2015 MLB AL Most Valuable Player Award.
3B Evan Longoria of the Tampa Bay Rays honored: Finished 2nd in 2015 MLB AL Most Valuable Player Award voting.
1B Miguel Cabrera of the Detroit Tigers honored: Finished 3rd in 2015 MLB AL Most Valuable Player Award voting.
LF Bryce Harper of the Washington Nationals honored: Wins the 2015 MLB NL Most Valuable Player Award.
LF Yasiel Puig of the Los Angeles Dodgers honored: Finished 2nd in 2015 MLB NL Most Valuable Player Award voting.
2B Kolten Wong of the St. Louis Cardinals honored: Finished 3rd in 2015 MLB NL Most Valuable Player Award voting.
While the 2015 season can definitely be viewed as a year of transition, some old guards still hold true. Regardless, it should be an incredibly exciting season. Well, you already know what's going to happen.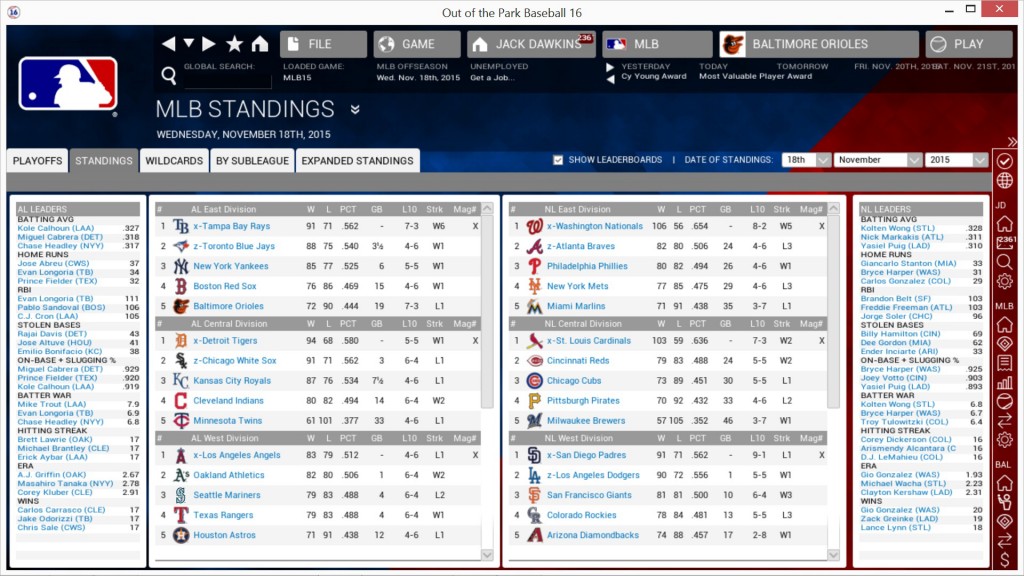 And just a couple of things for fantasy geeks…a head start on your research:
(Writer's Note: This was done using an OOTP 16 beta build. The final rosters are subject to any changes made after February 25. No modifications were made to in-game settings, save for going with a 20-80 ratings scale, out of personal preference.)