Editor's note: For today's blog, we have invited long-time Out of the Park Developments board member Tiger Fan to share one of his historical simulations with Franchise Hockey Manager 2. Please note: The screenshots have been modified to cover up league logos and player photos. Take it away, Tiger Fan:
Wayne Gretzky, Gordie Howe, Bobby Orr. The argument comes up many times as to who was the greatest player in hockey history. While the Great One and Mr. Hockey enjoyed long, productive and relatively injury-free careers, the same can sadly not be said for number 4, Bobby Orr.
Many of course have wondered about just what kind of numbers Orr could have put up had he been blessed with two good knees and a long career.
FHM2 gives us the opportunity to find out through historical mode. I imported the 1966-67 season, Orr's rookie year, and made one small edit to Orr, lowering his injury proneness from 17 to 6 with the hopes we will see a full career from him.
I then sat back and let the game engine go to work, simming 15 years ahead to see what might have been for Orr and the Bruins.
The teams won't look quite the same in this sim, as trades occur and I have decided to select new rookies being drafted each year instead of being on the team they really debuted for and the expansion drafts will see different players being selected. (Editor's note: FHM 2 allows you the option of either having players debut with their real-life NHL or WHA team, or simply having the game progress organically, with teams drafting from the crop of new players every year)
I also used the FHM development engine for the career development instead of recalculating ratings each season – an option that would give more realistic historical results. But in this sim it is the "what if" I am looking to see, instead of trying to real closely mirror the "what really happened." (Editor's note: Also new in historical mode this year is the ability to have the FHM development engine take over once the game begins, meaning that you could see greater departures from how things turned out in real life as a game progresses. There is still the option to recalculate ratings each year, which is optimal for those who prefer their historical replays to be more true to life)
First here is what really happened with Orr. His real life career stats:
BOBBY ORR'S REAL LIFE STATS
Year	Age	Tm	Lg	GP	G	 A	PTS	+/-	PIM
1966-67	18	BOS	NHL	61	13	 28	 41		102
1967-68	19	BOS	NHL	46	11	 20	 31	30	 63
1968-69	20	BOS	NHL	67	21	 43	 64	65	133
1969-70	21	BOS	NHL	76	33	 87	120	54	125
1970-71	22	BOS	NHL	78	37	102	139	124	 91
1971-72	23	BOS	NHL	76	37	 80	117	86	106
1972-73	24	BOS	NHL	63	29	 72	101	56	 99
1973-74	25	BOS	NHL	74	32	 90	122	84	 82
1974-75	26	BOS	NHL	80	46	 89	135	80	101
1975-76	27	BOS	NHL	10	 5	 13	 18	10	 22
1976-77	28	CHI	NHL	20	 4	 19	 23	 6	 25
1978-79	30	CHI	NHL	 6	 2	  2	  4	 2	  4
				---	---	---	---	---	---
10 yrs			NHL	657	270	645	915	597	953
SIM comparison	after 76-77     686     240     681     921     459     306
SIM comparison retirement      1213     326    1009    1335    +489  
And here is how the healthier Bobby Orr turned out in FHM 2: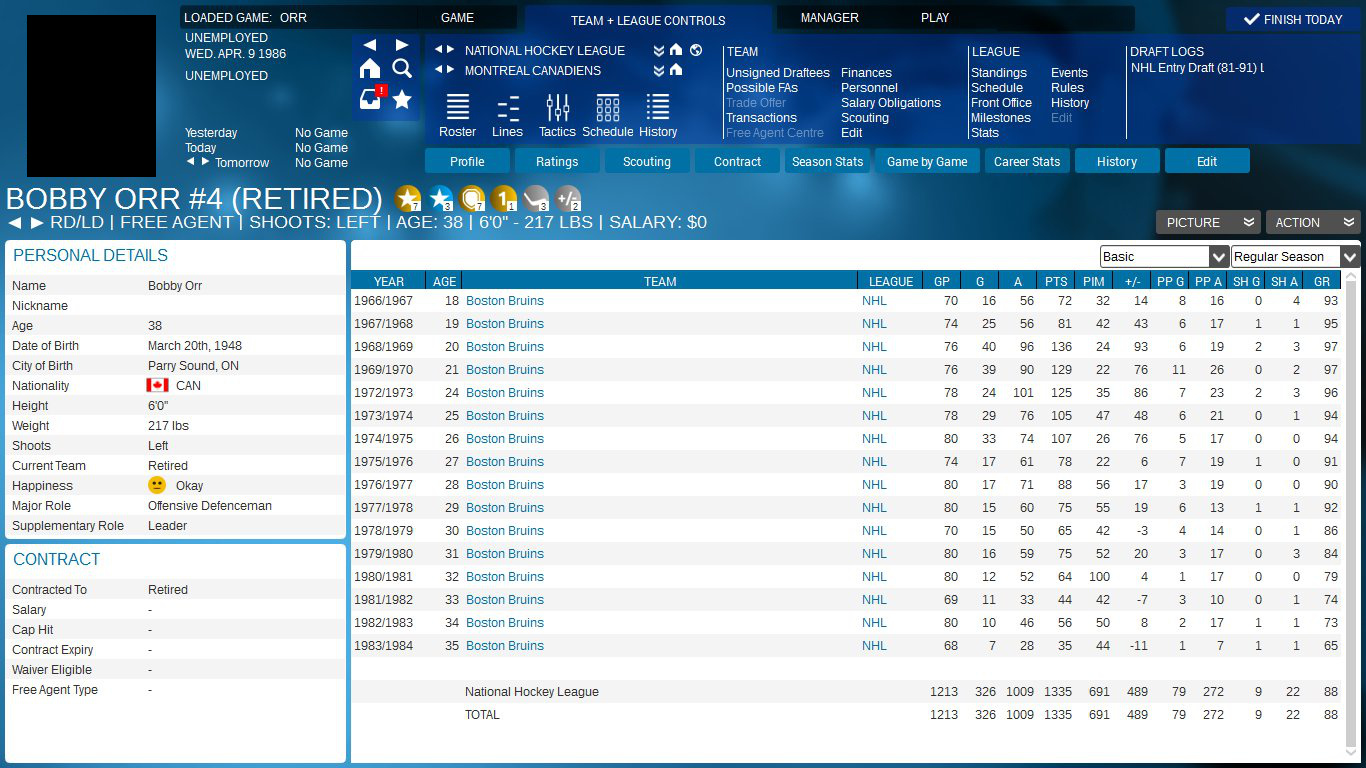 Overall, as you can see, Bobby Orr had an outstanding career. I simulated up until the end of the 1983-84 season and Orr is the all-time leader in assists with 1,009 (Gordie Howe is second with 982). Orr also owns the single season assist record with 101 in 1972-73 and also the second best total with 96 in 1968-69. Bryan Trottier had 93 in 1980-81 to rank third.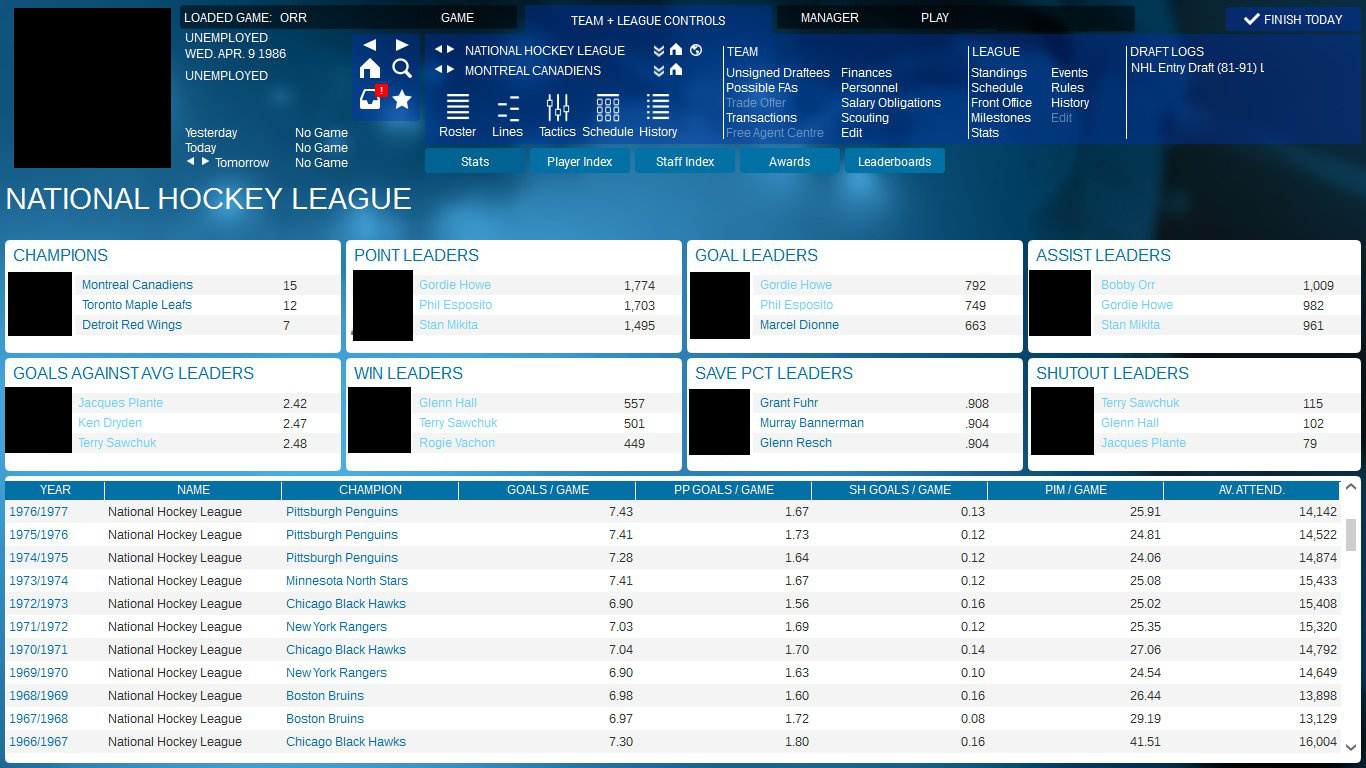 You might ask what about Wayne Gretzky, who in real life topped 100 helpers many times in the early 1980s?
Well, I guess the hockey gods giveth and taketh away. I got to see an injury free Bobby Orr in this sim but the Great One has yet to become great due to injuries. He was drafted 1st overall by the Quebec Nordiques but missed more than 40 games his rookie NHL season with back problems and has never managed to be healthy for a full season.
Back to Orr, he ended his career with 1,335 career points, good at this point for 5th place all-time behind Howe (1,0774 vs 1,850 real life), Phil Esposito (1,703 vs 1,590 real life), Stan Mikita (1,495 vs 1,467 real life) and Marcel Dionne (1,492 vs 1,771 real life,  although he is still active at age 34).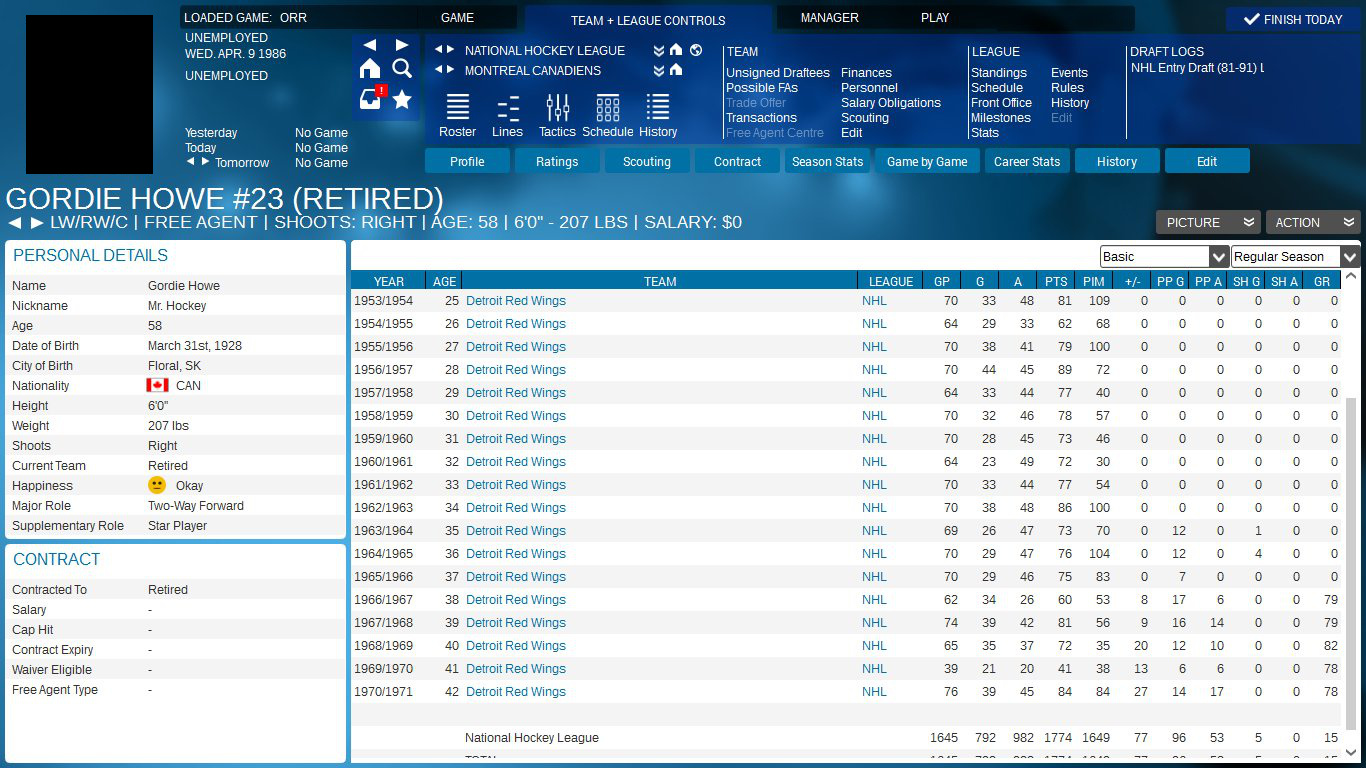 Orr was dominant in the regular season, winning seven Hart Trophy's as MVP and seven Norris Trophy's as the top defenseman. He also led the league in scoring on three occasions.
Like in real-life the Bruins would win two Stanley Cups with Bobby Orr. The wins came just slightly earlier than in real life as they won in 1968-69 and 1969-70.
The roster was similar in many ways to the real life teams, with a couple of notable exceptions being Phil Esposito and Ken Hodge. Since I started this career in 1966, those two remained Chicago Blackhawks along with Fred Stanfield. In their places were Pit Martin, who was in the deal that brought Espo to Boston in real-life, and Bill Goldsworthy. Martin became a star in Boston, certainly much bigger than he was in Chicago, as he and Goldsworthy were able to capitalize on the passing skills of number 4.
With different players leaving in the expansion draft, Boston was able to retain Bernie Parent and had the best goaltending tandem in the league for a number of seasons with Parent and Gerry Cheevers splitting time between the pipes. Parent would eventually be dealt to Chicago and then bolt to Minnesota of the WHA when that league formed. Cheevers would also leave for the New England Whalers prior to the 1974 season and the Bruins struggled to find good goaltending ever since.
Phil Esposito remained in Chicago until age 35 when he was dealt to Philadelphia, before winding up his career in 1979-80 with a season in Detroit. But he did not reach a 76 goal season like in real life. Instead Espo had to settle for a pair of seasons when he scored 59 goals. He would top 50 on five occasions and also had two more seasons with 49 goals each. Esposito would finish with 749 goals (very close to the 717 he scored in real life). Esposito would also win three Stanley Cups with the Blackhawks and lead the league in scoring three times.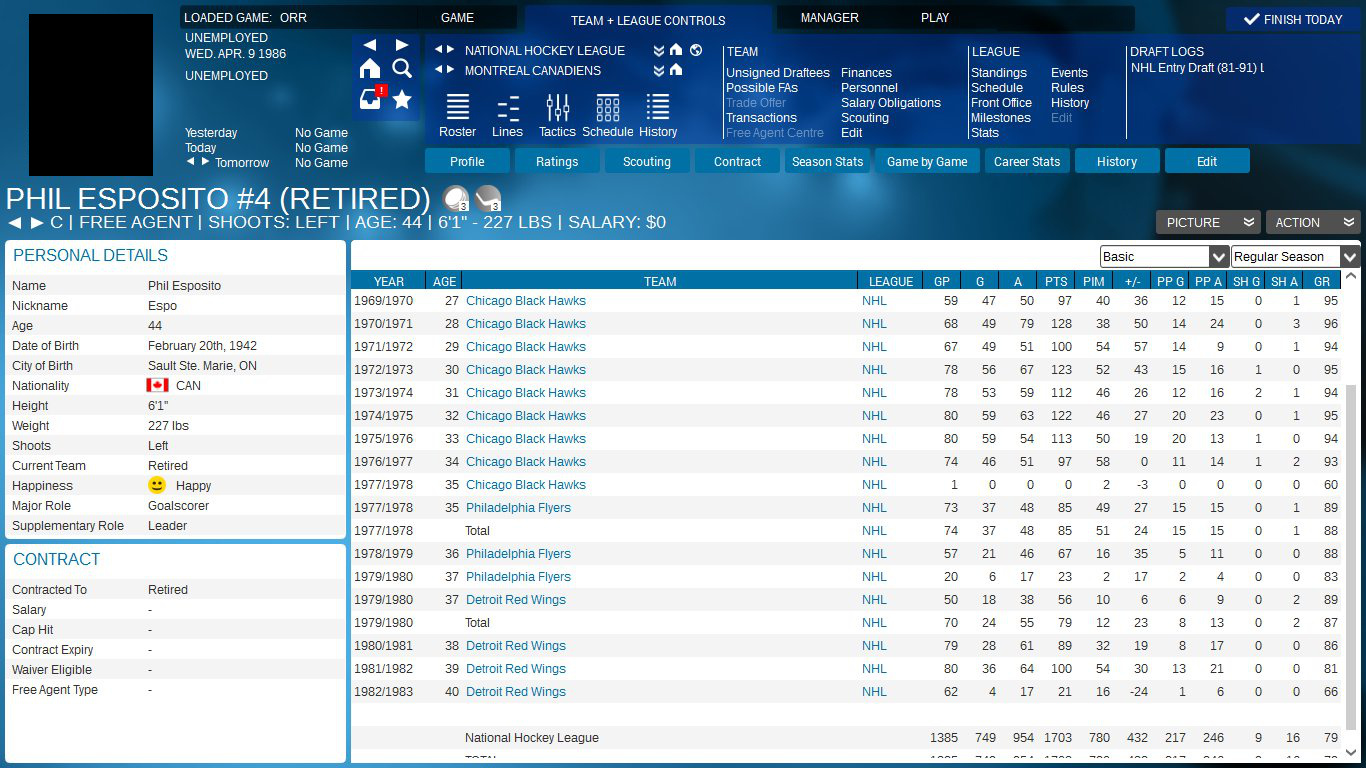 The only real dynasty that occurred in my replay in the 1970s was the Pittsburgh Penguins. Remember, I had the league set for an amateur draft each year rather than assigning rookies to their original team and this universe's Penguins drafted very well.
The Pens took Marcel Dionne first overall in the 1971 draft and the 'Little Beaver' won three Stanley Cups and four scoring titles in this universe. Rejean Houle, Rick MacLeish, Pete Mahovlich and an aging Bobby Hull all played key roles in the Pens Cup winning seasons. There was no WHA jump for Hull in this replay, instead he was dealt to the Penguins in 1970 and would retire after the 76-77 campaign with 621 career goals and 1,330 points.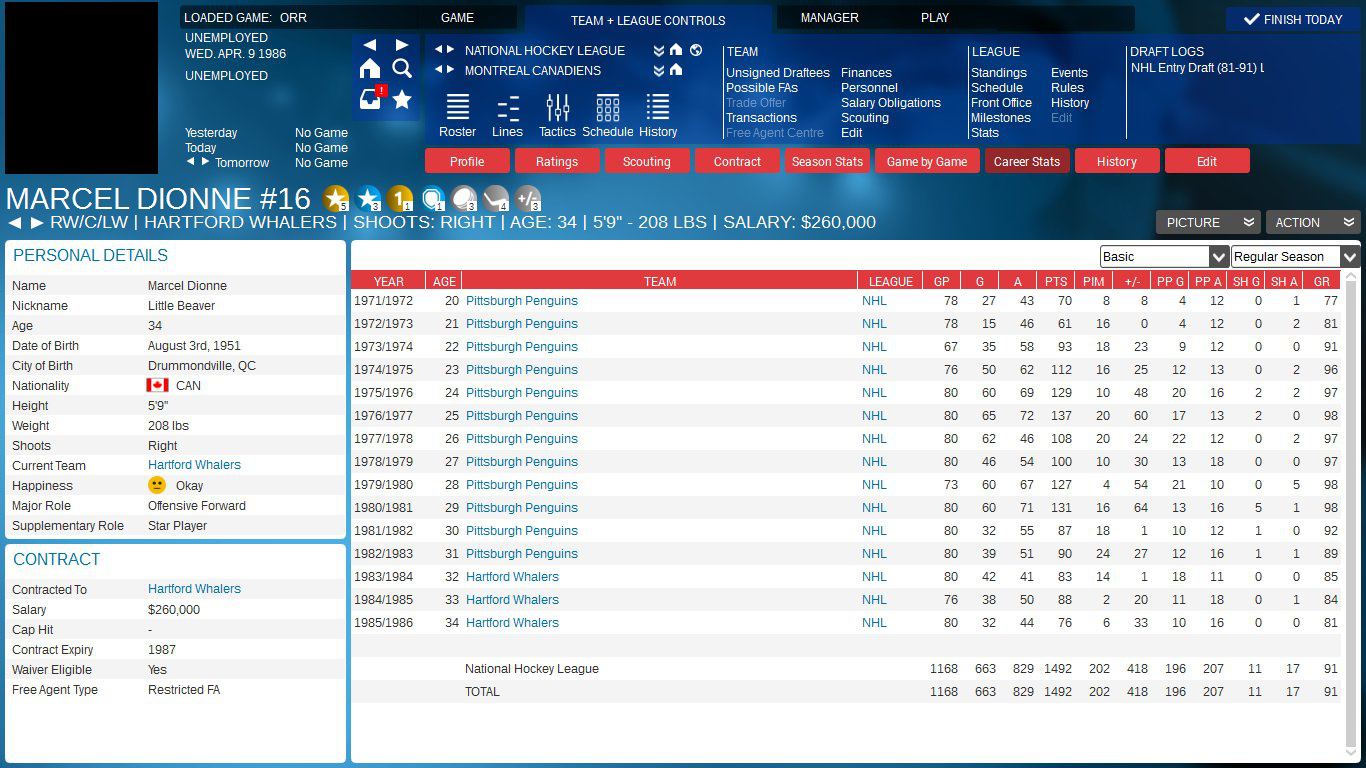 What of the mighty Montreal Canadiens you might ask? They did enjoy some success in that they made the playoffs virtually every season of my sim, but they did not win a single Stanley Cup during this period. Yvon Cournoyer had a fantastic career including a 71 goal season in 1971-72 when he teamed up on a line with Mike Walton and Wayne Cashman, but most of the greats from the Canadiens cup runs of the late 70s never made it to Montreal. Guy Lafleur was a Philadelphia Flyer draft pick, but I guess that makes up for Flyers fans having to watch Bobby Clarke in a St. Louis uniform after the Blues drafted him. All is not lost Flyer fans, as Lafleur joined defenseman Doug Wilson and goalie Chico Resch to help the Flyers win a pair of Cups in 1979 and 1981.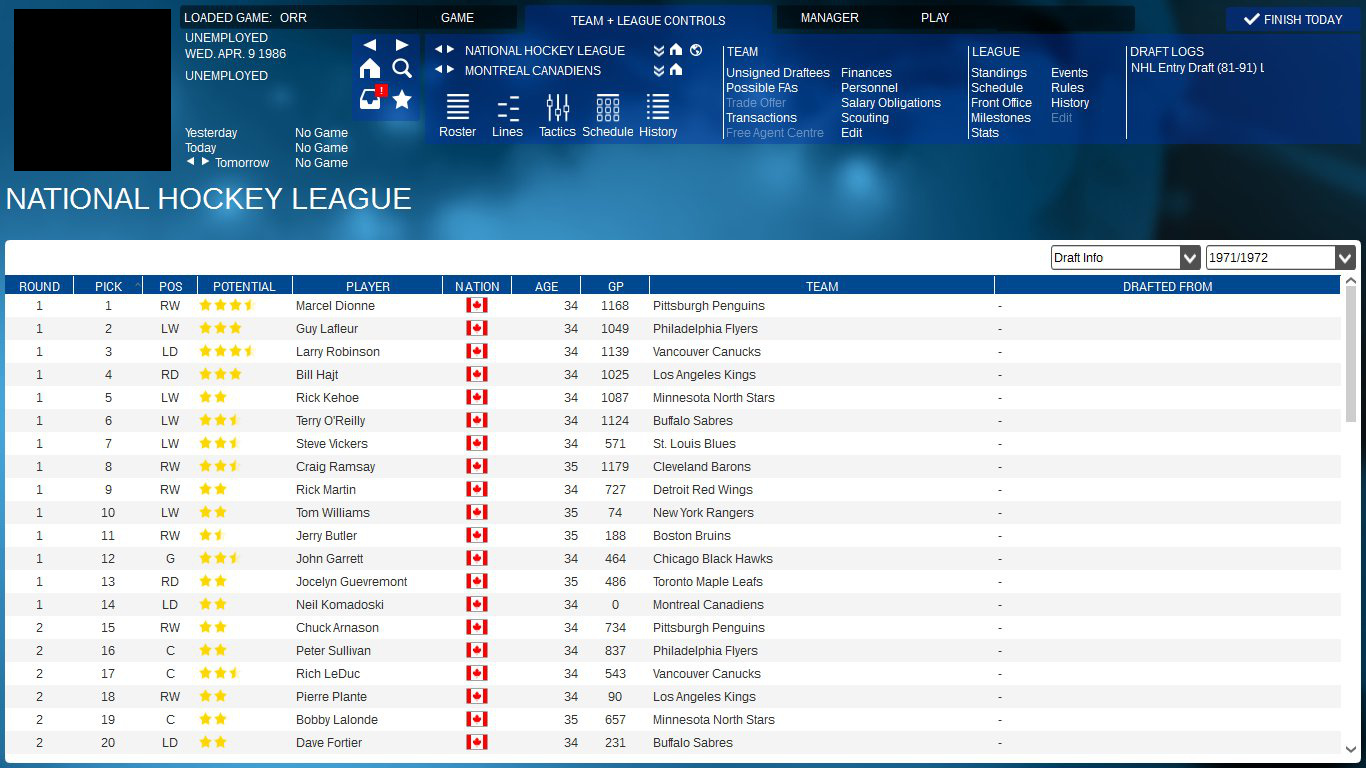 Being a Toronto Maple Leaf fan myself I am anxious to see what the next decade brings the Leafs, a franchise that struggled through the 1970s in this sim but was rewarded recently when they drafted Mario Lemieux first overall. In two seasons in Toronto, Mario scored 116 and 120 points (very comparable to the 100 and 141 he put up in his first two real life years). These Leafs haven't won a Cup since 1963-64 but maybe this will be the year?
Now that I have seen what Orr could have been, what is next? There are all kinds of possibilities including playing out the complete history of the NHL (and WHA) from 1931 but for my next sim I think I will find out what the Montreal Canadiens would have been like in the 1950s if instead of having access to virtually all the top French-Canadians there was a draft. Would they be anywhere near the real life dynasty or would another team take over as the dominant club of the decade? Enough writing. I have to get back to setting up my next game to find out! Thanks for reading.