(OOTP 15 is 50% off and iOOTP 2014 is 80% off right now. Click the images on the right for more info.)
It all started, like so many ideas in the Internet age, with a couple social media posts. "Queens, 2035: CitiField's dimensions are now 150 feet in all directions. Mets are out-homered, 1,215-1,049, and go 79-83," tweeted Emma Span, senior baseball editor for Sports Illustrated.
"I believe you CAN do that in @ootpbaseball," replied Diane Firstman, who runs the blog Value Over Replacement Grit. ("It was mind-blowing in its dedication to details," she wrote in her review of OOTP 15.)
As Firstman observed, you can do pretty much anything in OOTP, like creating The Clone Baseball League, home to four teams, each with 25 clones of one player: The Adam Dunns, The Dee Gordons, The Bartolo Colons, and The Koji Ueharas. (Read the article; it's a blast.) And Astros County just announced an eight-team league consisting of nothing but former Astros players. (We hope they all wear those awesome 70s and 80s uniforms that looked like something off the box of an Atari 2600 game cartridge.)
But can you pretend the Mets have lost their minds and begun a project that's, shall we say, much more ambitious than the one they started a couple weeks ago? Could they even make the playoffs? (Hint, hint: Check out the second sim.)
Let's find out.
Enter the Gambo
So, I asked and I received: Jeff Riddolls, who's the producer for Franchise Hockey Manager and the project manager for our other games, pointed me to Gambo's Stadium Chart, a handy Excel spreadsheet that allows you to recreate all kinds of stadiums from baseball history by giving you the parameters to enter into OOTP. It lets you put your team in Ebbets Field, the Polo Grounds, old minor league and Negro League parks, and tons of other places. You can also use it to generate a random ballpark, create a new one based on the dimensions you input, or change an existing stadium. (Need photos for your new stadiums? Check out our mods forum.)
Jeff, being the ever-helpful guy he always is (follow him on Twitter), had already entered a Citi Field like the one envisioned by Emma Span and gave me the parameters for OOTP. He also noted that it didn't make sense for the outfield fence to be a straight line (we're trying to be realistic here, folks), so he gave me another set of parameters for a Citi Field with a 150-foot right field foul line and a fence that follows the current shape, resulting in a pack-a-lunch distance of 185 feet to center field and 152 feet down the left field line.
Re-Enter the Veeck
Speaking of realism: My vision for this is Bill Veeck has arisen from the grave and shambled his way into ownership of the Mets, assuming the GM role in the process. ("Whatever, see what you can do with them," sighed Fred Wilpon as he signed the deal.)
Veeck's press conference announcing what he called "Ultra Hitter-Friendly Citi Field, With Bonus Outfield Seating! (Oh, and Tuesdays Are 'Blow Up Zunes Loaded With Britney Spears Songs Night'!)" was crashed by Donald Trump, who shouted, mostly for the benefit of the TV cameras and the possibility that he might again run for political office someday, "You son-of-a-bitch! You're ruining this team and you don't know what the hell you're doing! You're fired!"
To his credit, Veeck ignored Trump and noted that outgoing Mets GM Sandy Alderson expected Curtis Granderson would have hit seven more home runs in 2014 if Citi Field had the dimensions it will have next year. "I plan on putting a zero after that," Veeck said.
A Tale of Two Sims
I decided to sim the 2014 season twice, once with 150-foot fences everywhere and again with those more sensible fence distances. (The latter was hailed as a victory by Trump, hoping he could use it in a campaign slogan: "Vote for Trump: I got those bastards to give in to me!") Besides greatly increasing the chances of home runs ("Granderson hits a lazy fly ball … Home run!"), Jeff's parameters reduced doubles and triples to as close to zero as we could get (OOTP won't accept negative numbers in the stadium parameters — Markus, get on that).
He also wisely noted that I should have the AI use a slow hook with starters, so the Mets' relievers' arms don't fall off two weeks into the season, and I allowed starters to enter as relief pitchers, since I figured the AI would need all the help it could get. Jeff also suggested I greatly reduce aggressive base running, since no one's going to go for extra bases when the outfielders are playing right behind the infielders. ("I've got it!" "No, I've got it!" "Hey, I've got it!") However, since I wasn't up to doing the same thing for all the teams, I decided they would just have to deal with it when the Mets had home stands.
Sim 1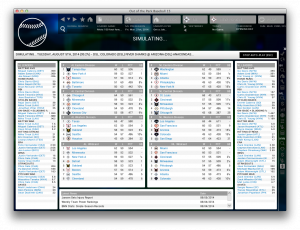 The Mets finished 76-86, 14 games behind first-place Washington, while playing in a Citi Field with 150-foot fences in all directions. They led all of baseball with 683 home runs, a .307/.379/.684 team slash line (along with a 1.063 team OPS), and 1,354 runs scored. They were last in doubles with 160 but tied the Royals (!) for second-to-last in triples with 16 (the Nationals were last with 14). Of course, they managed no triples at home but somehow hit eight doubles at Citi Field, probably when opposing outfielders were distracted by Trump yelling at them from the stands and ran into each other.
Ike Davis led the team with 117 home runs, followed by Curtis Granderson with 88, Wilmer Flores (81), Chris Young (76), Travis d'Arnaud (75), and David Wright (64). In real life, Davis managed to hit .233, with 11 home runs, in 427 plate appearances split between the Mets and the Pirates this year, but in the OOTP Multi-verse, he won the Triple Crown and then some, posting a 10.3 WAR in the process. However, Mike Trout posted an 11.8 WAR to lead all of baseball, so take that, 150-foot fences.
How'd Granderson and Wright not hit even more home runs? Both of them missed a big chunk of playing time with injuries, and on Sept. 13, Granderson was suspended 10 games following a brawl.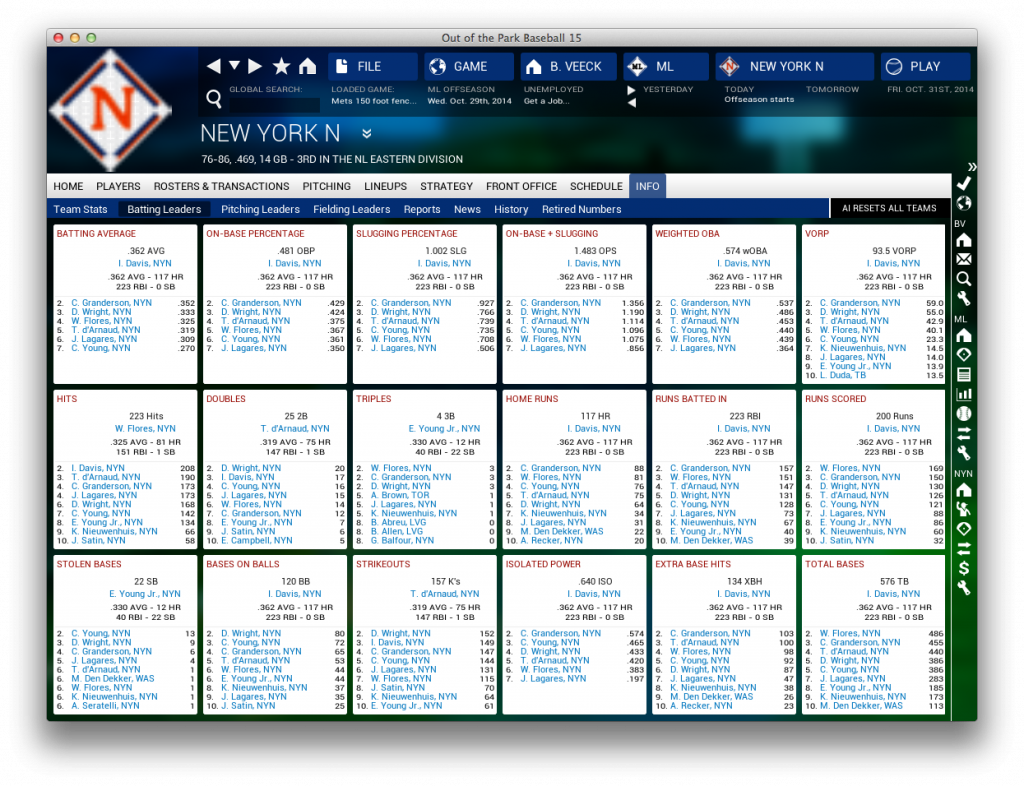 In the bottom of the 8th inning of that Sept. 13 game at Citi Field, with the Mets leading, 15-12, Ike Davis hit a 162-foot home run off Nationals reliever Taylor Jordan, who was replaced by Erik Davis. Granderson came to the plate and was plunked by Davis' second pitch, probably because, you know, enough is enough already with the pop fly home runs. Granderson charged Davis, the dugouts emptied, and the bullpen pitchers strolled in from the outfield, since they didn't have far to go.
Speaking of pitchers: The Mets were, of course, last in every category, with an 8.98 ERA for the staff. They surrendered 699 home runs and allowed 1,477 runs on 1,934 hits; opponents batted .321 against them. However, they were first in strikeouts, with 1,458, and, interestingly, their hitters were tops in the majors with 1,514 whiffs.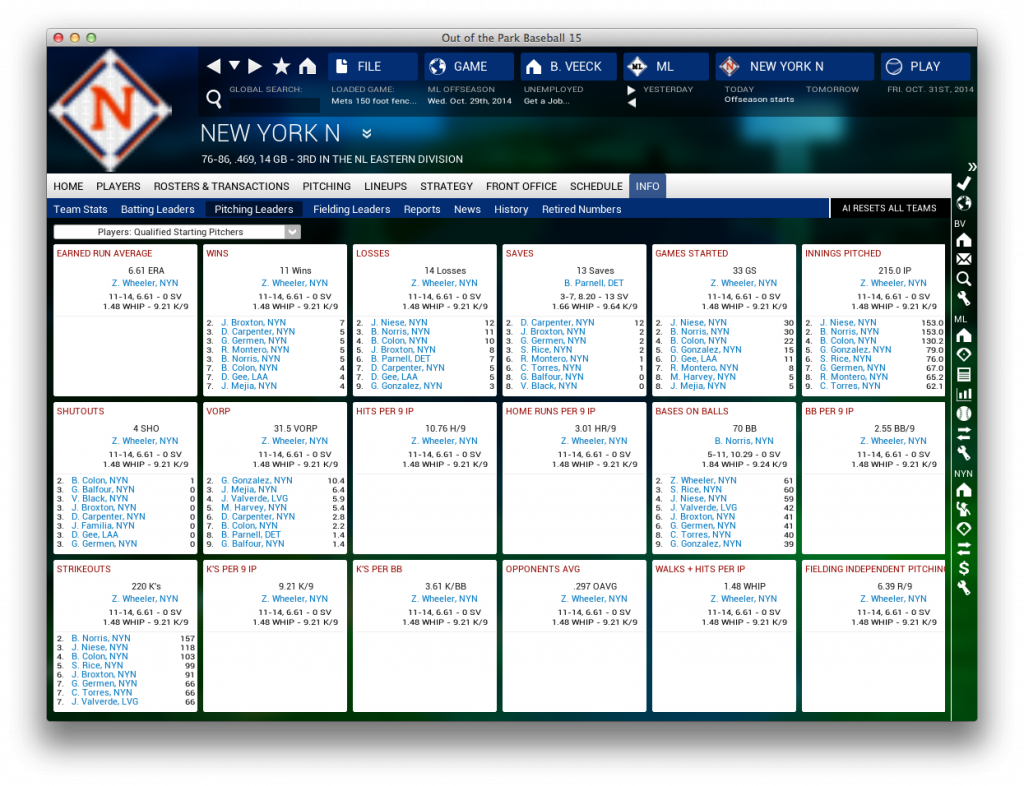 For whatever reason, the Nationals traded Gio Gonzalez to the Mets on July 13, in exchange for prospects Matt Den Decker and Steven Matz, and he promptly went 3-3, with a 6.84 ERA, to balloon his season ERA to 4.70. I suppose the Mets were desperate to figure out what to do with guys like Bud Norris, who gave up 91 home runs on the year and ended up pitching in relief by season's end.
On Oct. 29, the Mets decided they had enough of pitching coach Dan Warthen and fired him. Poor guy never stood a chance.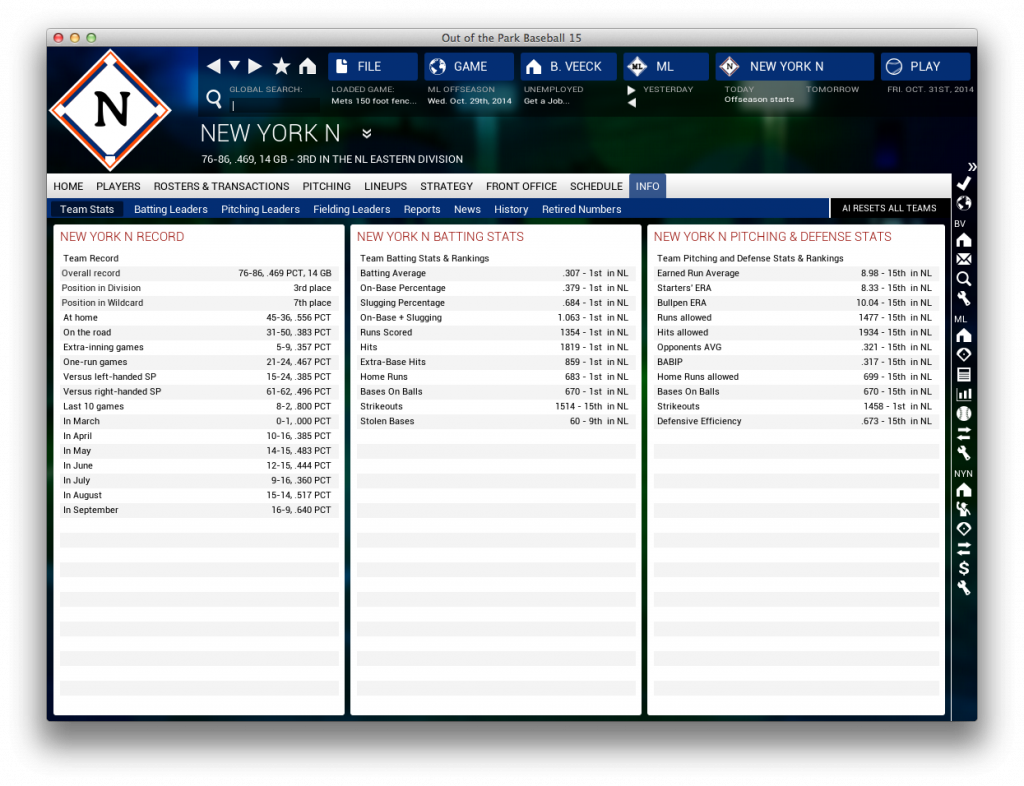 Sim 2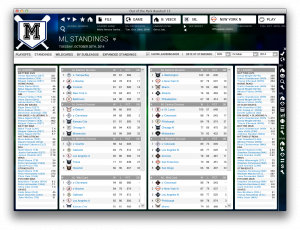 Whaddya know: Maybe, just maybe, Emma Span had a good idea after all. Someone get me a shovel, a mad-scientist-corpse-reawakening-kit, and a map to Veeck's grave, because I don't care what The Donald says: The Mets turned the ultimate bandbox into the home of a playoff-bound team. Maybe that extra 35 feet in center field made a difference?
Maybe a little bit: Their pitching was just about as bad as it was in the first sim (but with a slightly better 7.97 staff ERA, and they allowed 97 fewer home runs), and, yup, they smacked the hell out of the ball at the plate, with a .319 batting average, 709 home runs, and 1,927 hits. They managed 18 doubles at home, I suppose because The Donald distracted the opposition more than he had the first time. They were also running fools, with 89 swipes on the base paths, good for second in the NL.
Some how, some way, they won more of those slugfests at home than they lost, and they managed a 27-16 record in one-run games, so they figured out how to pull out the close ones on the road.
The big picture view: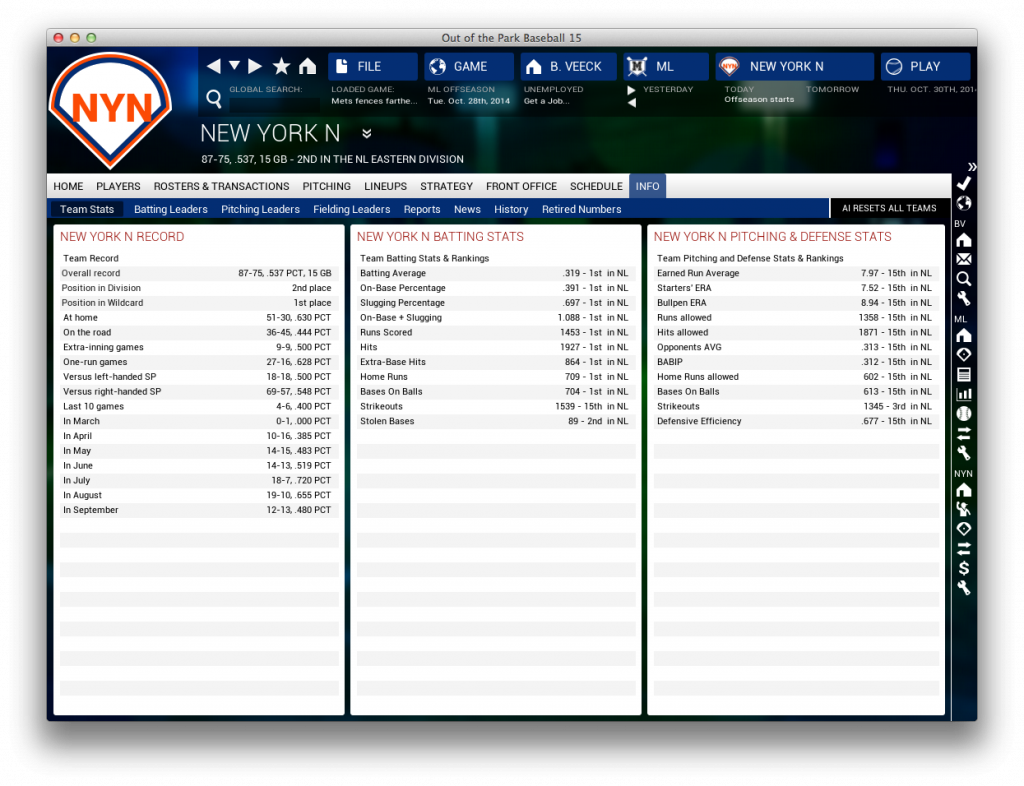 The Mets were well on their way to another mediocre season through June, but they tore through July with an 18-7 record and went 19-10 in August, so when September rolled around and they only managed a 12-13 mark, well, that was good enough to nab the second wild card spot. (Oh, yeah, the Nats ran away with the NL East again.)
This was the season where it all came together for them. Curtis Granderson stayed mostly healthy, except for a season-ending injury in the wild card play-in game, and he didn't punch anyone, so he was able to hit .355 with 124 home runs and 233 RBI; his slugging was 1.017 and his OPS was 1.472. David Wright also stayed healthy and smacked 102 dingers, followed by Flores (79), d'Arnaud (67), Adam Lind (66), and Chris Young (44).
Team hitting: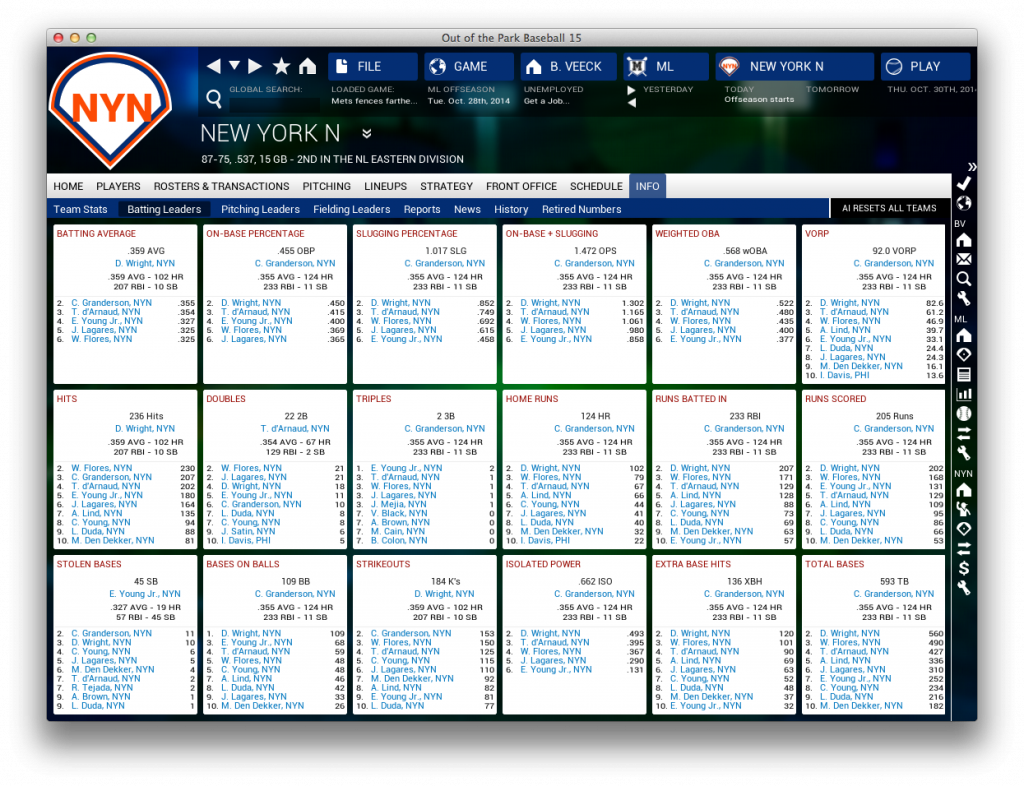 In April, the Mets acquired Lind from the Blue Jays for Daniel Murphy and Cory Vaughn, and in May, they shipped Ike Davis to the Phillies for a pair of prospects, figuring they wouldn't miss his 22 home runs in 31 games. (He hit another 31 homers in 123 games for the Phils.)
That wasn't all the wheeling and dealing the Mets did during the season: They pulled off a post-deadline trade to get Matt Cain from the Giants for a prospect, I suppose because San Francisco ended the season 73-89 and was going nowhere fast most of the year.
Team pitching: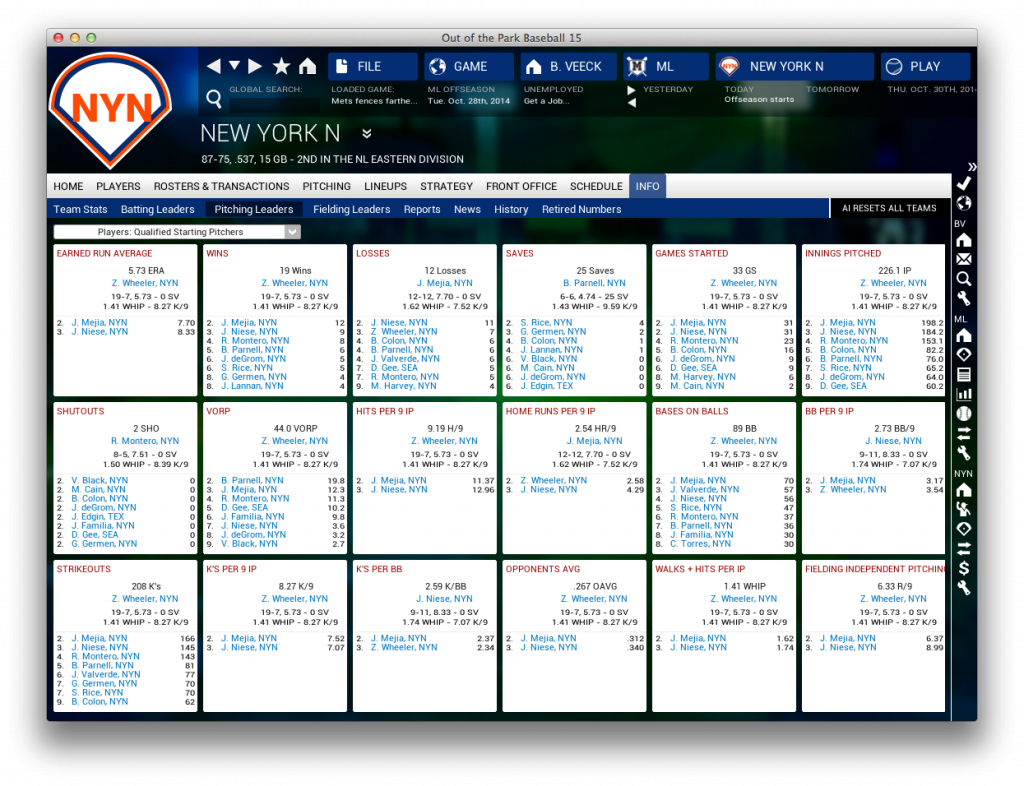 Unfortunately, the wild card play-in game was in Cincinnati, where the Reds walked off with a 4-3 victory in 17 innings. Zack Wheeler, who led the team with a 19-7 record despite his 5.73 ERA, allowed the winning run on a sacrifice fly. A small ball ending to a large ball season. Alas.
Should we sim another decade?