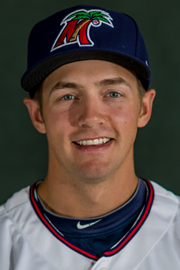 Getting drafted is a dream of many young baseball players, but being drafted by their favorite team is extra special, as Adam (A.J.) Pettersen knows. He grew up rooting for the Minnesota Twins and was drafted by them in the 25th round of the 2011 June Amateur Draft. He worked his way up the minors and, as of early July 2013, is playing for the Twins' AA affiliate, the New Britain Rock Cats. (He's @apettersen1 on Twitter.)
"It's a dream to play for the Twins; I have always been a huge fan," Pettersen says. "I remember rushing home from school in October to catch the 3 PM playoff games in the ALDS. The Twins made it fairly consistently in the early 2000s and my friends and I hung on every moment of those games."
Growing Up With Baseball Videogames
Pettersen and his brothers and friends also grew up with baseball videogames, but the Pettersen household always approached them a little differently. "My friends always used to make fun of my brothers and I because we would never play any games in franchise modes — we would only simulate them," he recalls. "We loved being the GM and making all the moves."
He discovered Out of the Park Baseball during this past offseason and immediately rekindled that childhood love of baseball management games. "I play OOTP because it is a great challenge to try to help a team rise through the league and become a dynasty," Pettersen says. "I love every aspect of being the GM, from making trades to drafting rookies. The game is very realistic, with a great amount of detail."
Pettersen even reviewed OOTP 14 for the Twins Daily web site, where he's a regular contributor.
Managing His Virtual Self
He prefers to play a current-day MLB set-up running the Twins. "I have tried as an expansion team, but I couldn't get the squad out of the cellar," he says.
Pettersen likes to track the progress of his virtual self as he tries to see if he can forecast his real future in baseball. He recalls: "I basically pushed myself to the big leagues the first time I played the game. This had mixed results. I eventually became a pretty good AAA guy, but didn't have much success in the big leagues."
He adds: "Then I tore my labrum and was forced to retire after just two seasons in the minors. I thought it was pretty funny that I was the first guy to go."