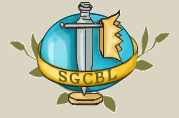 Númenor may have come to an unfortunate end in J.R.R. Tolkien's Middle-earth, but that hasn't stopped it from getting a baseball team in Solonor's Groovy Computer Baseball League, also known as SGCBL or, simply, Tolkien Baseball. The Númenor Kings play in the Mordor Conference with the Weathertop Witch Kings, the Minas Morgul Slayers, the Dead Marshes Uruk-Hai, and other teams in the Orc, Goblin, and Troll Divisions.
Over in the Shire Conference's Elf, Hobbit, and Dwarf Divisions, the Erebor Eagles, Lake Town Archers, Mirkwood Marauders, and other clubs do battle. The league playoffs open with the Fellowship Series before moving on to the semi-final Two Towers Series and the championship Return of the King Series, and the year-end awards include the Gandalf Pitcher of the Year trophy, the Aragorn MVP Award, and others.
League commissioner Lester Norton — who also goes by the name of his D&D character, Solonor Rasreth — recalls that it all started in 2003 when he was chatting about baseball sims with some friends. Norton had recently begun a blog, and he and his friends started discussing the possibility of starting a baseball sim league to go with it.
"When trying to come up with names," he recalls, "we jokingly said that it should be 'Shire vs. Mordor' (which also went to the discussion of 'DH vs. non-DH'). No one came up with anything better, so it stuck. We went whole hog with it and made all the team names and player names Middle-earth-based. I asked friends I had met through my blog if they would like to join, and in a very short time we had 24 teams, with GMs from Australia to the Netherlands and all points in between.
"The first GMs in 2003 included blogging friends from Southern California, Georgia, Canada, England, Wales, Utah, Michigan, New York, Nebraska, and parts unknown, plus three co-workers, a couple of local RPG friends, my brother, my brother-in-law, my son, and my daughter. Since then, we have seen GMs from Australia, France, the Netherlands, Japan, and Hawaii. Ages have ranged from high school kids to men and women in their 60s. In 2008, a forum post was started for people to introduce themselves."
The SGCBL later added a sister league known as the SciFi & Fantasy League, thanks to OOTP's recently added ability to create associations. Its teams include the Mos Eisley Wookies, Babylon Five Rangers, Gallifrey Time Lords, Diagon Alley Wizards, Discworld City Watch, and many others. "Most of those teams have gone to AI control," says Norton, "but they're still available for anyone who wants to run them. At the end of the season, there is an Ultimate Fantasy Baseball Association championship, which the SGCBL has won every time so far."
Customizing OOTP For a Tolkien World
Of course, a Tolkien-based baseball league needed some customizing to make it feel like the professor might have created something similar between writing stories, had he cared much for sports, and OOTP's customization features made it easy to create a unique world. Norton explains: "I edited the injuries.txt to change modern-sounding off-field injuries to things like 'Brandywine River Fever,' 'evil spell,' and 'allergic reaction to turnips.' I also changed the names and nations text files to include all manner of orc, hobbit, elf, and dwarf names."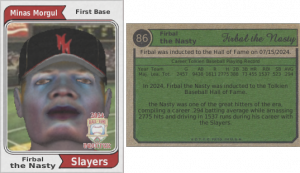 He adds: "Logos, uniforms, ballparks: all of them have been tinkered with. For faces, I used Facegen's Photofit feature to create base sets of players of different fantasy races from pictures on the Internet and used its Genetic feature to generate a unique(ish) face for each member of a team's 40-man roster. I also regularly update the hints.txt file with league-specific achievements and records."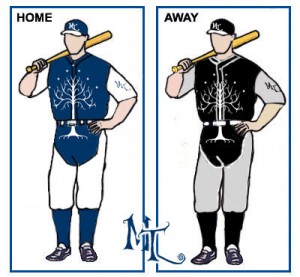 He notes that one GM even went an extra furlong to help the customization effort: "In 2006, one of our members approached the well-known Tolkien artist Alan Lee to see if he minded us using some of his art in our world, and he was quite bemused. He was very approachable and accommodating. I wish I still had that email."
Norton, who discovered Tolkien's works through the old Rankin Bass "The Hobbit" cartoon in the late 70s and later devoured "The Lord of the Rings" in high school, also says that the Lord of the Rings Online game was helpful. "When it started up," he says, "several of the league's GMs and I were among the first members. We even went around to the various locations in LOTRO and took screenshots of where each team's ballpark might be."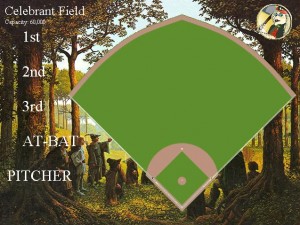 Memorable Moments in Middle-earth
Tolkien's world lasted thousands of years and spawned many epic stories, but the SGCBL has produced some memorable tales of its own during its 28 seasons. Norton notes that some of the storylines were even created outside the game on the forum. He gave us his favorites:
"On April 7, 2003, just seven days into the birth of the league, Grimli Goramir of Cirith Ungol had 5 hits, including 3 HR, collecting 11 RBI. His 11 RBI in a game is a record that has yet to be broken."
"On November 05, 2006, Denaumir Deneadur of the Mirkwood Marauders set the single-game strikeout record, fanning 20 batters and walking none in Game 4 of the Return of the King Series against Rohan. Basically, this pitcher set the single game strikeout record in Game 4 of the World Series!"
"The Bree Cheese made the playoffs every season from 2004 through 2014, winning the Dwarf Division nine times and the Shire Conference Wild Card twice, but never making it to the finals, creating stories of a 'Cheese Curse.' In an effort to break the curse, they moved to Gorgoroth for the 2009 season. It didn't work. They lost in the Fellowship Series to Mirkwood after being up 3-0 in the series and moved back to Bree the following year. In the 2015 Two Towers Series, with the Cheese down three games to one, Bree staged a comeback that included three extra-inning victories to win their 1st Shire Conference title in 12 tries. They went on to win their one-and-only league title with a 4-2 victory over the Misty Mountain Hops."
"On May 24, 2023, the Bucklebury Fairies won their 23rd straight game, breaking the record for consecutive victories set by Bree in 2010. On May 31, Bucklebury won their 29th straight game, becoming the first and only team to win every game played in an entire month. On June 2, the Grey Havens Stars defeated Bucklebury, 8-2, ending the Fairies' 30-game winning streak."
"When we started the league, there was not a way to trade players for cash or draft picks without including a player on both sides of the deal. So, we came up with the Grues…24 players with the last name of Grue (Alpha Grue, Beta Grue, etc.) and assigned one per team. If you wanted to make such a trade, you also traded Grues. The 'Grue Boys' were totally useless by design and were relegated to the minors for as long as they existed. However, there were plenty of stories about them. When OOTP started to allow single-player trades, they were retired. The story was that they were later arrested for cannibalism, because everyone knows: 'When there is a new moon and the night is pitch black, you are likely to be eaten by a Grue.'"
"There were feuds based on the reading of game logs. For example, Phaitai 'Fatty' Fandil was an elf pitcher in the Mirkwood Marauders minor league organization. He had a promising career but got injured, and that injury was worsened by continuing fights with his orc teammate, Mohair Catsquisher. Finally, he was released and spent two years as an unclaimed free agent before Bree signed him. During a game against Mirkwood, Fandil beaned Catsquisher, and right after that, Fandil took a line drive straight in the face."
"Since a bunch of our early GM's were women, there was insistence that many of the players be female (female orcs…yikes!). On June 9, 2014, Bywater Bounders players Lula Taralom and Lester Pulley got married."
"During the height of our storytelling days, the Middle-earth Sports Network (MESN) had reporter Lobelia Hardbottle doing investigative reports on the league. One of the reports was about how some player names had been changed from 'normal' humans to Tolkien-y ones in occult rituals: 'Naming Ceremony Has Players Pointing Fingers.'"
"When some players started getting injured and/or killed, Ranger detective Samsneed was hired by the Old Forest Times to investigate the case. There was a very long, funny story throughout the forums about the killer, who left evidence pointing to someone in the Bree Cheese organization. Lobelia Hardbottle also joined in.
"At one point, the Moria Miners manager was found murdered with a piece of cheese lodged in her throat — cheese from Bree (aka, 'Bree cheese')."
"A lot of our GMs come to see the players with real character. For example, Frank (Papa Bear) Thomas said, 'I've come to like (sometimes perversely) the players' expressions of (dis)satisfaction with their role on the team, especially when they come in the form of messages. Sometimes, I've responded by saying (as with F. Bridger, for instance), okay, you want to be a starter . . . think you deserve to be a starter . . . let's see. Bridger responded well, and I rewarded him with bonus points–sort of confirming his self-image.'"

Leaping Into the Modern Age With OOTP
Norton's interest in sims dates back to games he and his brother made up using baseball cards and dice when they were kids. Later, he got hooked on Statis Pro Baseball and made the leap to computer management games with Earl Weaver Baseball, which formed the basis of his first league in 1990, before giving way to Tony LaRussa Baseball. During that prehistoric era, he and friends ran drafts at a local Pizza Hut and he posted results on a BBS. He moved away, though, and work began to take up more of his time, so sims faded into the background until he discovered OOTP 5.
"I tried out several different alternatives when looking for a sim engine for the league back in 2003," he recalls. "I really liked Diamond Mind, but it was too expensive. Same with the Strat-O-Matic PC game. Baseball Mogul just didn't do it for me. I really liked the way you could customize everything about the game in OOTP, even back in version 5, where we started. Once they added player photos that you could customize using Facegen, I was really hooked."
He adds: "I also keep playing because of the OOTP community. Right from the start, whenever I've had a question about the game or needed help, I could turn to the forum to find it. We used CATObase for the first 10 seasons and either Getch's Online Utils (OU) or StatsLab since then. Plus, we've had help over the years with graphics for logos and uniforms and all manner of things."
Still Living the Dream
As for the sport that led to his interest in sims and eventually to the creation of his unique league, Norton says he has rooted for the Red Sox since he was a five-year-old rooting for Yaz and the Impossible Dream team in 1967. "I followed (and still follow) every game," he says. "It was a little tougher after moving to Florida, but then science invented smartphones and the MLB At Bat app. I can listen to every game as it is broadcast by WEEI in Boston, and I am very happy (not necessarily with 2013's crummy performance, however)."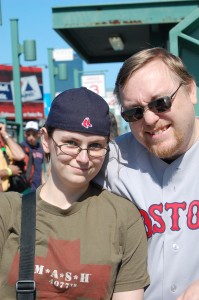 He adds: "I've been to Fenway a couple of times. The first time, in 1986, I remember coming up out of the walkway and being overwhelmed by the green and the wall and just loving it. Since then, my family and I have taken the tour of the park, and I recommend that to everyone.
"I also try to get to other parks when I'm on the road. My list of visits is still pretty small, and some of them I've only been able to get to when there's no game on, but I've been to Wrigley Field, Busch Stadium, Camden Yards, Turner Field, Tropicana Field, Rangers Ballpark, and Shea Stadium and the Astrodome before they tore them down.
"My favorite thing to do down here is go to spring training games. The Braves train at Disney, which is fun, and I've also been to the spring training camps of the Red Sox, Astros, Indians, Marlins and Tigers. When we first moved here, the minor league Orlando Cubs played at Tinker Field, which had tons of history, and we used to go to those games all the time. Alas, they moved on, and Tinker has been baseball-less, and it might even be torn down. Much sadness."