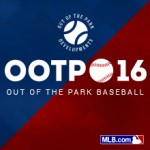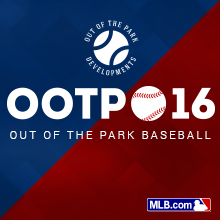 Yes, we have tons of great stuff in store for Out of the Park Baseball 16, leading off with an official MLB.com license that includes league and team logos, jerseys and ball caps, and historical MLB logos.
OOTP 16 also features 2015 Opening Day rosters, new team owner goals, improved team finances, an upgraded manager and coaches system, a revamped team strategy screen, simulated realistic OOTP Hall of Fame voting and interactive All-Star Game voting, and much more.
You can read all about it in our latest newsletter. If you pre-order by February 15, you'll save $5, get a free Steam key, receive the game three days early in March, and earn an entry in our sweepstakes for three $500 MLB.com Shop gift certificates. (Official sweepstakes rules are on our site.)
Manager-Only Mode
But as always, there's even more in store, and one of the oft-requested features we've added this year is Manager-Only mode. You may recall that the GM-only mode was added in one of OOTP 13's updates, and it was well-received by those of you who don't want to get your shoes sticky from the dugout floor during games. (Yes, the idea was that it would keep you from winning a Manager of the Year award, but it provided the foundation for improving the mode this year, so you can only go so far messing with team strategy, thanks to the new managers system.)
Well, what about those of you who don't want to put on a suit and tie and go to work in the GM's office every day? OOTP 16 has you covered: It adds a Manager-Only mode that lets you focus on whipping the players into shape while your GM deals with prima donnas who demand contract extensions, trades a hapless overachiever in his contract year for a couple prospects, and handles all those other things you don't feel like mucking around with.
Let's take a closer look at Manager-Only mode in OOTP 16, starting with the set-up. Since we obviously don't have Opening Day rosters available right now (pitchers and catchers haven't reported yet, folks), I'll go with an historical league. And because I was born in 1970 and I've been a Philadelphia Phillies fan since I was a kid, I'll choose 1977. (Also the year Star Wars, another of my pleasures, was released.)