Yes, Out of the Park Baseball will enter its 16th year with something it has never had before: An official license from Major League Baseball Advanced Media, which covers MLB.com and MiLB (Minor League Baseball). OOTP 16, which is available for pre-order now at $34.99, will have AL, NL, and MLB logos, as well as logos for all MLB and MiLB teams, all MiLB leagues, and even all historical MLB teams. (It will also offer Opening Day 2015 rosters new leagues, new owner goals, a  new managers and coaches system, and much more.)
Don't forget to check out the pre-order link above to learn about our awesome sweepstakes: You could score one of three $500 MLB.com Shop gift certificates. And everyone who pre-orders gets the game three days early, along with a free Steam key.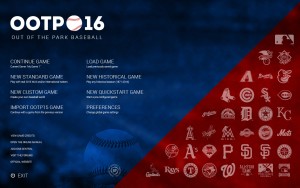 Markus Offers His Thoughts
So how'd this come about? I grabbed lead developer and game creator Markus Heinsohn for a few questions while he was taking a break from feverishly coding OOTP 16.
[Read more…] about OOTP 16 Features MLB.com, MiLB Licenses; Pre-Ordering Has Begun