With only 2 goals and 5 assists through 14 games, it has been an exceptionally slow start for Sidney Crosby this year in the NHL.
This has led to discussions about whether or not it's time for the Penguins to look to trade the superstar player, who is arguably the sport's brightest star.
Stan Fischler of The Hockey News suggested that the time is now to trade "Sid the Kid" as he is "on the downside of his peak." He then noted that the Canadiens, Maple Leafs and Kings are realistic trade partners.
So what if number 87 ended up pulling on a new jersey? For this simulation, I moved Crosby to Montreal, Toronto and Los Angeles in three separate 2015-2016 season simulations to see how he would do.
Does Sidney help the Canadiens get over the hump? Or help accelerate the Leafs rebuild? Or help write the next page in the Kings dynasty? Read on to find out.
For the sake of simplicity, instead of sending a package of players back to the Penguins, I simply used commisioner mode and edited Crosby onto his new team. Let's assume in this 'what-if' that the teams don't have to trade away anything that impacts their NHL club.
Sidney Crosby to the Montreal Canadiens
In 2014/2015, the Canadiens had a 110 point season, which was their best total since 1988/1989. They were unable to make a deep run in the playoffs, however, and most people would suggest that with Carey Price in goal what the Canadiens really need is another goal scorer.
Crosby to the Habs should then be a surefire ticket to the Stanley Cup, right? Not so fast.

The 2015-2016 Canadiens with Crosby as first-line centre in fact regressed from their real-life 2014-2015 performance. They finished 41-32-9 for 91 points, good for 4th place in the Atlantic Division and only two points ahead of Toronto for 8th in the conference.
The playoffs were much the same as last year. The Canadiens came out strong and put away the Detroit Red Wings 4-2, but then were eliminated in the second round by the Ottawa Senators, 4-2.
Crosby certainly did his part. He stayed healthy and played all 82 games, scoring 33 goals (13th in the league) and adding 54 assists (2nd) for 87 points (2nd). That was good for second in the league behind Steven Stamkos with 96 points. He added 6 goals and 7 assists over 12 playoff games.
A big reason for Montreal not having the same dominance was perhaps in between the nets, were Carey Price wasn't able to recreate his magical 2014-2015 season. In this year, he played to a pedestrian by comparison 2.59 GAA, with a .910 save percentage and a 27-26-6 record.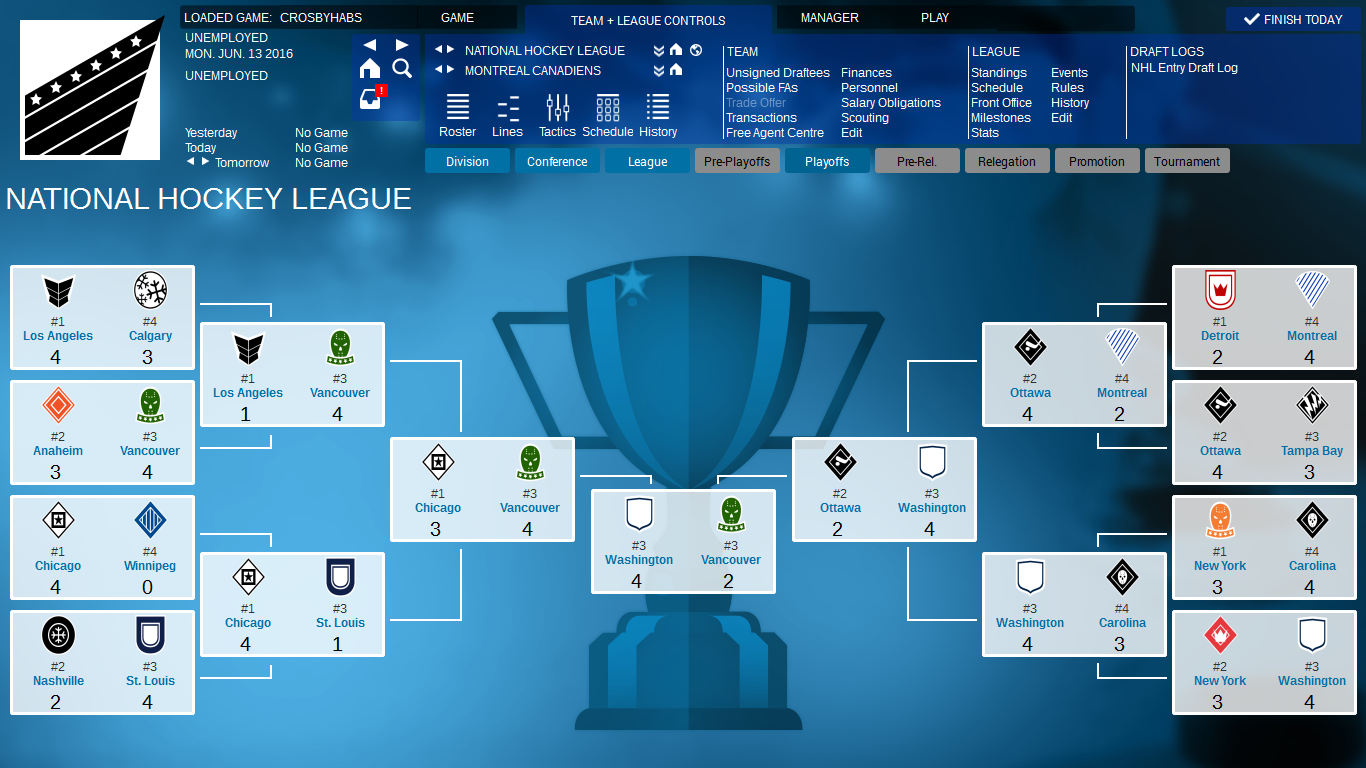 Sidney Crosby to the Toronto Maple Leafs
Even with a revamped front office and Mike Babcock behind the bench, even the most diehard Toronto fans are likely able to admit their team is in for a bit of a struggle this season.
That has played out thus far too, as Toronto is currently last in their division with a 3-8-4 record.
But what if they had number 87 suiting up for them at the start of the year? It would certainly legitimize their offence, but surely no one would think one player could make that big of a difference for an otherwise poor club?

Crosby in fact lit a spark under the hapless Leafs. They played to a 46-28-8 record, good for 100 points – which was their best mark since 2003-2004.
But despite making the playoffs for only the second time in the past 12 years, the Leafs wouldn't be a complete Cinderella story. They lost in the first round of the playoffs to Detroit (who finished the regular season with an identical record), with the series stretching to Game 7.
So how did Crosby do? He was by far the best Maple Leaf, as he once again showed durability and played in all 82 games, tallying 38 goals (2nd in the league) and 56 assists (1st in the league) for 94 points – good for first in the league, this time ahead of Stamkos' 84.
He showed up in the playoffs, too, tallying 3 goals and 5 assists over the 7 game series.
While it was not meant to be for Toronto fans, this certainly kickstarted their rebuild and turned the club into instant contenders.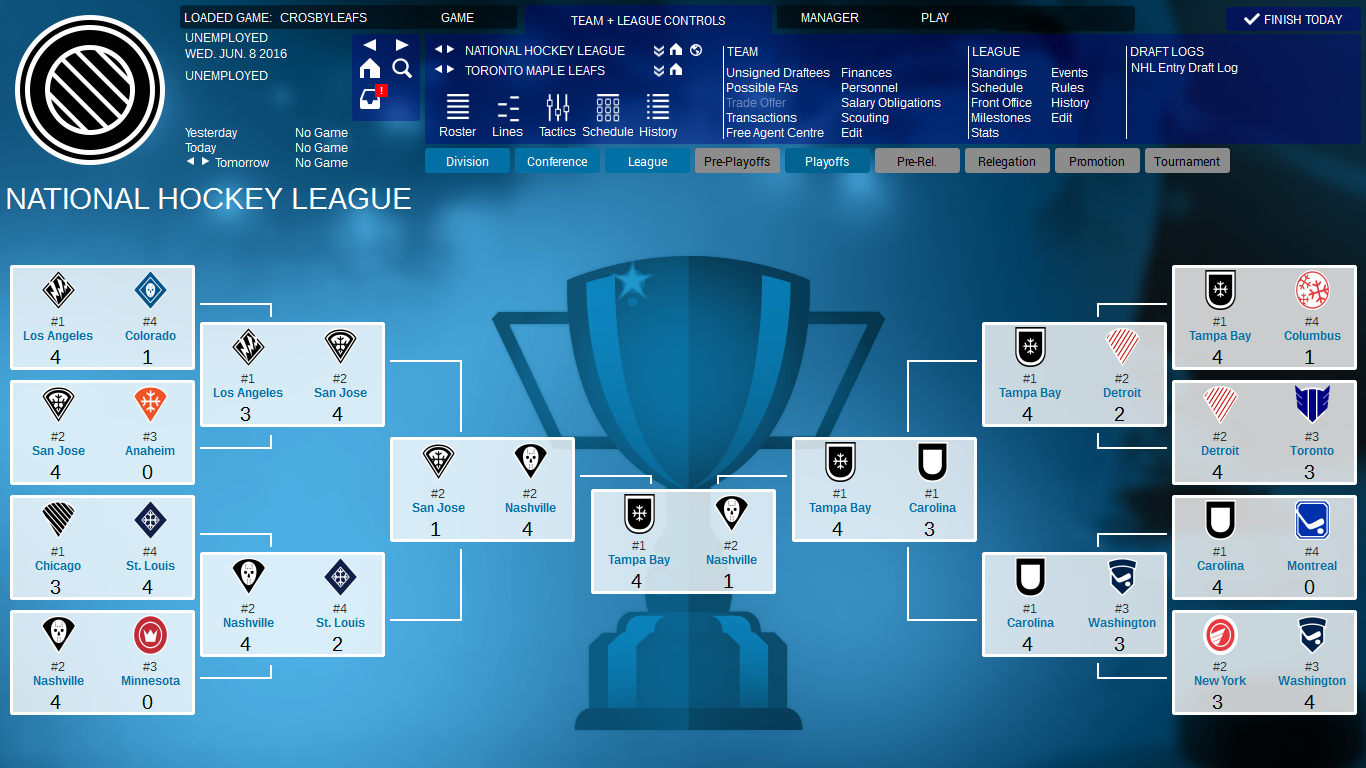 Los Angeles Kings
With regular playoff berths and a pair of Stanley Cup wins in the last five years, the Kings are somewhat of a modern day dynasty.
Adding a prolific scorer like Crosby would no doubt boost their chances to once again host Lord Stanley's mug.
It then comes as no surprise that the Crosby-led Kings put up an impressive 59-17-6 record, good for an NHL-best 124 points and the club's best ever finish.
Needless to say, it was Stanley Cup or bust for this squad.

Unfortunately the playoff run came to an end with heartbreak. Sid the Kid navigated the Kings past the Dallas Stars (4-3), the San Jose Sharks (4-0) and the Nashville Predators (4-3), to set up a Stanley Cup final against the New York Islanders.
But the Islanders, who had finished with 115 points during the regular season, were too much for the Kings, taking home the championship with a 4-1 series win.
Of all three of these 'what-if' scenarios, Crosby turned in his finest performance with the Kings. He only played in 75 games (back soreness and shoulder soreness causing him to miss time), but when he was on the ice he put up 45 goals (2nd), 56 assists (3rd) for 101 points (beating out Stamkos with 96).
In the playoffs he was dominant, with 16 goals and 17 assists over 23 games.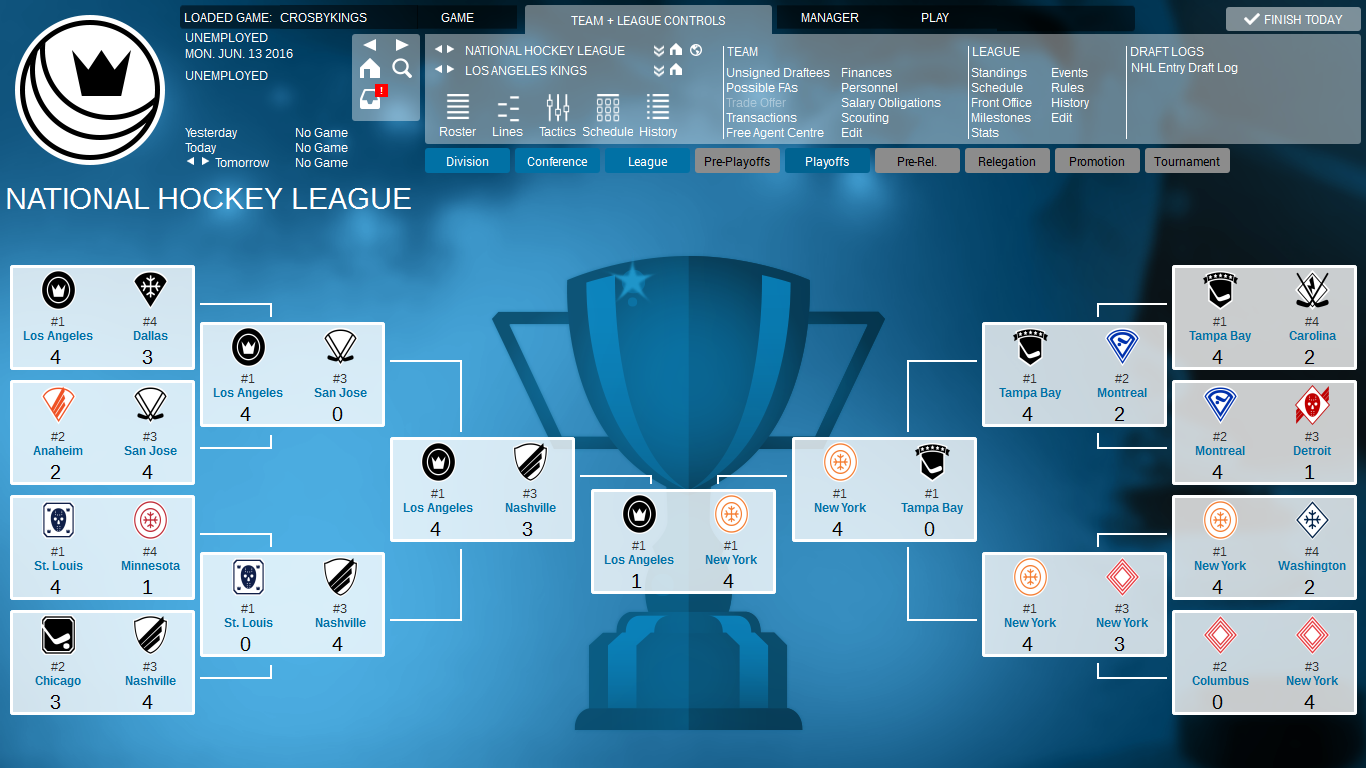 Conclusion
So in the end it was a mixed bag of results for Sidney Crosby landing on one of three new teams. The Canadiens actually regressed despite adding number 87, the Leafs took a big jump forward and the Kings fielded arguably their most dominant team ever, but still fell agonizingly short of a Stanley Cup win.
That's the beauty of Franchise Hockey Manager 2- just like real life, you never know what could happen. This was of course just one simulation, and if I ran it again, perhaps things would be different (but still Toronto likely would never win the Cup, let's be serious here!)

Enjoy your own 'what-if' scenarios, or get Sidney Crosby on your own favorite team as you take control in Franchise Hockey Manager 2, which is available now for PC and Mac.